"We cannot solve our problems with the same thinking we used when we created them"-Albert Einstein
June was a particularly interesting month in terms of its album releases, the most favourite of which, make a journey from ethereal folk towards doom post-rock.
During this month, I found myself delving more into the condition of 'post' both in music and in art in general. It was actually a definition of 'the post', that was provided in one of the numerous student projects at the Architectural Association, combined with a memorable variété/architectural event inside the Hippodrome Casino about post-modern architecture, that enlightened me in such a way that I can now 'see' post music with new eyes.
One of the multiple definitions was: 'A post is a position or a state that defines where or how something or someone has to be, as it was meant to be'. Another one said '…a post is a node, a meeting point, a gathering spot. A post is where people converge towards…'.
The releases of Band of Holy Joy, The Membranes, Red Velvet Deception, Vlimmer, The Man&His Failures, BLVCK CEILING, Death's Head, VOID//GIST, Constant Mongrel, PLAID and Such Beautiful Flowers all tap into different aspects of post music by stressing its 'heavier' industrial side, the more emotional coldwave side or even its more vindictive punk side.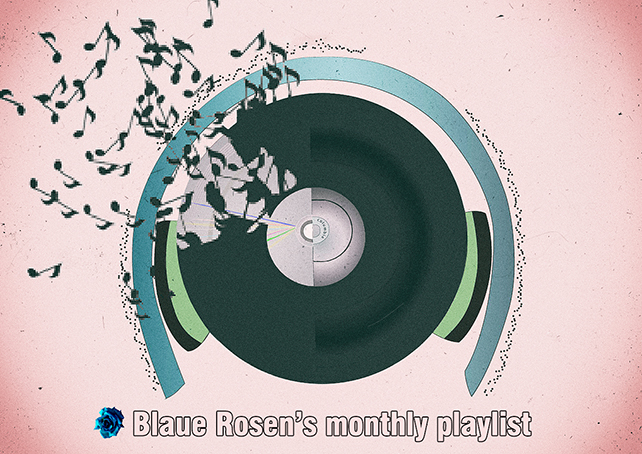 First of all, we are delighted that Band of Holy Joy did not see the end of the road for the project and kept their promise to release the album 'Neon Primitives'. This album concludes the trilogy that started with 'Land of Holy Joy' and 'Funambulist We Love You', in the best way possible…by nodding to the first incarnation of the band. The sound has become much 'heavier' compared with the previous two albums, with more explicit punk elements both in the rhythms and in the performance. Those who have followed the career of this band from the very beginning must agree with me when I think that the song 'We Are Sailing To The Island Of Light' is taking us back to the days of 'The Big Ship Sails'. This song could have been included in the soundtrack of a Terry Gilliam movie where Tom Waits is making an appearance; it is this kind of song that I have associated Band of Holy Joy mostly with and which, I think, adds a beautiful melancholy to their music. This, of course, is just my own point of view. 'Neon Primitives' is an album with a fantastic cover, as all the latest albums of the band, an image of an organism, with a strong gaze and a restless mind, that stares right at us in a way that evokes both calmness and something ominous, an emotional outbreak maybe…
The Membranes could not have chosen a better title for their album than 'What Nature Gives, Nature Takes Away…'.   If Vivaldi had not been mesmerized by the qualities of classical music, then he might have created this album instead of his famous 'Four Seasons'! 'What Nature Gives, Nature Takes Away…' is divided into four parts, 'Spring', 'Summer', 'Autumn' and 'Winter' and has strong references to nature and its transformations. Once you start listening to it, of course, you will be completely taken over by the atmosphere of the songs, and therefore, you can hardly notice the 'change of the seasons'. Four years after the release of their previous album 'Dark Matter/Dark Energy', the new album offers a refreshing sound that suits perfectly to the evocative nature of its title. The album has less gothic rock sonic elements and more punk rock and coldwave elements. The sound overall (instruments, vocals) has less 'harsh' elements compared to 'Dark Matter/Dark Energy' and is a testament to the band's artistic ambition and experimental attitude. Cello and strings are once again present in the sound, the collaboration with BIMM Choir Manchester has added ethereal and sinister qualities to the sound and melody has returned into the songs, making this album one of the best releases of the band so far. John's vocals once again lift the music and all the sounds that accompany it, into the realm of an inescapable and captivating freakshow, as lyrics such as "…The city is an animal and nature is its slave concrete carnivore with green enclaves…" can only make you nod in agreement as you comprehend how this verse relates to the album's title. John is an artistic chameleon, revealing his power of metamorphosis through each different song in the album, while behind his vocals, oscillations, 'muffled' beats and electrifying guitar riffs create the image of a space in constant contraction and expansion…It would be wrong not to mention the fantastic collaborations that the band has made for this album. First of all the participation of Shirley Collins gives a perfect mysterious 'ending' to the 'Summer' part of the album while it also alters its aesthetics momentarily by suddenly adding cinematic qualities to the music while the cello which can be heard at the background, acts as a warning sign. Jordan (Adam&The Ants) and Kirk Brandon (Theatre of Hate, Spear of Destiny)also participate in the 'Autumn' (and sonically more psychedelic) part of this album, providing vocals in 'Demon Seed/Demon Flower' and 'The Magical And Mystical Properties Of Flowers' respectively. 'Black Is The Colour' sounds like the punk version of Celtic Woman's song of the same title! You will adore this album and when it is over, you will want to listen to it again…
The releases of VOID//GIST, The Man & His Failures and Constant Mongrel are blending in magical ways punk aesthetics and attitude and refreshing experimentation. VOID//GIST's new album entitled 'Sophisma' ('a Greek word that originates from the word 'sophos' which means 'wise'. The word is used to describe a way of thinking that, despite the fact that it starts from a valid point, it ends up making false conclusions and presenting them as valid). In any case, the music of this album is making a very valid and powerful aesthetic statement, blending passionate vocals with beautiful punk rhythms and mood. The choice of (almost) staccato rhythms accompanying the vocals throughout this album, highlights their dramatic tone and this becomes more evident at the parts where their sonic energy is 'released' when these rhythms give way to more melody and a better flow. You might remember The Man & His Failures from this playlist, but now is the time to keep the name of the band in your mind because they are preparing their full-length debut album and have been generous enough to release the first single from this album entitled 'Nothing'. The sound of this song reveals quite a departure from the melodic side of 80s coldwave sound of the previously released debut EP, towards the more rhythmic side of it. Assertive vocals are delivering lyrics as if making grave statements until we listen to "…everyday we see each other there's nothing in our eyes…" a phrase that releases all the energy that is being built up until that point. We love the synth melodies and their relation with the beats that constantly 'tease' them in style and energy. If you listen carefully you will realize that at the beginning it is the electric guitar that gives way gradually to the synth melodies, while towards the end of the song, it is the other way around…as if this song signifies a circle of sorts that opens and closes…I cannot see a scenario where this song is not being included in a DJ's setlist from now on.
Constant Mongrel's new 7″ EP entitled 'Experts In Skin', consists of two beautiful songs, whose protagonist is the mighty saxophone, an instrument that has been used in a great way, both complementing the electric guitar and 'sneaking' to the foreground especially in the title song. The rhythms bring to mind the sound of Joy Division while the addition of female vocals in 'Shnuki' adds a dreamy/psych rock character to the sound of this EP. We will, of course, wait to listen to the next album of the band.
The more darkwave and gothic rock sides of post-punk have been explored by Such Beautiful Flowers, Vlimmer, Red Velvet Deception and PLAID. 'Like Rain', the beautiful debut album by Red Velvet Deception, is a sonic canvas that uses the 'colours' of Clan of Xymox and Joy Division, envelops them with even more haunting synth melodies and guitar riffs, while the bass rhythms guide them discreetly. Fans of the lyricism of Pink Turns Blue will also love this album.  Vlimmer has released two albums, 'XIII' and 'XIIII'. We preferred the latter because of its rich texture made up of distorted, industrial, even syncopated soundscapes from which melody is managing to 'sneak' out! We loved the overall structure of this album, the synthetic quality of the different rhythms and the atmosphere that is being created. The sound has enviable depth and the production provides space for each of the elements, to be enjoyed and appreciated. PLAID's melodic, kaleidoscopic and danceable minimalism that fills the new album of the band entitled 'Polymer', is truly inspiring. When you read the word 'syncopation' your mind might immediately go to something loud, sharp and harsh where rhythm is the protagonist. The music of 'Polymer' will take you into a place with many sonic colours, some minimal, some that might feel more modern classical, some that are narrating pleasant stories (just as Yan Tiersen's soundtrack for 'Amelie' does) and others that just focus on recreating the feeling of a combination of different energies. You will feel relaxed when the higher notes dominate the sonic environment almost simulating a bird's song, while the lower notes which are usually accompanied by staccato rhythms and prominent industrial/spacey synth sounds, will bring your mind inside Kraftwerk's universe.
The debut EP by Such Beautiful Flowers entitled 'Neon Gloom' places us in a darkwave and synth-dominated sonic space where the lyrics talk about the dark side of love and existence.  Wrapped with ceremonial and symbolic visuals, this EP provides an indication about the tone and the atmosphere that the band will be exploring from now on, where industrial rhythms and samples truly give form to what the phrase 'neon gloom' describes.
Out of the three singles that BLVCK CEILING has released last month, we loved 'under the stares'. It makes a discreet use of the hi-hat, an instrument that is not very often handled gently and creates an enveloping coldwave atmosphere from which it is hard to escape. Before heading off towards a more industrial part, it is worth mentioning the impressive debut album of Death's Head, entitled 'Dysmorfia', another Greek word that is used to describe an 'abnormal' form. Death's Head is a solo project from Oakland. Fans of the sound of Cinema Strange and Christian Death might be able to identify the common sonic thread that links, in a fascinating way, the sound of Death's Head to them. 'Dysmorfia' has captivating rhythms placed at the foreground while the vocals remain in the background. The mood becomes more upbeat during the second half of this album with added industrial elements and different energy as well.
We must mention here three albums that cannot really be categorized, are testaments to the inspiring experimentation that made them possible and have left a strong mark on this month's soundtrack. These are the albums by Prettiest Eyes, Penelope Trappes, and Saint Abdullah. We were already aware of a new album by Prettiest Eyes, as we were lucky enough to listen to some of the songs in this album during their set as a support band for Kikagaku Moyo in April at Brixton's Electric. 'Vol.3' as well as everything about this band, from its stage appearance to its sonic offerings, defies categorization. Of course, one can identify a myriad of influences in their sound among which is an inspiration from the atmosphere in SUICIDE's music but only while enjoying a live performance from this band, will you realize how easily this band dilutes the boundaries between genres, both aesthetically and in their sound. Listening to this album is like taking an industrial rock 'n roll sonic trip where even pop and cosmic jazz elements pop up only to enhance the psychedelic adventure which this band is so skillfully creating for us both on stage and off. We had an equally refreshing experience while listening to 'Mechanical Flirtations' the new album by the creative duo Saint Abdullah from Iran. Take your time with this album and enjoy its refreshing, experimental music that blends jazz elements with industrial and krautrock ones and treats Eastern music references not as exotic additions to the sound, but as the 'spine' that supports the sonic structure of the whole album. 'Mechanical Flirtations' is one of the finest examples of how to turn music into a living, 'breathing', slow-moving, mechanical device…a transmitter of an electrical current in varied intensity. Penelope Trappes , in her new album entitled 'Penelope Redeux' has collaborated with musicians of different idiosyncrasies, from Mogwai to Cosey Fanni Tutti, who have taken songs from her album 'Two' , reworked them, infused them with their own, signature and often darker and more atmospheric, 'colours',  thus creating a magical sonic journey from industrial/techno psychedelia to calming ambience. Listen to each song side by side with its original version and let yourself be carried away by the discreet additional elements that lift these songs from the realm of dreams to those of haunting spiritual wanderings.
The harsher electro/industrial side of this playlist has been represented by the albums of Gutenberg, Cubanate and HAPAX. 'Monade', the new album by HAPAX, is a fine example of darkwave and coldwave music where Covenant-like synth melodies are given space to shine while the captivating minimalism in the rhythms is nicely contrasted with the vocals which have a rather gothic-rock feel to them. This is an album to dance to whether you are fans of its slower or more energetic moments.
Gutenberg's new album entitled 'Unnecessary bronze' is a mind-altering IDM/industrial sonic journey. It was our most favourite of ant-zen's releases of June 2019 because of its deep sound and great production that fully envelops the listener into a space whose dimensions and sonic environment change with every track. Blasts, sounds that 'approach' us, sounds that 'move away' from us, high pitched noises that come from 'above', beats that 'dig' up the ground under our feet,  animalistic sounds…these are the magic ingredients of this very atmospheric album. If Gutenberg's album was resonating from an underground bunker, Cubanate's 'Kolossus' is 'roaring' from an abandoned industrial warehouse, with an industrial mood, 'heavy' almost metal-inspired guitar riffs, angry vocals, relatively slow rhythms and an overall atmosphere that brings to mind the sound of Killing Joke. This is an album of harsh self-criticism where verses like this: "I want you to crash this car to feel what I feel I want you to crash it take your hands off the wheel…" manage to disturb the otherwise unifying nature of the heavy sound that surrounds them.
The ethereal/folk side of this monthly playlist is represented by the beautiful album 'Pretty Haunted Things' that Unto Ashes have offered. We had the unique chance to listen to some of the songs of this album during the headlining performance of the band in Schauspielhaus at this year's WGT. The album includes a cover version of Gary Numan's 'My Dying Machine' and two poems 'Alone' by Edgar Allan Poe and 'Fall Leaves Fall' by Emily Bronte, transferred into music. Listening to 'For My Funeral' now, after having being mesmerized by the emotional and captivating live performance of this song at WGT, feels as if, during this performance, we were offered a personal confession, a glimpse into Michael's psyche. This song, performed live the way it has been, shed light to its essence. The first time the energy of the album changes is during the cover of 'My Dying Machine' and it feels as if something 'charges' the song and gives to it a tribal element. The second time something similar happens is during 'Fall Leaves Fall'  when the rhythms take up a more assertive, almost military tone. This album brings us back to the melancholic atmosphere of the band's debut album 'Moon Oppose Moon' and feels as if it addresses each of us individually, as if Ericah, Michael and Bret, are confessing their deepest thoughts to each of us. The great production of this album means that each note on each string of the guitar, each key on the piano and the warmth of the vocals, strikes a chord in us as well! The debut 12" EP by Tamburi Neri entitled 'Dolce Veleno' is a teaser of their upcoming album that puts us in a space where spoken word, a poetic attitude and pulsating rhythms create a dark electronica magic web.
For the next 52' you can enter the labyrinth of 'Egregore', Common Eider/King Eider's new album at your own risk! First of all this is a collaboration between B.S.s. (Common Eider, King Eider, Badgerlore / Six Organs Of Admittance collaborator) and Arexis (La Breiche, Coume Ouarnede, Stille Volk, Ihan) and the album was created in 2018 in the Pyrenees. Inspired by the landscape, natural forces and the energy of an uninhabited environment, this album is an offering but it is also a ritual. Fans of ritual dark ambient and sonic heaviness will love this album whose impact is similar to that of a whispering voice which is transformed from a calming agent to a sinister one. The mental image of a burning fire was often formed while listening to this album while the curious, yet fleeting image of a character that either 'feeds' it or lets it settle, was also passing through…
The angry, hardcore side of this playlist is represented by the releases of Bad Breeding, Plague Vendor and Egyptian Blue. 'Exiled' the new album by Bad Breeding is a noisy, punk statement, made with angry, distorted vocals and an incessantly increasing energy. Don't expect to be able to decipher the verses as the aim is to transmit the kind of energy that breaks 'barriers', demonstrates against politically and socially conflicting priorities and tries to build something equal and collective. The subjects of the songs take inspiration from and respond to situations that have occurred in this country and worldwide, as a result of aggressive neoliberalism.  We read the following statement about the song 'Repossession': "I wanted to write a song that encompassed what the likes of Mark Fisher, Slavoj Zizek and Fredric Jameson were hinting at with it being 'easier to imagine an end to the world than an end to capitalism'…" and we think that there is no better way than through hardcore punk music, to express the injustice felt by the majority of people around the world about important matters, from education and housing to information and the exploitation of the natural environment.
Less angry but equally dynamic in its sonic 'footprint' is the debut EP by Egyptian Blue, entitled 'Collateral Damage'. You will listen to minimal post-punk/indie rock rhythms, nice pizzicato-like melodies that are coupled with staccato vocals and you will enjoy an overall rebellious attitude towards sound from this new band from Brighton. Plague Vendor's new album entitled 'By Night' starts by evoking the combined effect of Beastie Boys and Marilyn Manson and soon they fully unveil the more psychedelic side of their sound with layered vocals, echoes and long notes that are also evident in the delivery of the lyrics. Compared to the previous album 'Bloodsweat', 'By Night' is an album that sometimes feels like a pulse that has steadily increased rhythm and other times it feels as calm as a volcano about to erupt.
We will conclude this playlist with, probably the best album of covers we have across recently. This is no other than <PIG>'s 'Candy'. <PIG> a.k.a Raymond Watts was inspired by the lyrics of the original songs and the gravity of their meaning. From Grease's 'Hopelessly Devoted To You' to Prince's 'Kiss' and the unforgettable 'If You Go Away' by Dusty Springfield, <PIG> has 'painted' over the original versions of the songs in order to create a much darker setting. If Leonard Cohen, Tom Waits and Sopor Aeternus somehow met to brainstorm, then they would probably have created an album very similar to what Raymond has created. The way these bass vocals, their directness, their eeriness deliver the lyrics, transforms each word and the spaces in between, into the something resembling a wounded creature that finds its way through a dark corridor. All it asks is that we 'watch' it as it passes by and not 'disturb' it…
We hope that you enjoyed our playlist as much as we enjoyed preparing it!
Blaue Rosen