"Punk rock will never die, until something more dangerous replaces it"-Jello Biafra
July (!) is not typically a very dynamic month in terms of both album releases and gigs. It is a month during which a lot of festivals are being carried out worldwide,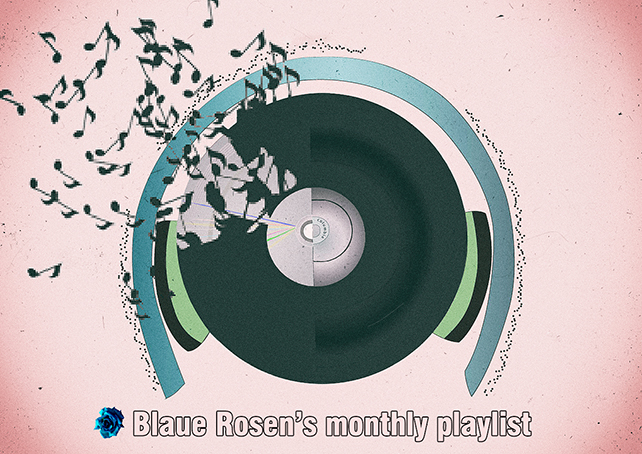 offering the chance to enjoy the releases of the previous months. One could argue that the soundtrack of the month should always be just the sound of the cheers of the crowds who enjoy outdoor festivals. This month's independent music releases create quite a melancholic and dark atmosphere that sometimes feels impenetrable and other times otherworldly and menacing. We have listened to 55 albums and we picked those ones that had the strongest impact on us. This time, they can take you to a coldwave, deathrock, experimental, industrial, synthpop, garage rock, IDM, dream pop sonic trip. Enjoy it here:
Thom Yorke, is the ultimate guide of this soundtrack, as he has unveiled the next chapter of his solo work, entitled 'Anima'. This album is the epitome of experimentation into sonic abstraction and minimalism and thus it creates the perfect artistic portal for us to enjoy all the other albums that have been included in this month's soundtrack. Its title and perhaps its whole style has been inspired by Carl Jung's concept of  'Animus and Anima' which is part of his theory about the collective unconscious. Anima, according to Carl Jung was the unconscious feminine side of a man who, like animus, transcends the personal psyche. The album's title, as Thom Yorke has explained is also a critique of the way technology has allowed us to be distanced from the things we say and do by 'hiding' behind an avatar or a digital persona. This album follows the release of 'Suspiria' in 2018, an album that was used as a soundtrack to Luca Guadagnino' s film of the same title, that was inspired by Dario Argento's 1977 film of the same title. 'Anima' is also the soundtrack of a musical film directed by Paul Anderson. Thom Yorke performs the songs and stars in the film, while the music is multidimensional with a deep, reverberating sound. Listening to this album feels as if reading a book with many chapters; each track has a different energy and a different performing style and Thom Yorke's signature timbre, is making sure that we are kept in a dreamy, almost hallucinatory state where the sound of the voice is echoing and the meaning of the words is unclear. Thom Yorke has said that '…if you don't dream enough, you don't process enough…' and this cannot describe better, the effect his music and his performing style have been having throughout his career but especially through this new album. As far as 'Anima' is concerned, in a recent interview he has said that: '…on a musical and technical level i was deliberately trying to find something as 'cold'  as possible to go with it…' while its sound, has been inspired by styles that challenge the traditional songwriting ways, such as noise and music concrete.
The releases of Glaring and Black to Comm, carry through the same experimental spirit on what concerns their sound and offer to us two very atmospheric albums. Glaring is a side project of NONE a.k.a Anna Nin. The new album entitled 'Decay' starts by placing us in a sonic environment that distorts our sense of place and time, before 'animating' this environment with noisy, industrial textures and dynamic rhythms after 4 songs. Once the rhythms change, you might sense a weird numbness, but these same rhythms start to 'pull you out' so that you can start to feel their electrifying energy soon enough. 'Before After' the new album of Black to Comm, begins in a theatrical way and then retains and enriches its deconstructive aesthetics with noisy and industrial textures. The band is using inventive ways to tame sound and transform our perception of it. We read that in the track entitled 'They Said Sleep', the band has : "…applied contemporary studio techniques to ancient material, creating a Chopped 'n' Screwed edit of an early medieval folk song."
In their debut album, Oceans of the Moon are creating sonic psychedelia that adopts funky elements at the beginning and heavier ones towards the end. The sound of the album is dominated by slow rhythms, nicely placed samples and haunting vocals.
The IDM, experimental electronic side of this monthly soundtrack is represented by the releases of Restive Plaggona, MediaData, Detritus and Cocktail Party Effect. The truly restive in nature, Restive Plaggona, has filtered through his soundscapes, the anxiety and the darkness that looms over the world and Greece in particular (the country of origin of the project). We can feel pleasantly and truly 'lost' within the industrial pulsations and the elegant melodies that sneak through them, so much so, that we are starting to develop some sort of 'addiction' with the music of this project. 'Trouble Social', uses a conceptually powerful image of a fallen human being as a cover, like a fallen anti-angel, on a rocky surface, perhaps a symbol of harsh struggles against unfriendly 'territories'. We really loved the addition of female backing vocals which are strategically placed within the album. The self-released EP by Detritus, entitled 'Ruin', keeps us inside this deep reverberating space that Restive Plaggona has 'opened up' and is aiming to keep us suspended in there. Low pitched, distorted beats form a sturdy basis on which melodies 'rise' and 'fall' by transforming themselves from calming agents to disquieting channels. 'Gracefulness', the new album by MediaData, begins our journey quickly, into an undulating space, through low pitched pulsations. Sounds of piano and violin work well with operatic vocals whose aesthetics 'flirt' with modern classical music but manage to evade being 'captured' by them. The title of the album is reflected in the music that keeps revealing the many conceptual elements that are hidden within its throbbing beats. The new EP 'Shattered Retina' by Cocktail Party Effect, is creating a tribal in aesthetics, psychedelic and motivational sonic environment that can only make you dance until you fall down. The beats that replicate the sound of falling droplets, are the stirring elements of this EP and it is their fluctuating energy that we follow for almost 30′, passing through 'lighter' or 'heavier' areas.
The releases of Perry Blake, Body of Light, Mortal Boy and The Golden Filter are representing the minimal, melodic and melancholic side of synthpop sound. 'Songs of Praise', the first album in 13 years by Perry Blake, has two parts: the first half, where the beautiful, warm vocals carry through the gentleness of the keyboard/synth melodies with grace and lightness and the second half, which is more atmospheric and darker. From the very beginning, I felt as if the beats have been lurking at the back, complementing the vocals and their stylistic references to Bowie. After 5 songs, these beats, get distorted, become darker, more haunting, more evocative and they take the vocals 'down this path' with them. This album is experimental in its attitude towards sound as well as conceptually and you will need at least two attentive listening rounds to get absorbed by its atmosphere; but once you are inside this environment, your mind will start functioning in a different way…
'Time To Kill', the new album by Body of Light, feels 'catchier' and more evidently pop than Perry Blake's album. Fans of early Depeche Mode albums will definitely love this album's edgy sound, the reverberating vocals, and aesthetics that take us back to the 'lighter' sound of the 80s and early 90s. New wave and coldwave elements are making discreet appearances within the sound that envelops the vocals, but it is actually the synthesizers and their live and 'coloured' sound that feels as if an old friend is asking you to dance with them at the club…Mortal Boy was also present in our monthly playlist for November 2018 and now that his new album 'a la lone' has been released we could not have excluded him from our playlist. The album has darker sonic colours than the one of Body of Light and 'thinner' synth sounds. This is all on purpose though so that we can 'follow' the vocals and their sensitive musicality. Like us, you might think that the vocals sometimes bring to mind Ronnie Moorings and David Bowie intermittently. Whether you agree or not, we have to admit that this is what fascinated us while listening to this album. The machinistic and minimal beats that traverse this album create a feeling of eagerness and their references to 80s minimal coldwave melodies and new wave sound are its most attractive elements. The Golden Filter is the side project of Penelope Trappes with Stephen Hindman and the album 'Autonomy' is their latest offering. Expect a magical mix of dream pop and electropop experimentation, a cinematic approach when it comes to the delivery of the lyrics, minimal funky sonic intervals and a disruptive and pluralistic attitude on what concerns the form of sound. We read in a statement: "The Golden Filter were born in 2008 in NYC as a disruption to the pop music status quo…". The sound has deconstructive, minimalist qualities in its aesthetics (i.e. distortion, minimalism, syncopation) and the bending of space and time through sound, is one of its aims. We are fascinated by the many artistic faces that a musician reveals throughout their career and The Golden Filter is a fine example of this.
The heaviest sound of this soundtrack is the result of the combined effect of Lingua Ignota with Rainbow Grave and 3TEETH.  'No You!' is the debut EP by Rainbow Grave, a band that includes the founder of Napalm Death Nichols Bullen and John Pickering (Sore Throat, Doom). Listening to this album while having Nicholas' unusual, sinister, vocals as a guide, and the distorted, noisy sonic walls that surround them, will most certainly make you feel as if you have been taken over by a tornado, unable to escape its force and at some point…even unwilling to. Enjoy the heavy, unusual vocals, the addictive repetition of rhythms, the increasing energy with every song and amazing psychedelic improvisation at the instrumental parts. 'Caligula' is the next chapter in Lingua Ignota's existential, sonic story. Hear the violin and piano notes? They represent these delicate feelings, like thin threads, these unspoken little things that someone feels and which can shatter at any second. Caligula was a controversial character mostly remembered for his abusive, manic personality. It seems that the abuse of power at its extreme form, is the element that Lingua Ignota was inspired from and felt appalled by, so much so, that it gave to it a 'monstrous' sonic form. Kristin delivers the lyrics once again, in a dramatic manner, as a 'wounded animal' in retreat but not in defeat. Religious references both in the lyrics and within the choral, reverberating vocals, are interlocked with existential ones in a spiritual battle that is both grand but also very dark. It is truly remarkable how something so dark, something so 'cursed', has attractive and repelling powers at equal parts! We truly admire the grandiosity that this musician is able to deliver and we 'struggle' every time to listen to her albums at their entirety without being affected 'too much'… 'Butcher of The World' feels as if Bach and Albinoni, were trying to 'target' the soul in a different way. The production of this album is once again perfect, managing to give depth and clarity to heavily distorted and noisy parts without shadowing the delicate violin and piano notes. 3TEETH struck again, with a new heavy, industrial sonic offering entitled 'Metawar'. The band which has so far revealed to us the cinematic side of industrial music, has enhanced the metal-inspired aspect of their sound in this album. Where 'shutdown.exe' had a Front 242 kind of energy, 'Metawar' nods to Marily Manson's early sound a bit. The band's social and political awareness continues to inform the lyrics, the tone of the vocals, the energy of the album and the titles of the songs in this new album. The sound in this case has more depth, compared to the previous album, the layering of vocals enhances their emotional strength and the alteration of noisier parts with heavy slower rhythms creates a very powerful effect and an aesthetically attractive sonic space. The album ends with a beautiful cover of Foster The People's famous song 'Pumped Up Kicks' which lowers the sonic energy but really pumps up our spiritual energy. When this band comes your way, you should not want to miss them!
We should have concluded this soundtrack with this album but we have not yet mentioned the releases that represent the coldwave and deathrock sides of it. The releases of Mueran Humanos, Astari Nite, Drab Majesty, Silent EM, Dead Tape, Carlo Onda and Glasszone span the whole range of minimal coldwave/industrial music and pick different sources of inspiration which they combine and enrich in fascinating ways. Four years after the release of 'Miseress', Mueran Humanos have returned with 'Hospital Lullabies'. Without losing the musicality and the passion in their performance, Carmen and Tomas, explore more coldwave rhythmic paths in this album, while they also retain the industrial textures that place all their music in an environment resembling an old warehouse that is regaining its vitality. It is important to stress that 'Hospital Lullabies' is not just a music album but a complete project whose first part is a movie with the same title, made by Carmen Burguess. This 'movie' in 7 songs (chapters), contains religious references (e.g.  'Problems of the Future') despite having a non-religious theme in the lyrics. You might also find that the visuals in 'Alien' and 'Stone Guardian' nod to the aesthetics of the photo-retouching the band has made on the covers of female fashion magazines, while remaining pop in their aesthetics. Overall, it seemed that the ideas of mortality and captivity or even entrapment in situations, lingers over the subjects of this album. Astari Nite's new single entitled 'Dearly Beloved' is a teaser for their upcoming album entitled 'Here Lies', the release of which is highly anticipated and expected to happen sometime within the winter of 2020. The song, described as a 'funeral/holiday song' by Mychael, is a lyrical song, nodding to the melancholy and lyricism of David Bowie and Marc Almond alike and prompting us to dance to it, pondering the gravity of the lyrics: "And we'll dance to, the sadness of our emptiness, most of the time …" and the sound of lost love. In their new album entitled 'Modern Mirror', Drab Majesty are not focusing on melody as much as in their previous album, despite the fact that the vocals have an inherent musicality that slips through. The synthesizers are setting the mood nodding to 80s synthpop and define the tone of this album while the vocals follow a 'lighter' sonic road than the one they 'followed' in the band's previous albums. As the debut album of VR Sex was inspired by the extreme consequences of technology, so does 'Modern Mirror', which is 'painting' a less sonically 'extreme' picture of technology as a whole. We read that: "Each song tells a piece of the story, in which the listener's own self-identity has become warped and dissociated through rapidly expanding technology, losing touch with the origins of their own personalities…" and while the album might feel kind of static at times, the ideas behind the lyrics are anything but. Silent EM a.k.a Jean Lorenzo, is a favourite project of ours and we have included their previous album entitled 'Foreign States' in our monthly playlist for January 2018. 'The Absence' the new release by Silent EM, offers an attractive mix of darkwave, coldwave and post punk elements, all 'tied' together through Jean's passionate reverberating vocals and the industrial pulsations that the analog synthesizers and the carefully positioned samples create for the duration of the album. You will want to listen to this album and dance to it again and again. 'Garden of Glass' the latest album by Glasszone, has a sonic 'weight' that nods to The Cure and Bauhaus, offers 8 beautiful darkwave and even manages to make the guitar sound like a landing plane! What more can one ask for? Carlo Onda's debut album 'Geister' has dark synthpop aesthetics. further enriched by elements of italo disco which managed to reveal themselves. Carlo Onda has said that he has been fascinated by italo disco and new wave sound, after running by chance into some LPs of these genres, in a second hand store, by chance. Dead Tape's 'Demo' will appeal to fans of She Past Away and coldwave post-punk sound in general. The band from Indianapolis has included three songs in their demo and through them, they affirm their inspiration from 80s coldwave music. Echoing vocals and rhythms to dance to, are the elements through which this band creates the desire to go back and listen to the music of Claire Obscur and Bakterielle Infektion.
The deathrock/punk side of the soundtrack was covered by the releases of Noche Tras Noche, Medusa Stare, Virvon Varvon, Normal Man and Minima. The demo release of Noche Tras Noche a.k.a Melani, Lexi, José Luis, Enoch and Nick is entitled 'Caer y Caer'  and its magnetising energy is contained within the electric 'currents' that the guitar is admirably producing from the very beginning until the end. The sound is heavy but 'coloured' and very dynamic, the guitar is doing magic things throughout and the vocals create the same emotional upheaval that the voices of Jaz Coleman or Mark Burgess have been creating. Having as a conduit the unique and powerful alto voice and of Taryn and Sasha-Vox's poetry, an anarchist point of view and bands such as Xmal Deutschland and Cinema Strange as points of influence,  Medusa Stare have created a memorable debut album whose songs are political and social statements as much as they are great songs to dance to.  Virvon Varvon's 'Mind Cancer' will excite purist punk fans as it is one of those albums that follow the route on which Ramones and Blondie have already traveled. You will not realize when this album will have been finished and you will most definitely play it again. MINIMA have offered a much angrier and 'coarser' type of unapologetic punk than Virvon Varvon in their debut album entitled 'MINIMA', with evidently more distortion and noise in the guitars and equally motivating rhythms, courtesy of the 'marching' drums. If the albums of Virvon Varvon have 'warmed you up' then 'City Livin' ' the new album by Normal Man will maximize your energy with its witty lyrics, its punk 'n roll sound and its 'in your face' attitude. The lyrics are symbolic and the cover of the album is as evocative as it can be. You will jump up and down with the 'heavy' guitar/bass riffs and the throbbing drums, before electrifying guitar solos, attempt to 'lift' you up as high enough as possible so that you can then, enjoy, 'jumping off' from there 😉
Before closing up this soundtrack we should mention the new album by Egyptian shoegaze band PanStarrs, entitled '??? ?????'. The characteristic of the sound of this album is the dreamy nature of the vocals as it is juxtaposed by the grunge/psych nature of the guitar riffs. We loved the pulsating rhythms which manage to hover over the noisy parts as well as the fact that there are many elements that one can identify within the rhythms, including rock 'n roll ones.
We would like to close the soundtrack of this month with a project that is always in our hearts and for the music of which we are somewhat biased. This is no other than The Great Park, whose live performance in London in 2014, we had the rare chance of enjoying.  The latest album entitled  'A Day', offers another glimpse into the soul of Stephen Burch, the musician behind The Great Park. In this album, as in all the previous albums, every syllable of every word is charged with a rare combination of poetic awareness. Every verse has the power of a lived experience, of a thought whose gravity has been experienced to the fullest. It is the humble yet powerful sincerity and gentleness with which The Great Park delivers truths contained within the lyrics, coupled with equally gentle and minimal melodies that capture our hearts every time a new album is being released. During his live gigs, this effect is multiplied by the directness of the performance, which the studio album is also replicating by creating a sound that feels to be near us, almost as whisper. Some musicians create captivating shows, others create a lot of noise, others rely on a pluralistic sound but very few can capture our souls in the way The Great Park does and having said that, we shall conclude this text and let you enjoy our playlist.
Blaue Rosen