"…the artist must be ready to be consumed by the fire of his own creation "? Auguste Rodin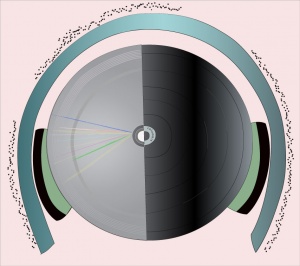 As this year is approaching its end, the new music releases are perceived as if they somehow close an imaginary sonic circle that started 11 months ago. The soundtrack of the previous month traces a path that begins in a space filled with techno, industrial and minimal electronic rhythms, reveals the various 'faces' of punk and dark pop and ends by finding the shared emotions between trip hop and 60s inspired folk rock. There are plenty of debut releases within this month's soundtrack, two of which are the result of creative collaborations between kindred musical spirits.
We 'saw' the return of two big names during November 2018, The Prodigy and Alien Sex Fiend. The former, through the title of their album, 'No Tourists', make a timely reference to the problematic increase of bad tourism in many popular locations around the world. The band has always moved skillfully between techno and industrial and it does so in this album as well. However, there is a twist toward more mainstream techno paths toward the end. Take it or leave it, this is another little star to The Prodigy's music galaxy. At the opposite end of the sonic palette, is the album of Alien Sex Fiend, appropriately entitled 'Possessed'. Deathrock, batcave sonic magicians Nik and Mrs Fiend have compiled another densely weaved, gothic sonic web and are luring us towards it with 12 songs that employ reverberation, spoken word and many wickedly manipulated sounds and vocals, in order to create the spookiest album of this month's soundtrack. Being masters of this sound since 1983, Alien Sex Fiend is one of the bands whose albums maintain the DIY and punk attitude in all their aspects (lyrics, covers, atmosphere).
The dark side of post rock music in this playlist is represented through the releases of Esben and The Witch,envy, Mésange and Miss Rayon.'Nowhere', the new album by Esben and The Witch, is a journey through richly textured sonic 'mountains', made up from noisy and metal music inspired guitar riffs and vocals that are both agonizing and 'possessive'.In their EP entitled 'Alnair In August', envy have been inspired by loud heavy metal guitar riffs and black metal vocals.These songs are performed in a captivating way that blends singing with spoken word and accentuates the melancholy of the melodies.Both songs in this EP have a dynamic structure when it comes to their energy which made us experience many emotional fluctuations throughout their duration. Miss Rayon's album 'Eclipse' cannot really be described by the words 'post rock' as it is an album that also reveals dream pop qualities alongside blues', post rock and punk influences. Before you start thinking that all these elements might prove to be a bit too much to handle, just have a listen and admire how skillfully and creatively all these are combined in this album. Finally, Mésange's album 'Gypsy Moth' is a fine example of how darkness and sonic melancholy can be cinematic and emotionally rich . Violins and cello 'handle' the sonic thread that the seven tracks of this album are stretching and twist it and pass it through fascinating paths, some of which have dark ambient qualities. We read in a statement by the band: "Me?sange implore you to explore the threshold between dawn and dusk, self and other, where unfettered territories are sensually intimated in fecund sounds that teeter between lightning and thunderclap."This is a strongly experimental album that can be best enjoyed with as less light as possible…
One very special album manages to take us into a slow 'moving', dark psychedelic part of this playlist. P.Emerson Williams has made three releases during the previous month,two solo ones: 'Desert Nocturne' and 'We Come Forth' and one as Choronzon, 'I Have Begun'. Our favourite one was 'Desert Nocturne' because the hypnotic and trippy subtle melodies in its tracks, 'unlocked' similar areas in our psyche, to those reached by the Jim Jarmusch's movie 'Only Lovers Left Alive'.
The various faces of punk have been explored by the fascinating joint release of Protomartyr/Preoccupations, the new album of SAVAK and the new EP by Girls In Synthesis. The EP entitled 'Telemetry at Howe Bridge' sees the two bands (Protomartyr, Preoccupations) perform each other's songs.It is really a fascinating release that gives to both bands the chance to charge the other's song with a different energy. SAVAK in their album 'Beg Your Pardon' have infused the punk core of their album's sound with garage rock elements and created a sound that has dynamism and a nice atmosphere while being rhythmically rich. Girls In Synthesis, in their EP entitled 'Fan The Flames' just add to our anticipation of their next live gig in London. The music of this band which has an explosive energy on stage, is mostly enjoyed and 'understood' during a live show. In the four songs of this EP we just get another glimpse into the melodic sonic fervour that possesses this band every time they perform one of their amazing songs.
The releases of Coma Alliance, Aeon Sable, Black Nail Cabaret and Mortal Boy, visit darkwave and dark pop areas. Coma Alliance, a fascinating collaboration between Adrian Hates (Diary of Dreams) and Torben Wendt (Diorama), released its debut album entitled 'Weapon Of Choice'. Through the album's 12 (mostly) single word title songs, you will probably find yourselves in a space between the music of Diary of Dreams and that of Diorama. 'Weapon of Choice' uses the best elements from both bands and creates something new. Dynamic and staccato rhythms, minimal electronic melodies, various sounds and vocals from two fantastic singers who both make a statement whenever they perform; these are the magic ingredients of this fantastic album. Black Nail Cabaret, add another chapter to their very creative career and another important moment in their year, by releasing a new album entitled 'Pseudopop'. We have not really encountered a band that experiments so much and so creatively with the dark side of pop, not only on what concerns its sound but also on what concerns their stage appearance as well.The album 'Pseudopop' is truly an experimental album where the layering of vocals creates a hallucinatory/dreamy atmosphere and the skillful use of electronic samples gives to the sound, multiple industrial textures without losing the dark pop element that the band has been developing even more with each album. After a small absence, Mortal Boy has released a beautiful synth pop single entitled 'Synaesthete', taking its name from the word used to describe the merging of senses with the aim of enriching their meaning. This song can easily find its place within a post punk/darkwave setlist in a club. Aeon Sable, have embraced their more melodic side in their new album entitled 'Aether'. Having as an 'ace up their sleeve' fantastic guitar solos that effortlessly navigate between noisy metal-inspired trembles and beautiful vocals that can equally turn their menacing 'side' to us just moments after revealing their less ominous 'face', Aeon Sable deliver an album of irresistible darkness.
Electronic music has been represented by seven releases, that make a trip from danceable electronic/IDM towards techno, noise and industrial paths. Ant-Zen's founder through his project named SALT, has released a strongly experimental album entitled 'Invisible' and describes it as: "noise pop beat massacre with a Japanese green tea infusion it has been done because it's possible". All we can say is that the sound of this album is worthy of the importance of Ant-Zen as an experimental label and that Salt is creating a rhythmically fascinating maze from which you will not come out the same person :). The album entitled 'cold war, hot love' is the debut album of a project that is the result of a collaboration between three powerful musicians, control • geneviéve pasquier • kommando. In the notes of this album we read the following statement: "…the commonality between love and war when it comes to intensity and depth is unquestionable – with this oeuvre, geneviéve pasquier, control and kommando have managed to perfectly illustrate it.". These three musicians have a talent at creating sonic dystopias, therefore you can only imagine how 'unpleasant' the combined effect of their individual styles, can be. Well, wonder no more, this album has an industrial texture, distorted vocals and can be perceived as an existential 'cry'.We had the slight impression that Geneviéve Pasquier was somehow less 'visible' in this album than what we expected. TEATRE and Tamsis have released two different but equally beautiful albums.In his debut album entitled 'Biennale', TEATRE blends industrial and dark techno in 8 tracks, destined for any serious dancefloor! Tamsis in his album entitled 'Underworld' also has some dark techno moments but the lyrical and melodic parts nod to the early sound of Front Line Assembly. Lunar Tomb have used analog synthesizers and a sequencer/drum machine in their album entitled 'Tierra de las Brujas'. Even though the album begins with a sound that brings to mind early computer games, later it rhythmically blends IDM and techno elements and manages to create a hard-to-escape, hypnotic sound.North Sea Dialect's impressive debut album entitled 'Local Guide' is deconstructive in its aesthetics and richly textured with blasts, scratches,'muffled' noises and high pitched sounds. It will trigger your senses in an interesting way, leaving you wondering what to listen next…Finally the album 'Thresholder' by Ian William Craig, is a sonic collage created with the aim of creating a kaleidoscopic and numbing experience.Distorted vocals appear unexpectedly with the aim to accentuate the feeling of sonic disorientation that this album creates. We bet that after finishing with this album you will probably feel like the objects of its cover…seemingly floating and disconnected…Enjoy it!
We loved the albums of The Funs and Public Memory;the album 'Alienated' by The Funs nod to Sonic Youth while also revealing its garage rock and punk rock sides and the album 'Demolition' by Public Memory because it nods to Massive Attack and Portishead while revealing its uniqueness in creating a great atmosphere that gently puts the mind into a meditative trip. Lowtide's album entitled 'Southern Mind' brought to mind both the sound of Field Mice and that of Ladytron at different times throughout its duration. We particularly liked its dream pop elements and the way they give way to mesmerizing, reverberating guitar and bass riffs. The new album by Camila Fuchs, entitled 'Heart Pressed Between Stones' is an experimental album in its inception and character. We liked the way the dreamy stillness morphed to tribal, attractive, rhythms. The way each song is structured feels very organic, as if it takes shape from nothingness, gains some momentum and tension and then dissolves into silence.The delivery of the lyrics strongly reminds us of the early releases of Björk; her passionate, very direct, dreamy, emotional way of singing.
The influence of 60s folk and rock'n' roll music has been very strong for the last group of releases in this playlist and equally great has been the transcendence of this influence.PAINT, The Wave Pictures, MNMM, Sun Kil Moon and Vera Sola, have all released beautiful albums where lyricism and warmth of emotions, sometimes triggers the gentle side of us and other times, the  diabolic one.PAINT, the solo project of Allah-Las' guitarist Pedrum Siadatian, has released his debut album entitled 'PAINT', which refers to the best moments of rock 'n' roll and garage rock.The album 'Look Inside Your Heart' by The Wave Pictures is as joyous as the band has intended. Starting with a tribute song to the talented blues' musician, Roosevelt Sykes, the sound of the album reveals strong influences from The Velvet Underground, Bob Dylan and The Beach Boys combined.We read in a statement: "Look Inside Your Heart is intended as a rallying cry in the war against the machines…is a bullet in the face of all pop-poseurs and robot wannabes, a die-hard continuation of the vulnerable rebel tradition of rock and roll music, a vibrant work of outsider art and a masterpiece of electric folk.".
We picked three very special albums in order to conclude this playlist, because they all glorify experimentation and offer a sound whose melancholy is both poetic and inspirational. MNMM in their debut album entitled 'Minimum' give sonic form to the lyrics found in works by contemporary Iranian poet Houshang Ebteha. It is truly inspirational to listen to the unique voice of Gelareh Pour accompanied by post rock melodies, ceremonial in their atmosphere, which also have eastern folk music as a strong reference point. Sun Kil Moon's album entitled 'This Is My Dinner' will take you into a 'smoked' landscape, filled with layered vocals, narrating dark stories, the epicentre of which, seems to be the song 'Linda Blair' referring to the protagonist of The Exorcist with the 'help' of extracts from Queen's 'Somebody to Love'! Through this album's 10 songs, you will find yourselves enveloped by the warmth of melodic folk and blues songs that talk about mundane things in a Burroughs' inspired manned. This album needs you to like whiskey so that you can enjoy it to the fullest. Finally, Vera Sola's impressive debut album entitled 'Shades' has the warmth of her amazing vocal range as a guide and her highly evocative vibrato together with the melancholic melodies she writes, as instruments. This album's zenith comes with 'Loving Loving' and 'The Cage', two songs which 'hide' within the percussion rhythms, their borderline morbid emotions…!
Sometimes our playlists have more 'light' in them, this is a particularly dark one…Enjoy it!
Blaue Rosen