"Cruelty has a Human Heart
And Jealousy a Human Face
Terror the Human Form Divine
And Secrecy the Human Dress (William Blake: poem 'A Divine Image')"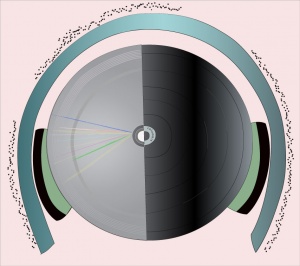 2018 concludes its music journey with amazing gigs that we will keep in our minds throughout the rest of the year. The album releases of December have somehow helped to make the transition to the next year smoother. Our monthly playlist makes a journey from ethereal folk to post-punk and metal. It includes impressive debut albums and the new album by the great 'magician' of piano, Lubomyr Melnyk.
IRFAN have self-released their fourth album, entitled 'Roots' through which they draw attention to the concept of remembering and honouring one's starting point, one's roots. Through six songs that make a journey from the folklore to the ethereal, the band retains the dynamism of its identifiable rhythms and creates an album that reaches a wider audience than their previous one 'The Eternal Return'.Following a similar path but paving it with darker sonic colours, Uinuos, merge the warmth of the vocals with dark folk, tribal and ceremonial rhythms, in their beautiful debut album entitled 'Walakiat', that was released on the winter solstice.
The darkwave, grunge side of this monthly playlist has the signatures of Melanculia and ₲ardeŋ ɵƒ on it. Melanculia, the side project of Nino Sable (Aeon Sable) through the album entitled 'Seventh Circle', nod discreetly to the sound of the Mission and early Sisters of Mercy, but it was its unapologetic lyricism, the subtle synth melodies and the danceable rhythms that have captured our attention the most. The debut release by ₲ardeŋ ɵƒ entitled 'Void' explores the experimental sides of electronic and post-punk and creates a very atmospheric sound. We loved the hypnotizing and numbing effect that the music and the vocals have crafted.
Speaking of atmospheric albums, the new releases by Correlations, Phragments, and Dark Voice of Angelique, seem to have been determined to show us how many hidden sides the word 'atmospheric' encompasses. The album 'Hidden Scenes' by Correlations, has been inspired by the city of San Francisco and should be listened to together with the album 'Aftermath'. This cinematic album that could have been the soundtrack of a dystopian, post-apocalyptic movie, starts by 'painting' a bleak and dark sonic picture but later introduces some more lively industrial textures to its sound. Phragments through the album 'Fratres' that was a result of collaboration with Atranenia, Mindspawn, Rasalhague, Shock Frontier, and Terra Sancta, has shown what a positive effect, lyricism, and musicality can have on dark ambient music. The album 'Winter Mind Game' by Dark Voice of Angelique a.k.a Ilyah Beloff, has a dark, ceremonial atmosphere made up of sonic fragments of drone, industrial, even noise and psychedelic nature. You will probably agree that 'navigating' the maze depicted in the cover of this album, is not a 'game' of calm intellectual power but one in which your mind will be asked to win over forces of sonic disorientation and dark psychedelia. This album is a glorious synthesis of rhythms which have different qualities and dark tones and you only need to be in the right mood in order to enjoy it by letting yourself be immersed in its atmosphere.
The Decemberists and Scott Hirsch, have been inspired by different elements of 60s folk music, which they have further enriched. The 10″ EP of The Decemberists entitled 'Traveling On' will soothe your mind through five songs which, have blues, dream pop, soul and even punk elements in their rhythms. Scott Hirsch's album  'Lost Time Behind The Moon' is an album with many reference points, two of which are: the music of Lou Reed and the sound of Bob Dylan. Cello, harmonica and the saxophone, are just a few of the instruments that make up the beautiful melodies of the album but in the end the vocals that reveal the emotions contained within the lyrics. This is the album that you would like to accompany your thoughts at the end of the year.
Moving on to the post-punk part of this playlist, we have had impressive releases within December from SYZYGYX, Verna, DROWN. and Incirrina. All these albums are self-released and all of them seem to have had a common goal, to show to us that post-punk music is indeed a style with many more dimensions than those we have already 'encountered'. The album 'Encounters' by SYZYGYX blends 80s synthpop rhythms and their catchiness with the passionate aloofness that characterizes coldwave music. Luna (Blanc) and Josh (Clark) use pulsating synth rhythms spacey melodies, which become something resembling a warning siren under the impact of Luna's mezzo voice. Verna's impressive debut album entitled 'Verna', is mainly an experimental album that does not hesitate to merge noise with eastern-music-inspired sounds. Overall, its sound places more weight on the 'punk' element of post-punk and at times seems to have been influenced by Christian Death and Joy Division alike. Incirrina, have started working on their EP entitled '8.15', having being inspired by the poetry of William Blake which forms their lyrics and their love for 'heavy' coldwave synth melodies. The result is a sound that brings to the foreground Irini's beautiful voice, her spoken-word type of performance and Dimitris' experimentation with synthesizers and samples. Whether William Blake would find this interpretation of his poems as inspiring as ourselves will remain a mystery, but it is one hell of a great place to start for a new band. Finally, DROWN. with their debut album entitled 'I.' offer passionate performances and draw inspiration from the early sound of Clan of Xymox and Swans of Avon. Having a full DIY ethic in all the stages of the creation of this album, DROWN. hail from Goethenburg with vocals that draw all the energy that is 'hidden' within one's psyche and dress it up with captivating darkwave/coldwave rhythms.
Believe it or not, there is only one album that follows heavy and metal music paths and this is no other than DIRGE's latest album entitled 'Lost Empyrean'. 'Heavy' and resonating guitar riffs and roaring vocals with a nice tone to them, make up this album's sound. We loved 'Lost Empyrean' because the use of relatively slow rhythms and the great production, give depth to the sound and add an unexpected ceremonial quality to it that place it close to the realm of the more recent Killing Joke sound. We read that: " 'Lost Empyrean' serves as a soundtrack to the dual relationship between the primordial quintessence colliding with the earthly body and the illusory nature of providence upon the somber, meager trappings of existence…".  The complete opposite of this album in terms of aesthetics and rhythms is the otherwise beautiful, debut album by Selling, entitled 'On Reflection'. By 'drawing' minimal electronic sonic paths that use skillful layering of melodies, the nine tracks of this album share some qualities with the compositions of Steve Reich and in the end, they have a very welcoming psychedelic effect.
There is no one better equipped to close the last playlist of 2018, than Lubomyr Melnyk, 'the prophet of the piano' as he has been called by many. His latest album entitled 'Fallen trees' was released close to his 70th birthday and proves that dexterity is just a matter of practice and perseverance. Modern classical would best describe the music of this album even though its performance has nothing typically classical about it. As you might already know, this is a man that has mastered the art of playing the piano, by hitting more than 19.5 notes per second in each hand, while he has also played between 13 and 14 notes per second for one whole hour. Nature has inspired the theme of this album and because of that, the sound has a captivating flow to it. We will have the chance to enjoy his talent on January 24th when Lubomyr Melnyk will perform live at Earth in Hackney.
We will not tire you any further, we hope that you enjoy the last playlist of 2018 as much as we enjoyed preparing it!
Blaue Rosen