"Color possesses me.I don't have to pursue it.It will possess me always…" (Paul Klee)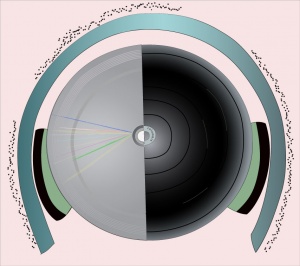 Paul Klee might have been referring to painting in this quote, but he was born in a musical family and played music in the Berne musical orchestra, so his opinion about colour was surely informed by musicality as well. I will borrow this quote in order to introduce the first monthly playlist for 2018, made up of releases that were made during January 2018. We have listened to 68 albums and EPs and we picked our favourite songs from 29 of these releases.
We were delighted to listen to the new album by CALEXICO, a favourite American indie rock band with a unique sound that keeps developing further with each release and never loses its serenity. In the album entitled 'The Thread That Keeps Us' that was released through City Slang, you will find references to latin American rhythms, indie rock songs and even soul music references. I highly recommend to purchase the deluxe edition of this album, as all the bonus songs are of different character than the rest of the album and some of them are even more melodic. Next on our favourite releases of the month, was the new album of Black Rebel Motorcycle Club. 'Wrong Creatures' is a rock album with heavy reverberating guitars and the coolness of the rock attitude whose sound somehow represented something more pragmatic within this monthly playlist. The album 'An Edible Body' by Wind Atlas impressed us very much as it blended in a truly original way, post punk rhythms with ethereal/neoclassical elements especially in the vocals. We could never have imagined such strong influences by Dead Can Dance (i.e. 'Herencia de Jade', 'En La Cruz') when this album started in such a dark, experimental and mystical way.
It was the cryptic simplicity and the cinematic abstraction of the slow moving, synth based, melodies of Les Illuminés (Debut album: Apparitions), that ascribed poetic qualities to the bleak days of January. The idea of innocence that was carried through the gentle minimal electronic and ambient melodies of KENO (Debut album: 'Around The Corner') was juxtaposed by the emotionally light, electronic psychedelia of Evitceles (Debut album: Anuket), the much darker but equally motivational, industrial /IDM rhythms of ? Boötix  (Debut album: 'Drinks and Dreams'),the industrial darkwave music of the beautifully textured second album by Neon Lies entitled 'II' and the horror inspired, mystic darkness of Brien Hindman's industrial soundscapes (Debut album: 'Cognitive Buffer Hypothesis'). Following a different path within the industrial music genre, Putashriek, after making an impressive comeback after 20years, has released his third album entitled 'Rebirth III'.Nodding to both DAF and Wumpscut the four tracks of this album reveal both the fascination with minimal electronic rhythms and their interesting relation to distorted vocals.Damselfly's 'An Awkward Bow' releases its energy and reveals its dynamic gradually by creating a sonic path that starts from ambient, passes through electrifying minimalist areas, increases the energy with discreet references to psych trance and without losing its melancholy, returns to ambient melodies.
The romanticism and the reflective lightness that movies of the French new wave cinema inspire, were somehow replicated through Marta Raya's single, 'Inner Movement' , Crater's dream pop album 'Unearth'and Club 8's complex and experimental album ('Golden Island') that has delved into the realms of coldwave and minimal music whilst also been enriched by influences from blues and even eastern music.We really liked the music of The Field Mice, this short lived project of the indie scene of the 90s, so when the song 'Keep Touch' from album 'Could It Be Different?' by The Spook School, reminded us of the favourite song 'Sensitive' by Field Mice, we had to include it in this monthly playlist.
Marta Raya also revealed the captivating coldwave side of her music with the beautiful single 'Vicious Circle'. There were a few releases this month, whose ritualistic element was one of their most attractive element: In their demo EP, The Column, explored the ritualistic and hypnotizing sides of coldwave music. The cryptic music of Elmapi (Debut album: Desido) brought to mind the music of Les Jumeaux Discordants and the magnetising electro darkwave music of Anders Manga (Album: Perfect Stranger) made me decide to buy Dostoevsky's book 'Demons'.
It was the guitar rhythms that brought to mind The Chameleons and the bass riffs that reminded me of The Cure, that seem to have influenced Cruel Reflections while creating their debut darkwave and post punk album, entitled 'One year'. Similarly, Deaf Dance seem to have been inspired by the sound of Joy Division and The Smiths, while creating their attractively melodic coldwave songs for their debut album entitled 'A Cold Gaze'.  Nürnberg's debut album entitled 'U nikudy', was inspired by classic post punk rhythms and 'conversed' with Sextile's new single 'Current Affair' that brought to mind the music of Malaria. The most dynamic entry in the genre of post punk releases, was made by Silent Em, whose second album 'Foreign States' was released in physical format during January and sold out immediately.
A month cannot go well without doses of music psychedelia. Starcrawler have created an impressive debut album entitled 'Starcrawler', that nods to Sonic Youth but does not hesitate to infuse the sound with more typical punk and rock elements. At the other end of the spectrum of musical psychedelia, The Longdrone Flowers, have been influenced by the psychedelic music of the 1960s and released their debut EP entitled 'Confessions Of A Mask', that even reminded me of the sound of The Velvet Underground towards the end. Earlier in 2017, we had the chance to see Dead Vibrations perform live at The Shacklewell Arms during a Fuzz Club Records showcase. Their album entitled 'Dead Vibrations' showcases the shoegaze- inspired side of psych rock and create a hypnotic atmosphere with a grungy texture.
We kept the most wicked musical choices last. The first one is a hardcore metal album entitled 'The Lights Of This Earth Are Blinding' by Centuries. We loved both the more melodic parts and the angry frenetic parts of this album, created by the skilfully 'trembling' guitars. Because metal music is most appreciated live, we hope that Centuries will travel from this side of the world and we can get a chance to see them perform live in London. Punk music always fascinates Blauerosen, so when we listened to Eindkrak's debut album 'Brullend Staal', who dared to experiment with punk and industrial elements, we were thrilled. Finally, we liked two completely different albums from two Greek bands. Chain Cult have emerged at the music scene of punk, with a demo that explores the angry vindictive aspect of the genre while it nods to the early years of The Damned, while Martyria with their album entitled 'Martyria', will appeal to fans of Wardruna with their eclectic mix of liturgical chant, dark ambient and ritualistic atmosphere.
We have already started listening to the releases of the next month but it is fair to say, that the musical colour of this month's releases, could make Paul Klee proud!
Blaue Rosen