"If you don't learn to laugh at life it'll surely kill you, that I know"-BROM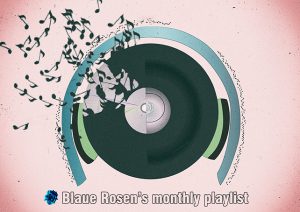 March was a dark month, especially in the UK as it was the month when the lockdown measures were put in place, creating a new situation even for the reclusive misfits of society. The sonic output of this month was rich but we did not find it as easy, to identify truly exceptional releases. There were many EPs and albums that confused us both with the plurality of their influences and with the fact that the bands seemed to be unable to make sonic sense out of all this. Once again it was the most experimental approaches to sound that fascinated us and a spirit of relentless energy that has been retained and enhanced from all-time favourite bands.
Our soundtrack of this month makes a fascinating trip from pagan folk to experimental IDM, through dark post-punk and psychedelia and in it, you will find the latest album by Peter and The Test Tube Babies and My Dying Bride, many debut releases from independent bands and labels, some of whom do not have a social media presence and an album that must have been so challenging to mix and master that it needed the magic touch of a sound 'magician'!
First things first, Peter and The Test Tube Babies, a punk/oi!punk band that started its career in 1978, is celebrating its 40th anniversary this year, with a new album entitled 'Fuctifano'.The band has taken its name from a term used to refer to children being born through IVF. The term 'test tube baby' was first used in the 1930s to refer to artificial insemination. IVF was big news in 1978 when the band started and it seems only natural that it found its way into the all-seeing-eye of punk culture. As in 1978, so in 2020 the band remains relevant and critical of the current way of life through the song titles and lyrics (e.g. 'Facebook Loser', 'Queen of Fucking Everything') and lyrics such as '… self-obsessed loser…prolific, moronic, pathetic, Facebook user…', while their never-ending energy and anger reflect in the most timely manner, the frustration of our times. This album is a sonic circle, as it begins and ends with two versions of the same song; but it is also a spiritually/politically mobilizing album, in which the melodic frantic rhythms are driving the vocals, while the drums are just kicking us out of our places of comfort. The album has the witty, in-your-face, caustic-almost-cynical humor, characteristic of great punk music while the band has, this time, added a varieté aesthetic (i.e. 'Ain't Missing Her Yet'), reminiscent of the atmosphere The Tiger Lillies have mastered. This album feels like the band's first and is proof that Peter and The Test Tube Babies, are here to stay, they are perceptive, their lyrics represent the feelings of the vindicating working class across generations and their energy just does not lessen…and it will never will! We are waiting impatiently for the band's upcoming gig at the 100 Club in September.
The energy of this soundtrack takes up darker colours with My Dying Bride's new album entitled 'The Ghost of Orion', the first of the band to have been released through Nuclear Blast. In this album, the high and low pitched, electric guitars, command both the rhythms and the energy of the heavy vocals, which have come in order to take us down into a slow-moving spiritual journey. Eight lengthy songs about existential agony dressed in symbolism and inspired equally by mythology and a love for nature as is also evident from the official videos, balance between pagan metal and doom metal as cello and violin melodies and ethereal female vocals by Lindy Fay Hella (has also collaborated with Wardruna), appear as flickering lights within the melodic heaviness and lighten up areas of seemingly impenetrable darkness. The sound has definitely taken up more depth and volume compared to 'Feel the Misery' while the plethora of influences have created a richer sonic space that does not appeal only to doom metal fans. The five-year gap between the previous album and 'The Ghost of Orion' seems to have suited the sound of the band very well as they came out of it with a renewed sound and a new approach to their music.
The debut album of Eye Flys entitled 'Tub of Lard' (the debut EP of this band also featured in our playlist for September 2019) closes the circle of metal in this soundtrack. Even though we preferred the conceptually darker atmosphere of the band's EP, we could not help but notice and be amazed by, the use of high pitched/noisy and distorted sounds and the way percussion has been manipulated in order to sound like a hissing creature in the full-length album…The guitars are creating an opaque sonic 'wall' throughout the duration of the 10 songs of this album while angry vocals carry through a fair amount of frustration and vindication.
The dark side of post-punk is represented in this soundtrack through the releases of Spectres, Otih, Blind Delon, Melinda Warren, Sara Stuttgart, Masquerade Generation and Faktura. 'Nostalgia' the new album by Spectres, a fitting title for a sound that has looked for inspiration in the heyday of new wave music. Produced by ACTORS' Jason Corbett and released through Artoffact Records, this album will appeal to fans of The Psychedelic Furs, The Cure and the 90s sound of Sarah Records. 'Nostalgia' is an album that is best experienced during a live show, preferably in a big venue. It has the uplifting energy and the dynamics that promise people a night full of dancing and good times, even during our covid-19 quarantine. If you are in the mood for listening to The Damned or even Duran Duran after listening to the last song of 'Nostalgia' then this album would have succeeded in its 'mission'.
Otih's 'Demo' has an 80s inspired cover showing a scene from a dance club and is a dark post-punk EP with lyrics in Serbian. The band, from Bosnia and Herzegovina, has offered us two songs in this EP, one that is more cinematic, experimental punk and one that has a more typical dark post-punk sound. We will be waiting to listen to the band's full album once it is ready. A new EP has been released by Blind Delon, entitled 'People of God'. It contains two new songs and two remixes of these songs by Maelstrom and Umwelt. All songs are equally fascinating as they explore different areas of dark industrial music. We don't normally find the remixes of songs as interesting as the original versions, but in this case, they feel like completely new songs! The band's debut album 'Discipline' also featured in our monthly playlist for March 2019. Compared to the sound of that album, the new EP seems to be less cinematic and more dynamic in terms of the rhythms and sonic depth. The band has moved away from creating a minimal electronic soundscape that builds up the energy within each track, in favour of a heavier and deeper sound. We cannot wait to see how the full-length album that is being prepared will sound like. Melinda Warren's 'Only Sorrow/Only Pain' debut EP has those throbbing bass riffs that attract fans of dark pot-punk music. With vocals that bring to mind Claire Obscur and hypnotizing riffs, the four songs of this EP do not hesitate to navigate between seemingly solemn melancholic areas and heavily distorted ones where the electric guitar riffs suddenly come through as if carrying some sort of flaming torch, while the vocals protest with the existential agony of a person in captivity. 'Péril', the new album by Police des Moeurs, has a fascinating combination of 'heavy' deathrock rhythms, coldwave and synth-dominated melodic sonic motifs. We loved the way this album becomes more atmospheric at its second half and we also loved the way the music is nodding simultaneously to Kraftwerk's minimalism as well as to Visage's sonic romanticism. The band has explored both the minimalist and the more pluralist sides of synthwave and has created a cinematic atmosphere within their 14 tracks. One official video clip has been released so far, which adds a surreal and highly symbolic element to this whole album.
Sara Stuttgart continues to offer consistently atmospheric, coldwave sonic paths, with distant vocals that are 'calling' us from somewhere both far away and approachable. The band's new EP is entitled 'Vortex' is more lyrically melancholic and dreamy than 'Target', the band's previous EP and for this reason, it can be experienced as a sort of lament…Enjoy the rhythmic anticipation that the drums are creating and the way this is combined with the melancholy of the synth melodies. The new album by Masquerade Generation from Alaska, is also a coldwave/gothic sonic gem for those who appreciate lyrical melancholy. 'Habanita', takes inspiration by the music of The Sisters of Mercy and while the guitar riffs are quite gothic rock in their sonic heaviness, the melodic vocals are nicely paired with elegant synth melodies, in order to transfer us into a candlelit, mystifying space where us and the character at the front cover of this album, can ponder about the meaning of life…We consider the debut EP 'Danos' by FAKTURA,  a new band from Sᾶo Paulo, to be the best of the darkwave releases of this month and for this reason, we do not want to miss this band when they travel to this part of the world for a gig. Fans of the distorted psychedelia of The Soft Moon and echoing alto female vocals will adore this release, as will the fans of analogue synth melodies. We loved the rhythms and the sonic volume and we really liked the delivery of the lyrics.

The ethereal/dreamy and psychedelic side of this month's soundtrack is represented by the release of Katy&Nick and Pretty Lightning. 'Jangle Bowls', the new album by Pretty Lightning navigates between solemnly cinematic and 70s garage- inspired, motivational grungy parts with a blues-flavour, which make us miss the energy of our 'normal' city life in these challenging times. Christian Berghoff and Sebastian Haas the duo behind this project, are also performing with krautrock band Datashock.  In this album you will enjoy psych rock at its best moments.
'What I Did For You' the debut album of Katy&Nick can be experienced as a disquiet sonic tale of wickedness. High pitched percussion illuminates the theatrical delivery of lyrical stories through a combination of whispers, spoken word and song, while all other sounds are surrounding the siren-like vocals by drawing inspiration equally from 80s minimal electro and experimental psychedelia. The album contains one of the best covers of David Bowie's 'Ashes To Ashes' as well as one of the most inspiring covers of This Mortal Coil's 'Song To The Siren'. Katy's unique vocal timbre triggers hard-to-reach areas of our minds by exploring both dream pop and darker ethereal possibilities while the synthesizer is waltzing us through these complex emotional, sonic fields. We were truly fascinated by this release!
Maintaining the feelings that this album has created, you can approach 'Folkensange', the pagan folk masterpiece of Myrkur. If this album doesn't make you dance around in circles in your garden or in the park, then I don't know what will. If your dance does not inspire others to join you, keeping the appropriate social distances of course ( 😊) then it will have failed in its mission to lift everyone's spirits. The 12 songs of this album explore the lighter areas of folk music, compared to the first two albums of the band, where heavy and harsh sounds and vocals that invocate dark spirits, masked the emotionally illuminated parts of human experience. The vocals in 'Folkensange' call out all the playful and trivial creatures of the forest and nature and ask of them to embrace us. Will it be a suffocating hug or a comforting one? Will it be one that makes us feel lighter? All this is up to us. We cannot wait to experience this album live, whenever this is possible. This is music to dance to during dusk or dawn, preferably on the outside stage of Heidnisches Dorf in Leipzig's WGT…. The album was produced, mastered and mixed by Christopher Juul (a collaborator of Faun, Heilung and OMNIA among others) who is also playing mandola and percussion. Finally, the talented Jo Quail, plays the cello in this album.
The new album by Death Loves Veronica, entitled 'Lucid Dreams' will be easing us into the 'heavier' part of this monthly playlist. Expect dark atmospheric, sensual darkwave vocals and visuals and noisy distorted sounds at the background. Fans of Monica Richards' solo work will love this album as will fans of dark post-punk music. If you are looking for an album to dance to with your glass of wine, then 'Lucid Dreams' is it.
The releases of Bondage Freaks  are moving in deathrock and minimal synthwave rhythms. 'Demo 2020' by Bondage Freaks is a punk, dissonant, deathrock 'sonata', aiming at texturizing and distorting all instances of lyricism around us. Fans of Cinema Strange, the signature riffs of The Chameleons and Christian Death will find this release particularly appealing. Speaking about punk dissonance, Viagra Boys, whose debut album featured on our playlist for September 2018, have landed their new EP entitled 'Common Sense' on planet earth. Our sudden shock with the quite mainstream-rock beginning 'Common Sense' and the blues' dipped 'Blue' was dissolved with the two middle songs of this EP. Let us explain this further. How does, a band that started off talking about 'Amphetanarchy' and 'Research Chemicals', carry on by wondering about common sense? Viagra Boys have worked on a more 'mature' release this time, both in terms of sonic style and in terms of their lyrics. The well-masked confrontational punk vocals seem to have now given their place to a bone-cracking bitterness. We were impressed to find rock 'n roll and blues influences within the rhythms, while a Cave/Lanegan performing style has been adopted in the delivery of the lyrics. The same principle has been applied to the video clip that has been released so far. We have no doubt that the full length album will complete the 'story' that this EP has only started to unveil and we cannot wait to listen to it once it is ready.
We will end our reviews of the releases of this month with four albums which proved once again that the most attractive quality in music is the creative synthesis of different elements. The new albums by Trees Speak and Dame Area, explore the krautrock, free jazz, industrial possibilities of sound. 'Ohms', the new album by Trees Speak nods to Tangerine Dream and Pink Floyd has been equally inspired by dark 70s psychedelia and early 80s minimal industrial music as pioneered by Kraftwerk. We have read that: "I made four tape loops respectively of 8/5 sec, in them I recorded various parts of synths and voices, I recorded everything using my four tracks tascamTrees Speak relates to the idea of future technologies storing information and data in trees and plants – using them as hard drives – and the idea that Trees communicate collectively." We don't know if the sonic output of the band is their attempt to give a form to this idea, but in any case, the result is brilliant! 'Ohms' is a cinematic album that creates a haunting atmosphere equivalent of the cinema of David Lynch while the repetitive nature of the rhythms within each song, shares qualities with Steve Reich's music. Percussion and distorted synthesizers are enhancing the mysterious atmosphere within the album as is the saxophone. If you are wondering about the plural of the word 'ohm', then this definition might shed some light into the reasons it has been chosen as the album's title. The ohm is the standard unit of electrical resistance in the International System of Units. Ohms are also used, when multiplied by imaginary numbers, to denote reactance in alternating-current and radio-frequency applications. Whether you feel like your mind is slightly electrocuted or an 'alien' attempt is being made to lighten up areas of it which might be quietly settled down, then sit back and enjoy it, it's nothing, just the trees that… 'speak'!
The new album of Dame Area is entitled 'La Soluzione é Una' is a noise/industrial statement, where blasts and dry sounds form sonic canvas that is quite shallow in terms of its sonic depth. Having a distorted background the high-pitched vocals can freely express their anger and disenfranchise. This is a largely a-melodic album with minimal invigorating rhythms, repetitive motifs that even flirt with techno and electroclash sonic tribalism. Fans of Mueran Humanos and of experimental industrial music, will love this cinematic album!
This playlist will conclude with two experimental electronic releases by JASSS and Kato Kachimotaki. 'Whities 027' the new 12" EP by JASSS combines drum n' bass, techno rhythms with industrial textures and IDM melodies and futuristic approach on the visuals. It is truly a fascinating and exciting EP to listen to. '絶望の苦味感' (Zetsubou No Nigamikan) can be translated into ''Despair and Bitterness', is the new album by Kato Kachimotaki that has been mastered and mixed by Anatoly Grinberg a.k.a TOKEE; and this is significant as we can hardly think of anyone else who could undertake the challenge of 'cooking' all the elements that the sound of this album brings together and create this memorable result. It is fair to say that none of the five tracks of this album, ends where it begins stylistically and rhythmically. Each track is a complex sonic journey that passes through, truly unexpected 'areas'. So that you can get a rough idea of the kind of journey this album will take you on we can tell you that it all starts in a dark ambient/atmospheric way and then heavier, almost metal guitar riffs dominate the environment. The second track starts in a cinematic way that brings to mind soundtracks of horror movies and evolves into an industrial machinistic spell. The third one implies a melodic IDM development but then becomes a heavy, almost-metal track that keeps playing hide-and-seek with different genres. The fourth track 'sizzles' industrial sonic snippets within an overall ambient atmosphere. What this album proves, is that sonic unpredictability can be synthesized and can be made coherent. This is not chaotic sound, it does embrace improbability in the most fascinating of ways and with admirable production skill. Are you convinced to explore this further?
We hope that this playlist finds all of you healthy and well but at the end of the day, its purpose is to reinterpret BROM's quote! We hope you enjoy listening to it, as much as we enjoyed preparing it.
Until the next one…enjoy!
Blaue Rosen