"Look at how a single candle can both defy and define the darkness."-Anne Frank
It is so tempting to 'see' everything under the prism of the challenging times in which we are all living at the moment, so we will resist this and perceive the soundtrack of February as a wintry one which accompanies the long nights and the short days of the year.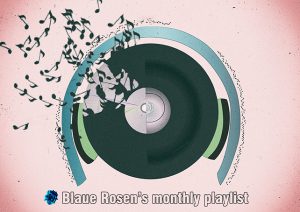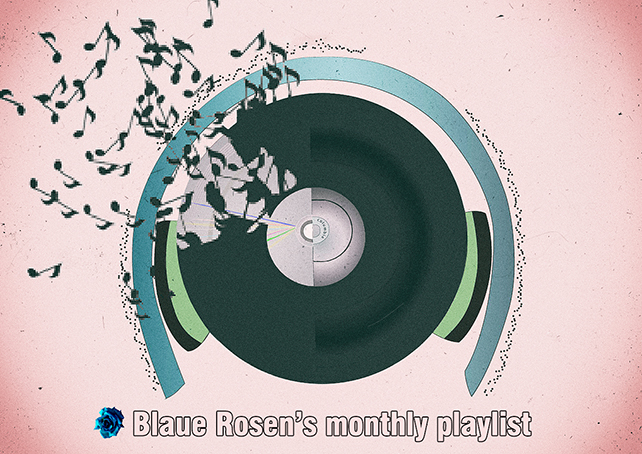 There have been many debut releases during February, both from solo artists and from new collaborative projects between well-established musicians. Somehow, they all synced, as if they were responding to the same 'calling', as if they were following something with the same aura and the same final destination…The playlist of the month could almost be seen as different songs within the same album.
We have been mostly inspired by the dark experimental releases of this month from Humanist, Wrekmeister Harmonies, Nyx Nott, Love Of Consolation and Somos La Herencia. Humanist is a Rob Marshall's solo project that has been introduced to us through a powerful debut release that features Mark Lanegan, John Robb, Dave Gahan, Ilse Maria, Carl Hancock Rux, and others. Rob has provided the finished music and song titles, and the vocalists responded to these themes with their own lyrics. In addition, he played and recorded almost all the instrumentation while fully producing this album. Listening to the 15 songs of this album quickly revealed the existential and otherworldly nature of its subject matter and its overall mentality. If you just read the titles of the songs you will clearly identify a concept behind them, but if you let your mind being carried away by the lyrics and the different performing styles of each of these amazing vocalists, then you will most definitely think differently about the world around you…From the psych guitar (and what sounds like a saxophone) outbreaks of 'Kingdom' and the more typically indie rock 'Shock Collar' and 'When The Lights Go Out', to the blues' Scott Walker-like 'Ring of Truth', the eerie punk 'hiss' that is 'English Ghosts' and the addictive gospel/spoken word/funky 'Mortal Eyes' this album made me realize that it stands on the humanist side of things while looking for strength and inspiration in areas that are less graspable and less finite.
Even though we do not tend to listen to albums in a particular order, 'We Love To Look At The Carnage' felt as the perfect album to follow 'Humanist', therefore we suggest that you listen to these two albums together. The new album by Wrekmeister Harmonies, an anagram of Béla Tarr's beautiful drama entitled 'Werckmeister Harmonies', features Thor Harris (Swans) and Jamie Stewart (Xiu Xiu) and its atmosphere inspires contemplation and the acknowledgment of inevitable darkness. The sound is experimental and multidimensional with an enviable depth that allows every little sound to shine; from the most 'muffled' bass riffs and drum beats to the distorted guitars and the mechanistic-almost-animalistic sounds. If you close your eyes while you are listening to this album you will probably find that soon, your mind and body enter a semi-suspended state…what you will do in that 'space' is entirely your choice.
The new album by Nyx Nott a.k.a Aidan Moffat is entitled 'Aux Pieds De La Nuit' and can be perceived as one piece with different moments. Overall, this is an experimental album that begins in a meditative free jazz/psych way and builds on this before coming back to more solemn melodies which are further enriched by neoclassical ethereal choral vocals. This is another album that can be enjoyed the most with your eyes closed. The role of percussion as subtle and competent bearers of all the sonic 'weight' that the synth and violin melodies imply, is juxtaposed with moments of heavy percussive energy and noisy, heavy psychedelia. Aidan Moffat has said that this album is an ode to the night "… a sonic worshipping of the night's pull and allure…" and as such, a reference to Edgar Allan Poe could not be more fitting. 'Shirley Jackson on drums' is a track inspired by the horror novelist Shirley Jackson and maybe if you have read one of her novels, you might make more of the sinister nature of the piano melodies in it. Finally, if the sound of the chirping cricket in 'Long Intervals of Horrible Sanity' does not transfer you into a nocturnal summer setting without artificial lighting, then this album has failed to put its 'message' through….
'Dolo' the new album by Somos La Herencia, has a truly genre-defying sound, experimental at its core, that will make you challenge your own sonic tastes. With an evocative cover that criticizes quite openly the religious ceremony of baptism but can also be seen as an image of catharsis or spiritual cleansing, this album is NOT what the guitar riffs and coldwave melodies of its first track imply. This is mostly identified, during the second half of the album where syncopation is used more extensively, the mood becomes darker and the sonic aura quite eerie…Needless to say that we found the second part more fascinating!
'Fall' the new album by Love Of Consolation, is a truly fascinating release because the sound juggles coldwave rhythms with atonic/syncopated and minimal sonic snippets, within an overall experimental rhythmic form. The vocals are very much coldwave stylistically but that is not what this band wanted to offer, another coldwave album with familiar bass riffs. We were really inspired by the end result and the spatial expansion that the sound of this album achieves. A unique feeling is being created, which is the  result of a unique mixing of sounds within the tracks, coupled with a unique recording method that the band has adopted. In their own words: "I made four tape loops respectively of 8/5 sec, in them I recorded various parts of synths and voices, I recorded everything using my four tracks tascam.". The melody of 'Awake' my favourite song of the album, was stuck in my head for days and the instrument that produces it, which sounds at times like melodica and at other times like a distorted guitar, is equally unforgettable.
The releases of Soreness, June, The Mall, and Christophe Clébard, shed a coldwave sonic light on this monthly playlist. The EP entitled 'F.U.N/Harvest' by Soreness from Portugal, has been inspired by the early 80s industrial post-punk sound while in the vocals and visuals, one can also identify subtle apocalyptic folk references. This EP is a sample of things to come and we cannot wait enough for this band's next offering. The Mall from St.Louis Missouri has come back after 14 years, with a new album entitled 'Zone'. Their sonic recipe includes aggressive vocals, Jarre-like synths that rise-up from everything else that surrounds them and rhythms that bring to mind the sonic flow achieved by early Front 242 and Bakterielle Infektion. The rhythms are quick, the energy is electrifying and if this does not get you out of the sofa/chair/bed during these challenging times, I don't know what else will. This is definitely one of the best albums of this style for 2020. 'Silver Demon' is the new album by June aka Tsampikos Fronas – also part of the duo Manie Sans Délire (find them in one of our previous playlists here), is more rooted in the minimal analog synthwave scene of the 80s and offers 10 tracks without vocals, where electric minimalism meets a futuristic industrial one. Speaking of industrial sounds, Christophe Clébard's last offering under this project, entitled 'SSS', will satisfy lovers of distorted, noise, industrial sounds. Despite the fact that we have not seen Christophe perform live one of his fascinating and powerfully challenging shows, we cannot wait to see what he has planned for the future. In 'SSS', distorted vocals and an agitated repetition of lyrics create a sonic dystopia reminiscent of that created by SUICIDE, hence its magnetizing properties. While the voice is treated as another instrument that enhances the sonic flow in each track, where it disappears, it gives way to fascinating experiments in sonic dysphoria and dissonance even in a waltz rhythm…!
Speaking about sonic dysphoria, well…you can expect to max this out by listening to the debut album by the fascinating project Sightless Pit a.k.a Kristin Hayter (Lingua Ignota) , Lee Buford (The Body) and Dylan Walker (Full of Hell)  entitled 'Grave Of A Dog'. The sound of this album achieves genuine sonic osmosis of all the elements that characterize the musicians that synthesize it. You can expect to take a 'dangerous' trip passing through areas of suffocating noisy sonic unease to spaces less 'charged' where the flow of an unidentified slimy substance is quite rapid and quite strong! The moments where the vocals are less distorted, act as some sort of return-of-the-balance mechanism and one can perceive them as the equivalent of the 'arm' of a pendulum. We could identify a weird and (for us) very evident link between the aesthetics of baroque, classical music and the melodies that sometimes sneak through as if they are playing a teasing hide-and-seek game with us. Hence, the comparison of Rachmaninov's  'Prelude in C Minor'  with the second part of 'Drunk on Marrow'. The band has offered some insight into the way they have recor­ded this album "…the band utilizing samples of contrabassoon and Rufai mystic rituals while doing away with guitar entirely…" and this can truly explain why this album feels the way it does when listening to it… In terms of the songs' subjects, one could not be more certain about them. The band has said: "… it is about the anonymity of struggle, the darkness of a lifetime wasted warring against nature, god and everything else, only to be defeated… nothing… the end.". It all sounds very timely don't you think?
The apocalyptic folk genre has been represented by one release only, the debut EP by Wake Island Rail. This album, named after a flightless rail and the only native land bird on the Pacific atoll of Wake which is now extinct, has soothing melodies and ethereal vocals. With its 'warm' male and female vocals and the combination of spoken word with melodic male vocals, the 7 songs of this album,  attract our full attention as their lyrics refer to extinct animals as a result of human activity, political awareness and a critique of monocracy.
---
"And after all has been said and more than done, We stand tall and reign supreme: The final species. And the good news is: There is still plenty of protein left For us to consume." (lyrics: 'The Path We Chose')
---
Of course, recent developments have almost nullified or challenged the meaning of these verses, even though humanity has been considered (until recently) 'the final species'. The environment seems to be recovering as the world has had to 'stand' still…new natural habitats are being created and some animals have started populating them again. The music is certainly melancholic and cinematic and the last song of this album, its Outro, is composed on the rhythm of a death march. However, Wake Island Rail do not shy away from more pop-infused rhythms (e.g. 'Improvement'). Symbolism is abundant within the lyrics (i.e. 'Spheres') as is an overall experimental approach to sound that works in tandem with the vocals and their unique tone and rhythm, which multiply the effect and the meanings of the lyrics!
The angry, heavy side of this soundtrack is greatly represented by Soakie's debut album entitled 'Soakie'. Grinding and distorted vocals are deliberately masking all the words of the lyrics, thus presenting themselves as yet another instrument within the noisy sonic wall that is being created in the background. Lyrics place this band and this album on the anarcho-feminist side of punk while its open aggression and vocal heaviness place it in the hardcore part of the genre.
The albums of Sunda Arc and Daniel Davies will make you take a much-needed stress-relief breath! Both albums explore minimal electronic, IDM sonic spaces and create moments of melodic and rhythmic brilliance that lift your spirits during these much challenging times. 'Tides' the debut album by Sunda Arc which begins in minimally deconstructing sonic way, with little sounds forming gradually and partially, the 'image' that its 10 tracks are creating. This, a largely instrumental album whose darker, more conceptual second half puts us in a meditative state without even realizing how we got there. The band has mentioned Nils Frahm as one of its inspirations and we can truly identify the subtle trail that connects them together in an organic way.
Speaking of a meditative state, while in it you can enhance your spiritual wanderings having Daniel Davies and his album entitled 'Signals' as your guides…Daniel Davies is the son of Dave Davies founding member of The Kinks. This is a largely cinematic and quite melancholic album, that has Jarre-inspired synth melodies and contemplating looped guitar melodies. 'Signals' was inspired by the symbolic and evocative artwork of Jesse Draxler, and as Daniel Davies has stated: "One of the main concepts for this album was working with the feeling of uncertainty. Jesse's art illustrates that perfectly with his disruptive shapes. At first, they are foreign to the landscapes they live in, but over time we become used to them, we adjust. The foreign objects force us to evolve, to accept and live with the uncertainty they create…Musically, I wanted to capture that same contrast — melodies evolving out of drones, haunting beds of tension with beautiful shimmering melodies laid above. What were once conflicting emotions became harmonious". This album, also features John Carpenter, his close collaborator, and famous horror film director. It is rare to 'see' two film soundtrack composers working together but 'Signals' offers us the unique opportunity to experience the osmosis of their sonic minds. In a meditative state you will place your minds if you listen to the new sonic offering by Mila Mar. The first full length album for 17 years, 'Harar' is an ode to the ethereal neoclassical sonic elements. Ceremonial and ritualistic rhythms, surround Mila Mar's voice that is inviting us into a deep dive into the less visited rooms of our soul. Employing gentle melodic transitions and whispered mantras, 'Harar' which is also the name of a city in Ethiopia, surrounded by a centuries-old defensive wall that has several large gates, is an album that takes us in an amazing mental trip, the depths of which can only be decided by us. Enjoy it to the fullest, and then listen to Dead Can Dance and This Mortal Coil.
The album entitled 'I Don't Sleep' is the debut of Bitter Flowers from Chicago Illinois. This is hypnotizing psych-rock/folk that will probably make you want to re-listen to the early releases of Swans. The rhythms are slow and create a 'stale' heavy atmosphere while the vocals just mesmerize in a disquieting way. Love it or hate it, this album is here to make you feel uneasy! Any similarity between 'Cold Dreams' and Depeche Mode's 'Photographic' seems to be coincidental…Finally, the last album of this soundtrack is one that in many ways, throws all the music cookbooks to the dustbin of history. Taking inspiration from the subtle melancholy and dramatic performances of 60s singers like Patsy Cline and Karen Carpenter and infusing this with noisy, disquieting psychedelic, yet melodic, sonic wanderings, Cindy Lee a.k.a Patrick Flegel, has truly offered us an album that we will probably consider as the soundtrack of 2020! 'What's Tonight To Eternity' navigates with ease between atonic/noisy parts and lyrical dream pop, 60s pop ones. It has uncontested darkness, evident within the song titles as well as the lyrics, but it is the echoing vocals that are upsetting the energy of the space that surrounds us. Enjoy it and be aware that its impact is quite strong and quite indirect…
Enough said though, we hope that you enjoy this playlist as much as we enjoyed making it.
Blaue Rosen