"Alice could not help her lips curling up into a smile as she began: "Do you know, I always thought Unicorns were fabulous monsters, too! I never saw one alive before!"
"Well, now that we have seen each other," said the Unicorn, "if you'll believe in me, I'll believe in you. Is that a bargain?" (extract: 'Alice In Wonderland' Lewis Carroll)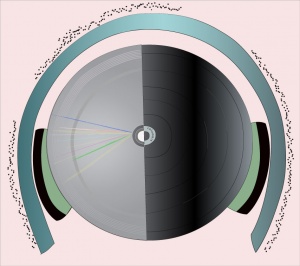 We will borrow the title of one of the best albums in this playlist, as a title for this monthly playlist. The album is Orbital's 'Monsters Exist' and the existence of monsters seems to be the common element between the different musicians whose albums are parts of this month's playlist and who, 'converse' with these monsters either openly or less openly, with a dancing attitude or with a ceremonial one. Orbital do not engage with the monsters but they point towards their direction with a dance electronic attitude, vocals by four singers and mixing and production by Paul and Phil themselves. Within this album, you will find tracks that have some influences from the music of the Balkans and others that seem to have been inspired by the sounds of the first computer games. The subjects of the titles and the videos include, Brexit and destruction of nature as a result of population growth, this is an album that almost says 'dance your worries away but don't forget them'.
Aphex Twin has also resurfaced with a new EP entitled 'Collapse'. This is 30' of breakcore and psych trance with one interval which has less syncopation and focuses on creating a darker atmosphere.
Before carrying on it is important to stress the significance of two albums on the career of the bands that released them. We are referring of course to SUEDE's 'The Blue Hour' and to LOW's 'Double Negative'. Both albums are testaments of the bands' desire to explore new territories and both albums deliver remarkable music. Even though creating an album, a piece of work that is considered as one is every musician's aim, not all bands manage to deliver. SUEDE in particular, have recently started creating albums that tell a story also through visuals. 'Night Thoughts' was an album that was treated as a soundtrack to the visuals that were specifically created for it and were narrating a story. 'The Blue Hour' has been inspired by that time of day that the light turns everything blue…admittedly a magical moment. At some parts of the album, the sound is more evidently cinematic, at other parts it is heavier, with guitar riffs having a typically rock feel and towards the end, the album takes up a modern classical twist. The addition of backing vocals and new instruments (flute, bass clarinet, clarinet) and the addition of the strings from The City of Prague Philarmonic Orchestra, distinguish this album in its production from the previous releases. LOW's album 'Double Negative' will be properly reviewed soon but it has turned out to be everything that we suspected it would be when the first few songs and videos were released. It is an album in which the band has explored darker and deeper conceptual dimensions and its sound stands out for its emotional strength, from all the other releases of the band.
If you threw a dark and tribal sonic 'veil' onto the albums of Orbital and Aphex Twin, then you would find yourselves closer to the sound of Blakk Harbor (side project of Mobthrow) and his debut album entitled 'Madares'. This is an album that was inspired by the Cretan landscape and has a ceremonial electronic feel. We read that the musician recorded "…traditional custom cretan instruments (lute, skin drums, lyra, tsabouna) and world instruments (tibetan bowls, gongs, dungchen horns) granulized through modular synths, hardware samplers and spacetime black holes…" yet we must admit that the processing has rendered the particularities of these instruments almost unrecognisable, however the sound of the album throughout has incredible depth and clarity and if you have good quality headphones and sound system you will be totally immersed in a sonic environment that replicates the feel of the natural one. Speaking of albums that are inspired by landscapes, DAMSELFLY has been consistently responding to the inspirational stimuli that nature provides and in his self released album entitled 'We Have Chosen the Wilderness', the band provides a prog rock, experimental and electronic in style soundscape in which the evocative and symbolic figure of the album's cover might be wandering around. All we need to do is let the music transfer us there. The new album by iZuel_ entitled 'Room 119' has also reminded us about what we like about dark techno music. Whether you find the hypnotic repetition of rhythms more trippy or more like a movement instigator, this album will just put you in a trance using industrial elements, pulsating beats and techno/noise aesthetics . The new album by LIARS has a cryptic title that matches the eerie atmosphere that the sound creates. Having industrial aesthetics, a seamless flow between the songs and an experimental attitude, the album entitled 'Titles with The Word Fountain' is a fine example of a how a hard-to-escape Lynchian atmosphere can be crafted.
Jay Glass Dubs and The Blaze treat dub creatively through their albums 'Plegnic' and 'Dancehall' respectively. Jay Glass Dubs has created a hypnotizing atmosphere which, at times, brings to mind the sound of Future Sound of London. Using ethereal vocals by Yorgia Karidi and vintage machines, JGB composed music that accompanies the mind in a meditational trip. 'Dancehall', the debut album by The Blaze, is more uplifting in its mood, it has a social dimension hidden within its cover photo of a high rise building whose base and top are not visible to us and vocals that work as an additional instrument. You can dance to the music of this album and you can feel the ground under your feet as a result of its 'muffled' kind of sound. This is the kind of trippy, atmospheric electronica that we love and the unique vocals add to this 'dusty', urban feel that the whole album creates. Fans of KALEIDA will love this album together with Fröst's new album 'Matters'. This album too, has a dark and trippy atmosphere combined with brilliant and subtle electroclash moments.
Punk music is represented by three releases, the albums 'Deaths' and 'Living In Excellence' by Sauna Youth and Constant Mongrel respectively and the EP 'The Future Is Dark' by Petrol Girls. Sauna Youth have created an album which is about '…the act of finishing, an ode to 'the ending…'. The sound is typically punk with effervescent guitar riffs and agonizing drums until 'Swerve' and 'Patio' add a theatrical twist to the mix, differentiating this album from all other releases of the genre this month. Both songs are "…extracts from a short story written by band member Ecke about the murder of an artist whose estate is overseen by her ambitious sister, and is read by writer and front person of Marcel Wave, Maike Hale-Jones…". Using a title that comes from a quote Virginia Wolfe has written and taking inspiration from Rebecca Solnit's essay 'Woolf's Darkness', in 'Men Explain Things To Me', Petrol Girls offer an angry anarcho punk EP with socially perceptive lyrics delivered decisively. We found that the addition of male vocals brought to mind the sound of Anathema. Constant Mongrel have created a great punk album whose details (vocals, bass riffs, rhythms) bring to mind the sound of RAMONES and Bauhaus. However the band goes above and beyond their influences and add more elements to their music. At some point even Clair Obscur came to mind.I really wonder whether it is a saxophone or bagpipes, the sound that we listen towards the end of 'Action'.
Only one album explored the combination of grunge and ethereal qualities and it was no other than the impressive release of Dilly Dally entitled 'Heaven'. The vocals that always start by drawing our attention to their ethereal side, turn angry, heavy and screechy soon afterwards, giving both sonic and conceptual depth to the lyrics. Think of Pixies, meeting Hole meeting Cranes… in other words, it was a real pleasure listening to this album.
Experimental psych rock are the words that characterize the releases by The Underground Youth and Melting Hand. Through their new EP 'Fill The Void', The Underground Youth offer to us the chance to listen to two new songs which were almost scrapped as Craig has admitted. Vocals with a dark mood, post punk rhythms and bass riffs that come to the foreground and 'ground' the songs in the realm of dark alternative, are the characteristics of this EP. In their album 'Faces of Earth' Melting Hand experiment with many elements, among which are space-y guitars, psych rock vocals and aesthetics, Hendrix-like guitar riffs and tribal percussion. The result is as heavy as it is psychedelic and you will most certainly feel under the spell of a cosmic force towards the end of this album. Following a similar path, We Were Promised Jetpacks through their album 'The More I Sleep The Less I Dream', at times, turns toward us their indie rock 'face' and at other times their psych rock face. Have an attentive listen to this album and you might 'see' why we think it nods to the sound of Radiohead at some point. Fans of typical post punk sound and rhythms and those who loved the music of Swans of Avon, will greatly appreciate the new album by theNightchild entitled 'Inside'.
If you would like things to get 'heavier' then you will most certainly end up listening to the debut album by Viagra Boys, the new albums by Clutch and Pigs Pigs Pigs Pigs Pigs Pigs Pigs and the debut releases by AMBROTOS and Fvnestö. In their album entitled 'Book of Bad Decisions', Clutch remind us of what we love about classic rock before injecting their rhythms with Black Sabbath-like guitar riffs, while AMBROTOS through their beautiful debut EP '????????' will put you in a typical black metal trance. Fvnestö introduced themselves to us with a 4-track release entitled 'Emanations of Sorrow', immersed in heartbreaking doom rhythms and a noise 'wall' created by  beautiful trembling guitars that often change their rhythms within each song. We will definitely keep our ears open for the next releases of this band.  Ever wondered how Bloodhound Gang would sound like if they did punk and punk rock music? Then wonder no more and have a listen to 'Street Worms' the impressive debut album by Viagra Boys. Finally in their album 'King Of Cowards', Pigs Pigs Pigs Pigs Pigs Pigs Pigs, start you off with vocals that bring to mind Jaz Coleman and Ozzy Osbourne combined. Psych rock is infinitely more appealing to us if it is heavy and noisy. The guitars are constantly playing low notes, sometimes in a hypnotizing manner and at other times in a heavy, noisy and metal-inspired way, putting us in a rhythmic trance throughout the whole duration of the album.
We left the darkest and trippiest albums for last because a soundtrack that starts with Orbital's 'Monsters Exist' must provide a fitting 'exit music' for these 'monsters'. The Force Dimension, through their album entitled 'Sorcery Pigs' have marvelously combined coldwave elements with electro goth elements and hypnotic,seductive vocals, that brought to mind the sound of Untoten. This is an atmospheric album which will either make you want to listen either to ADULT or to November Növelet. NONE has striked again with a new album entitled 'Havoc' immersed in coldwave, post punk melancholia. The last album of this month's soundtrack was 'Great Escape' by Crippled Black Phoenix. We loved listening to this album of cinematic and dystopian 'endtime ballads' (as the band describes the music) and if you are a fan of Godspeed You! Black Emperor, we think you will love it too. Towards its end, you will also find guitar sequences that seem to have been influenced by the sound of Pink Floyd and this only adds to the atmosphere that has been built from the beginning. We loved the way the symbolic cover of this album relates to the subject matter of the song 'Nebula'. In Justin's and Belinda's own words we read: "
Given the fact that both Belinda and myself are huge animal lovers and animal rights supporters, it has always seemed the right thing to do to make songs about the animals. We did it with our "other" band Se Delan, so when i gave her the demos for Great Escape songs, Belinda got straight back to me with this burning need to write a song for the animals.
It completes the song and fits into the thread of the album.(Justin)
Often i'm referred to as a "closed book",which is true I guess, but when it comes to animals and their wellbeing, I'll rip my heart out and serve it on a plate. I know we can't bare the weight of the worlds evil on our shoulders, and we can't save all of them, the unloved, abused and neglected animals of the world. But I have a tendency to want to do just that and its hard to cope with at times. This song is for them.(Belinda)".
Enough from us though…enjoy our playlist!
Blaue Rosen