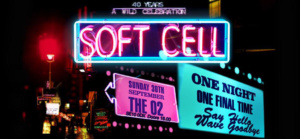 Soft Cell sang a sassy, gothic, pop, rock, shambolic, inappropriate (in the politically correct term), funky, techno, occult, seductive, ceremonial and psychedelic goodbye to their devoted fans and audience with a 31 track set, beautiful sound production and visuals that were consistent with their past and present characters.
You could of course, stop reading this text right here if you are just interested in a headline but we would like to say a few things about why this was an evening we are still struggling to 'let go' three days later.
I hate goodbyes that are pre-arranged but above all, I hate the idea of a band's last ever show. I hate the fact that I understand all the reasons behind this and I hate the day after this last gig, where I have to find a way to let time settle the emotions experienced during this performance.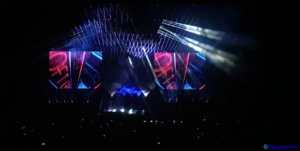 Songs are malleable structures. Their lyrics aren't but all the rest is, especially in the hands of their creators, in this case, Soft Cell. Just as a painter might revisit one of their paintings and either destroy it or enhance different areas of them, so might a band do with any of its songs.
The O2 is not my favourite venue in the city. It is a venue people go to, irrespective of who is performing there, just like they do with a few other big venues in this city. The performance started at around 7.50, with 'Memorabilia', a song that conceptually described everything about this gig but at the same time, did not really describe the logic behind the performance.
            Soft Cell were never a pop group…
…not according to the mainstream culture's point of view, they were way darker than the average pop group at the time, their reference points had nothing to do with popular culture, popular tastes, popular ideas or popular desires for that matter. This was neither a performance that had melancholy as its drive nor one that presented the songs of the band in an attempt to replicate the past, its conditions and its characteristics. It was a performance that took the songs of Soft Cell 'by the hand', brought them gently into today and celebrated the enhanced meaning of their lyrics with the added emotional 'weight' of the 40 years that have passed, in a cinematic and theatrical way. The only way to highlight the timelessness of songs, is by accepting their 'ageing' process the same way you accept the ageing process of a person. If one is gentle like that on this matter, the music will come to light gracefully, otherwise it will be a thing to mourn and feel nostalgic about.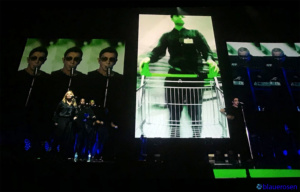 Do you prefer to buy original records or the remastered versions of them? This, of course, is a big question but it applies to how one would perceive this gig. Why would someone go to this gig today if they were teenagers in 1980? To remember what it was to be a teenager then? To act today as if they were still teenagers? To bring his/her mind back to the sound of that era, idolizing it and 'mourning' for it as something that 'can never' be replicated? Or would someone go to this gig, having accepted that, that sound, (maybe) had its place at the time but right now, with added capabilities of sound production and added knowledge and flexibility from the band itself, can be something much better?
Is going to a gig something about 'you' or is it something that is entirely about the artist?
The answer to this last question for me is always the same. I am going to a gig to experience what the band has to 'say' to me, I am not there to judge whether what the band 'says' now, is what the band said 40 years ago. I wouldn't want a band to say exactly what it did in the 80s in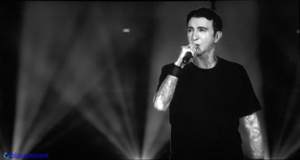 the exact same way, for many reasons that are beyond the scope of this text. This gig 'explained' to me what the band was really talking about in the 1980s and how it differed from what others thought (or wanted to think that) it 'said'. Others of course have a different perspective on those things but I remain firm in my opinion that a gig that has a title 'one final time' is not about what the audience expects, it is what the artist wants to offer and it is about the audience witnessing it and giving back its love and appreciation.
Soft Cell, reinvigorated their past selves. They brought them to us as their proud children, with all their 'scars' and they made us think that,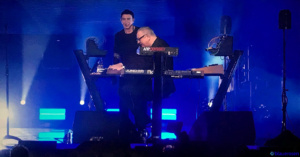 perhaps, these lyrics written back then, conveniently overlooked by the public for their darkness that was masked and performed by their younger selves, were actually meant to be performed today from their present selves. The band's powerful lyrics, talk about difficult subjects, making a critique on beauty standards, sex culture, drug culture, AIDS, loneliness, counterculture, outcasts. Yet these are the subjects on which Marc Almond has always shone a light on by delivering the songs in an always captivating, emotional, ironic but sincere way, whether in character or as a messenger. Borderline and sometimes outright nihilism that contradicts itself and is confident in doing so, becomes a warm feeling when it passes through the charismatic artistic filter of Marc Almond and the electronic perspective of David Ball.
Marc Almond, David Ball, John Gatchell, Mari Wilson, Gary Barnacle, 4 beautiful singers providing backing vocals and a lot of good attitude and charm. These were the ingredients of this gig's recipe from the band's point of view.
From the fans' point of view things were, as usual, all over the place. There were people who only knew the words 'Tainted Love' from the homonymous song and others who have only listened to 'Say Hello Wave Goodbye'. There were people who focused on things that had to do with what the inflatable pink flamingos that they carried signified and people who thought that this gig was a nice excuse to have an enjoyable Sunday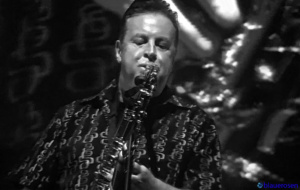 evening with a lot of beer. The space was filled beyond recognition and there was not a single millimeter of air available for a mosquito to fly around, or for people to enjoy dancing…there was not so much dancing, only a few patches here and there and this might be explained by the lack of homogeneity in the audience. Different people were there for different reasons and not all these reasons were relevant to Soft Cell. I danced a lot, I jumped, I empathized, I loved listening to these songs from Soft Cell live for the first time ever in my life. Among this heterogeneous crowd, were the outcasts, the people who always shared Marc Almond's taste in black clothing, the people who, even in the 1980s did not accept the characterization of this band as a
 'pop' group and by extension of themselves as fans of pop; the people who share the band's inspiration from counterculture and cult aesthetics, people who live in the circumstances the lyrics describe and whose aesthetics have common elements with some of the visuals that were presented, people who would otherwise stay away from the O2 but could not have missed this gig! These people felt a bittersweet feeling when this gig ended, they went back home knowing that this was a performance that has left its mark on them. Fun of course, is registered differently in different people and means different things to different people.
A show in two parts an experience in a million parts
'Dave and I started this electronic duo in 1978 and it was a different time then, we never thought that we would be here 40yrs later. We did not set out to be politically correct and we did not think about whether anyone was offended. Of course everyone is offended by everything these days but this is not what we care about and if you are easily offended then, what are you doing here anyway?' At that point I wanted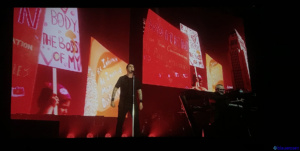 to scream from excitement, because somebody, Marc Almond, was addressing this matter, political correctness that has almost become a sort of modern oppressive tool. That was the introduction to 'Darker Times' and the visuals that kickstarted the song and were showing a huge burning cross and included images from the demonstrations against Trump, footage of marching armies, nuclear reactors, tanks. The fact that someone was showing these images at that audience in the O2 was so significant, that for a moment I was ready to start asking people, 'do you understand how important this is?' Marc Almond might not have appeared as an angry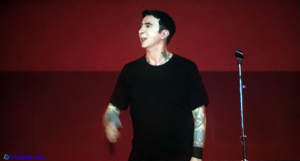 and sinful voodoo leader wearing a boned necklace but he was a conceptually more powerful and darker character, having absorbed energies of all kinds.
The band covered almost their whole discography playing 'The Art Of Falling Apart' almost at its entirety, 'Non Stop Erotic Cabaret' and 'Non-Stop Ecstatic Dancing', 'This Last Night…In Sodom', 'Cruelty Without Beauty' and the EPs 'Torch', 'What!', 'Numbers/Barriers', 'Soul Inside' and ''Northern Lights/Guilty (Cos I Say You Are)'.

The show had two parts, a 'lighter' and a darker part, differentiated mostly by the tone of the songs and the mood of the visuals. The second part was much more cinematic in its inception than the first part. The sound was perfect at least at the front of the stage, the addition of backing vocals by four talented singers gave a different character to the original songs, added theatricality, tonal colour and depth (something that was not present in the original recordings of these songs). The beats had added bass and therefore added emotional and conceptual weight, these minimal synth notes and melodies that infill different areas of the songs, recalled the sound of Kraftwerk every now and then. The trumpet and the saxophone had the same effect as a flickering light, as an alarm, drawing even more attention to the stage, summoning us even further into the depths of the worlds that the songs described. Among all this seemingly chaotic, almost noisy and truly experimental atmosphere, it was Marc Almond's voice, bigger than everything else that surrounded it, that came through, commanding and simultaneously lifting up each word of the lyrics. Sometimes, this gig felt as an opera in its structure.  Marc Almond and Dave Ball had a very similar energy compared to the one they had when the band started, but now this energy had added drama which gave to the songs and the lyrics the characteristics of grave statements. 'Numbers',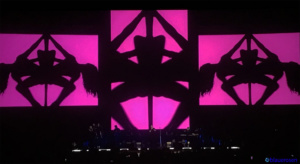 a song that took its title from the banned book by John Rechy (an American novelist who is considered a pioneer in LGBTQ literature) and which had felt flat in its original version, really revealed itself with the addition of backing vocals who put emphasis in the lyrics 'Body one, body two, body three, body four…' as if someone was doing an emotionally detached body count, thus highlighting the cynicism and the bitterness of the whole song. If you had only listened to the original version of this song then you would have missed its whole point which was, indeed, captured within this body count and the specific way it was now being performed. The visuals included stacked dolls,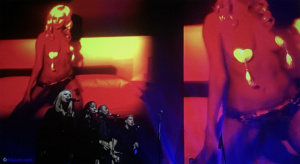 window mannequins, references to sex workers and people who view sex as a commodity and themselves as consumable. Red colour dominated the visuals on the screen throughout the show and during this video, a reference to blood and passion among other politically and not politically correct, things. A pop group would never match bitterness and gloom within its lyrics in this way having the specific sources of inspiration that Soft Cell had, a pop group would never include lyrics about self destruction in their songs. It was the band's playfulness and seductiveness that was chosen to be promoted and the gloomy aspect of this seductiveness largely overlooked and erroneously misunderstood for being pop in the past. Pop is all about glamour, being pompous, never deal with difficult subjects, never talk about taboo subjects, lead lives which mainly have to do with what is mainstream, promote a happiness that is often misplaced, pop is about sexuality that has different 'lighter' colours. Mainstream pop music has nothing to do with Rimbaud, Jacques Brel, Scott Walker, Jean Genet, Jean Cocteau, Paul Verlaine and so many others, all being long term influences of Marc Almond.'Baby Doll' had added operatic vocals at the background, felt like a ceremonial striptease that glorified the pole dancers shown in the visuals, making them seem like totems. Marc Almond's movement, sharp and minimal, responding to the mood of the beats, made this song feel as if we were collectively descending in one of hell's seven circles while singing "Continue your search for a genuine love…" …but this was yet to happen…
A short 'break' followed after 'Somebody Somewhere' at the end of which, Marc Almond was pulled underneath the stage by a collapsed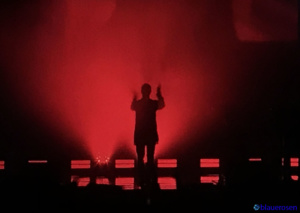 mechanism. During his absence '…So' was performed. It was 'Martin' that marked the second half of this show and a metamorphosis of Marc Almond into an obscure messenger of the occult happened before our eyes. The facial expressions changed, his movement changed and the whole stage was transformed into a gate. This was not a vain, devoid of meaning or kitsch change of setting, this was the darkest side of Soft Cell, unapologetically presented in front of us for one last time. 'Martin' felt like a ceremonial chant, a gothic opera, a satanic chant, an ode to darkness, as if 'The phantom of the opera' was painted with even darker colours. I was 'afraid' of what that incarnation of Marc Almond could do…his metamorphosis into Martin (the George A.Romero horror film character from which this song has been inspired by) and beyond, was both big and unexpected. His gaze was often directed to something above us as if he was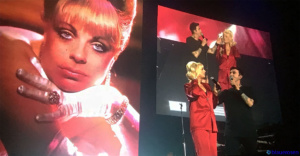 conversing with 'it'. Another side of Marc Almond was presented to us. Have you listened to the original version of 'Martin'? It felt nothing like that! David Ball at the same time was working his magic at the right edge of the stage, seeming static but craftily exposing all the sonic layers that had motivating beats at the base and thinner minimal melodies or notes at the top. Trumpets and enhanced synth melodies gave to the characteristics of an orchestra to the sound, while smoke and red colour on the screen created a gaping dystopia…It wasn't us though that entered it, it was Marc Almond himself, turning his back on us at the end of this song and taking a few small, slow steps into the back of the stage, into the red that was the screen,
while the stage was covered in smoke. This could have well been the end of the show and I needed some minutes to come out of the spell. The other highlight of the evening was the guest appearance of Mari Wilson for the performance of 'Last Chance', a blast from the past. That was the only moment that brought a little nostalgia into the crowd, favoured by the vintage photos of the visuals. I was hoping at that point, for the inclusion of 'A Lover Spurned' and a surprise appearance of Julie T.Wallace who provided backing vocals in this song, only because it would be aesthetically similar.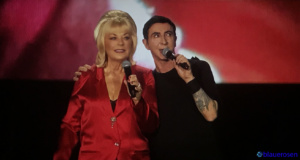 We might not have seen Cindy Ecstacy as a special guest on stage for the delivery of 'Torch', or seen the original spoof S&M video that was created to promote 'Sex Dwarf' (a song that Marc Almond has promised never to perform live). We had our moments of ecstasy, as a choice was made to make
this song ('Sex Dwarf'), the moment where everyone would 'SCREAEAEAEAEAM' at the arena at the signal of Marc Almond 🙂 We may not have seen Marc Almond play the guitar in 'Frustration' as he originally planned but, in that second part of the show we also witnessed the techno side of Soft Cell, which was fully unveiled
amidst the lazer lights and a fiery performance of 'Somebody Somewhere'. This was before 'The Art Of Falling Apart' made Marc Almond kneel in front of us and hit the ground in a dancing spree that carried with it all the 'weight' of the lyrics and the spontaneity of a musician that is fulfilled and really communicates with his fans.
"I'm covered in bruises
From mixing with losers
It's the black and the blue
That's seeing me through "
Should I repeat how all this has nothing to do with pop? 'Loving You Hating Me' was accompanied by visuals that had the typical gothic imagery mixed with colours recalling pop art aesthetics, ending in images with a lot of blood! Lovers of horror films would have loved these of course, not sure about all the rest though. I consider the performance of 'Barriers' to be one of the highlights of this set list, an ode to a lost

lover, a lost opportunity, a loss in general. It was the only song in the set list that had a numbing effect on me, as if I was trying to walk through a thick liquid. It was performed in an intense way that seemed personal and vulnerable.
It was charming to see how sometimes David would start a song almost immediately when Marc wanted to say something to the audience and he ended up saying to him charmingly, 'wait a minute I need to say something…' to which everyone laughed. Then there was the moment where it seemed that David was rushing into a part of a song and messed up with the lyrics, so the song had to be restarted twice. All this was dealt with grace and honesty and in a good mood. That was the warmth of Marc Almond manifesting on stage and the contact he has with the audience, who appreciated him even more for his disarming honesty.
Throughout this gig, I found myself following the trail from Soft Cell to Marc Almond's solo career and identifying the common elements between them. I kept thinking how the characters in these earlier songs have evolved in those found in his recent releases. For example, one could think that the main character in 'Together Alone' was reincarnated in 'Life In My Own Way', the atmosphere of 'Barriers' also dominates that of 'The Velvet Trail', the subject matter of 'Baby Doll' can be found in the later song 'Trials Of Eyeliner'. This gig was an opportunity to witness how these dark pop anti heroes of the 1980s, traveled through these songs and 'met' their present selves.
Marc Almond has insisted, from the very first Soft Cell record, in writing incredible farewell songs. They are beautiful songs, perhaps the best songs of his ongoing career and they are always intense. I don't know of any other artist who has written so many and so beautiful 'goodbye' songs. We did not want to sing 'Say Hello Wave Goodbye' with you dear Soft Cell, but we did and we knew why we had to and it was an awful feeling…for me. I will keep in mind the image of Marc Almond 2 minutes and 40 seconds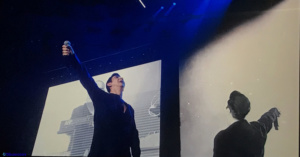 into the song, where he came at the edge of the stage humble, with his hands behind his back letting the crowd sing "…take your hands off me I don't belong to you, you see…", it was heartbreaking for me, still is, but I know we are not done seeing Marc Almond perform live even though, we are done watching Soft Cell perform and for that, I am grateful because as the lyrics of 'Loving You, Hating Me' posit…
"We' ve hit those depths again"
Blaue Rosen