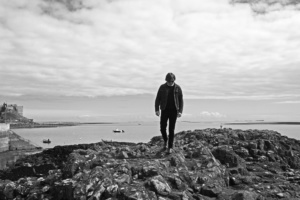 Hector Gannet, is a band with a fascinating story but it is also a band with a name and surname, whose songs will definitely make your mind navigate, with the calmness required before making important acknowledgments, not only to the places the lyrics refer to but also to the places close to your heart.Moreover, it is not often that music and film are combined with such harmony as Hector Gannet achieved it in the project 'Moving North:Coastal' for which they composed the music. Blauerosen was excited to be able to learn more about the reference points and the influences of this band, ahead of their live performance at BAD PUNK's event 'The Devil Has A Hold On The Land' on May 27th 2018.
Blauerosen: Hi guys, thank you for taking the time to answer a few questions about the band and 'The Devil Has A Hold On The Land' event.Hector Gannet is a project with a name and surname, the name of the first British stern-fisher which had a terrible accident in 1968. Can you share with us the story behind the choice of this name?
HG:The Hector Gannet was a converted stern-trawler that my Grandfather sailed on, at the time it was used as a support vessel for gas rigs in the North Sea. The boat was tragically sunk off the coast of Lowestoft having struck the leg of a rig and capsizing when attempting to rescue men from a drilling platform after a severe blowout. Fortunately my Grandad survived, however some were not so lucky as three men were lost that day.

The story is one that I have grown up hearing from my parents and other family members but not one that is often told by my Grandad, in fact it still takes the affect of two or three whiskeys before he'll begin to reminisce and reveal more fascinating stories about his time at sea.
Blauerosen: Can you talk a little bit about the project 'Moving North: Coastal' and how it came to happen? The combination of music and film in the way that Hector Gannet has approached this, is fascinating. The music that you performed was neither the typical soundtrack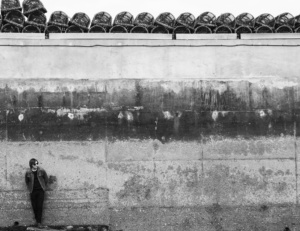 music for a short film nor conveniently abstract. It seems that the songs tap into some hidden emotional aspects of the activities that create a place's local heritage. What would you say was the feeling that drove you to write this specific music for this project?
HG:It's great to hear that it's been interpreted that way, it was definitely a conscious decision not to create a conventional soundtrack piece, I wanted to create something that could speak for itself as a piece of music in the sense that the film accompanies the music as much as the music accompanies the film. To be honest we'd love to record the music separately, and will at some point.

It began after I was asked to create a piece by the North East Film archive when I stumbled across footage of my family in a 1959 documentary about fishermen from North Shields. The film follows the fishing trawler Ben Torc from the Fish Quay at North Shields, beyond the piers and out to the fishing grounds and features both my grandparents and my uncle as a young lad. I instantly felt inspired to write something and because of the close family connection it was an incredibly personal and emotional experience doing so, I really wanted to do the footage justice by writing something that would encapsulate what the my local area and it heritage means to me. With access to the film archive and using a mix of cine, amateur and professional films that spanned one-hundred years I was able to create a forty-two minute audiovisual piece that celebrates and pays tribute to the history and heritage of my native North East coast.
Blauerosen: On May 27th, Hector Gannet will participate in BAD PUNK's event 'The Devil Has A Hold On The Land'. I understand that this project is an outlet for both the band's collective work and Aaron's solo work. Which of the two incarnations of Hector Gannet will we have the chance to enjoy perform live during this event?
HG:We'll be performing Moving North: Coastal in it's entirety as a band at the event, It's really exciting that we're going to be taking the whole thing to a southern audience, I cant wait to see what the reaction will be. I'm also hoping that we'll be able to attract some exiled north easteners to the event.
Blauerosen:Do you know the other bands that will perform there apart from Band of Holy Joy ?
HG:We hadn't heard of much when it was announced so had to google some and we were happy to see there's a great range, abstract, spoken word etc. Its great that Johny is bringing such a range together, it really does look like a great day.
Blauerosen:This is not the first time that you will be supporting Band of Holy Joy and we can see some common elements in your mentality in the sense that both Johny Brown and yourselves seem to place social concerns at the heart of your work. How did you two meet? Do you listen to Bad Punk? If you got to ask for a song to be included in the performance which would this be?
HG:I first met Johny when we supported BOHJ at Tynemouth Surf Cafe last year. As always it was a thrill to share the stage with people we admire, and in such an intimate venue it made the experience so much more special.

As a writer it's great to hear how people interpret your work. I spend a lot of time on my lyrics and I write songs about all sorts of things, but social and political concerns seem to be a constant thread that ties them all together. I wouldn't say it's always a conscious thing, I don't set out to write that type of song, it could be about something very personal but I think my social conscience is always very much at the center of my the piece. It's definitely something I can hear in Johny's work too and it's a factor that drew me to BOHJ in the first place as a band of substance, it really makes all the difference for me as a listener when I can connect with the writer in that way.

I had not listened to Bad Punk before meeting Johny, but I do occasionally tune in now when I find the time, it's nice to hear radio without a specific playlist, that way I'm constantly being introduced to stuff I've never heard before.

If I got to ask for a song to be included in their performance I'd ask them to play Fishwives.
Blauerosen: The performance that Hector Gannet offered in Lindisfarne, during the day-long event 'Pilgrimage to The North' was a very special one. I read that the ticket also included the crossing of the causeway to the island at low tide. In this way, the audience could really emotionally connect with the place and its heritage. How was this experienced by the audience?
HG:Yeah Pilgrimage To The Islands was a lovely event in a unique environment on Lindisfarne Island off the north east coast of England and it was great for us to play there because it was very much part of the inspiration for Moving North: Coastal as there's a song specifically about that very special place, and it was a pleasure to play there. However the location was always going to throw up potential problems if the weather wasn't kind, and on this occasion it was anything but kind. The wind and rain were so bad, dangerous in fact, that we could not 'walk the pilgrims route' to the island as first intended, following the strategically placed poles in the sand at low tide. Everyone drove over the causeway instead, holed up in the village hall during the performances of the artists across the period of high tide and then left again as the tide ebbed. It was still a very special day, but a shame we couldn't walk the Pilgrims Route. I believe there are plans to do more, so we'll see what the future brings.
Blauerosen:While it is very important for a person to honour local traditions and never forget his/her history, there is sometime an impression, that some places are 'left behind' either because attention is focused on the big cities or as an act of resistance from the people who continue to live there and who simply choose to let the 'craziness' unfold in the cities and keep the calmness and the simpler way of living for themselves. Let's not forget that, this dilemma, was also one of the main ideas that influenced the recent vote on the referendum. How does Hector Gannet view the past and tradition in general?
HG:I certainly think it is incredibly important to remember the past and to be proud of your heritage. The part of the world that I come from was famous for it's mining and shipbuilding industries. Myself and Johny Brown are both native to the town of North Shields which is known for its strong fishing traditions. Although there are now more restaurants and bars than there are boats on the fish quay, and town houses are being built where ships were once constructed I still don't think the past will ever be forgotten, in fact I believe the future should be built on those foundations. The craziness certainly does unfold in the cities now, and it seems that the places that were once the beating hearts of the industrial area now serve primarily as recreational havens. I suppose that's just the way it is now, but the past will always be remembered and celebrated, and rightly so, as it's the past that shaped the present.
Blauerosen: Thank you Hector Gannet!
Blaue Rosen