CAFÉ OTO has consistently exposed its members and devotees to pioneering music and acts that are artistically difficult to understand by conventional standards. Sudden Infant, Les Énervès and Dario Sanfilippo with SEC_ were no exception. Sudden Infant together with Merzbow who took Cafe Oto's stage a few days earlier, are probably two of the most disturbing and 'hard to swallow' acts that an unfamiliar audience can come across…or so I thought.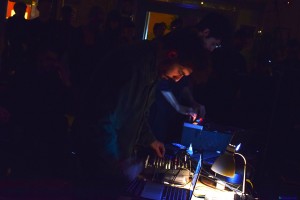 But let's take things from the beginning. The evening started at 9 o'clock with Les Énervès, who, facing the stage offered us a deconstructed, almost cubist in style, sonic experience. Their set consisted mostly of a series of syncopated sounds without any vocals or musicality. The result was an extremely fragmented sound and felt as if someone was trying to fix faulty equipment. Both Giulio (Nacera) and Ron (Grieco) were manipulating sounds through computers but overall what I heard seemed to have neither a rhythm nor a logic behind it. This absence of rhythm seemed to almost prevent the audience from truly engaging with what was being played. The duo has released their debut album entitled 'Estate' in .mp3 format, earlier this year.
Dario Sanfilippo and SEC_ were next, offering a completely different experience in character. There was contradicting yet very interesting dynamics between the two musicians with Dario being seated behind a laptop, almost like a statue and SEC_ a.k.a Domenico Napolitano constructing sounds using his signature reel-to-reel tape recorder on which he was touching different objects which he removed with remarkable care. The whole procedure had similarities with model making and was fascinating to watch. The piece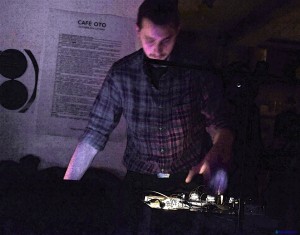 that Dario and SEC_ composed for us had musicality and contrasting rhythms but more interestingly, it had a story to 'tell' to anyone of us who was open to listen. Having evident influences from industrial and syncopated 'non-music', the duo offered a meaningful and aesthetically interesting sound with a balanced and conceptually justified alteration of blasts, cuts and full-bodied sounds. At this point, it is important to stress that Dario has studied music composition and is currently a PhD student at the University of Edinburgh and his interests include nonconventional synthesis, sonic emergence, radical improvisation, feedback, and audio programming. SEC_ shares these interests as well, therefore, their collaboration is no surprise. Finally, in 2013 SEC_ received the PIARS prize for his piece "Outflow".
At some point, the rhythm brought momentarily to mind the motif of "Last Dream of Jesus" by Haus Arafna. Overall the duo engaged everyone in the audience both visually and conceptually and I definitely want to seem them again perform live.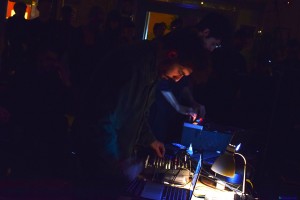 Dario Sanfilippo and SEC_ released their first album together in 2015, through Tsuku Boshi. The album is entitled Fame D'Aria and you can have a listen here: https://soundcloud.com/tsukuboshi/sets/dario-sanfilippo-sec-fame
The headliners, Sudden Infant, were next and I was feeling a bit nervous about what was going to happen on stage, given the subjects of the band's songs as well as Joke's notoriously actionist-inspired performances. I had never seen Sudden Infant live before but I have listened to their entire discography and I have seen extracts and photos from past (including the recent past) performances that Joke Lanz has been offering as Sudden Infant (the solo act). As the crowd started filling the venue and I was not seeing a single familiar face (from the wider dark alternative/noise/industrial scene of London) I was becoming even more curious. Maybe it was because it was a 'school' night or was it the venue? Was it because this gig was not organized in one of the 'usual' hangout venues of London's dark music audience? Why hadn't London's audience of the noise scene attended this gig? The answer to all these questions came soon after the band started the show and also later in the evening during my brief discussion with the band.
"…We thought it might be a good chance to present ourselves, Sudden Infant to a different audience because if the album would have been released on a well- known noise label it would have been a bit off-centered too because it is an album that sits between different genres which is good for us…and we really love to surprise people who have no idea about this music or Sudden Infant but become fans and you can't do that if you always stay at the same scene and always play in front of the same people so we really wanted to have a bit of wider audience…"
The trio, after engaging in a motivational hug off stage, started its 15-track setlist with an "Intro".
Sudden Infant, offered a show that had two seemingly contradicting characteristics. On the one hand, Joke's truly captivating and technically innovative delivery of the stories of the songs. On the other hand, a stylistically and emotionally toned down, delivery of the lyrics. The setlist began with a truly wonderful new song entitled "Rationality", whose lyrics are a direct critique of everything that our world
considers to be rational, acceptable and politically correct. A song with industrial aesthetics and a motivating sound that immediately teased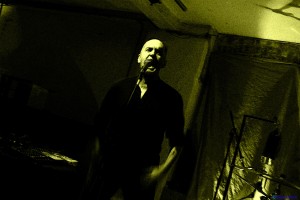 conceptually everyone in the audience. The distorted noisy industrial "Endless Night" (from the latest album "Wölfli's Nightmare") that followed, had me wanting to get up from my chair and start dancing…soon I realized that it was only me who engaged with the rhythm of the song even though its delivery lacked the drama that one can hear in the album. "Tourists" was delivered in a borderline cynical/sarcastic way as the lyrics present tourists as a menacing group of people that dramatically alter every cityscape. At times, some people in the audience laughed in a combination of reservation and nervousness and some people did not react at all. It was evident to me at that point that Sudden Infant has changed because somehow, the obscurity and the wickedness of the themes of the lyrics was not registered through the performance and this proved to be intentional.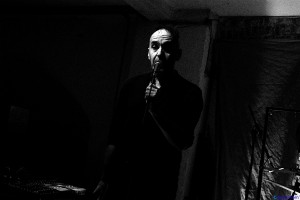 Joke's performance did not contain, anything from the unconventional acts that the older audience of S.I. has been familiar with and the new audience seemed to be more engaged with the stage appearance of the band and less with the essence of the lyrics of the songs "Somniphobia" (a song about a condition that is associated with the extreme fear of sleep) and "Dies Irae" that followed. We heard the very nice cover of the Monsters' "More you talk less I hear you" that was included in the compilation that Voodoo Rhythm has released this year before "Father" and "Girl" attempted to emotionally punch all the well and safely established views of the public about the role of the father in a family and the innocence of a girl in a city.
Joke was remarkable in changing of his vocal styles and his expressiveness on stage. Using hidden objects in his pocket and his palm, he created distorted noises and altered his vocals at will. It is really challenging to offer so many
different dimensions to a performance without visuals and without actual movement, yet Joke is an experienced performer who has the freedom and the artistic reflexes that permit him to employ different techniques in order to get through the audience. And this is exactly what he did in Café OTO with remarkable dexterity.
Christian at the bass was offering captivating melodies in an expressive way, while visually conversing with Alex at the drums. Compared to the other two musicians, Alex's confident and dexterous drumming felt more introverted but not less captivating. At this point, it was evident to me, that Sudden Infant as a full band can now deliver tracks with more depth in the sound and more structure, compared to the early recordings of Sudden Infant as a solo project. Besides, the transformation of a project from a solo act to a full band is not a curse per se, even though some elements will be naturally different. This show has proved that rightly so, the band has kept its name, Sudden Infant, because what will follow will be music that will reintroduce the band, even redefine it as it will be richer in composition and structured differently.
There were no visuals during the show and time really felt to have flown by as we suddenly realized that we were halfway through the show! Towards the end of the show, one of the four versions of an old song entitled "Tandoori Chicken Scooter" was played before "Fat Nipple Uptight" and "Crane Boy" (a song about a boy that is seating on a crane and implies a tragic accident). The audience left, seemingly 'unshaken' by any part of the show… Myself on the other hand, had many unanswered questions which, the band, kindly, spent the time to address…
Blauerosen's interview with Sudden Infant can be accessed here: http://blaue-rosen.com/sudden-infant-the-interview/
More photos from this gig can be seen here: http://blaue-rosen.com/sudden-infant-dario-sanfilipposec_-les-enerves-live-at-cafe-oto-2016/
Blaue Rosen