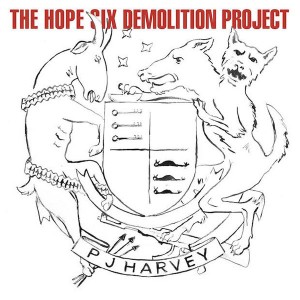 It's been a while since I last saw PJ Harvey perform live and a lot has changed since that day at a Rockwave Festival in Athens of Greece. Both her music and her stage appearance seem to have changed dramatically in the last 10 years. Her albums are now big productions with more musicians in her band than ever before and her live concerts have become much more theatrical. Compared to the past, PJ Harvey has changed the nature of her movements and the way she responds to her songs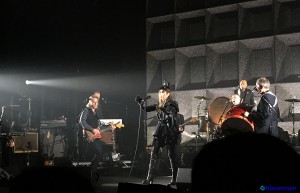 and this has added more layers to the lyrics. I couldn't help but notice that her gigs lately give out the impression that one listens to a whole orchestra especially because all the musicians are multi-instrumentalists. Come to think of it, the whole world has changed since the early 2000 and PJ Harvey has proven that she has very strong social reflexes and always finds clever ways of incorporating social critique in her work (i.e. lyrics, videos).
A few days before the gig I received an email from the venue, informing me that there will be no support band(s) for this gig, yet when I arrived at O2 Brixton Academy, I realized that there was also no dedicated DJ for the evening. Doors had opened on time, at 19.00 that was, but until 21.00 when PJ Harvey appeared on stage, everyone was waiting in complete silence…I am sure something better could have been done there.
The time was now 20.40 and the crowd that had completely filled the venue had started to become impatient (especially because the announced stage time was 20.30) so there was a little bit of shouting, persistent clapping and a shared feeling of excitement. I was kind of worried because PJ Harvey, in my experience at least, has been famous for being punctual and it was now 20.55 and there was no sign of her. By the time I had finished that thought, the lights turned off completely and the deep sound of drums presaged the procession of the band on stage.
10 musicians as the embodiment of the term 'Community of Hope'

One by one the 9 musicians of PJ Harvey's band appeared splendorous and in character playing an elongated introduction of the first song of the
setlist. All of them provided backing vocals throughout the show and almost all of them played three different instruments during the gig. If you are looking for the most challenging production of a live show, then PJ Harvey's 2016 tour is definitely the one.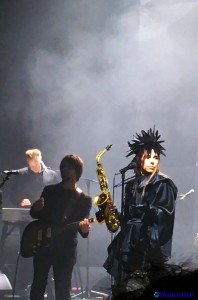 PJ Harvey herself, carrying her trademark saxophone, walked among them as aesthetically dark as she has ever been and stood at first, at the back of the stage. With her on stage throughout the 2016 tour was Mick Harvey (ex. Bad Seeds), Terry Edwards (Gallon Drunk), for the first time James Johnston (Bad Seeds, Gallon Drunk), Alessandro Stefana, Kenrick Rowe, John Parish, Enrico Gabrielli, Alain Johannes and Jean-Marc Butty.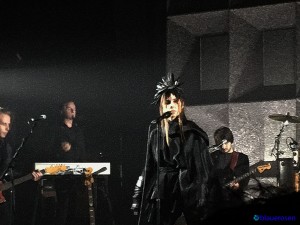 The setlist began with 'Chain Of Keys', a song whose sinister lyrics about a ghostly female figure dressed in black, were in the spirit of this Halloween evening. As PJ Harvey approached the front of the stage she was welcomed by a loud and lasting applause. Without addressing the audience at any point she delivered her last album 'The Hope Six Demolition Project' at its entirety with a remarkable attention to the slightest detail, proving that this was an extremely well-rehearsed show in all aspects. From her outfit to her subtle but very theatrical movements and the strong gazes to the musicians' subtle changes of instruments and positions on stage, everything that happened proved that this was a very well structured show…There was not a single song that did not receive a warm applause by the audience and it struck me that in between songs there was total silence. I thought this is what respect for an artist must feel like. This silence was actually communicating that 'our emotions are hanging from the next note and the next verse. This is such a great show that we have nothing to shout about, nothing to request because we know that what will follow and the way it will be performed will cover us in so many aspects'. As I changed my position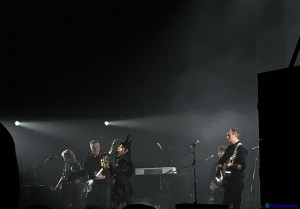 numerous times during the gig, I noticed that everyone around me, acknowledged in one way or another PJ Harvey's significance as a musician, what she symbolizes and what her lyrics talk about. I am not talking about the vain and naïve feeling of admiration from a fan but for a sincere and conscious expression of appreciation towards the quality of an artist's work. I still remember the reactions of a lady behind me who, after the first few songs, was talking to herself out of excitement and kept saying '…she is so important! What a great artist!' It was a sincere expression of admiration, thankfulness and respect and after 'The Community of Hope' she addressed the people next to her who did not respond to the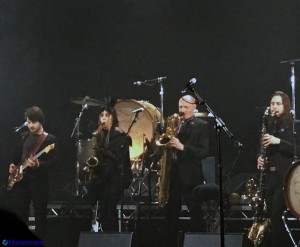 songs with as much passion and said 'Oh you seem like nice people, why don't you dance to this? We should all react because all this that she is singing about is so important and so political…!'.Everyone around her nodded in agreement and got even more engaged with the songs as the show progressed.
The setlist continued with 'The Orange Monkey' and 'A Line In The Sand' before the older 'Let England Shake', 'The Words That Maketh Murder' and 'The Glorious Land' created the first of the three links with PJ Harvey's earlier works.

We were now halfway through the setlist and as PJ Harvey removed her black gloves, the rhythms slowed down with 'Medicinals' and 'Dollar Dollar' which were intersected by the older 'When Under Ether' and one of my absolute favourite songs of hers, 'The Devil'. I did not even dare to wish for

this song to be included in the setlist because it is not one of the very much played ones. It's short, its subject might not sit well with some people and it is not a well-known song…but for me, it's a song with a very powerful impact on which PJ Harvey even reaches her highest octave notes. I was shivering out of excitement throughout its delivery. If you were standing closer to the stage, PJ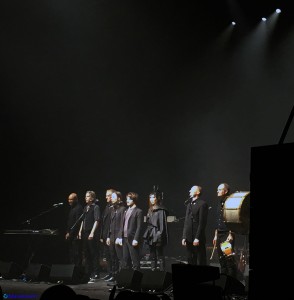 Harvey's emotional strength and expressive power almost hypnotized you. She has a unique way of supporting every single word of the lyrics in an unapologetic and uniquely communicative way. PJ Harvey communicates the messages and the essence of her music and her songs to the audience strongly and directly, yet she has a remarkable way of appearing distant and almost indecipherable…
In fact, it was only momentarily, at the beginning of 'River Anacostia' when she had a misfortune with her voice, that she communicated with the audience. I haven't experienced such warm support and connection between audience/artist during a gig as I did when everyone in the venue applauded PJ Harvey at that moment, instinctively and sincerely, it was like creating a virtual hug for her and she acknowledged it by giving us a smile and a thumbs up.

'The Wheel' and a captivating delivery of 'The Ministry of Social Affairs' followed changing once again the energy and the rhythms of the set. It was one of the few moments that we saw PJ Harvey playing the saxophone next to Enrico Gabrielli and Terry Edwards who was the absolute protagonist during 'The Ministry of Social Affairs' where he offered remarkably dexterous solos on a white saxophone. All this happened just before the anarchic and metal-inspired '50ft Queenie' caused delirium both on and off stage. 'Down By The Water' and 'To Bring You My Love' was the third time a link was made with her earlier work just before the last song of the official setlist, 'River Anacostia'.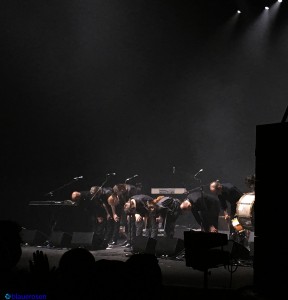 There was not a single song, a single verse that I would have liked to see being performed differently.
Each song was delivered in a way that, as a listener, I consider to be perfect, in terms of expression, of outwardness, of artistic sincerity, of artistic approach to its subject and to its musical style. There are some videos online, from this gig which I urge you to search for and as you watch them, try to loosen the grip to your heart, that PJ Harvey achieves through her performance and imagine how you would have felt during this show.
As for me, I left from O2 Brixton Academy feeling emotionally much richer from this truly beautiful show!
Until next time…
Blaue Rosen