'An artist wears his work in place of wounds' (Patti Smith)
June turned out to be mostly a punk month, simply because of all the 60 releases that we listened to and which covered everything from noise/techno to soul, it was the various 'faces' of punk that fascinated us the most. So let me tell you why…
We were anxiously waiting for PROTOMARTYR's new EP 'Consolation' and we were really excited to see that the band has now added more instruments in their music (e.g. cello, viola, bass clarinet). The music feels a little less emotionally intense than before but Casey's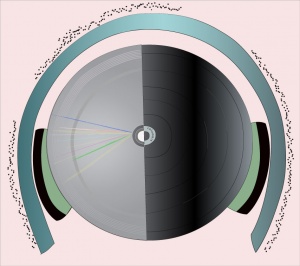 passionate performance makes up for that on a massive scale. The EP is a teaser for the next album of the band and also features Kelly Deal (The Breeders) in two out of its four songs.
Evil Blizzard came back in June with an album whose title carries with it the promise of the band to deliver 'The Worst Show On Earth'. If this isn't the most teasing album title we have seen recently on an album, I don't know what is. Having as a cover and as a main character of their videos, a clown on stilts, that could have easily been another incarnation of 'IT', the band of five singing drummers  (as they like to introduce themselves) delivers a 'heavy' album with mind blowing, noisy guitars and nicely positioned, metal music inspired riffs.
Warmduscher's album 'Whale City', carries on and subverts the heavy psychedelia that the music of Evil Blizzard has created and at times sounds like Gil Scott Heron on acid. The music of this album has blown new life on an exciting combination of funk music with punk and heavy psych rock rhythms, soul and jazz elements.
Nina Hagen and Skeletal Family seem to have inspired Werther Effekt in their album entitled 'Anomalia', while The Filaments reminded us what we love in melodic punk, ska music, through their album 'Look To The Skies' whose sound seems to have been inspired by The Clash. The last song of this album entitled 'Killing Machine' nods to Woodie Guthrie who placed the phrase 'This Machine Kills Fascists' on his guitar in 1941. Dancehall, 'dressed' their debut album entitled 'The Band' in indie rock and post punk sonic 'garments' but you will be positively surprised to find references to the sound of Cabaret Voltaire and even The Velvet Underground in it.
Moving towards the more typical indie part of this month's released, Johnny Marr delivers a melodic album with great production and melodies suitable for a breezy summer afternoon during a time of reflection and aloofness. The album 'Call the Comet', features Jack Mitchell and Iwan Gronow of the Manchester based indie band Haven on drums and bass guitar respectively.
On what concerns the electronic part of this monthly playlist, it is covered by the albums of Immersion and Saint Ballantine. Immersion, a project of Colin Newman (WIRE) and Malka Spiegel (Minimal Compact) have transcended the precedent set by both WIRE and Minimal Compact and offered us the album entitled 'Sleepless'. This is an album whose minimal electronic character, at times nods to Kraftwerk's sound and at other times it seems inspired by the serenity of ambient music and the restlessness of IDM. Yes, there are also carefully positioned and discreet psych elements in this album and it is those that will probably take you into a nice…'trip'. Impressive was the debut album of Saint Ballantine entitled 'All Saint's Day',that carries within its synth melodies and its pop/soul and dark rhythms, influences from space music as well.
Speaking about synth melodies, it would be a mistake not to listen to the debut album by Sink Ya Teeth, entitled 'Sink Ya Teeth'. Its rhythms are both pop and dark while the vocals bring to mind the character of Skunk Anansie's 'Skin'.
The coldwave, post punk aspect of this month's playlist is represented by the debut albums of ????????? and Contre Soirée entitled '????? ?????????'and 'Contre Soirée' respectively. The former reveals its strong influences from the sound of Joy Division and The Cure combined, while Contre Soirée seem to have been influenced by the german and Belgian post punk scene of the 80s. The Lay Llamas in their album 'Thuban' have creatively combined tribal music elements with krautrock and post punk elements and the result is both trippy in atmosphere and experimental in style.
We kept the very special albums for last. First of all the mighty Nine Inch Nails could not have picked a title more suitable to their music, than 'Bad Witch'.This album sounds exactly like a bad witch would, when passing through an old, abandoned industrial facility, transferring with sound, the textures and harshness of the environment she traverses…
Jaye Jayle, collaborates again with Emma Ruth Rundle and has released his second album entitled 'No Trail And Other Unholy Paths'. Emma Ruth Rundle provides vocals in various songs throughout the album, that has been produced by Dean Hurley a close collaborator of David Lynch. We read that Patterson himself has said, that the album has no beginning or ending and Side A and Side B are meant to be interchangeable. If all this has not triggered your interest, then hear this: It was the blues rock heaviness of Nick Cave and the smoky and 'harsh' style of Mark Lanegan, that the beginning of the album brought to mind and the brilliant transformation of that atmosphere with sonic injections of krautrock, ambient elements, that heightened the impact of the album for us.Taking the dark-themed, blues-inspired music towards a 'lighter' direction with ethereal backing vocals (courtesy of  Lisa Jên, Mirain Hâf and Lily Cole) and accompanying melodies in strings and piano , Gruff Rhys offers us a beautiful album entitled 'Babelsberg' that often brings to mind the voice and style of Leonard Cohen. The Wave Pictures is a band that keeps a low profile but their music has an emotional and rhythmic strength that will make you want to pour yourself a glass of whiskey first of all, and secondly to just enjoy the melancholy, the narrative and the well hidden passion in the delivery of the lyrics. I need to ask them about their choice of imagery for the album's cover but irrespective of that, 'Brushes of Happiness' is a truly beautiful album with bluegrass, indie rock influences and vocals that will keep your attention focused on them and on the verses they deliver, for much longer than the duration of the album.
Finally we were delighted to see that John Parish came back with a new album, the first song oriented one in 10 years, entitled 'Bird Dog Dante'. The album has a serene, blues-inspired and experimental aura and also features PJ Harvey in a beautiful duet that refers to a close friend of hers and John Parish, Mark Linkous. Aldous Harding, Marta Collica and Giorgia Poli also provide backing vocals throughout the album.
We hope you enjoy our playlist as much as we enjoyed preparing it!
Blaue Rosen