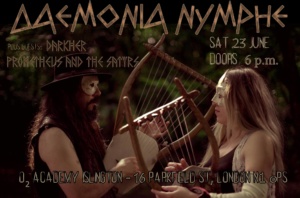 You might have picked up that this week is very rich in terms of gigs. There are many well established bands as well as new projects that will offer memorable shows in different venues around London but we wanted to talk about one in particular in more detail. This is no other, than the special show that Daemonia Nymphe are preparing for us on Saturday 23rd June at the largest venue the band has performed so far in London, the O2 Academy in Islington.
The band has come a long way and is heading towards even greater things by constantly enriching their sound with new elements, new instruments and new ideas. Daemonia Nymphe have started their career in Greece in 1998, having been inspired by the mystery surrounding ancient Greek music and the aesthetics associated with ancient Greek theatre. At the very beginning they revealed their influences from the sound of 4AD and Dead Can Dance in particular, but very quickly they enriched their original sound and the lightness of the ethereal female vocals, with ceremonial male vocals and aesthetically psychedelic elements in the performance, making reference to characters like nymphs, oracles and even witches and demons. Their stage appearance has also evolved and enriched with different and more theatrical elements over the years. This was until the release of their album 'Psychostasia' where the idea for a music/theatre performance materialized. 'Pyschostastia II:The Ritual' was not the first time the band had been involved in theatre but it was the first time they transformed one of their music albums into a play. Daemonia Nymphe have provided live scores in numerous theatrical productions both in London and in Greece.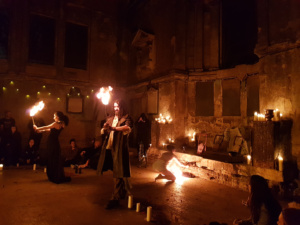 Collaborations is not something unknown to the band both on and off stage. Ataraxia, Corde Oblique, Peter Ulrich, Dimitra Galani, Victoria Cooper, Jo Quail, Louisa John-Krol, Dessislava Stefanova are just a few musicians that have joined the band on stage or collaborated with them in their albums, but the list is much bigger as the band has invited many performers on stage, always offering shows of unique aesthetic and visual beauty. During their upcoming performance they even plan to have puppeteers with them on stage!
Following the introduction of their new peculiar brainchild 'Prometheus&The Satyrs' last year,Daemonia Nymphe will celebrate their career with a performance that will begin where 'Psychostasia II:The Ritual' has ended. Their performances merge the Dionysiac with the ceremonial and the psychedelia of pagan folk and always leave the audience in awe and ecstasy.
Blaue Rosen was delighted to talk with Daemonia Nymphe and learn more about their upcoming performance and their future plans. This is a band that always transforms the place and in a way, the audience, during their shows so do not think twice about coming to their performance. Grab your tickets from here.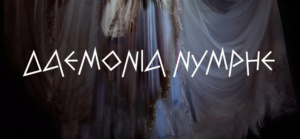 Blauerosen: In a few days we will have the pleasure of experiencing another Daemonia Nymphe 'ritual' at the O2 Academy Islington. I understand that this will be a performance that will celebrate the project's career so far. However, the band has never offered a gig in the strict sense of the word. Can you talk briefly about what we should expect from this performance? Is this related in any way with 'Psychostasia II The ritual' that was presented a few months ago at the Asylum in Peckham?
Yes, it will be a big evening for us, our largest U.K. concert ever. We are very excited about it, we will have nine musicians on stage, two dancers, guest musicians and guest puppeteers. We will also perform at the biggest venue that we have ever performed in London.

The concert will be related to "Psychostasia II The Ritual" as it will be the continuation of the Ritual at the Asylum Chapel. We will start at the same period of time when "Psychostasia II The Ritual" 'ended'. The attenders will be able to re-enter the space and witness the performers at the 'konaki', find out what happened after they left. After the Ritual will be completed we will enter the second phase.We are celebrating ten years living in London, twenty years since our first vinyl album "The Bacchic Dance of the Nymphs" was released in 1998 and fourteen years of performing around the globe.
Blauerosen: We read that you will use some additional instruments for the first time during this show. Are these new creations by Nikolaos Bras or instruments that you have used before, just not during live gigs? Which instruments will these be? Overall how easy has it been to tame these very special and beautiful music instruments that you are using on and off stage?
We recently started again using more and more 'ancient' Greek instruments on stage as we did at the Union Chapel last Summer and recently at the Asylum Chapel, where we performed with four different types of ancient Greek lyres(lyra) at the same time. We cannot reveal much about the forthcoming show, although one thing that we can tell you is that we will perform with the 'ancient' Greek barbitos, which is a really unique instrument of Greek antiquity and we now present it to you as a contemporary instrument. It hasn't been easy to use them, especially in big spaces where we are performing in front of thousands of people, but after some years we finally managed to find a way to make it work.
Blauerosen: There is also a hint about a forthcoming album, in the press release. It seems that we will have the chance to listen to new songs as well during this performance. What can you share about this album?
Well, we are actually working on three different projects at the moment.  One is the 'lullaby' project for which we invited female singers from different countries to sing to a lullaby based on one of our compositions. Some names that I can already reveal are Japanese Hatis Noit currently on Erased Tapes label, Spanish Priscilla Hernandez , Australian Louisa John Krol and British Bethany India and Stevie Jo. For the other two projects I cannot reveal much info at the moment, other that one of them is going to be released by an English label.
Blauerosen: For this performance you will be joined on stage by close collaborators, guest musicians including Peter Ulrich(ex. Dead Can Dance, This Mortal Coil), who also joined the band at its performance at The Lexington in 2011 and participated in the album 'Psychostasia'. How did this collaboration happen?
We both admire each other's work and we are always very happy to perform and work together.Peter is a wonderful musician and a very nice person, he brings great qualities to our music.
Blauerosen: Apart from Evi, female vocals will be provided by Rey Yusuf and Dessislava Stefanova, both of whom participated in the album 'Psychostasia' and Rey also participated in 'Macbeth'. I have to say that the impression I have whenever I attend the band's performances, is that of a very cohesive ensemble no matter who the guest musicians are. The end result is always beautiful and always special in every sense. Even though you have had different guest musicians with you on stage (all of whom are now long term collaborators), everyone feels to be completely integrated to the project in every sense. Everyone seems to share the same aspirations, there is great communication between you on stage and this is not something we see very often in bands. How easy has it been to achieve this?
We feel privileged to be working with such amazing artists, singers and musicians. Dessislava Stefanova is performing live with us for the first time. She has sung in many Hollywood films such as 'Troy', 'The Brothers Grimm', '10000 BC' and also on our 'Psychostasia' album; you can imagine the atmosphere that she brings with her voice. Victoria Couper will return on stage with us, she is one of the first musicians that we met when we moved to London. She can hit notes that you wouldn't believe existed. She has sung on our 'Psychostasia' album and is the main voice of our "Macbeth" score for the National Theatre of Northern Greece. Rey Yusuf joined the band later, we found a great connection with each other, she has unique qualities in her voice and is exactly what we need to express our music; for this concert she will also perform the daouli. Besides the voices, our musicians Thodoris Ziarkas on double bass and Cretan lyre, Orestis Giasafakis on double bass and Tom Wagner on percussion will create a unique atmosphere. The combination of all our voices and instruments together, including the ancient Greek instruments of course, is what makes the Daemonia Nymphe sound.
Blauerosen: I was thrilled to learn that Prometheus &The Satyrs will be opening the evening. I love this project. I find them to be witty, playful, provocative and aesthetically very intriguing. They feel like the spoiled 'child' of Daemonia Nymphe. They also seem like the kind of 'guys' who do whatever they like. Are they hard to handle? 
They have a manager who seems to be a sensible guy. We have never been in contact with them so we don't know if their peculiarity is part of their everyday lives, although we believe that it is. The only thing that we know about them is that they appear whenever they are supposed to be appearing.
Blauerosen: This project also seems to have a thing about hair, which, as we saw at their performance in Nambuca, seems to be growing out of their instruments as well. Do you have any idea what has 'possessed' them to make such choices?
You will have to ask them for that I am afraid.
Blauerosen: Darkher will be the second support band of the evening. What do you think about their music?
We found out about Darkher when Einar of Wardruna invited us to their concert at the Union Chapel.  Their music is atmospheric and ethereal, her voice is really beautiful and we really like their sound.
Blauerosen: Have they met Prometheus and The Satyrs? Do they 'get along'?
No, I don't think that anyone has met them.
Blauerosen: Finally, we will see during this performance, what happens when a 'daemonic nymphe', a 'Prometheus' character and satirical characters share the stage in modern times but what do you think might have happened if those characters 'met' during ancient times?
In ancient times it would be absolutely normal, a mundane moment in a typical day in ancient Messinia!
Blauerosen: Thank you for taking the time to answer these questions.
You are welcome, thank you very much for this lovely chat.

Blaue Rosen 
This is the official press release from Daemonia Nymphe
Daemonia Nymphe return to London for the first time after three years. All these years the band hasn't been inactive, on the contrary, they have been working on different projects; travelling around the world, performing in the USA (at the same festival with Wardruna where the two bands meet for the first time), collaborating with Faun's percussionist (in Germany), headlining the Wave Gotik Treffen festival in Leipzig (ahead of Myrkur amongs others) and the Mediaval festival in Selb, performing in many other European countries, composing music for a National Theatre and collaborating with Gucci in Milan. For this concert Daemonia Nymphe will perform music from all their albums including songs that were originally sung by Psarantonis, Alkinoos Ioannides and Dimitra Galani and also compositions from the latest score "Macbeth" commissioned by the National Theatre of Northern Greece and work from forthcoming projects/albums. They will also perform with various 'ancient' Greek instruments, some of which they have never performed with before. It will be a new theatrical and ceremonial practice never experienced before.
Ten years in London, twenty years since their first album was released ,"The Bacchic Dance of the Nymphs", all in one concert, their biggest concert ever in the UK, a big, big celebration!
Support from the fabulous DARKHER coming from the north of England just for this and the peculiar Prometheus and the Satyrs
Join the fb event here: https://www.facebook.com/events/340923006424545/