"Art has nothing to do with taste.Art is not there to be tasted…" (Max Ernst)
This playlist is weird in every sense! Its sonic imprint contains dream pop, industrial, punk, post punk, gothic, post rock and psych rock melodies in mysterious combinations, some protest songs and an album which could not have found a 'comfortable' place in any playlist. This album is entitled 'Thoughts Of A Dot As It Travels A Surface' by CV&JAB-Zin Taylor and could have been the sonic form of Kadinsky's book 'Point And Line to Plane', but was instead inspired by a series of wall drawings. In an unexplained manifestation of 'madness', I decided to include this album in the monthly playlist, but could not for the life of me decide where to put it! If I said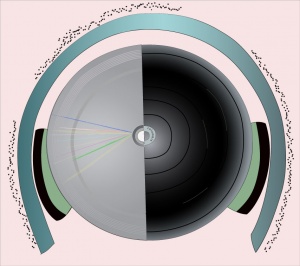 that its overall style was minimal electro you would probably expect to listen to something completely different from what it is, so I will just say that you will need to be familiar with the music of John Cage or Erik Satie, in order to appreciate it to some extent. Gothic music in its more 'traditional' form, could not be absent from this playlist and it has been represented by the second album of Poetry of Thorns, entitled 'Poetry of Thorns', whose music blends neoclassical with ethereal elements and creates mystifying soundscapes whose colour palette is rich with all the different red shades of purple. This album is entirely different from the aesthetics of both Fever Ray's 'Plunge' and the rather funky  psych rock album 'Fear On The Corner' by  Mamuthones.Fever Ray have further evolved their sound by positioning impressive samples next to elements from breakcore and house music in their melodies, without forgetting the dark minimalism of their older songs such as 'Keep The Streets Empty For Me'.
Atonal music seemed to have inspired KH?OM?? in many ways and he only stopped his creative play with frequencies twice within the album 'C O D', in order to interject it with very few experimental IDM and martial industrial rhythms. Restive Plaggona, has 'hit' us again with his beautiful industrial/IDM/noise rhythms, through a new album entitled 'Bonded Labour' . Beautiful little melodies 'dance' on top of an attractively heavy bass tone rhythmic maze. Answer Code Request, started the album 'Gens' in a hard-to-follow experimental mood, but later enriched the sound with ambient, psychedelic trance and IDM elements. Touch of Grammaton, have been inspired by the poignancy of Jean Cocteau and as a result have injected dark ambient and industrial elements to the sound of their debut album 'Lorentz Factor'. Grand Mal X, in the album 'Darkness', have offered an attractively dark, moderately fast in terms of rhythms and eerie electronic album, where synth melodies and samples from nature are nicely combined with carefully selected references to industrial music.The cherry on the top of the experimental branch of this playlist, is the split EP of Mannequin Cellar with Concrete entitled 'Mannequin Cellar/Concrete' , which could easily be the trailer of a Bergman movie.
Amazingly lighter in mood were those releases which had more prominent industrial elements and rhythms to which one could dance. JK Flesh's EP 'PI04' was one of those releases, together with the beautiful debut album of Outpost 11, entitled 'Resonate'. In the sound of Outpost 11 we particularly enjoyed the scattered references to the early sound of Skinny Puppy. The sound of The Dirty Sun (Album: Nothing) was closer to that of The Soft Moon at times even though it had strong influences from breakcore music at the beginning. In their debut album entitled 'Stardust Made Flesh', Death Stair have been combining references to the industrial music of Front 242 coupled with coldwave and post punk rhythms and vocals that brought to mind the aesthetic of QUAL. Speaking of 'the devil', QUAL has released his next heretic album entitled 'The Ultimate Climax', in the sound of which, he fully embraced the industrial and noise industrial side of his musical existence. Finally, The Soft Moon has spoiled us so much with his previous releases, that our expectations were enormous for his album 'Criminal'. Even though the atmosphere of this album did not surpass that of his previous albums, it did transfer us, towards the end, inside those beautiful, hazy, industrial, psychedelic, mazes that are so characteristic of the sound of The Soft Moon.
I am a difficult listener when it comes to dream pop but, concentrated in the releases of this month, I found those qualities that make the genre attractive. While the album of Lowpines entitled 'In Silver Halides' retained its lo fi, light mood throughout, the albums 'Hardly Strangers' by Psychic Markers and 'Pasar De Las Luces' by Mint Field, enriched their sounds with different psych rock and indie rock elements whose tone became much darker after a point. It was the dreamy soundscapes of David Lynch's movies that seem to have inspired Miracle's album 'The Strife Of Love In A Dream' especially after the first, mostly punk song entitled '>The Parcifal Gate'. My favourite of these releases though was the debut album entitled 'Insecure Men' by the London based Insecure Men, as it brought to mind the music of Air and that of the early songs of The Beach Boys!
Most of the bands that released punk albums in February were inspired by the aesthetics of Sonic Youth but it was the album 'Stiff Prescription' by the Beta Blockers through which all the 'anger' that Middex, FRIGS, Fontaines D.C and Evil Blizzard have been building up through their songs, found an outlet. Middex's debut album 'No Home' explored different qualities of industrial punk, sometimes bringing to mind the sound of Bakterielle Infektion and Carter Tutti and others, the sound of November Novelet. On the other hand, 'Basic behaviour', the  debut album of FRIGS, felt like an angrier version of Sonic Youth and a less angry version of Hole. Fontaines D.C have created a type of attractive and agitated anticipation that very few punk bands are able to communicate, in their EP Chequeless Reckless/Boys In The Better Land. It is not normal for Evil Blizzard to be as 'calm' as their EP 'Fast Forward Rewind' suggests but since this is 10″ EP, is a 'teaser' release for an upcoming album, we will go ahead and assume that the best is yet to come…
It was the synthpop and post punk releases of the month that introduced some melody in this playlist. First of all, we have been delighted to listen to the third album by Japan Suicide entitled 'Santa Sangre'. The Mission as well as The Cure seem to have quietly inspired the sound of this post punk album but it was actually the antithesis between the distorted and noisy guitars and the melancholic vocals, that made me listen to this album again and again. While Sex Park's debut album 'Atrium' tapped into our fascination for strong post punk rhythms enriched by distorted guitars, the synth based melodies in the album 'Atomic Eyes' by The Rain Within brought to mind the slower rhythms of Depeche Mode and the mind navigating melodies of Kavinsky and Scratch Massive. There is a beautiful bitterness in the melody of the single 'Desire, Sin, Death' by Traumatone, while the character of the rhythms combined with the synth and guitar melodies, place this song on a thin line between synthpop and industrial music. Galatée have written the next chapter in their career with the album entitled 'Sans Titre' that navigates us from the hypnotic dark fields created by slow synth rhythms to 'lighter' areas created by addictive synthpop melodies that bring to mind the sound of Visage.We said this playlist is weird didn't we? Well, it contains the album 'Protest Songs LP' by Warning.AU, that defies categorisation, is experimental and contains protest songs dressed with experimental synth-based, synthpop melodies and enriched with nicely positioned samples.
I left the best four albums of this month's releases for last and these are: the impressive debut albums 'Miniature World' by Phobophobes and 'The Final Age' by The Final Age and the album 'The Skull Defekts' by The Skull Defekts. On what concerns the album of Phobophobes, it has the signature of Youth (Killing Joke) in its heavy sound which also includes psych rock instrumental parts carefully positioned throughout the album. Through careful listening , we could identify influences from American rock and country music, while both Nick Cave and Sivert Hoyem came to mind on what concerns  the performing style and the character of the vocals. We loved this album and luckily for London's audiences, Phobophobes will play live at the end of the month, giving us the opportunity to enjoy their rich sound in all its glory. The Final Age, a project of drummer Jesse Webb, features many musicians among which are: Paul Allen (Anthroprophh, Fuzz Against Junk, The Heads), the talented multi instrumentalists Gareth Turner ( Anthroprophh, Big Naturals, Kuro) and David Andrew McLean (GNOD). With a sound, seemingly more serene than that of Mamuthones, The Final Age with each captivating composition of drums with high pitched saxophone notes and distorted vocals, promises to create a chaotic sonic vortex around you. We were impressed by this album and the arrangement of all the instruments! The Skull Defekts seemed to have taken a sneak peek into Einstuerzende Neubauten's bag of tricks for their album, whose sound creates some sort of sonic painting whose impact is the result of creative experimentation with noise, 'heavy' guitars, tribal rhythms and aesthetics.In a different incarnation of The Skull Defekts, two of their members Henrik (Rylander) and Joachim (Nordwall), have joined the Orchestra of Constant Distress and released a psych rock album entitled 'Constant Distress', with such a heavy sound that its harsh industrial aesthetics will stay with you for a long time after you stop listening to it .
There is nothing more to say really about the weird soundtrack of February 2018, enjoy Blauerosen's playlist!
Blaue Rosen