I can only begin this text by admitting that it's almost revealing to experience a live gig which challenges and invalidates any negative preconceptions. In the 7 years that I've been attending live gigs in Slimelight this was the first one with such a good sound that didn't compromise the bands' music! I had to keep reminding myself that I was actually in Electrowerkz and not somewhere else.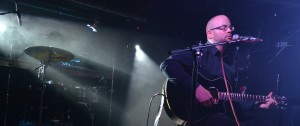 This was more evident during Rome's performance which must have posed the biggest challenges since it was based on the acoustic guitar. As I've mentioned in the introductory text, it has been proven challenging for sound engineers in the past, to stress the positive elements of Rome's music in various spaces so this time the careful sound engineering created a warm atmosphere that captured the whole audience. The sound was very clear without losing its warmth or the emotional strength of Rome's music . The sound engineer took into account all the melodic changes within each song as well as the acoustic character of the music. The final result achieved a great balance between Jérôme's voice and his sensitive melodies so everyone had a unique chance to enjoy and appreciate his music. Jérôme enjoyed the positive feedback and the audience found it difficult to accept the limited duration of his setlist asking him to ignore the allocated time and play more.



"…Oh so long Europe you've been good to me…Oh so long Europe you've been all too nice…"(lyrics from 'A Farewell to Europe')
The setlist included songs from his new rather acoustic album entitled 'A Passage to Rhodesia' released by Trisol, as well as older favourite songs. We listened to 'A Farewell to Europe' and 'One Fire' from the new album while 'Still Well' was performed with such emotional sincerity that the lyrics seemed to touch everyone in the audience. 'A Passage to Rhodesia' is also available as part of a box set which includes the additional album called 'House of Stone', postcards, picturebook, posters, a coin, a 10'' and a DVD with an interview which was filmed in Rome, in the summer of 2013. The box set comes at a price but comments on the internet seem to agree on the fact that quality and quantity of the content justify this high price!
A caustic sense of humour is a quality that I like in musicians as I think that it is an effective way of transmitting a message. The lyrics of the song 'A Farewell to Europe' reflect Rome's thoughts about Europe in crisis and justify the presence of a welcomed humour. Jérôme is not leaving reality outside of his music and he has often written songs which criticize the current ways of living (i.e. 'To Be Governed'). His overall attitude during this live and his words between songs, favoured the positive communication with the audience as he promised a much louder live gig with a different setlist in Fairywood festival. Unfortunately this festival was cancelled increasing the challenges that the scene faces at the moment but this doesn't mean that we won't be looking forward to a full band set in the near future.
Naevus were next and the energy on stage increased dramatically. As a three men band (Lloyd James, Hunter Barr, Ben McLees) , Naevus raised the sound volume and our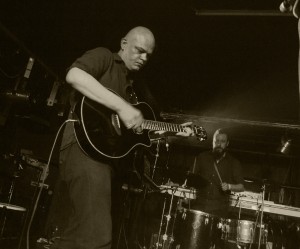 emotional energy. Even though they were less communicative than Rome with the audience between songs, their performance and especially Lloyd James' singing was transmitting almost paralysing passionate waves to the audience. The energy of the performance was so intense that, as I was standing at the front row, I had a similar feeling to the one Icarus had when he approached the sun and started feeling his wings burning! It was 4 years since the last time I saw the band live, supporting David E. Williams. This live at Electrowerkz had better sound and the performances were more passionate. The setlist included all of the band's full length albums (except 'Relatively Close to the Sea') including the first 'Truffles Of Love' and their latest 'The Divisions of Labour'. Naevus started with started with 'Man in a Ditch', 'Kill Your Friends' and 'Aria/Aqua' from the forthcoming vinyl EP entitled 'Backsaddling'. 'Like Arms' and 'Chairs Like Men'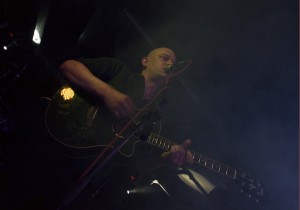 were performed with dynamism as their main musical themes dictate while 'Idiots (Let Me In)' with Lloyd playing the guitar had a theatrical start as he was knocking his guitar in order to simulate the knocking on a door…'No, Remember' is a song which brings to mind 'Break the Black Ice' by Death In June and as I was listening to Naevus, somehow I was hoping that they would do a cover of this song… Overall the songs were performed at their best, the sound stressed the rhythmic variations inside each song and the result was much more interesting than listening to their cds. Naevus is a band whose music can only be appreciated during live gigs and since this is not very easy to be achieved by any band, when it happens it proves the quality of the musicians.Finally, at the back the sound was not as good but this didn't prevent anyone to enjoy the band at a great performance. One of my favourite older songs 'Oracle Oracle' was at the end of the setlist before the last song which was a cover version of 'Frozen'. After this performance a bit of emotional discharging was necessary before listening to Kirlian Camera's even more overwhelming performance. Naevus are playing as a support band to Of the Wand And The Moon at The Black Heart on September 28th.

Kirlian Camera appeared on stage wearing full face black masks holding flashlights and making a gesture as they were standing still in front of us. One word was brought in my mind while watching them standing with their hands crossing their chests: sincerity. If I was reviewing their performance in relation to this introductory gesture, then I could say
that yes indeed they offered an emotionally sincere performance. At the end of this introduction the band left by doing different winning gestures before starting their performance.Kirlian Camera is one of my favourite electro bands, even though the term 'electro' can't quite cover the whole range of musical styles that are combined in the band's music. One should overcome the immense feeling the stage appearance of this band provokes, in order to be able to focus on their music without being distracted. Elena Fossi is admittedly very impressive and aesthetically different from Angelo Bergamini but this strong difference is an important element of the band's character. This strong difference is also apparent at their vocals and overall performing style of each one, thus creating a memorable live. The band didn't have a violinist on stage this time so Kyoo Nam Rossi was the third visual attractor on stage.
His dynamic performance on the bass, his movements and the communication with Elena often shifted our attention from the lyrical element of her voice. Since 2011 he has participated in 3 albums and in the EP 'Ghlóir Ar An Oiche' as a member of Kirlian Camera . Kyoo was a member of the black metal band Forgotten Tomb which was created in 1999 and was inspired by the sound and aesthetics of Mayhem.While he was playing it seemd as  he was transferring part of this energy of metal bands to the sound of Kirlian Camera.Kyoo's sound during this live was overstressed probably as a result of sound engineering choices so it seemed that he played a primary role in the created dynamics of this live sometimes masking Angelo's sounds at the back as well as the sound of cello. Kirlian Camera's setlist consisted mostly of remixes and the experimental electronic element of their music was hidden. The harsh playing of the bass coupled with Kyoo's stage appearance (e.g. movements, expressions) seemed to be more suited to a rock/metal band and antagonised Elena and Angelo in some levels. This didn't leave a good impression to some, as the loud sound of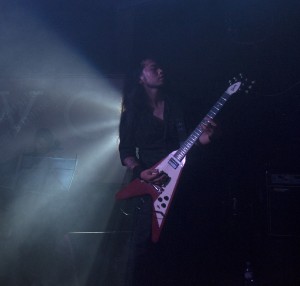 the bass stressed those harsh accords even more. The setlist included some old favourite songs such as a narrative version of 'The desert inside' and 'Fields of Sunset' by Angelo Bergamini. 'Nightglory' and 'Eclipse' were performed as remixes but they didn't lack any emotion. It was the first time that I had the chance to listen live tp the band's electro cover version of Pink Floyd's 'Comfortably Numb' and I can't say that it had the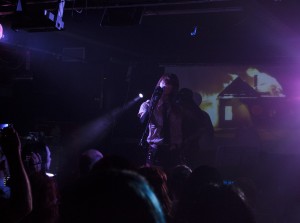 same ambience as the original song. The last song of the setlist, 'Odyssey Europa' was performed in its original version and at its best with some strong visuals at the back where a house was burning. Kirlian Camera left us with a warm goodbye and the strong wish to see them again soon!
Blaue Rosen
More photos from this live can be seen by following this link