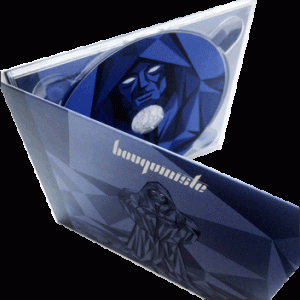 1. The Day They Came/ 2. Awakening/ 3. Faded Sun/4. Stormtrooper Waltz/ 5. No Place To Hide/6. Fields of Silence/7. The New Tomorrow/8. Untitled/9. Untitled/ 10. Untitled/ 11. Faded Sun (Hysterical Version)/12. Stormtrooper Waltz( Crashed Waves version)/13.The Day They Cane (Tokee remix)/14. Awakening (Electro Shock version)/ 15.Untitled
Unguided Records, August 2014
…an unofficial score for an imaginary choreography…?
Tokee's latest brainchild is entitled 'Bouquiniste' and is quite different from all of his previous albums. Traces from his classical music training and his involvement with the films' industry (Tokee worked on actors' recordings for the movie 'Munich' by Steven Spielberg) can be identified in all of his previous albums. Five years after the release of his debut album 'Plus',  'Bouquiniste' makes reference to Tokee's classical influences which are more prominent without excluding the presence of psychedelic/idm sounds! Tokee has also released the following albums in 2014: 'Struktura' and 'Unknown Spheres' by Raumklang.
IDM experimental music is seemingly an 'easy' genre to compose but since the final result depends mainly on the created atmosphere, a strong imagination and mixing talent are needed in order to create an interesting sound which will motivate the audience to buy the album and remember it. There are not many musicians in this genre who can compose music that makes sense without being just a bricolage of sounds. By listening to 'Bouquiniste' I could sense a structure within each song, a rhythmic and lyrical core, a theme, which continued to be present during all the rhythmic alterations that took place within it. I could also find some similarities with the sound of In The Nursery in 'No Place to Hide', 'Faded Sun' and 'The New Tomorrow', while the breaks in 'No Place to Hide' brought to mind the sound of Gridlock. This album is released in digital as well as in limited edition cd. The digipack edition comes in only 100 copies with 3 full length unreleased tracks.Each copy has an unique number (001-100) and is signed by Tokee. Each cd Includes unlimited streaming of Bouquiniste via the free Bandcamp application, plus high-quality download in MP3, FLAC and more.
Two distinct and well combined styles
Bouquiniste seems to have two core alternating elements, an orchestral sound which takes the form of classical melodies in piano, violin and cello ('The Day The Came', 'Faded Sun', 'No Place to Hide', 'Fields of Silence', 'The New Tomorrow') and an emotionally darker, more experimental and ambient sound with more synth, haunting vocal samples and string instruments, which flirts with psych trance and is more evident in 'Awakening' and 'Stormtrooper Waltz'. These two seemingly unrelated styles are entwined using transitions which are ambient in style; as happens in various moments in 'Awakening'. An orchestral sound is mysteriously transformed and blurred so as to create a haunting and wicked melody in 'Stormtrooper Waltz' and suddenly after 3' the rhythm of 'Awakening' is changing so dramatically that is motivating anyone to dance. Being experienced in mixing sounds, Tokee has created very smooth transitions of rhythms and styles within each song without creating the feeling that they are out of place. This is NOT an album entirely composed in a computer as is usually the case. Trio Expressia are offering all the melodies we listen in cello and violin while Alexander Okunev together with Tokee perform the rest of the sounds.
This album has 14 tracks and the first seven form its core, followed by three untitled promo tracks which last for 1' each. The rest of the album consists of remixes of 4 out of the 7 first tracks. Experimentation reaches a climax in these tracks as they are transformed to powerful ambient soundscapes!

Bouquiniste and the rest of Tokee's albums
Bouquiniste, is less a sound for a club's dancefloor and more a spiritual album. Each time listen to it I secretly hope that someone could be inspired enough in order to choreograph it… 'Plus' was a typical IDM album in a dancing mood with great songs and perfect transitions between them. 'Feeling Alive' was an experimental album without any melody but with clear and direct references to psych trance so it was explicitly appealing to the audience of this genre. 'Futureshock'  was a very nice album with a lot of variety in the mixed sounds, unlike 'Plus'. What makes 'Bouquiniste' stand out is the way Tokee blurs the boundaries of different music genres and creates an interesting sound.
Finale
As is the case with every significant album, 'Bouquiniste' finishes with the most remarkable song of the whole album. This is an untitled song that will crash your emotional world as Tokee mixes various sounds with the aim to produce an emotionally intense track. Be prepared to feel psychologically suspended as you listen to the sample of a voice that weeps uncontrollably… I would be personally very interested to know what sort of music anybody would choose to listen to, after this track. I chose to meditate in silence after entering this wicked atmosphere and I can't describe to you enough how anxious I already am for his next album.
You can listen and purchase Tokee's album by following this link: https://unguidedrec.bandcamp.com/album/bouquiniste
7/10
Blaue Rosen