…Carter Tutti plays the 'final' live show of Chris&Cosey at Heaven
Before saying anything more about this gig I have to admit that even though I had every intention in the world to attend this last (as I realized) gig of Chris& Cosey at club Heaven, I didn't have the necessary decisiveness to book a ticket on time! So it was due to a happy and welcomed coincidence that I purchased the last ticket for this sold out gig by a complete stranger 30' before a record store closed for the day. But let's take things from the beginning. I happened to pass by a record shop in Soho this past dark and cloudy Sunday, when I noticed on the window an announcement stating that in store one could buy ONE last ticket for this gig. Ignoring my certainty that this ticket would have been sold hours ago, I asked the staff and to my surprise it was still available at its face value!
Two hours later, I entered the notorious Heaven for the first time in the eight years I live in London. The space reminded me of my fascination for vaulted underground clubs and soon I was contemplating the closure of a favourite such club near London Bridge station. Respecting the announced stage times, Nisennenmondai appeared on stage and the first sequence of notes and rhythms, put all of us in trance. The playlist by the djs of Quietus had warmed up the atmosphere ideally with excellent choices of tracks, so the band's music felt like a natural continuation of sounds.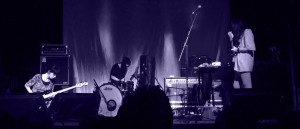 I was not very familiar with the music of Nisennenmondai but I am a big fan of experimental/IDM/noise/old school industrial music genres. This girls' band started in 1999 from Tokyo and I must admit that their energy on stage was something unexpected and absorbed everyone in the audience. I was impressed by the expressiveness of Sayaka Hineno at the drums, who not only was keeping the rhythm but also seemed to be the person that generated any rhythmic variations that were occurring within each piece. Nisennenmondai means , 'computer bug problem in the year 2000' and apart from Sayaka Hineno, Yuri Zaikawa

a
t the bass and Masako Takada at the guitar are the musicians responsible for the old school industrial/noise/psych trance rhythmical maze that their sound creates. The band has released four studio albums so far. The first one 'Rokuon' was released in 2006 and the last one 'N' that was performed at its entirety at Heaven, was released in 2013. The most interesting moments of this gig were those where a strike or more of the drums, interrupted the 'linearity' or even the 'infinite rhythmical loop' that we were listening up to that point. It was inspirational and rejuvenating to listen to Nisennenmondai's music and soon, any problems caused at the front of the stage by misbehaving people in the audience, gradually lost their severity. It was particularly interesting that these rhythmic alterations were happening in the middle of an already continuous trance atmosphere within each piece and soon I realized that I couldn't have enough of this band and this was a shared feeling between a lot of people near me. After 40' Nisennenmondai thanked us kindly and reminded us that their fourth album was available for purchase at their merchandise.
Up to the minute that I headed for the bar I was oblivious to the fact that there was literally not an inch of free space left inside Heaven. No wonder the gig was sold out!
Chris(Carter) and Cosey (Fanni Tutti) completed a US tour in 2014 and especially for this tour they remixed various older songs of theirs. They didn't let us wait for too long and once on stage, Cosey stated that this gig was the last of Chris&Cosey but Carter Tutti will release a new album later in 2015. 'No sadness no sadness' she said, '…we will still continue to write music just not the same kind as we have been doing so far.So we will kick off and enjoy the show'.
Their setlist included songs that the band has played several times live during the last years. Focusing more on their minimal electronics/new wave songs rather than on the darker industrial and more experimental ones, Chris & Cosey made all of us dance incessantly for a little more than an hour. Older songs were reworked and reinterpreted and as a result this gig felt like a very nice party where everyone including the performers, had a great time. The setlist included 'October Love Song' one of the first singles of the band in 1982, 'Driving Blind' , 'Lost Bliss' , 'Retrodect' , 'Obsession' , 'Workout' , 'Watching You' , 'Love Cuts'. The version of 'Beatbeatbeat' that was played made it sound a million times better than the original version. The rhythm was much slower and this created a hypnotizing atmosphere with a strong and underlying dynamic. The lyrics were also sung differently as Fanni Tutti was separating the words rather than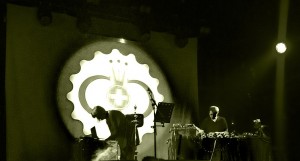 pronouncing them together as one, as she did in the original version of the song. 'Beatbeatbeat' was originally released in 1987 as part of the album 'Exotica' and even though we've seen that the songs don't always mature in the same way as their performers, in this case, the form that this song has taken in the course of time is extraordinary and better.
Chris Carter was manipulating the electronics at the back of the stage while Cosey focused on the vocals when she was not enriching the absorbing rhythms with her famous red trumpet and her 'lightly constructed' electric guitar. While I was watching this guitar, I remembered an interview of Genesis P. Orridge where he was talking about the early days of Throbbing Gristle and industrial music and how the conventionally constructed electric guitar had seemed unattractive to Fanni Tutti who initially didn't welcome her role as a lead guitarist for the band. It was only after this guitar was modified in order to reduce its volume significantly and make it look 'lighter' that Cosey was reconciled with her role at the band according to Genesis P. Orridge.
Chris& Cosey have appeared a lot of times live in the recent years and in 2013 they played at Heaven again. Having seen various videos from fans that were recorded during that gig I concluded that their last gig two nights ago was very similar to the one in 2013. The band has used the same visuals and an almost identical setlist…only this time it was their last show as Carter Tutti!

Just before their last song, 'Coolicon' Cosey addressed the audience with a smile and said 'So that was Chris&Cosey, thank you very much' . I left with the impatience of 'seeing' what comes next from these two creative musical minds and the certainty that it will be something very interesting !
 Blaue Rosen