'The system of concert halls will disappear. The future of live music is house shows' (Josef van Wissem, extract from a recent interview)
I always enjoy gigs at Café Oto, which is a favourite place for a lot of people who live close to Dalston. Even though this is a relatively small place, it has built a reputation over the years, by organising performances by alternative artists/musicians. Café Oto has a dedicated crowd that shows great respect towards the musicians and enjoys every gig. Because this is a venue that creates an intimate communication between audience and performer(s) in every gig I have the impression that I have been invited to the musicians' own house. This time was no exception! This was the first live gig for me for 2015 and what a better way to kickstart a year than with mesmerising melodies.
We waited for quite a long time before James Birchill a.k.a Rough Fields welcomed the audience on stage. As he explained we were about to listen the result of his experimentation with sounds that he had recorded during the day around Café Oto. This kind of field recordings is a very important element to his compositions and he has used such recordings in his EP entitled 'Steve Reich: Music for 18 Musicians' which is a cover of 'Music for 18 Musicians' by Steve Reich. For this gig, the recorded sounds from around Café Oto would be combined in a creative way to produce a powerful piece. It sounded as something exciting and site specific. The result was a rhythmical combination of sounds in different frequencies. The multiple and complex sounds of a city could neither be identified nor recreated even in an abstract way. If there is such a genre as 'urban music' and Rough Fields aims at composing music that replicates the sonic experience of a city then this time his composition didn't simulate this atmosphere in my mind. There are several musicians of the IDM genre that have approached better the multiplicity of the sonic environment of a metropolis so I was more and more anxious for Josef van Wissem to star. Rough Fields has released one full length album entitled 'The Edge of the Firelight' in 2012. In 2014 he released three EPs in total including 'Steve Reich: Music for 18 Musicians'. The other two EPs were entitled 'Wessenden Suite' and 'High Time'. His music is being released by Bomb Shop, an arts organisation in which James Birchill is involved and releases books and music as well as organises various events in the UK and abroad.
"…It's more like the guy on the horse that's going to try and play it for some beautiful girl…That's the whole rebel thing…"(Jim Jarmusch about Jo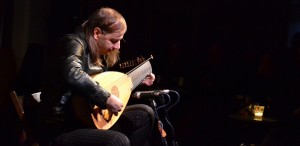 sef van Wissem, extract from a recent interview)
There are only a handful of performers that demonstrate (at least on stage) the qualities that Josef van Wissem has revealed during this gig. The one that comes to mind, who I've seen perform recently is David Eugene Edwards (Wovenhand). I am talking about the capacity and quality of a musician to delineate a whole world of hard to describe emotions and being absorbed in this world while playing at the same time. Especially when the performer (in this case Josef van Wissem) is not arrogant or pretentious, the connection with the audience is even stronger. One could think that the singers have an advantage in this aspect as they can communicate profoundly but easier with their audience, by relying more on the emotional gravity of the lyrics.
Josef van Wissem sang only one song called 'Love Destroys All Evil', which was the last song during the encore. This is a song that is included in his album called 'It Is Time For You To Return' which also features Yasmin Hamdan,Jim Jarmusch and Domingo Garcia-Huidobro. For some reason the tone of his voice brought to my mind the performing style of Tony Wakeford of Sol Invictus.The rest of his set was acoustic but without vocals and I've found that the atmosphere was very emotionally charged by the movie of Jim Jarmusch 'Only Lovers Left Alive' for which van Wissem has written the soundtrack and has received the Soundtrack Award for best score at the Cannes Film Festival. But let's take things from the beginning.
Josef van Wissem is playing the lute, an i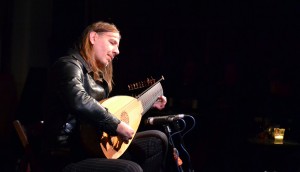 nstrument with a long history going back to the Medieval and Baroque periods through to Renaissance where it was mostly associated with secular music. To my ears the lute has a similar effect to the harpsichord when it is added to modern compositions. I don't necessarily perceive the use of instruments associated with early music as a means to transform a contemporary sound to an archaic one. On the contrary, I've found that whenever this has been done with a careful consideration of the special characteristics of these instruments the result is always unique. Josef van Wissem doesn't accompany the lute with any other instruments or with a voice but he has understood its potential and therefore draws our attention to its ability to create almost infinite circles of emotions. If his music could be compared to a mathematical equation then this would be the Fibonacci sequence.
Unlike other live performances where Josef van Wissem has either walked among the audience during the show or has accompanied his music with visuals at the background, his show at Café Oto was a sort of 'naked' performance as its impact relied solely on the performer and his music. He might not have talked to us a lot but his expressions and his moves even though he was playing the lute while seated, revealed kindness, gratitude, love, harshness, anguish and strength among too many other emotions. There is no doubt he is a dexterous player of lute and this was proved by one more element. So far we've learned that the end of a musical piece coincides with the moment the performer lifts his hands from the guitar, the piano, the violin etc. I was surprised to notice that in this case the lute itself marked the end of each piece as the musician lifted his hands from the chords and moved rhythmically the sound hole of the lute towards and away from the microphone, thus leaving the vibration of the lute to fade away. The duration of this performance was ideal, not too long not too brief. I noticed that even though the melodies had a soothing element, the repetition and the progressive changes of rhythms had a very powerful effect on me especially when I closed my eyes; it was as if I was entering a slow moving vortex. If I could visualise their impact I would say that it was as if a person was walking towards me and at some point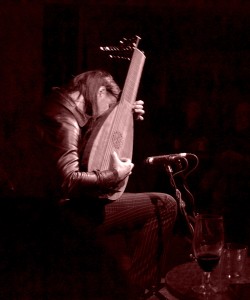 for some reason his/her pace started accelerating before it regained its initial rhythm. The notes carried me away showing an underlying power and Josef van Wissem had the role of a guide in this whole process so once I opened my eyes he had already changed the dynamics of the melody thus tracing another emotional path!
As we were listening to older songs and favourite ones from the movie 'Only Lovers Left Alive' at times Josef van Wissem was playing the lute vertically as if he was whispering to it. The rest of the time his facial expressions gave the impression that at some other dimension he was actually communicating with the lute in the same way two people communicate with words.
After the last song it took me a while to detach myself from the atmosphere and the imposing nature of the rhythms I had listened.
I was expecting to find the soundtrack of 'Only Lovers Left Alive' or the albums that he produced with Jim Jarmusch, but to my disappointment these were not available at the merchandise? I am already looking forward to his next performance and until then his music will always accompany my personal spiritual wanderings!
 Blaue Rosen