It was an ordinary Tuesday evening, the day after Scott Walker had passed away and we went to Islington Assembly Hall prepared to experience something similar to the last gig of Xiu Xiu. We were spectacularly wrong as this live performance was different in many ways and even more powerful.
The one hour of waiting time until John Bence came on stage passed really quickly as we were lucky enough to enjoy great 'warm up' music that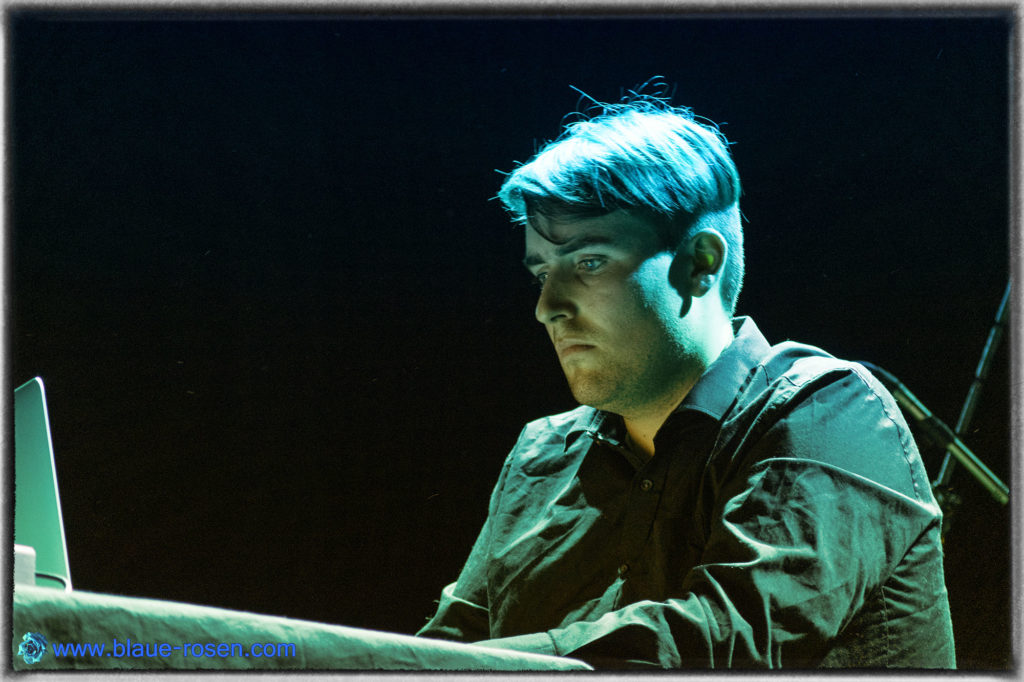 included songs by The Cure, Nico and Bauhaus. This was, by far, the greatest and more fitting (to what would come next) set of songs that we have been able to listen to before a gig. The evening started calmly and in a rather uneventful way, which of course was hugely deceitful for the performative storm that was just about to 'hit' us. John Bence appeared and for the first 3-4′ was seating calmly in front of his laptop…
John Bence a live sonic painting
We are not very often startled at a gig and in this case, the beginning of it, did not show any signs of what would come next. The energy around us changed dramatically the moment after John Bence stood up from his chair, bowed to us and left the laptop playing the music that accompanied him. It is quite difficult to describe his performance because it was multi-sensory and emotionally very strong. The music that we listened to in the background had a dark ambient/neoclassical feel, but at the same time John's appearance was quite the opposite. As for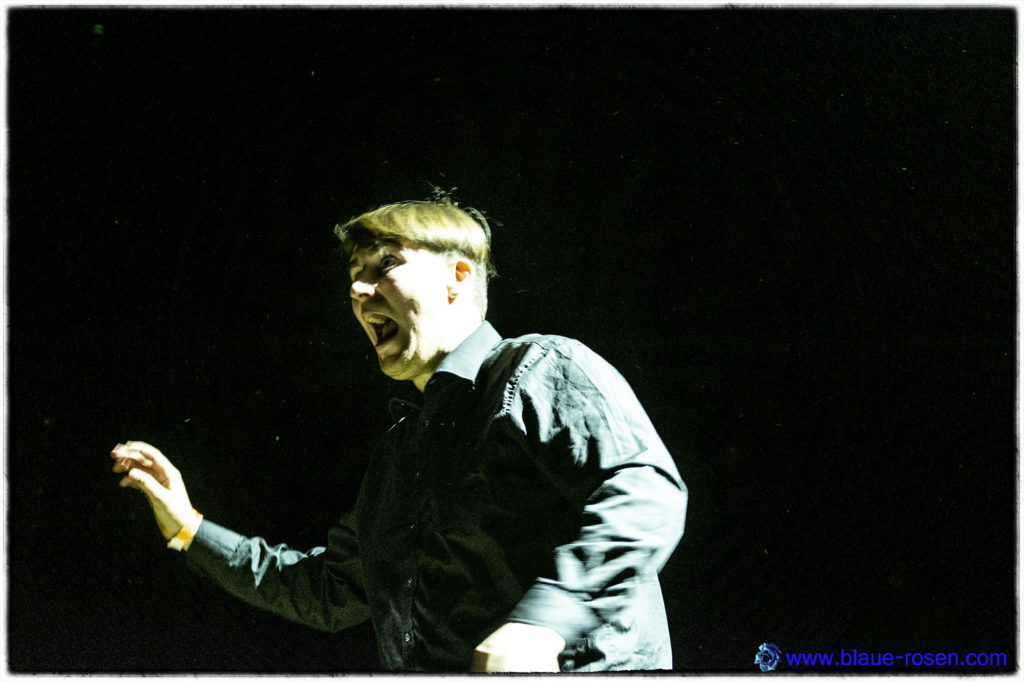 the rest of the time, he was standing in front of us and with brutality, directness and dare, instantly 'tore apart' all the layers of the conscious self and reached deep into the subconscious. How he managed to get 'in there' in an instant is both remarkable and for some even impossible! And yet, he did, in the same way Münch's 'Scream' is visually achieving it. The first part of his 3-part piece entitled 'Kill', was performed in a way that seemed as if he was 'attacking' his own outer layer of thinking. His movement and dramatic screams gave off the idea of a person experiencing a life changing epiphany in an almost destructive way. Because nothing had prepared us for this 'outbreak', being able to explain this performance in some way, would require to do very complicated thoughts about what could have preceded in the life of the character that John was unveiling, so that this outbreak and the fact that he was hitting his face without hesitation or restraint, would make some sense. The
vocals and movement were in direct contrast with the gentleness and melancholy of the music that surrounded them. That was truly a dramatized choreography, where its conductor and choreographer 'met' creatively at the same point and both took a dive into an emotional abyss. I would like to urge you to listen to Bach's 'The Passion of St John' and think about what the title means in relation to the gentleness of the music that surrounds it. The music of John Bence in relation to his performance is completely re-imagining the aesthetics of a sound that was, so far, been considered as untouchable. There are very few musicians who decide to 'mess' with music that has a classical feel to it.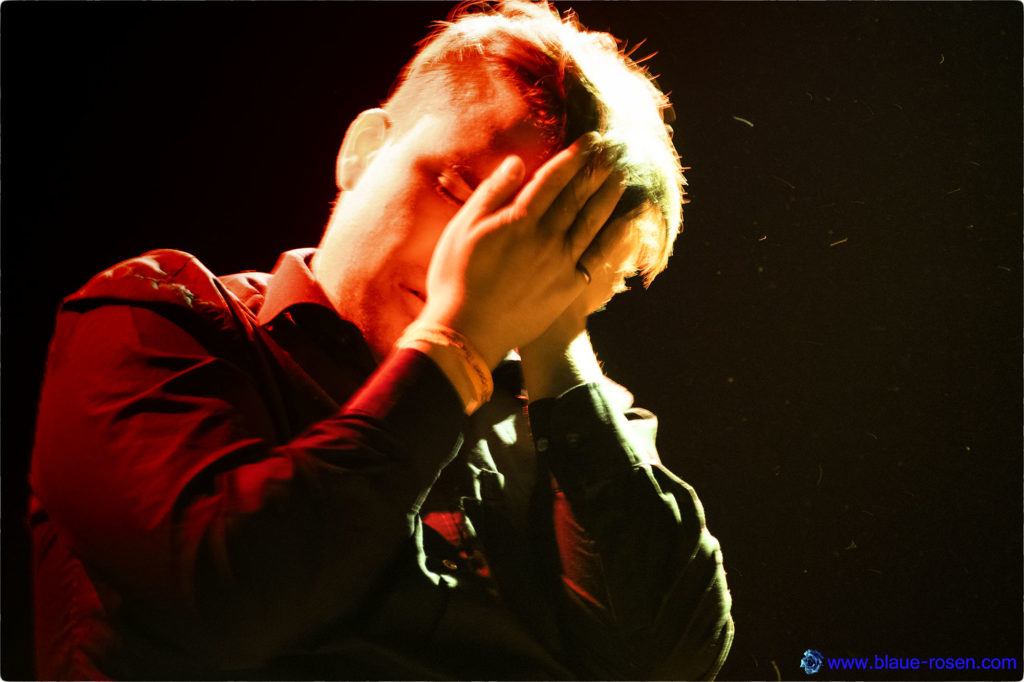 I have come across neoclassical music with operatic vocals, there is ethereal music that sometimes seems closer to classical music, there is modern classical music with rather classical vocals but I have not come across a sound like John Bence's before. The music has almost got a church-feel to it and the choral vocals that sometimes come through, feel almost liturgical. And then, there are staccato screams and frantic vocals that interrupt this and do not even sound like words!
"The mind is its own place and in itself can make a heaven of hell, a hell of heaven"(John Milton, Paradise Lost)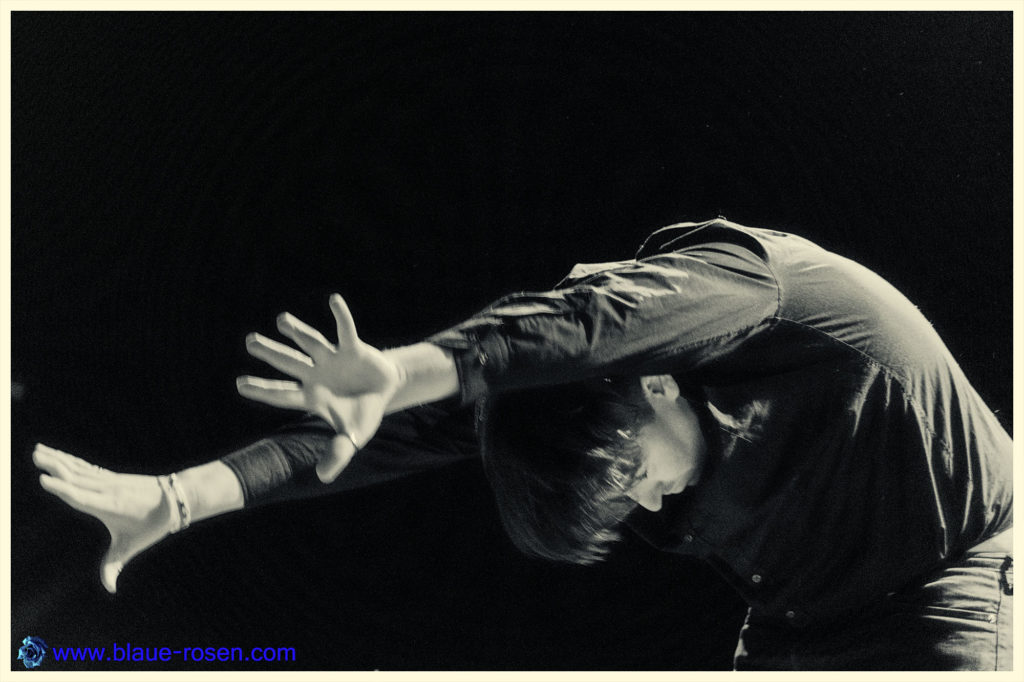 At another level, on the next track, the movement and its style began to change, becoming less frantic,  equally (if not more) dramatic, while the facial expressions revealed a mind in emotional/existential turmoil, a mind lost in questions about matters that are bigger than our everyday lives. It was the movement of the hands and the expression of the mouth that had such a strong impact on me. These were gestures of despair and pain but also of this hard-to-define quality that Francis Bacon assigned to the human mouth whenever he painted it. For anyone familiar with the work of Bill Viola, what was being developed in front of us, could be viewed as another instance of his live paintings. I was not familiar with the work of John Bence and what a mistake that has been! An artist with original thinking that offers a remarkably dramatized performance. Do not miss his next performance!
Xiu Xiu brought together the creative, noisy, heavy 'spirit' of SWANS, the sonic aura of Scott Walker and the boldness of the movement of Vaslav Nijinsky and  placed them together to create a disquieting opera.
Starting and ending with movement that brought to mind the original dancing of Vaslav Nijinsky, especially due to the positioning of the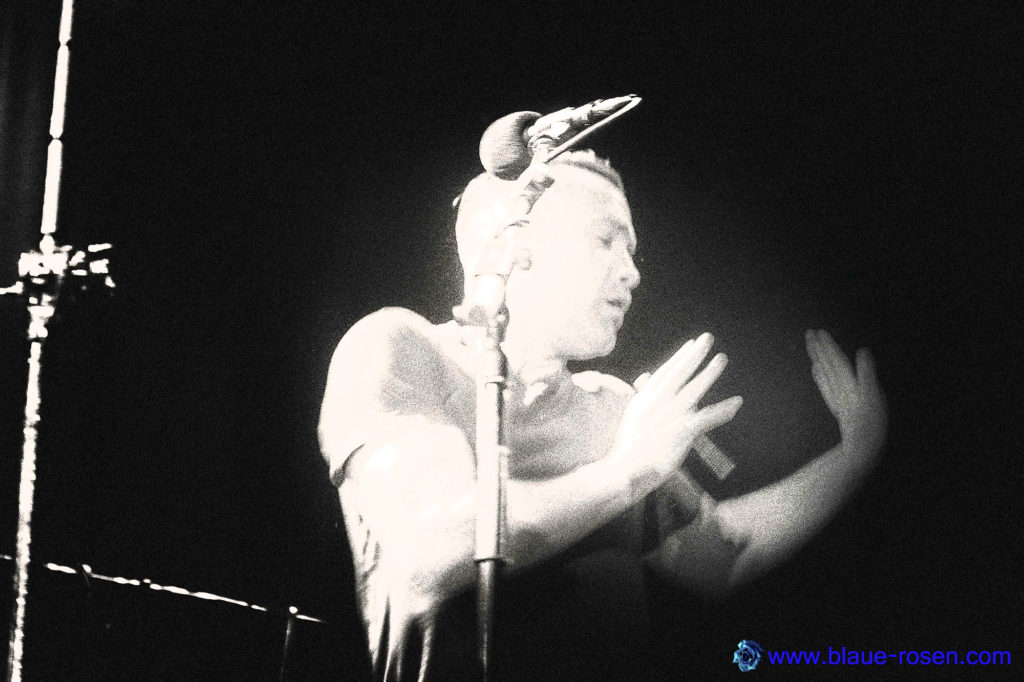 hands, this gig was much more than just a presentation of a new album. The most important thing that this gig achieved despite it being anything but a calming one, was to make everyone delve into a universe of their own. Everywhere I looked, I could immediately see that each person seemed to have achieved an uninterrupted and personal communication with the band. Most people knew all the lyrics and the atmosphere was very warm.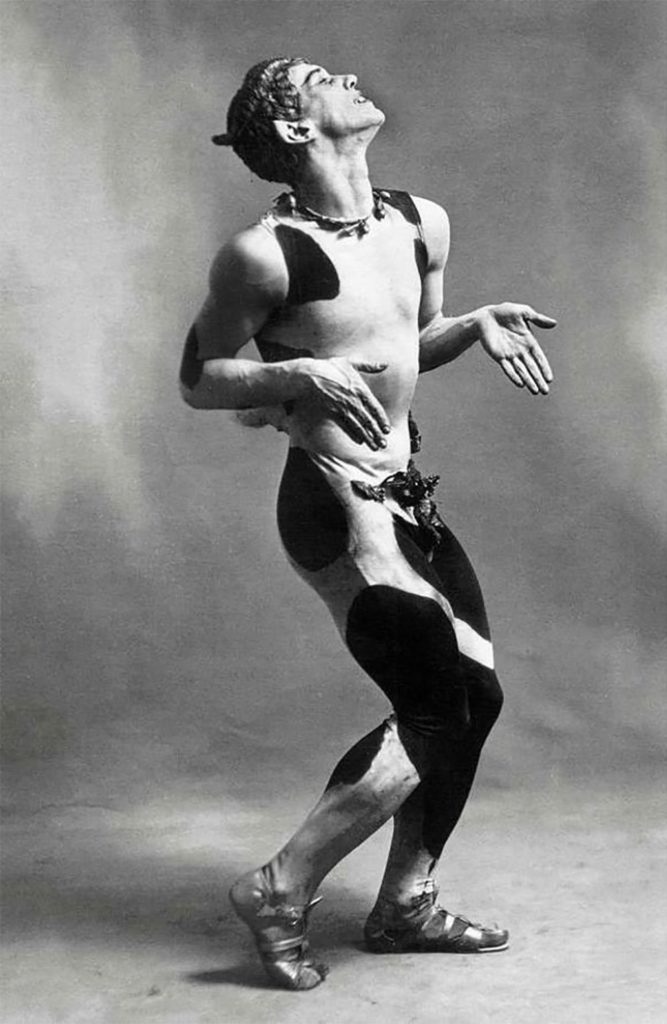 From the seated VIPs to the last person at the back of the venue, I have rarely seen this level of active engagement being achieved apart from metal and punk music gigs. This was a very different gig compared to the one I attended in 2014, the band has matured artistically even further and their sound was perfect this time. Even though this is a tour in support of the band's latest release 'Girl With A Basket Of Fruit', the setlist included songs that took us, as far back as the first release of Xiu Xiu in 2002. However, this did not matter that much, because everything apart from the lyrics had been creatively changed. Every rhythm was enhanced, slowed down or increased, riffs had been added, solos had been added, sounds that were not there before and the overall impact of the songs was multiplied. On top of that, every chord that Jamie's guitar struck, sent an immediate 'charge' on him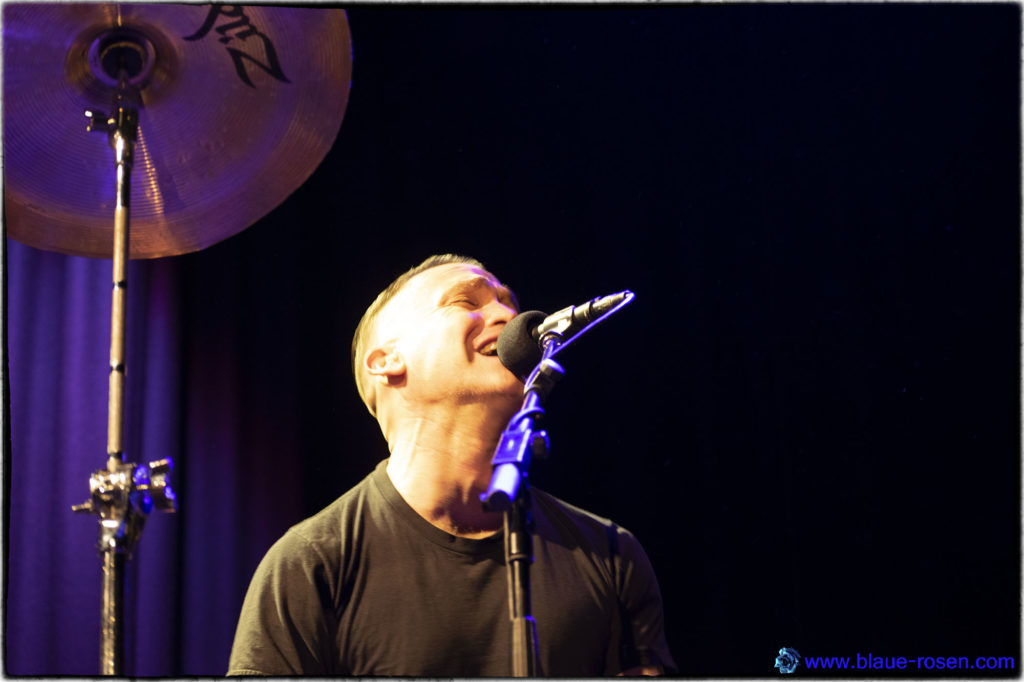 and somehow, songs that were written a decade ago, were now presented to us with a new sonic outfit that suit them more. The songs have also been adapted to the current touring band (Chris Pravdica plays the bass in SWANS, Thor Harris a multifarious artist/musician who was the percussionist of SWANS and in 2015 he created minimalist experimental group Thor&Friends) and the instruments that were available on stage. This has transformed them into something else, more daring and powerful. There were no backing vocals as Angela is not on this tour and Shayna seems to have left the band. The shared creative fervour on stage, included using a tremolo
arm on the bass, clarinet being played by Thor Harris, while he has also playing percussion with one hand, huge scissors opening and closing and even a cheesegrater being 'summoned' and used out of its everyday context in order to generate some disturbing, unfamiliar sounds as part of Jamie's performance, pipe whistles being used, a harmonica on a trance alternating with the vocals, Jamie jumping while playing the guitar and all this while Chris, Thor and Jamie were having a great time with each other on stage. The result was a sound that was psychedelic in its emotional impact, noisy in its overall aesthetic while the vocals alternated from something that brought them closer to the troubadour style of Scott Walker to something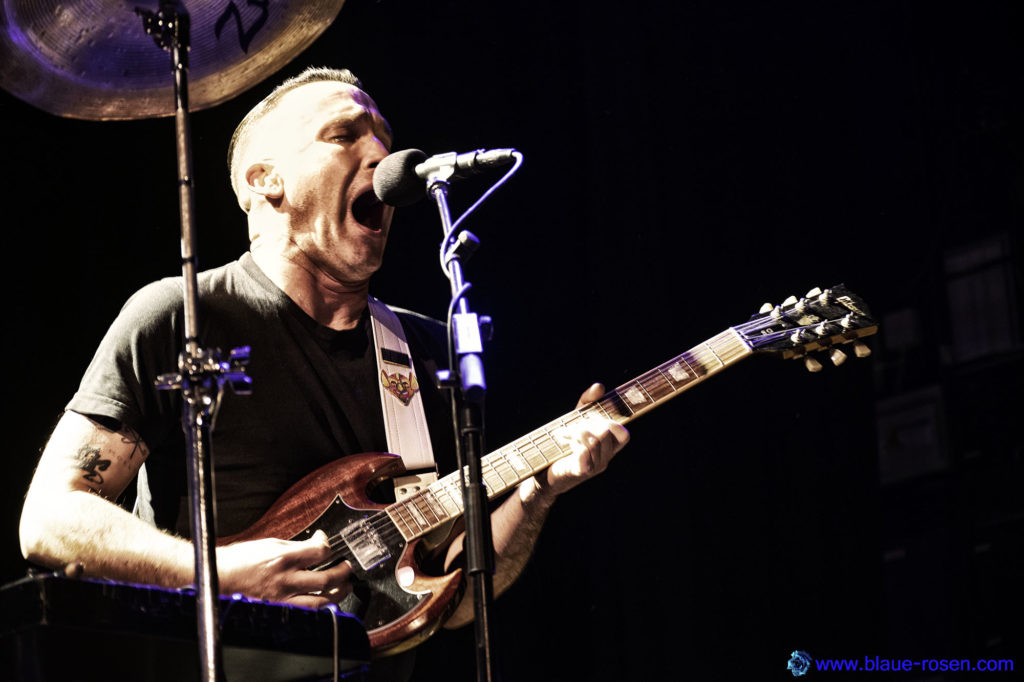 that resembled Blixa Bargeld's phonetic dare. All these elements opened new dimensions within the songs and made their already familiar sound become almost obsolete. The videos of Xiu Xiu have always been telling a different side to the story than the lyrics narrate about and the album versions of some of the songs that were included in the setlist, such as 'Normal Love' and 'I Luv The Valley Oh!', have a completely different emotional identity from the one they revealed during this gig. In the case of 'I Luv The Valley Oh!', the guitar riffs had added volume, there was an additional guitar solo placed within this song a few times which gave to this song additional weight. Listening to this live version of the song and then going back to the album version of it, made me realize what a transformation its sound had been through! In the case of 'Normal Love', the absence of keyboards meant that it was now up to Chris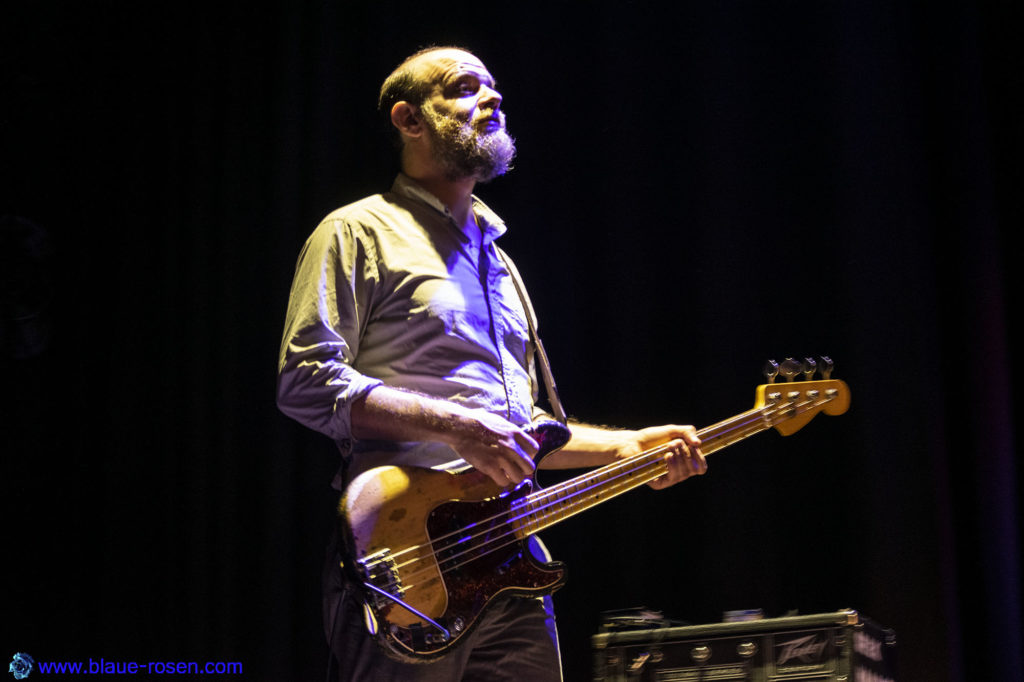 and Thor to fill this sonic space and they did so in a way that transformed it into a disquieting opera. The setlist reached its inevitable apex during the dissonant, noisy performance of 'Support Our Troops Oh' and the beautiful performance of 'Clowne Towne' from the album 'Fabulous Muscles'. We also listened to fantastic versions of 'It Comes Out As A Joke', 'Pumpkin Attack On Mommy and Daddy' and 'Scisssssssors' from the latest album 'Girl With A Basket Of Fruit'. 'Suha' from the much older album 'Knife Play', 'The Fox & The Rabbit' from the album 'The Air Force' and 'Sad Redux -O-Grapher' with 'Sad Pony Guerilla Girl' from 'A Promise', were all performed in a way that created and sustained a magnetizing pulsation and gave the sound of these songs an enviable volume! These beats in 'Suha', 'met' the agonizing repetition of the words '…wake up wake up…' of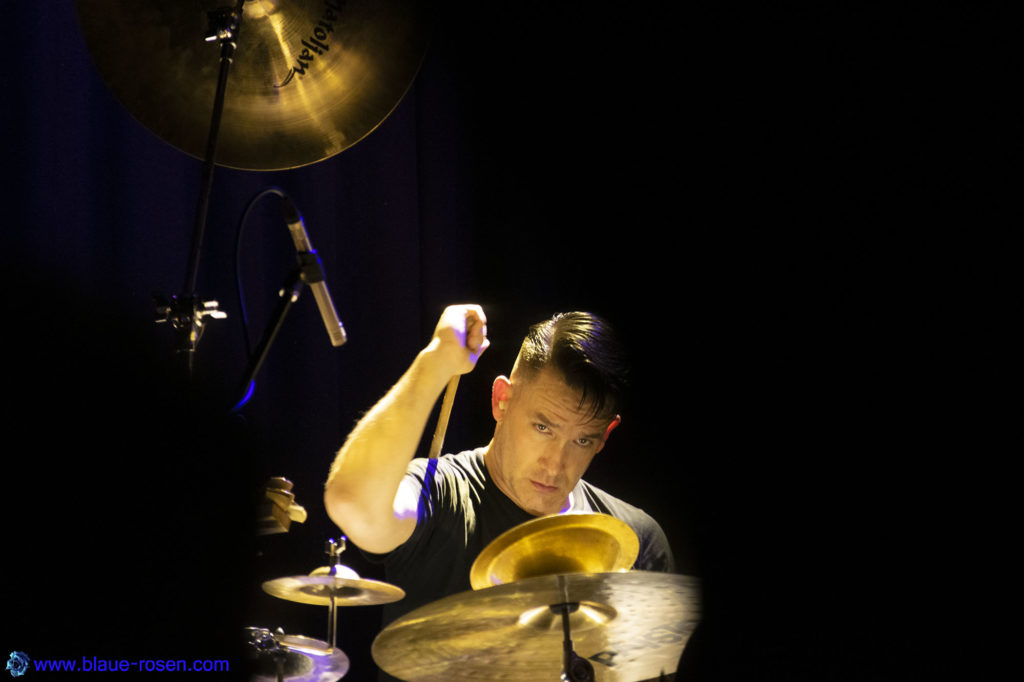 'The Fox and The Rabbit' and their combined energy was momentarily relaxed through the guitar and percussion melodies of 'Sad Pony Guerilla Girl' before reaching its deconstructive end. 'Hi' from the album 'Always', was the only moment where the style was a bit more pop rhythmically, while 'Get Up' from 'Forget', was also performed in a dreamy, passionate way nodding a bit to SUICIDE's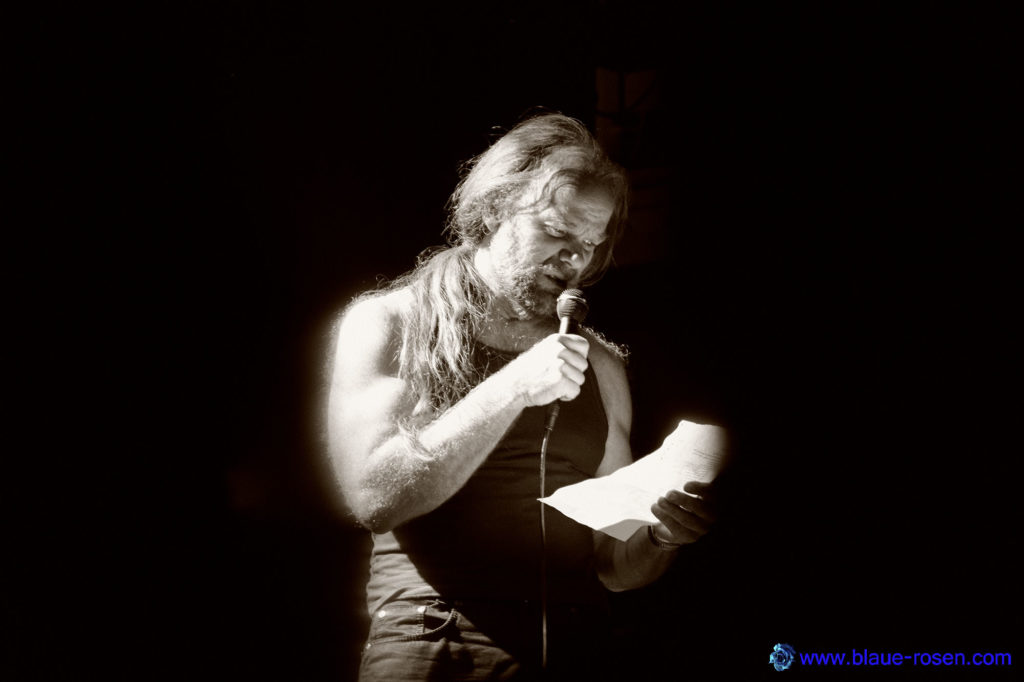 'Girl'. About halfway through the gig, Thor came to the front of the stage with a piece of paper that contained an angry dialogue which was delivered in a theatrical way with an 'in your face' attitude, while Jamie took his place behind percussion. Was this an actual letter to someone? Was this a song that was performed in a really stripped down version? In any case it was something that divided the gig in two parts as it was completely different from everything that preceded and everything that followed it.
After the audience warmly applauded the last song of the official program, the band came back on stage and offered us the ideal closing, a beautiful version of 'Get Up', but
not before making a very justified remark to the staff of the venue whose radio was so loud that it almost masked the gentle melody played only by percussion. Despite this, the volume of this radio had not been turned down even though there was complete silence in the venue in order to fully enjoy this last song.
There was a queue at the merchandise table before this gig started and I was glad to see that it became longer at the end. Congratulations Xiu Xiu, thank you for visiting London! Catch them on tour here.
Blaue Rosen