Re-Textured Festival
Year 1, Day 1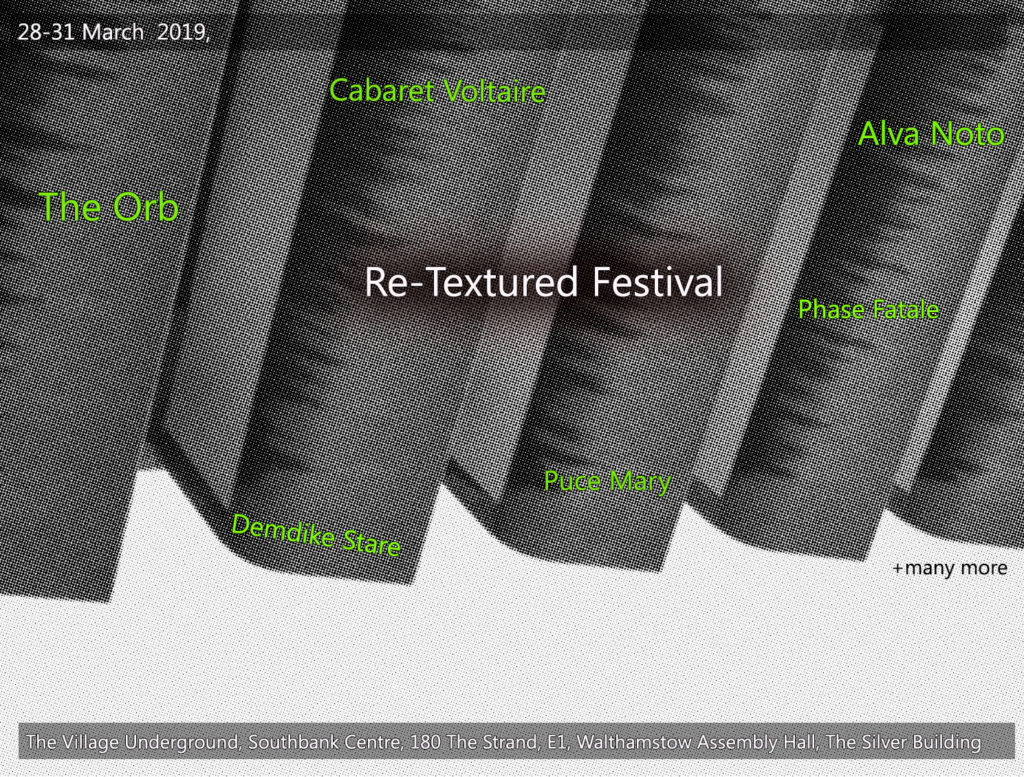 It was about time for a new festival to present itself in London. Re-textured is an ambitious endeavour that has been inspired by the underground electronic parties of Berlin and festivals such as Berlin Atonal and Unsound Festival in Krakow. An important part of this festival's aim is to draw attention to architecture, therefore it is not an one venue festival. It is scattered all around the city in carefully selected buildings. This first Re-textured festival has been the brainchild of the team behind Krankbrother who wanted to draw attention to lesser known or less represented electronic music styles. Blaue Rosen attended the first day of this festival because its highlight was the return of Cabaret Voltaire to London after 20 years!
A gig that was the equivalent of reading at least three art books, watching at least two social documentaries and listening to at least 10 different albums
Trevor Jackson, a multidisciplinary artist who has done design, audio and visual work and has also been inspired by the work of Keith Breeden for Scritti Politti and that of Neville Brody for Cabaret Voltaire, started his set respecting fully the announced stage times. The piece he created for the next 90′ not only 'warmed us' up in the best way for what Cabaret Voltaire had prepared, but also managed to alter our perception of time. Suddenly, after 40′ I had the feeling that it was dawn, I had spent all night dancing and I had listened to enough of music for one day. 90′ later, a
set without vocals which only had a minimalist light installation to accompany it, had managed to make almost everyone dance. Trevor himself, was in front of us, manipulating sounds and pre-recorded vocals. Apart from the overall mood created by the rhythms, what I really loved was that his set had a lot of different elements. Within these captivating rhythms, there were sonic snippets that appeared and faded away so seamlessly that the overall effect was similar to the creation of waves in the sea. All one had to do was to close their eyes and listen to the way a few synth melodies that nodded to Jean Michel Jarre, gave their place to harsh industrial beats that brought to mind the early releases of Front 242, just before the theme of 'Warm Leatherette', gave way to machine-like sounds that brought to mind the industrial sounds of SPK and Kraftwerk. The energy of this set was unique and the transitions that were made from psych trance to industrial, to IDM without allowing any of these styles to fully develop within the set, was something I haven't experienced before. This was not a cubistic approach to sound, but one that was aesthetically closer to the osmosis attempted by artists such as ROTHKO when it came to colour. Just where part of the painting almost seems to be of one or two colours, something happens at the boundaries of them and both seem to be completely different than we originally thought. This is how I experienced this set and I am already looking forward to the next time, this rather elusive musician will perform live.
Cabaret Voltaire a trip from sonic Dadaism to visually psychedelic pop art
The transition to Cabaret Voltaire a.k.a Richard H.Kirk was truly seamless and to the people standing at the back, the only indication for a moment, that Trevor Jackson had left the stage, was the huge screens which started showing a story of many decades and many sides. Electronic and techno music can be created being inspired by abstract, political, social, artistic, existential, scientific ideas or any combination of these and many more. To some, context matters, while others just enjoy the impact the rhythms have on them. Cabaret Voltaire's set was for both types of listeners. Two generations of people have met at this gig and were dancing side by side whether the scenes on the screen had been part of their lives as teenagers (giving them little control of them) or part of their adult lives (making them partly responsible for their creation).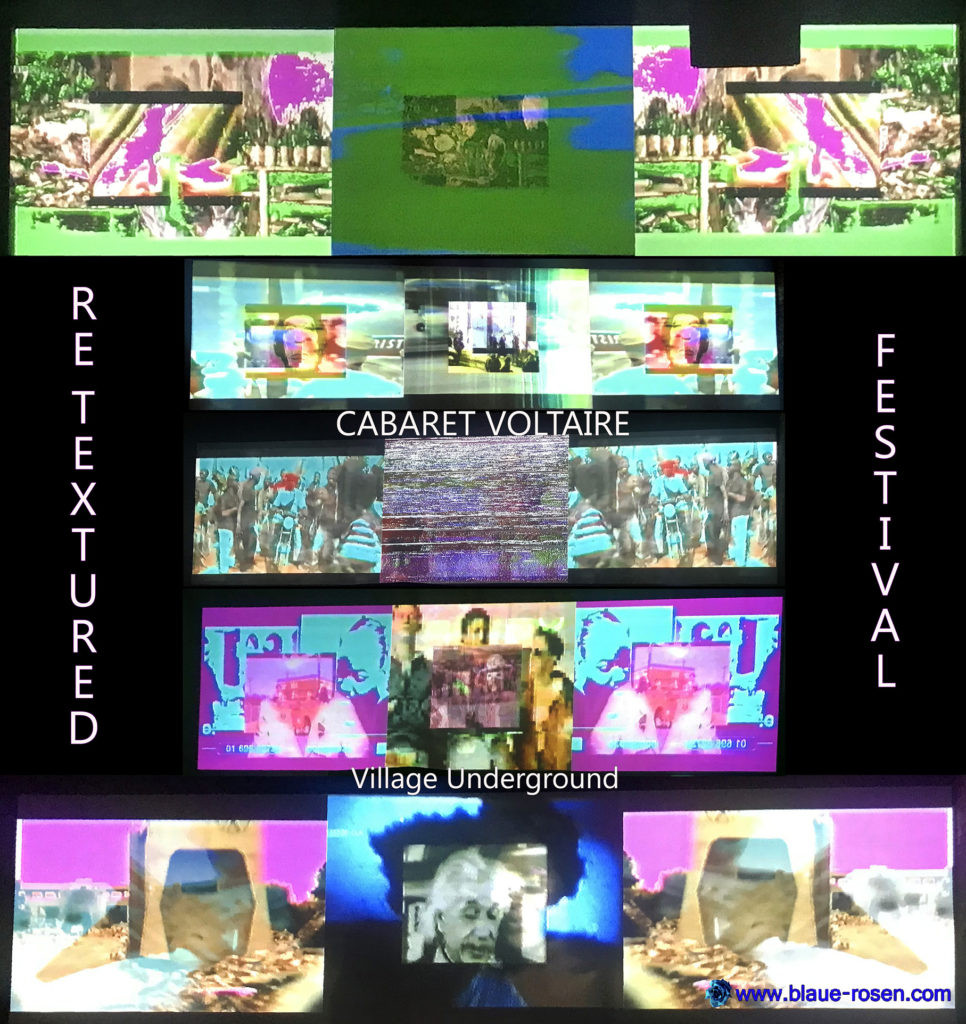 Having been inspired by Dadaism, Cabaret Voltaire decided to take their name from one of the earliest meeting points of Dadaists in Zürich and infuse with its spirit, the industrial sounds that enveloped them while living in Sheffield at the time. At the same time that Cabaret Voltaire were active, Richard Kirk channelled different electronic aesthetic influences of his through his solo work that was released much later through different projects. To name a few, Sandoz, Sweet Exorcist, Acid Horse, Citrus, The Technocrats. Even though there was about a ten year gap until these releases saw the light of day, the music, as Richard Kirk has explained during a recent interview, "…was written when Cabaret Voltaire were at the height of their popularity and productivity…". Knowing this, changes the way we perceive the music of Cabaret Voltaire, as a sound that almost negated the creative sparks of the same mind that loved acid house, dub, reggae and afrobeat. This same mind,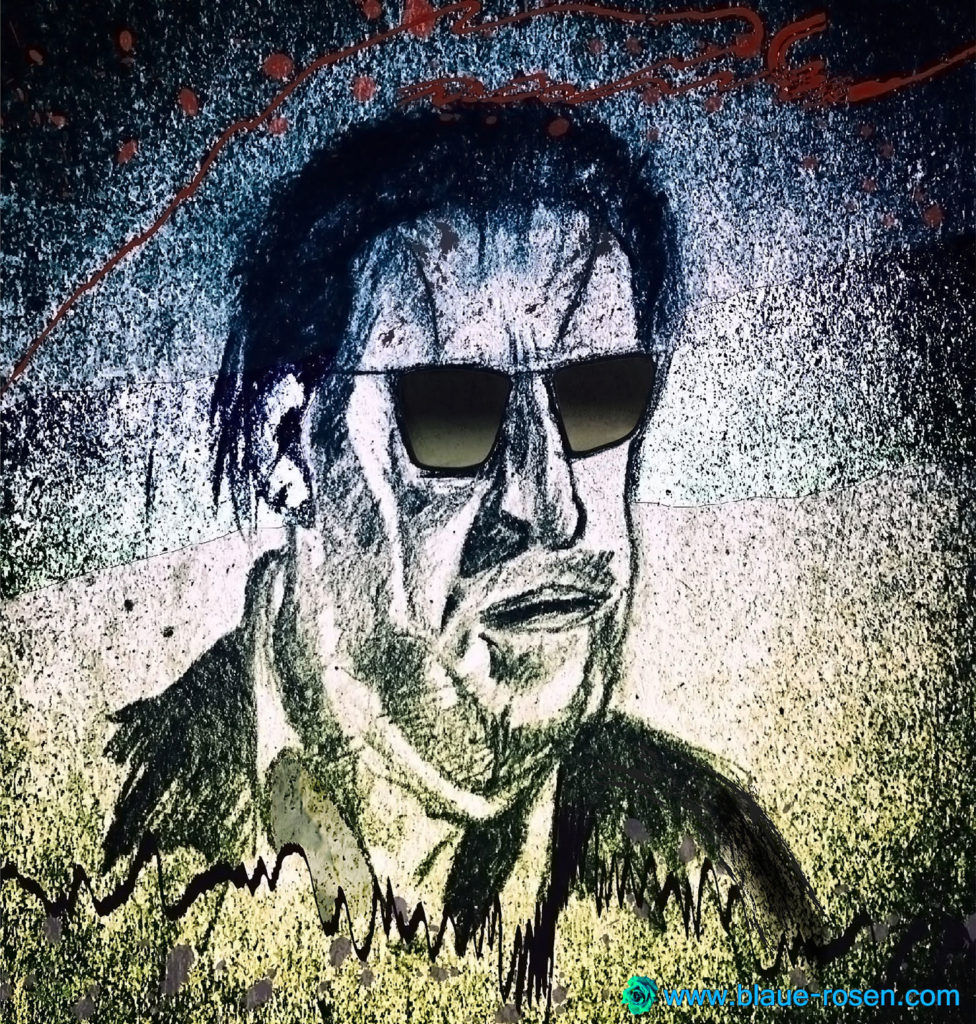 appeared on stage at the Village Underground for the first time after 20 years and for almost two hours, created a psychedelic, techno maze with heavier, almost industrial parts, and an electronic pulsation that spread all around us. This was not an easy-to-navigate sonic maze where one would only focus on the rhythms and the dimensions that were being opened. While the sound had emotionally positive 'colours' the visual collage that had been prepared for us could be perceived as a huge warning sign. Alternating images and footage that was superimposing other images and footage in a similar way to the one that Gerhard Richter treats colour, the three big screens that were the main focusing point, could be viewed as the equivalent of strobe lights, widely used in clubs since the 60s. Of course since we are not in the 60s or the 90s anymore and many things have happened in the meantime, this was reflected on the content of the visuals which conceptually 'grounded' those seemingly 'lighter' sounds. There was no theme running through the visuals but a general mood, deriving from their dystopian atmosphere and the bittersweet sentiments that the stories they hinted at, created, while all this was enveloped in pop colours. There was a general impression that all this was a visual critique on the state of things worldwide, on the positive and negative changes that artists have brought about and political choices have created. Knowing a few things about Richard Kirk's artistic and social views, would prove useful in understanding whether all this was a positively or negatively charged critique.
Marilyn Monroe, Andy Warhol, Francis Bacon, Marc Chagall, Jimmy Saville, Ken Babbs, alongside footage of African guerrilla teams, ISIS troops, Einstein, Gaddafi, Obama, Elvis Presley were just a few images that appeared for a few seconds in front of us, while the heavier industrial parts of the music were playing hide and seek with their 'happier' acid house-inspired selves. Richard Kirk remained out of the spotlight leaving all the other elements of this performance determine the course of this gig and the mood of the audience. There were  many 'obstacles' placed on stage (loudspeakers and a lot of equipment) and Richard had chosen to stay at the very back, a discreet presence, making people who were not standing at the very centre of the venue or up the stairs, wondering where he was. This after all was a party, in the spirit of the events that Richard had organised in Cabaret Voltaire's first studio, where the cutlery factory Western Works once was. Without knowing it, we had gathered there, under the pretence of this new festival, to listen to Kirk's creative sonic mind and watch something similar to what the people who used to hang out at that studio used to watch '…a massive collection of films, trash TV and B-movies…', that has been inspired by later developments and adapted accordingly. The only difference to the late 70s is that our reality provides all the inspiring material that people once needed to 'invent' in order to make a spectacle out of something. Our lives provide all this shambolic material freely and we can reproduce and rewatch it because the dire consequences of it cannot get any worse and cannot 'threaten' anybody anymore… But this is a subject for another article.
'The spectacle is not a collection of images, but a social relation between people, mediated by images' (Guy Debord, 'The Society of The Spectacle')
Thank you Richard for getting us to dance to the music of modern life's dystopia!
Blaue Rosen