Stage lighting in cold electric blue tone gave no indication of what were going to experience during this gig especially from the set of Blood Music. Personally, I was utterly unprepared for the sound and emotional vibrations that the support group would spread inside the venue. With two releases so far 'Orphee/Sea of Leaves' and 'Blood Music EP', Blood Music's performance seemed to fulfill a personal goal for the band and their inventiveness when it came to playing instruments in unconventional ways seemed to impress everyone. They gave their all while playing. With abstract and hypnotic vocals they created a ritual atmosphere which echoed tribal ceremonies making them sound like a combination of Haus Arafna and Mind Necrosis Factor. However, as their inventiveness developed further the band found different ways of incorporating vocals with a hip hop aesthetic to their songs. It was a pleasure watching Simon Pomery handling so many instruments and switches while also singing, even though I found myself wondering whether the electric guitar would 'survive' his experiments. I will be expecting to see them live again soon as they created a feeling of eagerness in me.
Xiu Xiu appeared on stage in order to set up their instruments and already Jamie Stewart seemed on edge after throwing an empty beer bottle that was left on stage right next to a person in the audience. Respecting the announced stage times, Shayna Dunkelman and Jamie Stewart begun their show by performing some sort of salute to each other at the back of the stage.
They took their positions and after Jamie prepared himself as an athlete who was going to do something physically demanding, they started with the distorted and noisy sounds of 'Archie's Fades' and continued with one of my favourite songs from the last album 'Stupid in the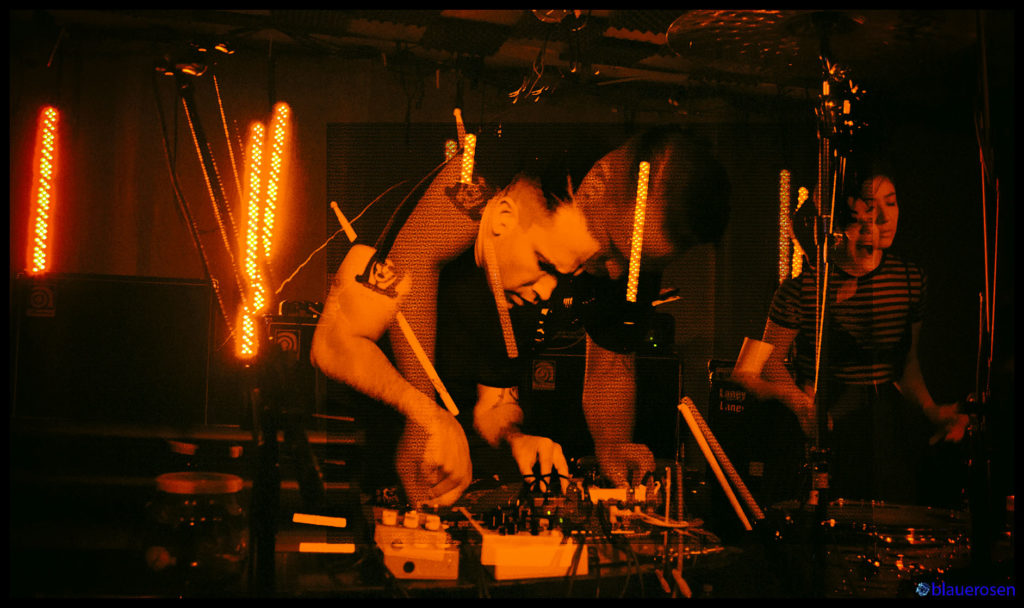 Dark'. Their energy was already explosive and their expressions gave off too many intense and at times violent and contradicting emotions. I was overwhelmed and soon this energy enveloped me completely. When it comes to playing musical instruments, Xiu Xiu give to this a whole other dimension. Jamie and Shayna were both very emotional and expressive while performing every song and didn't lose this passion at any of the 14 songs of their setlist. Each word of the lyrics, each change in tone, each change in rhythm was made with such dynamic movements of their whole body that it seemed as if the songs were transformed to characters of a theatrical play. Like a very dynamic choreography, even a relatively uninteresting task such as turning a switch at the console on or off, was made with unusual movements and changes of body positions. Xiu Xiu turned every small detail into an important part of their performance and the overall performance wouldn't be the same if it wasn't for details such as singing while holding the microphone wrapped around his neck or with his hand twisted in unusual positions, changing drum sticks, playing drums with a sort of brush, playing a piano simulator, swinging bells and using other percussion instruments in different ways, using a jar filled with some objects as a vibrating weird instrument for one of the songs etc.
The setlist
We listened to s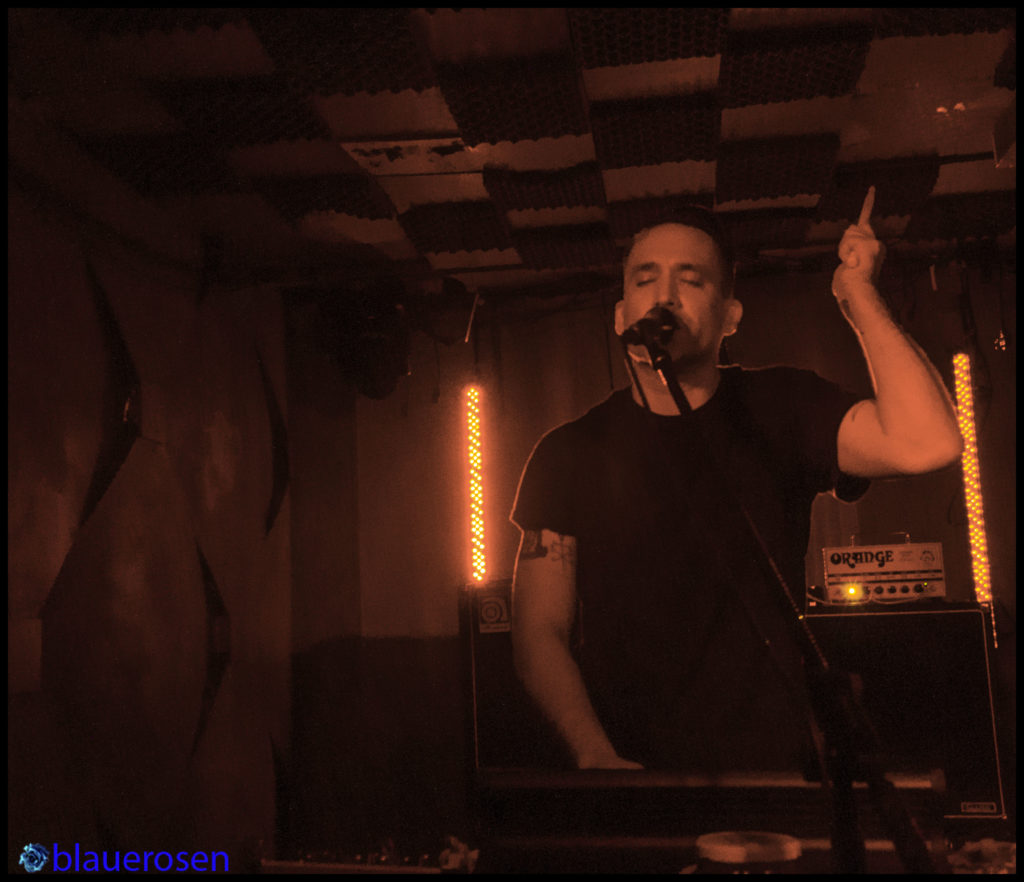 ongs from the albums 'Angel Guts: Red Classroom', 'Fabulous Muscles' (I Luv The Valley OH!) and 'A Promise' (Ian Curtis Wishlist). 'Ten Thousand Times A Minute' was played from the EP  'Chapel of Chimes' and 'Sad Pony Guerilla Girl' from the DVD ' You Can't hear Me'.
In 'Stupid In The Dark', 'Lawrence Liquors' and 'Botanica de Los Angeles' the band's dark and passionate choreography reached a climax as they were completely synchronised in their movements when playing and their physical activity was very intense. Throughout the gig sometimes the emotions were too strong and too many for the audience to absorb.
Jamie's performance of the lyrics was very passionate and it was very evident to me that with each word he gave off another very intense emotion, another personal thought. Shayna's performance was also magnificent since the emotional energy with which she was playing the drums was something unprecedented. I've never seen anyone playing the drums the way that she did. In 'Bitter Melon' and 'Ian Curtis Wishlist' this energy was lessened. 'El Naco' sounded like the dramatic cry of a tortured soul, 'Black Dick' and the last song 'I love the Valley OH!' sounded like a bitter confession of a sinful act.
With the last note there was a sense of emotional relief and I was left with the urge to draw a musical cage or imagine a construction which could be the design interpretation of my experience from this performance. The DJ from Quietus, seemed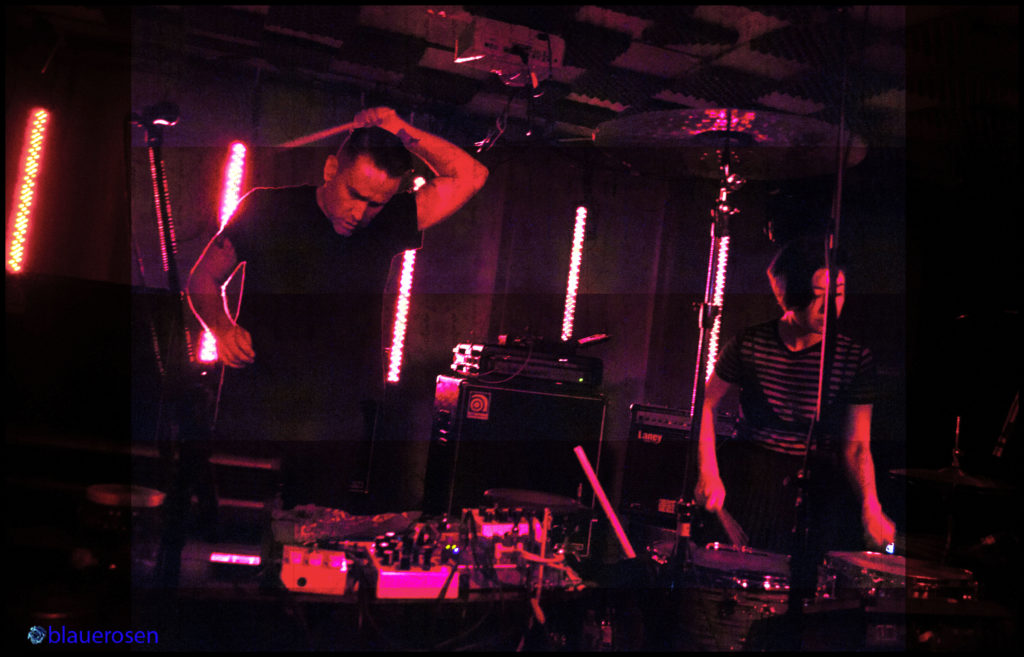 to completely understand this in a very weird way while he chose to play 'The Dreamer is still asleep' by Coil right after the end of the set. I was standing there for the duration of this song in order to be emotionally discharged. I left keeping in my mind the image of the two people who were dancing this song as if it was the blues. It was the perfect ending of an evening with the musical equivalent of the word 'blood'. Until next time…
You can see more photos from this gig here.
Blaue Rosen