We have known about this gig for quite some time, secretly hoping that nothing unexpected will prevent it from actually happening. We are talking of course about the much anticipated and much unexpected world tour of Trisomie 21 that will include a special appearance in London.
---
"…We wanted to do something different and this is how the name of the band came up. You can imagine of course that by choosing such a name we did not hope to make a career. The idea was that, if the norm of society is unemployment, precariousness and the 'crashing' of mankind then we would prefer to be abnormal. Being on the margins of society, is actually more humane."(extract from an interview)
---
This band, borrowing the name of a genetic disorder (trisomy 21 otherwise known as Down syndrome), was formed in Lille in 1984 by siblings Philippe and Hervé Lompez, who were joined by Pascal Tison at the bass in the first two albums and Jean Michel Matsuzak a friend and mentor.At the time, Lille, was a city of miners which then focused on ironworks. As Trisomie 21 have recently said in an interview
---
"…the city had all the social and intellectual misery that was the result of its activities. It was one of those areas that are scarred by thingsthat surpass the human condition…The people become victims of untold battles…"(extract from an interview)
---
Through its discography, the band has channelled the fascination for space music as well as electronic experimental music (they have named Kraftwerk and Ryuichi Sakamoto as favourite musicians of theirs), using different ways and a process that they have described as something similar to automatic writing, the very same that surrealists have celebrated. The music in their first three albums, had uniquely identifiable minimal electro and coldwave elements and their melodies have always maintained an elegant melancholy. One could say that in their first three albums, they have grasped 'the sound of nostalgia' instead of focusing merely on the expression of sadness, loss and frustration, which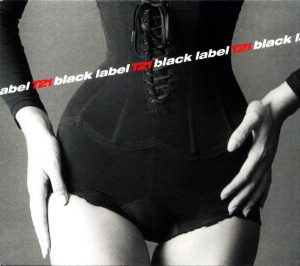 is otherwise a characteristic of coldwave music. Trisomie 21 have always embraced genres in their own way, creating an experimental sound that even when it incorporated industrial elements, it had elegance, highlighting the dynamics of the beats rather than their loudness. At the same time, minimalism underpinned their overall aesthetics and was glorified with beautiful, simple and kind of eerie, melodies. The synthesis of all these elements, created a sound that, had the same effect as an elaborate latticework. It was nicely organized so that it highlighted its complicated rhythm but also left enough 'empty' space, areas filled only with the resonance of the melodies, that brought their minimal character to the foreground in all their glory. 'Il se noie' for example, would have been completely different and would have a smaller impact if its unpredictable kaleidoscopic rhythm had been enveloped by heavy and noisy guitars. 'Distant Voices' marked a difference in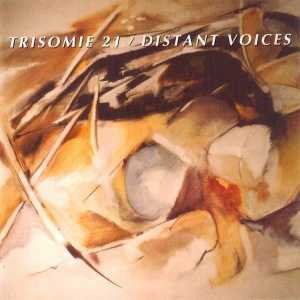 their sound which continued to be experimental but had now more dimensions and more percussion instruments. In the album, Blaine Reininger from Tuxedomoon plays the violin while Lena Kane and Bruno Objoie provides backing vocals. Later, in 'Happy Mystery Child', the band, fancied to create an ambient sound with rock references, which at times highlighted the 'heavy' guitars in the background. In 'Black Label' the sound felt 'heavier' and 'grungier' (courtesy of the heavy guitars at the back), more evidently post punk than the previous album, but at times making reference to the legacy of The Velvet Underground (e.g. 'The Camp').
---
"…Artistically, when one decides to ask a guitarist of hard rock music to come and play in a coldwave music piece, it is like throwing a kind of 'bomb' somewhere…"(extract from an interview)
---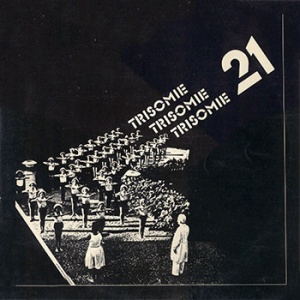 Throughout their career, Trisomie 21 have always offered us albums with carefully designed artwork. Following the aesthetic spirit of their music, they have at times embraced an almost constructivist approach in their covers (e.g. 'Le Repos Des Enfants Heureux', 'Works'), other times they were inspired by mythology (e.g. cover of 'Chapter IV Le Je-Ne-Sais-Quoi Et Le Presque Rien' showing a depiction of Kronos who notoriously ate his children) and sometimes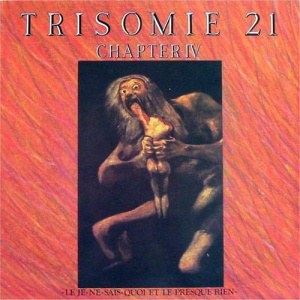 they have employed surrealism (e.g. 'Passions Divisées', 'Million Lights', 'Gohohako').
Songs like 'Il se noie', 'La fête triste', 'The Last Song' have been imprinted in audience's minds and always create a unique feeling of suspension whenever they are included in DJ's playlists. Their albums have not been reissued yet, although we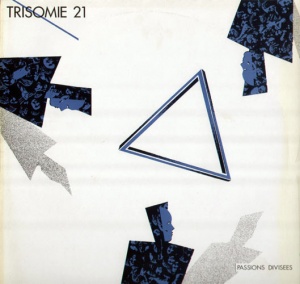 understand that the band has given their material to the label Dark Entries which is expected to reissue them. Earlier this year, the band secretly decided to go back to the studio to record new material with the original bass player Pascal Tison.
Four days ago the band released a new album in 500 hand numbered copies, whose title ,'Elegance Never Dies', could easily describe their whole attitude towards music. With this album Trisomie 21 make an impressive comeback, 8 years after having announced the end of the band. Throughout this album, whenever drums and electric guitars come to the foreground, they highlight the rock character of the sound (i.e. 'Rebirth') before making beautiful transitions to synth melodies (e.g. 'Where Men Sit') which in turn, sometimes, put on an electro/industrial 'mask'. In addition, samples and voice filters are nicely incorporated and create a mysterious and beautiful ambience (e.g. 'Our Trip', 'Something Else'). The love of the band for space music is expressed in the synth melodies of the cinematic 'Is Anybody Home? (Part 5)' and the danceable 'Tender Now'. I found the bass in 'Over The Noisy Keys' quite addictive and as this quite experimental album, approached its end, I felt the need to relisten to it.
---
"We were not entirely conscious while being in the middle of the situation in Lille and writing music at the time but we became aware of things quite quickly. We were saying that we were north europeans and we could not care less about the discourse in France. We were expressing ourselves in broken english as we came out of a broken society…"(extract from an interview)
---
Trisomie 21 will start their world tour later this week from Paris and they will make a stop in London's Oslo in Hackney on December 2 2017. Grab your tickets here: http://www.oslohackney.com/events/live-trisomie-21/
Blaue Rosen