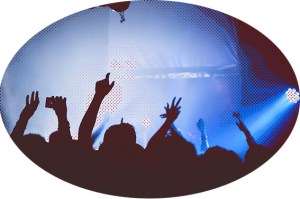 December seems to be coming quicker than expected and promises to make us run, every day, to attend as many gigs as possible! This month will satisfy even the most eccentric of tastes as it brings with it, a very unique show from a band we all considered 'dead and buried' as well as shows from favourite older bands and musicians that will paint a punk, deathrock, rock, folk, metal indie picture for us to carry until the beginning of the new year.
Keeping up with the gigs' schedule of December will be a matter of solving dilemmas especially if you have diverse music tastes.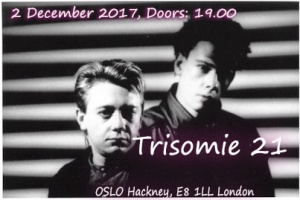 One of the hardest dilemmas will be faced on December 2, as TRISOMIE 21 who, nine years ago announced the end of the band, will offer a unique show in Hackney's OSLO as part of their world tour that accompanies the release of their new album 'Elegance Never Dies'.Read more about this gig and the album here.
On the same day, another favourite band with a kind of a tumultuous history, specializing in experimental electronic and techno music since 1991, will offer their only show for this year, at Eventim Apollo. The band is no other than Orbital.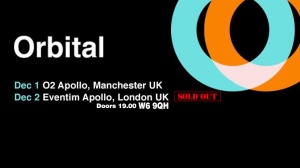 Taking their name from M25 (or the London Orbital Motorway) of all things, as this was a road that was mostly travelled by fans of techno music in the 90s, Orbital are famous for the improvisational aspect of their shows, the impressive stage constructions and the use of captivating visuals as the backdrop of their shows. Orbital have split twice and reformed again early in 2017. The show at Eventim Apollo will be recorded and released on the day and it is already available for preorder here.
This show now appears to be

sold out


As if choosing between the above two gigs was not enough,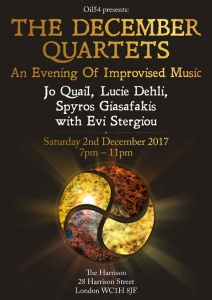 Daemonia Nymphe's founders Spyros Giasafakis and Evi Stergiou, will offer a special show at The Harrison, joined by Jo Quail at the cello and Lucie Dehli in the vocals. This will be a one off improvisational show that will bring together the warmth and mysticism of Daemonia Nymphe's music (courtesy of their unique musical instruments, their skilled performance and the inspirational way they approach each of their shows), with Jo Quail's multi-layered meditational compositions. Lucie Dehli's career started in 1989 when she founded the experimental band Vicious Circle with Stephen Ink. She is a songwriter, composer and singer, a member of the mysterious 48cameras collective (Michael Gira is also among the members of this international artistic collective), whose voice has many qualities associated with Jazz and Blues music. Lucie has offered her compositions to various projects including Attrition and SonVer and she has collaborated with many musicians including Jo Quail in her album 'Caldera'. Last year she released her solo album 'A Night With You' with covers of songs written by Eric Clapton, Michael Jackson, Pink and Anthony Newley. Daemonia Nymphe, a.k.a Evi Stergiou and Spyros Giasafakis are two talented musicians who have released albums of unparalleled aesthetics since 2002 (release of 'Daemonia Nymphe' album through Prikosnovenie). Having further enriched their sound with elements from the folk traditions of the Balkans, as well as the music tradition of Greece and Middle East, Daemonia Nymphe have recently composed the soundtrack of the theatrical performance of Macbeth that was presented both in London and Thessaloniki.They have been part of other theatrical productions in the past and most importantly they are restlessly exploring the possibilities of their unique instruments (constructed by Nikolaos Bras as reconstructions of ancient greek instruments) and their own limits as musicians. Earlier this year, some of us had the chance to listen to their side project Prometheus&The Satyrs at London's Nambucca (their next show is on December 15 at The Star of Kings), a project whose visual and sonic characteristics are different to those of Daemonia Nymphe but equally unique.It is great to see Daemonia Nymphe perform live,it is even better to enjoy their improvisational fervour on stage. Jo Quail is a talented musician with a beautiful stage appearance.We have been introduced to her music through her appearances alongside Sieben on stage and through their project RASP that was founded in 2013.We have also listened to Jo Quail's compositions when she joined Sol Invictus on stage and during her solo live shows.Jo Quail has been self releasing her albums and singles since 2011 and the dexterous looping that she applies at her compositions on stage give to her sound many dimensions while creating a mesmerizing effect.Jo Quail has collaborated with many musicians and recently she has released the album entitled 'Rosebud' with  Eraldo Bernocchi (founder of the 'non band' project Sigillum-S among other projects) and FM Einheit known for his early collaboration with Einstuerzende Neubauten.FM Einheit has also collaborated with Diamanda Galas, Goethes Erben and KMFDM. It is important to stress that Eraldo Bernocchi with partner Giacomo Bruzzo created the label RareNoise Records in 2007, which has also released the album of OWLS entitled 'The Rare Night Stays'.
Listening to the sound that all these talented musicians will compose live will be a fascinating experience.You can buy the last few remaining tickets for this unique show here.
The following week it's the turn of a new band to inspire us once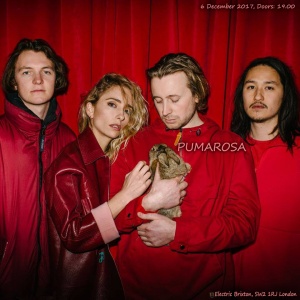 again. Following the release of an impressive debut full length album (also featured in our monthly playlist for May 2017 which you can access here: http://blaue-rosen.com/monthly-playlist-mays-playlist/) entitled 'The Witch' earlier this year, PUMAROSA have impressed audiences with the dynamics of their compositions, the plurality of rhythmic alterations within the songs, their lyricism and Isabel Munoz-Newsome's passionate performances. The band from London, has revealed its rich artistic influences, by including handmade comic-inspired drawings, both in the album's cover and their merchandise. With songs that might start solemnly and then develop into a noisy psychedelic maze, the only sure thing is that PUMAROSA will tickle different parts of your brains and heart with the unique dynamics of their melodies. I have wanted to see them play live for about a year and kept missing my chance. I will make sure I will not miss the opportunity this time and I would like to prompt you to do the same! The band will play live at Brixton's Electric on December 6.You can get your tickets here.


December 9, 2017

is a day for another dilemma, as Marilyn Manson and The Charlatans will play live in different venues and choosing which of the two to see will be quite a puzzling thing.
Following the release of his latest album 'Heaven Upside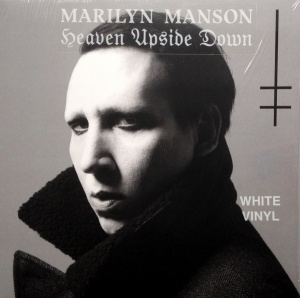 Down' and a tragic on stage accident while performing in New York's Hammerstein Ballroom, Marilyn Manson will visit London on December 9, 2017 as part of his world tour and will offer a unique show at SSE Wembley Arena. His latest album has a cover that brings to mind David Bowie's cover of 'Low' and can be perceived as less melodic than the previous one 'The Pale Emperor'. In his latest album, Marilyn Manson continues to consistently offer beautiful heavy music as songs (judging by their titles) take up darker subjects compared to the previous album. The production of Marilyn Manson's albums is flawless throughout the years and this album is no exception!
Taking his (now trademarked) stage name by combining the names of Marilyn Monroe and Charles Manson, he has established himself as a rock icon offering unforgettable shows and striking visuals since 1992.Outside the music business, he has collaborated with David Lynch in various occasions (he has participated in Lynch's film 'Lost Highway'), has created paintings (a series of watercolour paintings in 1999 was sold to drug dealers as he revealed in an older interview) that have been exhibited in the US and in Germany, has appeared in video games (i.e. Area 51) and has written the soundtrack for others (i.e. The Darkness, Celebrity Deathmatch, Cold Fea, Spawn:Armageddon et al). Additionally, he owns a gallery in Los Angeles called Celebritarian Corporation Gallery of Fine Art and in 2008 he launched his own absinthe called 'Mansinthe'. Finally, in 2010 he revealed 20 paintings that he has created in collaboration with David Lynch entitled 'Genealogies of Pain'.
A Marilyn Manson show is an experience in every possible sense and there is really no reason to miss it! His shows are big productions and his truly imposing stage appearance will have you float between this world and a much darker one from the first note of the very first song.You can buy your tickets from here.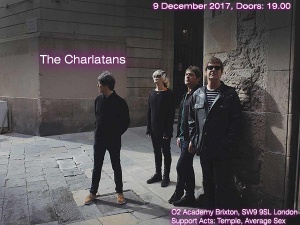 On the same day, The Charlatans will play live at O2 Academy Brixton. The band from West Midlands, released their latest album entitled 'Different Days' earlier this year keeping up the momentum they have built since 1991, the year that saw the release of their first album 'Some Friendly'. This is one of the very few bands from the indie scene of the 90s that has kept up the momentum and has not lost its inspiration throughout the years. Combining subtle melodies with funky elements and nicely positioned samples, each of their albums, including their latest one, is a statement of elegance and lightness. In this album the band has given more weight to the guitars without losing neither the melodic element of their music (i.e.

'Not Forgotten', 'There Will Be Chances'

) nor the funky-inspired part of it (i.e.

'Over Again'

).As each album becomes alive and its intentions become clearer during a gig, missing their show at Brixton would mean missing the opportunity to see this band perform old favourites and new songs along each other taking you back to the nice days of the 90s. You can buy tickets here.
MASTODON have released their first album entitled 'Remission'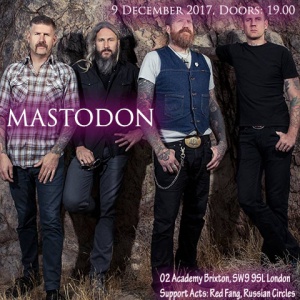 in 2002 and six more studio albums following that. Their latest album 'Emperor of Sand' was released earlier in 2017 through Reprise Records, and includes the song 'Show Yourself' which is considered to be the band's most commercially successful so far. The album was produced by the Grammy winner producer Brendan O'Brien who has collaborated with Pearl Jam, AC/DC, Bruce Springsteen (he was awarded a Grammy for Best Rock Album in 2002 for his work on the album 'The Rising'),Aerosmith, The Killers among other big names.The band has always had perfect production in their albums without which, the full extent of their music could not have been fully appreciated. O'Brien had produced the bands album 'Crack The Skye' as well. Later this year, the EP ' Cold Dark Place' was also released which contains four previously unreleased tracks. The band may have initially been offering heavier and angrier music in terms of mood and aesthetics with vocals and rhythms inspired by death and sludge metal, but their signature has always been the guitar melodies. At times plainly heavy and at other times incorporating progressive rock elements, unexpected and inspirational rhythmic alterations on distorted and noisy riffs, the guitars of Mastodon can just take your mind into paths whose energy only BROM could design and describe.When we listen to such inspired guitar riffs the only feeling that follows is that of admiration! Mastodon have played alongside Slayer and Slipknot and three of their songs (i.e.

'Colony of Birchmen','Curl of Burl', 'High Road'

) have been nominated for a Grammy. On December 10, 2017 they will promise to fixate our attention on those 'singing' guitar strings and their lovely songs. Add to all this, the fact that MASTODON will be joined by fellow heavy metal post rock band Russian Circles (their album 'Memorial' features Chelsea Wolfe in the vocals and Mike Sullivan plays the guitar in Chelsea Wolfe's album 'Abyss') and you have the recipe for an unforgettable evening! Sadly this show appears now to be sold out.       Blaue Rosen