Tindersticks- 'The Waiting Room'
Release Date: January 22, 2015, City Slang
1.Follow Me/2. Second Chance Man/3. Were We Once Lovers?/4. Help Yourself/5.Hey Lucinda/ 6.Fear Of Emptiness/7.How We Entered/8. The Waiting Room/9. Planting Holes/10.We Are Dreamers/11.Like Only Lovers Can
Tindersticks, formed in 1991 at Nottingham and gave another form to the country/folk inspired music of their predecessor band called Asphalt Ribbons. Tindersticks has been a favourite band of mine since 1993 which saw the release of the debut album entitled 'The First Tindersticks album'. 10 albums and 23 years later, there hasn't been a release that didn't leave a strong emotional imprint on me. Deviating strongly from the music trends during the 1990s, taking inspiration from soul music which they rendered much more attractive and melodic by also using as a guide the unique baritone voice of Stuart Sadler, Tindersticks have composed music for films (i.e. 'Nénette et Boni', 'Les Salauds') as well as 10 albums using a multitude of instruments. The band which undertakes the writing, arrangement and production of their albums, has occasionally offered live shows with a full orchestra. So far 'Curtains' has been the only album that I have listened to so many times that I've lost count. In 2016 Tindersticks will be performing live at the Barbican on April 29, 2016 as part of their extensive tour in the UK and abroad following the release of their 11th studio album entitled 'The Waiting Room'. Having built a reputation for the composition and unique singing style of melancholic melodies of 'hard to surpass' beauty Tindersticks seem to have at their 'palette' all the colours of melancholy. In each song they can display the thick dark ones of melancholy with the lighter consolating paler tones of it as well.
'The Waiting Room' or else 'The Waiting Room film project' will be one of the most ambitious albums by the band so far, as each song on the album will be accompanied by a short film, and toured with a series of cine-film events.This album is the result of a collaboration between the band,  Clermont-Ferrand International Short Film Festival and its chief Calmin Borel.  Specific filmmakers were approached with the aim of interpreting a different song from the album. This results in a varied collection of styles and techniques that are a perfect foil to Staples' intimate relationship with the songs. The band has often collaborated with guest musicians some of whom have provided vocals in previous albums, such as Carla Torgerson by the Walkabouts who sang in 'Travelling Lights'. The album 'The Waiting Room' features guest appearances by Jehnny Beth by the Savages a.k.a Camille Berthomier and a duet of Stuart Sadler with his lost friend, the American singer songwriter Lhasa de Sela in the song 'Hey Lucinda' . This album marks a great start of the year and we will bring you more details about it soon!
Sauropod- 'Roaring at the Storm'
Release Date: January 22, 2015, Riot Factory
1. You And Me Should Leave Together Tonight/2. Winter Song/3.Sunny Day/4. Hausmania/5. Running Song/6. (I've Been) Bad On Emma/7.Headphones/8. Fugue/9. Edge of a Cloud/10.Your Line is Divine /11. On The Hill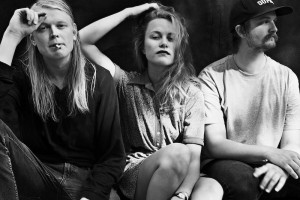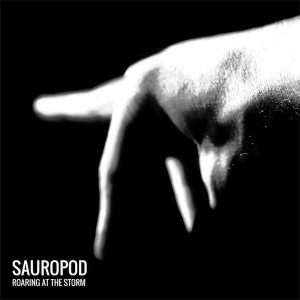 Norway is a region of the world with a long and rich tradition in heavy, folk and metal music. At the moment there are many bands covering very different music genres from electronica, to pop and punk and the music map is getting more colourful with emotions and sounds.Sauropod a.k.a Jonas Røyeng (guitar, vocals), Kamillia Waal Larsen (bass, vocals) and Jørgen Natland Apeness (drums) is a band that is based in Oslo and whose name is taken by a herbivorous saurichian dinosaur that had very long necks and tails, very small heads and four thick legs. As a result of their explosive energy of the band on stage, Sauropod has built a reputation and a devoted fan base which lead to their inclusion at this year's Øya festival.With evident influences from grunge and punk sounds and an explosive performing style, the band has released 'Winter song' and 'Headphones' the first two singles from their upcoming debut album which will be entitled 'Roaring at the storm' and is expected to be released on January 22, 2016 from Riot Factory. Judging by these two singles we can expect the album to actually be a sonic 'roar at the storm'. 'Winter song' with Jonas  Røyeng  at the vocals starts by juxtaposing harsh guitars and grunge rhythms with smoother almost pop melodies which are then giving way to revolting almost protesting vocals which are being replaced/accompanied by guitar trembles (after 2'.05'') usually associated with black metal music. These alterations to both the vocal tones and the rhythms, are happening discreetly but with a quality that recreates the feeling of entering a labyrinth and encountering a new setting after each turn. Equally interesting, 'Headphones', with Kamillia Waal Larsen at the vocals, has more evident punk influences with the added element of harsh guitars at the background. When I listen to this song Amanda Palmer comes to mind. This band's sound seems to have found a place in between genres, creating a rich and unique sound. We are waiting impatiently for the release of the full length album!
HANTE- 'This fog that never ends'
Release Date: January 12, 2015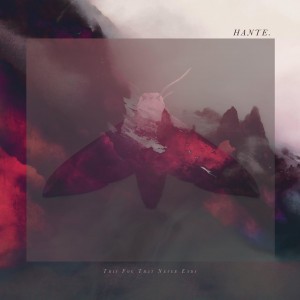 HANTE a.k.a Hélène de Thoury the second half and the of Minuit Machine has released her debut album entitled 'Her Rise And Fall' in 2014 through Stellar Kinematics. Focusing on cold wave sounds and synth melodies, HANTE is a captivating performer on and off stage. I had the chance to see Minuit Machine perform live at this year's WGT at Stadthalle where I was able to confirm and be amazed by, the emotional strength, conviction and darkness that HANTE's voice emits when she performed some of her own songs. HANTE, has a bass, mezzo voice which creates an atmosphere much more 'grounded' and severe than the average cold wave band and this is the quality that differentiates the sound of her music and of Minuit Machine from the other bands of their kind. The second album by HANTE will be entitled 'This Fog That Never Ends' and is expected to be released on January 12 and will be followed by an extensive European tour before HANTE moves to Canada, as she recently announced through her facebook page. Below is a summary of what HANTE has said about the new album so far. We will be waiting impatiently for this album and we'll bring you more news about it very soon.
''I know the title doesn't sound very optimistic and even seems fatalistic. But I hope that on the contrary, It will help you to deal with the fears that prevent us from moving forward, the fear of living, the fear of dying, the fear of trusting someone and being broken. The album talks about this fog that surrounds us everyday and never disappears, this fog we're used to live with and is easier to tame than to fight… one song is featuring my dear friend Box von Düe, the amazing singer of Box and the twins! ''
Blaue Rosen