­…or else music for the citizens of metropolises
At the beginning there was the local, underground electronic music of Jamaica and the Carribean which around the 1990s entered the realm of mainstream music after passing through Bronx, Detroit and Chicago. This music trip that started around the middle of 1970s, in the decade of the 90s through various DJs, took different forms such as rave, techno, psychedelic trance, downtempo and many more. A different version of those genres, more melodic and enriched with elements from all of them, has emerged during the last few years, IDM or else Intelligent Dance Music. The audience of IDM music is wider, appreciates the spirituality of this music and has different characteristics th
an the audience of e.g. trance music. Responding to this growing number of IDM bands and to the appreciation of this music, since 2007, Tympanik Audio has embraced most of the musicians of this style by releasing some of their albums. Gigs of IDM musicians are rare therefore fans of this music style would rarely miss the opportunity to attend a show by any of the artists. IDM music is a rather lonely and personal endeavour with most bands being comprised of one or two members. Gigs by IDM music bands tend to create unique experiences as almost all of the bands, are inspired by the ambience of everyday stimuli which they translate to a complex yet very interesting soundscape and a lot of bands complement their music with visuals. By listening to IDM music one accesses multiple fields of consciousness that lead to different and personal spiritual universes.
Having said all this I wouldn't miss this gig for anything but I arrived a little too late for the show of Vieon. This was a perfect organized mini festival with a dedicated Dj who played relevant and awesome music. It was hard but I resisted asking the Dj to org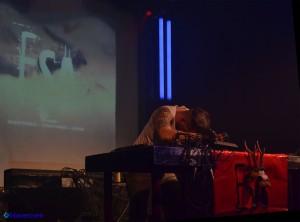 anize a regular club event with this sort of music in Slimelight!
ESA:Electronic Substance Abuse a.k.a Jamie Blacker, started preparing the stage for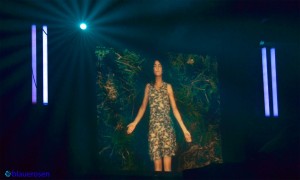 his set almost immediately after Vieon and shortly after we had the chance to enjoy his music. Since 2006 when ESA released the album 'Devotion, Discipline And Denial'  through Hive Records, he is consistently releasing albums which combine power noise, atmospheric pieces and a few carefully integrated lyrics. The artwork of all the albums as well as their titles are always rich in symbolisms and full of multiple meanings. The themes of lust, devotion, religious criticism, love and personal betrayal, devotion, entwine deeper existential questions which reach outworldy dimensions when combined with ESA's experimental sonic music. I have been following ESA since 2006 and was looking forward to attending one of his rare shows.
The crimson fabric with the word 'ESA' printed at its centre was ornated with a small animal skull that was placed in front of it. On the right hand side of the screen the word 'deceit…!'. ESA appeared on stage and immediately started emitting pulsating rhythms to the audience who was dancing form the first note of his set. His sound focused less on melodies and more on the communication with the audience and the creation of a harsh dynamic rhythmic noise base. Against this base, sy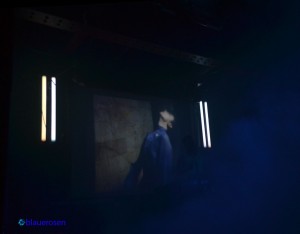 mbolism, a key element in ESA's work, was expressed through the powerful images that made up the visual composition of his show. The multitude of mind and psychological games that the  combination of sounds and visuals provoked to each one of us in the audience could only be compared with the impact of optical illusions found in surrealist art. Scenes from one of my favourite movies of all times, 'Antichrist' passed in front of our eyes during his set as wel as beautiful images from dys
topian landscapes. Despair, lust, psychological and somatic pain were expressed through the various other images that were included in the visuals. ESA unlike many of his fellow musicians of this music style engages a lot with the audience and he even performed one of is songs among us. Jamie Blacker has a stage appearance and performing vocal style which has some similarities with bands of hard rockand metal music and this aspect differentiates his show from others of experimental electronic music. The set list left a powerful imprint on each of us and included mostly songs from his latest twin album called 'Themes of Carnal Empowerment Pt1: Lust' and 'Themes of Carnal Empowerment Pt2: Deceit'. We also listened to 'Tasting Nails' from his second album 'The Sea & The Silence'. At the end of ESA's show, the only certain thing is that you will leave with too many spiritual and emotional stimuli that provide food for thought and even inspiration for the following days!
Stendeck or else the soundtrack of the contemporary metropolis in the sonic version of morse code…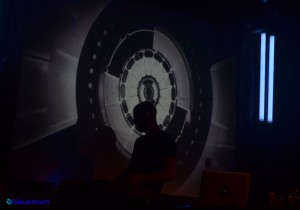 The word 'stendec' was the last one that the aircraft Star Dust sent to Santiago airport a few minutes before crashing in August 2, 1947, using Morse code. As if somehow continuing the "life" of this aircraft, Alessandro Zampieri, named his project 'Stendeck' and since 2002 he has been producing experimental electronic music with very interesting ambience combining soothing melodic sequences with carefully positioned rhythmic breaks.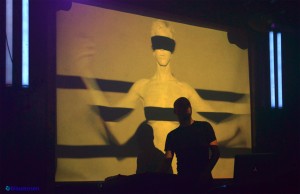 If we wanted to describe a city through music what type of music would this be? Could one musician alone create a piece that captures the pulse of a metropolis in all its dynamism? Could we describe the multitude of a city's rhythms with one word only, a word whose meaning would encompass both rhythm and direction? I guess the word 'flow' could replace the word 'city' and still represent the essence of the city. At the same time, even though music is synonymous to flow, not all music genres can express the multidimensional flow of a city better than IDM and not all the musicians of this genre are interested in the urbanity of music as much as Stendeck. I noticed the 'urban' feel of Stendeck's music since I listened to his first self released album 'A Crash Into Another World'  in 2002. One can only confirm his/her impressions about an artist only during a live show. The visuals that have been prepared and were complementing Stendeck's pieces during this show at Slimelight confirmed and enriched my initial impressions. Stendeck is a classically trained musician therefore melody is a defining element of his work. Stendeck further enhances the strength of his performance by adding his own movements that respond to the sounds he produces.  Unlike many of his fellow IDM musicians, he performed mostly in a profile position but the most interesting aspect of his stage appearance was revealed to me only after I saw the photos from his performance. It was after I looked through the photographs of this gig that
I 'saw' Stendeck as both a character and a performer. It is quite strange and really enjoyable to witness such a revelation through photographs especially when the subject is not posing.Even though I was there, experiencing his music in its entirety I didn't notice the impression that he created of himself as a fictional character emerging from the visuals that were projected in the background, becoming real in front of us. If he was not as responsive as he was to his music our experience as an audience would have completely different characteristics. Stendeck was performing as both the composer and the audience of his music, a unique skill that we are not used to experience. He was genuinely dancing to his music and not in a pretentious way. His motions seemed to be both an instinctive and an honest response to sound.
Having recently released the album 'Folgor' in Tympanik Audio, he included some tracks from this worth listening/buying album. We listened to 'Tonight Is Forever' from this album along 'Feel The Flames Burning Inside Me' and many other songs from Stendeck's previous album called Scintilla, before the show concluded with my favourite 'Catch The Midnight Girl'. At the end of the show I realized how mesmerizing the atmosphere was and how absorbed I had been in it.
Gigs by bands of Tympanik Audio are rarely organized and nowadays that advertising events relies solely on social media, it is easy to miss the information about a gig amongst the multitude of information that reaches people on the web and through newspapers and magazines. I am glad that I found out about this gig and I wish that more of the kind are on the way!
Blaue Rosen