If there was just one phrase that would uniquely describe both a band's music and the reason why I personally adore them, it would be Ogre's statement in an interview in 2013:
"…there is a very military side to Industrial music, and we are far more in the psychedelic side…"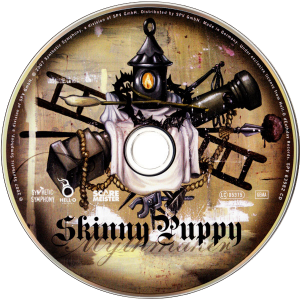 Skinny Puppy founded by Kevin Crompton a.k.a cEvin Key in 1983, is one of the very important bands in the industrial music scene, with quite unique and clearly identifiable characteristics from the bands that preceded and inspired them. Kevin Ogilvie a.k.a Nivek Ogre has joined Key from the beginning until now and the two of them remain the only constant members of the band. The band has collaborated with many musicians including Bill Leed (bass, synth, backing vocals) and Dwayne Goettel and have been joined by various session musicians on their tours.
Industrial music has many facets and many levels of interpretation, Einstuerzende Neubauten, Test Department, Throbbing Gristle, Cabaret Voltaire, Kraftwerk and many other bands that started in the middle of the 1980s, are a living proof of this.
Starting with the release of their debut album 'Remission' through Nettwerk in 1984 and with the exception of a 5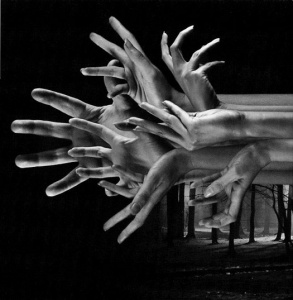 year gap between 1995 and 2000 (following the death of keyboardist Dwayne Goettel and friction between the band members over the quality of the album 'Rabies') and a 4 year one (from the studio) between 2007 and 2011, Skinny Puppy have consistently created soundscapes of admirable depth, mixing and production. The band has used drum machines, synthesizers and heavy drums since the very first album but there is an added cinematic and a minimal aspect to their sound and overall work. These elements have added many dimensions both to their music and to the ideas that inspired it.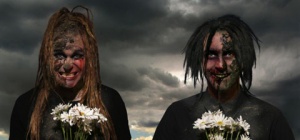 Skinny Puppy is not the only outlet for the creativity of the band's key members. Key who has also named Yellow Magic Orchestra as a "…huge inspiration in life…", has been involved in the production of the band's albums from the very beginning, has developed valuable skills in designing and repairing modular synthesizers in collaboration with subCONSCIOUS communications and Plan B and also works writing music for films under the name Scaremeister. In 1985 Key and Ogre opened for Chris &Cosey on their Canadian tour 'Hell 'O' Death Day' and around the same period, Key and Goettel were involved with The Tear Garden. Ogre who has his own side project ohGr, has so far performed with Ministry (1987-1990), PigFace (1991-1995) and KMFDM in 1997 while also doing vocals for their album 'Symbols'.
Visuals an aesthetics that would please the Viennese actionism artists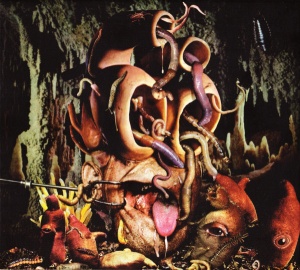 The fascination of the band with the aesthetics of the horror genre, (evident through their videos and their artwork) as a way to raise awareness for important issues, has lead various organisations over the years, to ban their videos and material often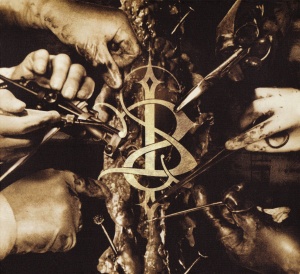 misinterpreting their actual aims and messages. Their live shows have always been extremely powerful both visually and in terms of performance as the band always choses to talk about different subjects such as cruelty towards animals and humans, environmental crises, religious devotion and censorship in art using unique, experimental and visually shocking ways. This is the reason why the effect of their shows could be easily compared to that of a whirlpool.
Sound, a puzzle of a million pieces
From the very first albums, the band, revealed unique skills in synthesizing samples from movies, sounds resembling operatic vocals and animal screams, with Ogre's unique vocals, in ways that always make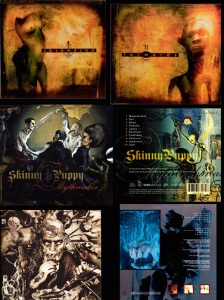 the transition seamless and the end result a complete composition. cEvin Key has been involved in the production of the band's albums from the very beginning often collaborating with other producers such as Dave 'Rave' Ogilvie (until 1995) .Excellent production and arrangement skills have always been at the heart of the band's music, where the heavier sounds were always kindly and admirably making space for the more subtle high frequency and minimal in nature brief synth melodies alongside the more 'dry' and the more metallic in nature sounds.
While Worlock' and 'Assimilate' are the songs that most of the people would put next to the band's name it is whole albums such as 'Remission', 'Bites' , 'Too Dark Park', 'Mind:The Perpetual Intercourse' , 'MythMaker' the latest 'Weapon' and the overall aesthetics evident in the artwork and their videos, that define the band's take on industrial music and provide glimpses of their worldview in general.
Skinny Puppy's 'Weapon'
"We heard through a reliable grapevine that our music was being used in Guantanamo Bay prison camps to musically stun or torture people…We heard that our music was used on at least four occasions…Because we make unsettling music, we can see it being used in a weird way. But it doesn't sit right with us…" (Phoenix New Times , interview with cEvin Key)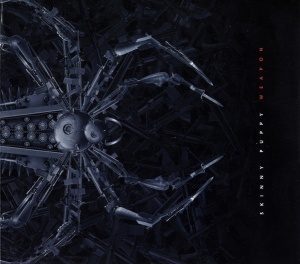 Their latest 12th studio album entitled 'Weapon' was released in 2013 through Metropolis records and was inspired by the disturbing news brought to the band, about their music being utilized while people were tortured. This was a very similar case to the one where Metallica's music was used by the US Army in interrogations in Iraq. Admirably Skinny Puppy reacted not just with a statement and by issuing an invoice to the US Government, but by actually channeling all their thoughts about this incident through the creation of a new album where symbolism plays a key role in the whole experience of the music, as always.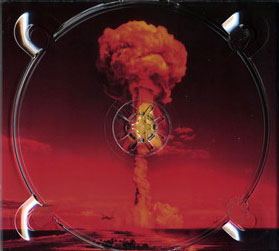 Taking into account that the time of the recording was close to the period of the nuclear disaster in Fukushima, the band also created space within the album's artwork and lyrics in order to talk about this issue as well. Synth sounds and powerful beats, are very prominent in this album revealing strong influences from the minimal electronics of the 1980s yet the album does not lose anything from the band's signature theatricality (e.g. 'Terminal').Compared to 'Mythmaker' the sound of 'Weapon' feels less heavy and there are less melodic parts in the composition, qualities that perfectly agree with 'Weapon's' subjects. Ogre's magnificent vocals, at times very clear and at times distorted, lure us in Skinny Puppy's world, a theatrical representation of disturbing facets of our dystopian universe with lyrics that have an undoubtedly strong social awareness.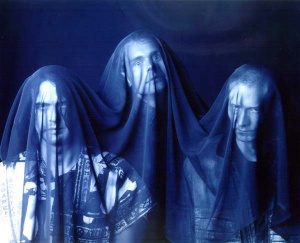 "A police state invents you
give me your name
Your birth reconnects you
To a number and age
Master and serf
A failed-state connects us
This is a criminal age…" (lyrics from the song 'Illicit')
"The idea originally was to call the album 'Weapon' and actually make it a weapon, making music to torture people by. We were going to see if we could find documentation on methods used and try to follow them–get the frequencies, the whole deal…" (Ogre, extract from an interview)
"I'm the weapon with a lot to say
Freedoms  end in armed displays
Amend the bullet given life
A metal casing with more rights than we begun…"(lyrics from the song 'Illicit').
Skinny Puppy have included London in their European 'Down With The Sociopath too' tour and will make an one off precious stop at O2 Forum Kentish Town. This tour was first presented to US audiences during 2015 and is as impressive, loud and alarming as the band's past work and live appearances. We can't wait to experience their show just before we see them again headlining at the 26th WGT in Leipzig a few days later. Do not miss it!
"Luckily, Skinny Puppy has never desired to fit in…" 
Blaue Rosen