Psych Fuck 
(or else "The Tower of Foronicity" part two as Henrik Björnsson has recently stated during an interview)
Release Date: October 13, 2015 Fuzz Club Records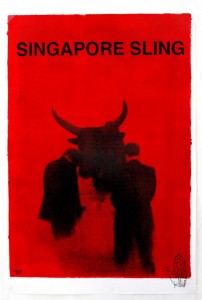 A fascination for the occult, an aspiration for the creation of art without intermediaries, a preference for darkness, noise and bleakness and a fondness for the 1990s experimental movie with the same title directed by Nikos Nikolaedes. This is Singapore Sling, the band which is based in Reykjavik and was founded by Henrik Björnsson . I was first introduced to the music of Singapore Sling a.k.a  Einar Þór Kristjánsson,  Hákon Aðalsteinsson, Helgi Örn Pétursson  and Iggi Sniff, through a web radio show (a great source from which to learn about new bands).
"…when nobody was doing what I wanted to hear I decided to do it myself instead of complaining…seeing and hearing garbage made me want to do the opposite…" (Henrik Björnsson, extract from interview)
2002 was the year that this garage rock band released their debut album entitled 'The Curse Of Singapore Sling' through Hitt Records and in 2014 the band released their 6th album 'The Tower of Foronicity' through Fuzz Club Records. I saw the band play live at The Shacklewell Arms last year, in front of a 'die-hard' dedicated audience. I will not go into detail about my experience from this gig however it is important to say that the band overcame the small technical difficulties and the misbehaviour of the audience and offered to us a memorable gig. By transferring to the lyrics, the repetitiveness of their noisy, addictive and bleak rhythms, Singapore Sling make music that will put you in a trance comparable to the one caused by a potent drink. With covers that often make direct references to occult subjects and song titles that reveal social perceptiveness and the skill of word formation, Singapore Sling produce a sound that puts a weight on your souls from the very first riff.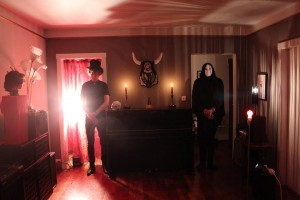 "…dance to my dropping tears…" (Henrik Björnsson about what the music of Singapore Sling, extract from interview)
Henrik Björnsson is also involved in various other projects, The Go-Go Darkness, Dead Skeletons and Hand and Tank. Dead Skeletons is an artistic project of  Nonni Dead and Henrik Björnsson, which accompanied an installation at the Reykjavik art museum. Following this show Dead Skeletons released the LP entitled 'Dead Magick' in 2011 and several singles.Dead Skeletons are expected to release a live album later in 2015 on Fuzz Club Records. The Go-Go Darkness has released one album which is relatively difficult to find.Hand and Tank whose music is also very difficult to find, are preparing a new album that is expected to be released later in 2015.
"…but too many people want to be pop stars. It seems musicians don't want to be underground anymore…"  (Henrik Björnsson, extract from an interview)
All the previously mentioned music projects together with many others are listed as participants in an artists' collective called Vebeth. The main idea behind this collective was the desire of the artists to have total control over their art and its production and not depend on third parties. Based on a recent interview given by Henrik Björnsson, it seems that Singapore Sling are not as involved in this collective at the moment, as they were in the past.
"…Vebeth was a good idea at the time.I haven't thought about it for years…"  (Henrik Björnsson, extract from an interview)
Just a few days remain until the release of 'Psych Fuck' which for now is available to preorder here: http://fuzzclub.com/products/singapore-sling-psych-fuck. At first, the album will be released in LP format limited to 500 copies (400 standard / 100 deluxe). The band has confirmed that a CD version of the album will be released at a later date.
Blaue Rosen