For some, this was the gig of the year, for others the perfect gig to kickstart the new season after summer. In any case, it was a gig that many people, 600 of them (that is the full capacity of the venue), were anxiously waiting for, since the day it was first announced, several months ago. The gig sold out almost a week before the live date, so two days before, many fans were still looking for a precious ticket. I don't remember having seen The Garage at full capacity before(it actually seemed as if it might have exceeded that slightly) and at some point, the atmosphere became pretty heavy.
Mechanical Cabaret kickstarted the evening with a motivating show in punk aesthetics and glam rock attitude. Roi is a talented showman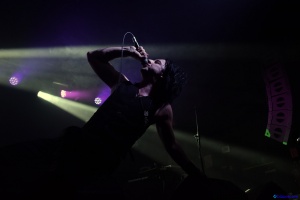 who is obviously inspired by the stage and this is evident from his kinesiology and his energy. While Stephen was discreetly dressing Roi's vocals with synthpop melodies injected with
industrial references, Roi focused on connecting with the audience in his unique way. Numerous times he formed a bridge between the stage and the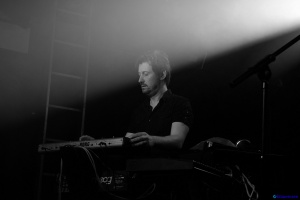 audience with his body, trying to reach as many people as possible, beyond the front row. Other moments he just posed on the stage floor.Because all this was done with a certain elegance, it had nothing pretentious about it but was an honest and nice act of reaching out and it made the band's music much more 'alive'! MESH, VNV Nation, New Order came to mind while listening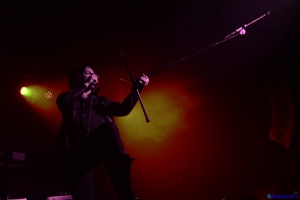 to older and new songs from the band's albums but this, would all have been hollow if it hadn't been for Roi's captivating gazes, poses and overall movement. I will definitely try to see the band again in the future because this is a band that one must see live in order to grasp its essence.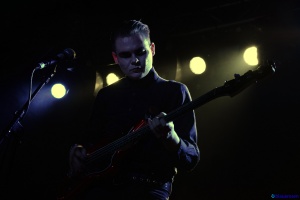 Lebanon Hanover were next and the atmosphere was already full of anticipation. The merchandise table was now complete with material from all three bands. Lebanon Hanover have not played live in London for some time so the audience welcomed Larissa and William on stage with a warm applause after the first song. I don't know why that is, but the same idea of transformation that came to mind when I saw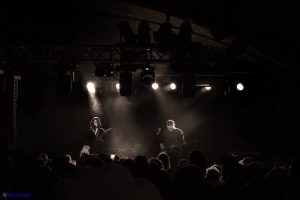 QUAL perform live seems to be relevant again in a different way, to describe the impact the band's show had on me.
The show had no visuals so it was the stage appearance of the two musicians, the energy, the mood , the 'colors' and the aesthetics of their music that determined the impact they had.
---
When one captures all the symbolism that the artwork of Lebanon Hanover's releases contain, it becomes immediately apparent that the band, started out by communicating existential ideas through a symbolism that brings to mind Derek Jarman's movies.
---
Their live show is not as expressive as their artwork and it draws attention to the hypnotizing and reflective elements of the lyrics and the music. If you have been in the audience in past gigs you would have noticed how the duo no longer wears 'costumes' and overall it is less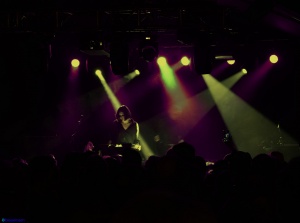 theatrical now compared to the past.
The audience was consumed by them and did not really dance before 'Gallowdance' was played. A few people seemed to lose interest after this song. Lebanon Hanover do not throw a show in the traditional sense of the word, but they create a unique hypnotic soundscape that has the power of a magnet. Their stage appearance seems to have become more introverted and 'composed' than before and it is this quality that strongly juxtaposes the impression the visuals in their albums create. This is what brought to mind the concept of metamorphosis. These two opposing elements work together but in reverse, so, in the artwork the band reveals a 'hidden' untouchable, yet dark and symbolic aspect of their personalities. During the live show, it is the composed, almost monolithic and cold yet, somehow, emotionally 'fragile' aspects that are revealed…but not for long…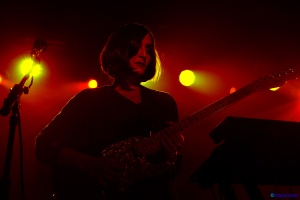 We listened to songs from almost all of the band's albums including 'Fall Industrial Wall', 'Die World II', 'Kunst', 'Sunderland', 'A Very Good Life', 'Invite Me to Your Country', 'Albatross', 'Midnight Creature' before, to my utter surprise and absolute delight, the show took an exciting twist towards the end as QUAL 'came out' of Lebanon Hanover and whatever 'lightness' was still hovering in our heads, was turned to ashes. I can understand that it will be frowned upon if I say that QUAL surpassed Lebanon Hanover but let's agree that the shadow his performance cast, was both thick and very heavy! People who were not 'wasted' and paid attention, actually felt as if something had 'hit' them when QUAL changed the air both on and off stage. There were people around me who were flabbergasted with William's performance and the obvious change of style in both the music and the movement. Some people were turning to each other in disbelief not really being able to find the words to describe how they felt, just a 'wow' seemed to summarise the strength of their feeling nonetheless. QUAL did not have his thick chains this time on stage, but even though they are conceptually important, they are not absolutely necessary as he is able to create very strong mental images through his performance. Before long, Larissa joined him back on stage and Lebanon Hanover closed this gig and the atmosphere began to be charged with somewhat 'warmer' colours.
We had just a few minutes to let all that had happened on stage 'sink' before the mighty She Past Away appeared on stage.  The merchandise areas continued to be increasingly busy in between bands' appearances even though the higher than normal prices seemed to be putting some people off.
She Past Away on stage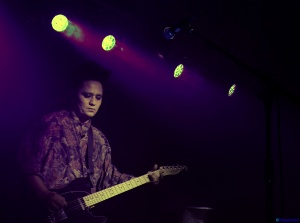 I was really excited to see the band live since I had managed to miss their shows whenever they played live in London, in Athens and in Leipzig's WGT. She Past Away, a.k.a Doruk Öztürkcan and Volkan Caner, took their positions on stage for a little longer than an hour and offered a perfect show, as the first notes of 'Belirdi Gece' filled the space and sent chills to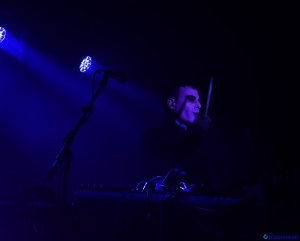 our spines. There was not a single person around that was not dancing to the addictive rhythms and Volkan's bass voice and these are the key elements that have made the music of this band so attractive to the whole dark alternative scene.
The duo has a powerful stage appearance and while Volkan was offering flawless, emotionally composed yet aesthetically powerful versions of the songs, Doruk took upon himself the more theatrical representation of the music. Wearing make up that looked even more dramatic under the effect of the stage lighting, he brought to mind Fritz Lang's Freder in Metropolis. He also resembled a machinist as he was playing the electronic drums in an exaggerated, almost mechanical manner.
---
At the same time, even though his facial expressions were not changing much during the show, he gave off a similar sense of approachability to Tim Burton's Edward Scissorhands and Buster Keaton.
---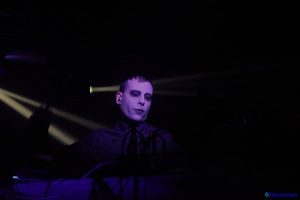 The show had a perfect sound and no visuals and at times felt as if the two musicians did not expose themselves emotionally while performing. While QUAL took out his 'claws' in order to try and 'touch' everybody's psyche, She Past Away preferred to be rather reserved on stage. The communication Doruk and Volkan achieved with the audience was of different type and at a different level, that of poetic lyrics which cause reflection and motivational rhythms that do not let the body stay still. I have often said that audience in London are quite difficult and even though many people were dancing, and a few screamed out of excitement, some were not paying attention to the show and there seemed to be reservation from the audience as well. 'Sanri' and 'Soluk' were next on the setlist followed by 'Katarsis'.We listened to perfectly performed
versions of 'Ritüel' with Doruk contributing whispering vocals, 'Ruh', 'Kasveti Kutlama', my absolute favourite 'Hayaller ?' and 'Monoton' before the much anticipated encore.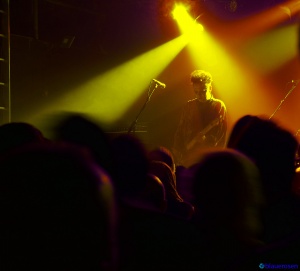 It is not often mentioned but I find it very noteworthy that a band with songs performed in Turkish has made such an impact worldwide so quickly. Volkan might now be living in Barcelona and Doruk in Athens "for ideological reasons" as they have said in a recent interview, but their lyrics and the song titles are in Turkish. Now, gothic music seemed to be the 'territory' of English speaking bands but when Belirdi Gece was released, it made a blast in the global music scene. I think this happened first of all because the quality of the sound and the vocals was very high (courtesy of both Doruk and Volkan, who produced and engineered both albums) but also because of the unique heaviness and sense of 'gravity' that both musicians inspire as a result of their stage appearance and overall aesthetics. It was both their image and the beautiful rhythms of their songs that have left their mark in the audience worldwide. Trying to explain taste in music is quite a fruitless endeavour of course but it is a fact that most of the people in the dark alternative music scene immediately fell in love with the music of She Past Away. The band has also made quite a 'statement' by establishing themselves so firmly and so quickly in the gothic scene and this statement is that this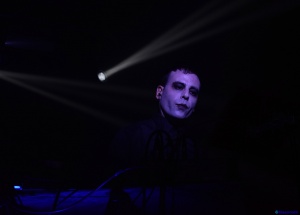 music is in no way more appealing when performed solely in English. My curiosity about their lyrics has definitely made the language more appealing to me and when I translated these lyrics with the help of a friend of mine from Izmir, I also realized how poetic they are and this even made me want to learn the language.
The set finished with an encore which included 'Kemir Beni', 'Bozbulanik' and 'Insanlar' leaving everyone I saw with the feeling that this was one of the best gigs of this year in London. We have learned that the band is preparing a new album that might be released sometime next year. Until next time, thank you guys for this special appearance
Blaue Rosen