"What makes night within us may leave stars."(Victor Hugo)
July was an unexpectedly warm month and it definitely needed a motivational soundtrack. This is exactly what it got, both in terms of album releases and in terms of gigs in London. Blaue Rosen's soundtrack includes favourite releases covering many genres and everything in between. One release set the tone and that was no other than the joint EP of Underworld with Iggy Pop. 
The wittingly entitled EP 'Teatime Dub Encounters' nicely describes exactly how this release came to be, during a tea time encounter of Iggy Pop with Underworld. Apart from a charming title however, the music of this EP, fuses pop with dance electronic music in a way that does not negate neither the uniqueness of Underworld's rhythms nor the heaviness and tease of Iggy Pop's vocals. I really enjoyed listening to this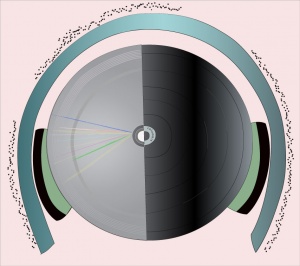 EP and not just because it made me want to dance but also because it improved my mood. From the contemporary dance inspired and cinematic videos to the dark rhythms and Iggy's 'shouts' this EP was on repeat during the previous month. SONOIO's new album 'Fine' is a fine example of indie rock music. SONOIO, Alessandro Cortini's (Nine Inch Nails) project, explores the atmospheric, downtempo, and even catchy side of indie while it provides some context to the evocative image of the album's cover. It was in  July that, 'Midnight Conversations', the much anticipated new album by Astari Nite, was released, following the publishing of a 'teaser' single a few months ago and their beautiful gig in London earlier this year.The band has delivered an album worthy of their collaboration with Tom Shear (Assemblage 23) whose experience in production was evident in the overall sound quality. Even though the electronic rhythms have additional 'weight' and prominence in this album, they do not contest with Mychael's unique voice and the emotional delivery of the lyrics, offering a more powerful sound for Astari Nite. Of course you can appreciate all these elements during their gigs, so catch them in their tour in order to enjoy all the qualities of their music to the fullest. LARK's new album entitled 'The Last Woman', creates a sonic space which is enveloped in a dark, static melancholy and ends in a post punk, Joy Division-inspired mood. Having as a cover, artwork created by LARK himself, this is one of the best experimental albums of this month. At the opposite side of the emotional spectrum of post punk music, you can find the new album by Parking Dance, entitled 'Bordel Parking Dance'. The seven songs of this album, make noise, electro and punk 'injections' to post punk-inspired bass rhythms and offer a beautiful result. The album also contains a cover of La Femme's song 'Sur La Planche'. Deaf Wish from Melbourne, brought to mind the sound of Smashing Pumpkins and have created a beautifully heavy punk rock album entitled 'Lithium Zion'.In the press release of this album we read that: "…the decision to play loud, distorted, unabashed guitar-rock isn't a strategic move but a higher calling (or curse, depending on one's point of view)…" all you need to do is listen to it and feel for yourselves the genuine way in which the rhythms and the melodies are alternated and complement each other. Claustraphobia's new EP entitled 'The Final Day' together with the new album by Iamtheshadow entitled 'Embracing The Fall' , represent the synth-based coldwave part of this month's soundtrack. While, 'The Final Day' seems to have been inspired by the mood Joy Division's soundscapes, it was the dynamism of the music of Clan of Xymox that seem to have inspired Iamtheshadow. Before getting into darker, noisier and more experimental territories, we should make a stop at the sonic spaces created by Astronauts etc , Cowboy Junkies and We Are Muffy. Astronauts,etc. have released their debut album entitled 'Living In Symbol', a captivating mix that combines the gentle bitterness of the Beach Boys with a similar atmospheric bleakness we have often encountered in the worlds created by David Lynch. Cowboy Junkies in their album entitled 'All That Reckoning' weave dark, melodic, smoky blues' stories, on low and heavy notes and We Are Muffy envelop us with the warmth of 60s inspired folk melodies, in their debut album entitled 'The Charcoal Pool'. Having the 'warm' vocals of Angeline and Nick, that complement each other perfectly and beautiful lyrics that reassure us that '…there are some things darkness cannot destroy…', this is a beautiful album that can accompany you in your moments of acknowledging the subtle and precious joys of life, the little things that make all the difference.I have enjoyed the higher notes played on what sounds like a violin, their 'interruption' by the smoky vocals of Margo, the subtle and melancholic keyboard notes and the trippy, almost psych rock elements. This is a truly beautiful album.
We can never say that a month is fully lived without the contribution of noisy, IDM, electro, experimentation and this time our 'guides' through these sonic industrial soundscapes were Zu93, Merzbow &Hexa, Phase Fatale, Gadgetor, Tanz Ohne Musik, Ben Chatwin, Gatefolde, Drowse&Planning Burial, PUPA and Pram. Zu93 is no other than one more incarnation of the all-time favourite artist David Tibet. This time he has collaborated with Italian jazz trio Zu and together they have released their debut album entitled 'Mirror Emperor'. This is what Zu93 have written about the album: "Mirror Emperor adds another chapter in his ever-expanding oblique vision: personal, dense and hallucinatory. A voice through a cloud, indeed. On Mirror Emperor, the demiurge of our demise hides in the cracks of a broken world, beneath stones and moss, among the comets, in tears and things and on BloodBoats, as if a "cosmic melancholy" (Ligotti). We all carry different faces, different masks, and all of them will be taken from us. We were born free, and fell through the Mirror into a UnWorld, a Mirror Empire. In this Mirror Empire we are under the Mirror Emperor, and there are MANY Bad Moons Rising. At the final curtain there is scant applause. (Tibet)". All we want to add is that  David Tibet, a great storyteller, an inspired artist that stirs emotions in a 'ruthless' and unapologetic way, and a dynamic performer, 'walks' his voice confidently on the heavy cello notes and on playful percussion and electronic sounds.The result is as experimental as it psychedelic. Phase Fatale has struck again, a year after his debut 'Redeemer' (also in our playlist for October 2017), with the release of a new EP entitled 'Reverse Fall'. Weaving his cinematic soundscapes by using samples wisely, combined with distorted and heavy industrial rhythms, Hayden Payne, gradually builds up the atmosphere and the pulse of his IDM, noisy sonic labyrinths. The new 7″ EP of Tanz Ohne Musik entitled 'Night', follows the 'path' drawn by November Növelet and teases us about their upcoming full-length album.We have enjoyed the gig of the band last year in Leipzig and we have admired their passionate and very aesthetically obscure performance, therefore we would like to urge you to catch them in one of their rare live appearances.
In case you haven't come across this bit of information, Jamie Stewart (Xiu Xiu) with Lawrence English, have a noise project called Hexa, who has released two album since 2015.This year, they collaborated with Merzbow in order to offer us 'Achromatic'. Transcending Merzbow's noisy psychedelia, this album creates a very atmospheric industrial, atonal space that resonates and attempts to crush your whole existence. Resisting these 'attempts' is a truly enjoyable experience which also has the potential to offer some meaning to the thin white line on the cover of this album. Every energy peak needs a moment of calmness, a space with an energy that has a different quality and this is exactly what the album 'Staccato Signals' by Ben Chatwin is offering.Nice ambient soundscapes are traversed by gentle melancholic and melodic intermissions, often causing a welcoming numbness. The debut album of Gadgetor entitled 'Prey' will make you dance and imagine yourselves in a Blade Runner type of environment in the company of the charming creature that is depicted in the album's cover.One of the most unusual releases of this month was the split EP of Drowse with Planning Burial released through Glowing Window Recordings. The experimentation has reached new highs in this EP both in the composition but also in the creation of the individual sounds that were used. We read in the press release that: "Most sounds sourced and manipulated from late night drones performed by Jesse Keating and Kyle Bates in a giant converted walk-in freezer at NES Artist Residency in Skagaströnd, Iceland in April, 2018. Fog Storm drones created with guitar pedals and found-object sculptural instruments built by the artists.(Drowse)".   Be prepared to be fully enveloped in a very dark, electronic even theatrical and menacing atmosphere. This album works nicely with the debut album by Gatefolde entitled 'We've Got Fucking Atomic Bombs' . The band has translated its experimental mood into industrial and heavy compositions, inspired by the numerous atomic bombs within the US. We read in the official press release: "6,450. That is the current number of atomic bombs within the United States' arsenal, and it is less than half of the global supply. Born on the fourth of July, this premier EP from GATEFOLDE is dedicated to each and every one of those bombs, the most sincere legacy of the atomic age". PUPA  a.k.a Wu Jun Han and Zeekos Perakos, released their second full length album entitled 'Lies' this year. Responding creatively to their own experimental call, the duo has offered us an album which is conceptually quite dark and sonically very exploratory. If you come out of these soundscapes in one piece, then why not test your limits even further by entering the dark, carnivalesque, fairytale mood that the psychedelic/krautrock inspired music of Pram creates? 'Across The Meridian' is a truly unique album, the first this band has produced in 10 year. It is remarkable how the ethereal vocals contrast with their heavy and distorted sonic background and how jazz elements and even ragtime music have been treated creatively and with originality in order to form the sound of this album.The soundtrack of the month closes with an angry, existential 'cry', coming from the new album of Deafheaven entitled 'Ordinary Corrupt Human Love'.Blaue Rosen perceived the sound of this album to be the ideal 'reaction' to the tragic fire that killed almost 100 people in Greece in July 2018.Even though black metal is the style that dominates the character of this album, the band did not hesitate to experiment with it and explore dimensions that the traditional 'school' of metal would not.
With our best wishes for an enjoyable rest of your summer, enjoy our monthly playlist.
Blaue Rosen