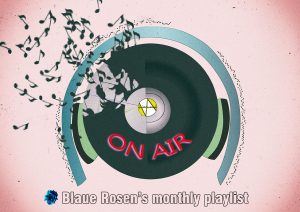 This is the playlist that prepares for the end of the year — the soundtrack of a journey through an abandoned fairground where everything is left in a state of limbo. Our favourite albums of this month include the dynamic return of Pecadores, a cult band from Brazil, 11 years after the release of their previous album. This time they have been haunted again and have come back with their incredible mix of industrial rhythms that sometimes nod to Wumpscut and tribal percussion that bring the mind to tribal ceremonies. A special mention in due to the fantastic releases of ant-zen by vromb, thorofon and 2kilos&more who created an addictive IDM/noise/industrial symphony that kept us on edge for most of the month! TEATRE's album 'Metropolis' added to the captivating sonic mix with notes of downtempo and dark techno.
On what concerns the post-punk/synthwave spectrum of this playlist, it has been nicely covered by the poetic release of Misfortunes and a cinematic album by A Projection, both of which made unique references to the dark sounds of the 80s. Vlimmer, continued to woe the darkwave demons with his latest release while the new album by The French Postcards nodded towards the sound of The Cure with bass/guitar riffs that can never go wrong! A special mention is due to the punk albums of this month for infusing their sound with bone-cracking passion! The releases of HUMOUR and Dead Horses, delivered a mix of garage punk and acid folk (especially in the case of Dead Horses) infused with a southern European temperament that deliver lyrics as if they are the last words uttered before the end of the world.
We valued the calm melancholy that the albums by Hawthonn, Jambinai and Nick Carlisle achieved. The first two were clearly inspired by some very dominant landscapes and imaginative wanderings in the wilderness, while Nick Carlisle's album follows the haunting stories presented in the first film/documentary about witchcraft, written in 1922, entitled 'Haxan'.
The need for the embracing sentiments of dream pop that prolonged stays in sonic and conceptual darkness create, were offered with gratitude through the new album by Modern Studies.
This playlist ends with two incredible albums, one by Chris Connelly as a tribute to Nico and the other by Penny Rimbaud and Peter Vukmirovic. The similarities between them end in their creative and experimental attitude towards sound and spoken word that go as far as include elements from free jazz. After that point, Chris Connelly offers dramatised versions of Nico's songs, tracing her life through 24 songs, while Penny Rimbaud mesmerises by delivering the lyrics in a way that makes the whole album feel like a dark horror story that has elements of fantasy, masked politics and a gothic essence to it.
We hope you enjoy listening to this playlist as much as we did preparing it!
Blaue Rosen