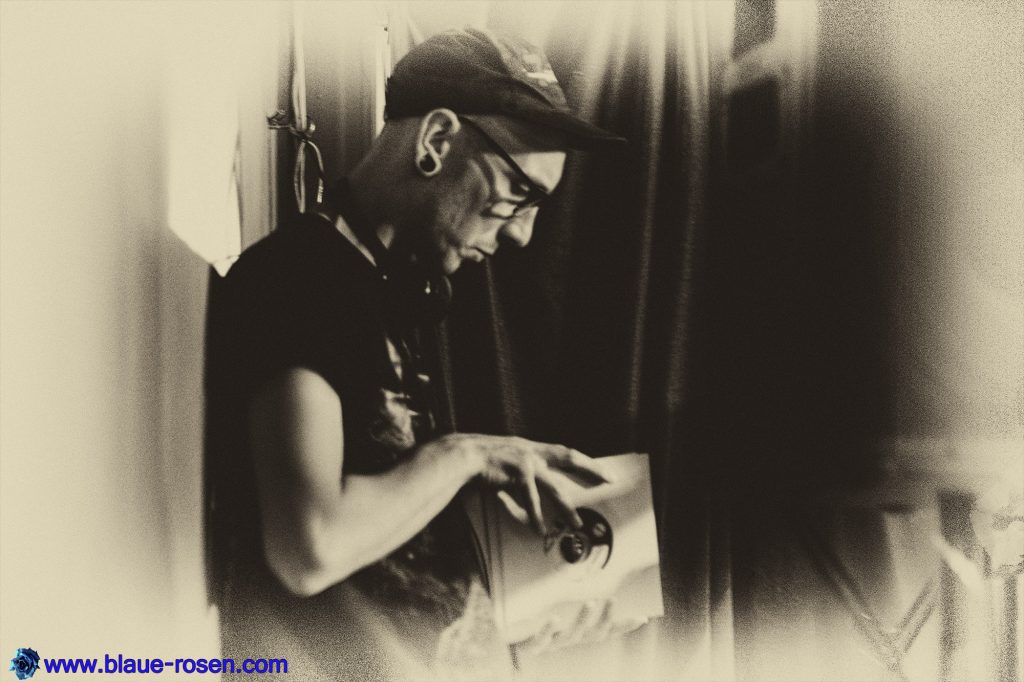 When I was heading towards Paper Dress Vintage for this gig, I chose to listen to a mix of coldwave and modern classical music. In that way, I was preparing myself for whatever a 'typical' punk gig entails. Just how far away from reality would this assumption (about what to expect) would turn out to be, was something I could not have predicted. Below, you will read about the gig that numbed my brain for at least two hours after it finished.


First things first, I need to admit that I love Paper Dress Vintage as a venue, for its character and unique informality. I believe that watching any band in a place that has character,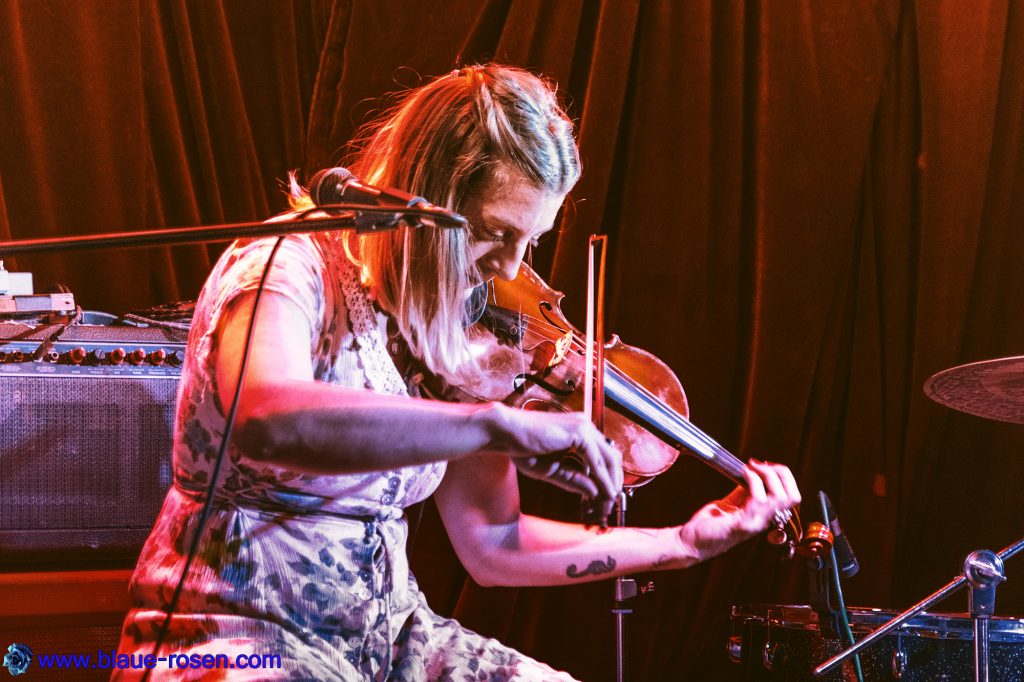 only adds to the experience as well as to the way the music of each band is being received. This was the second gig I attended in this venue that proves to be as versatile as needed for bands that have different requirements. When I arrived, Agathe Max had just started to create her magnetizing sonic story. Using looper pedals and adding her voice intermittently throughout her set, she created a dark, ceremonial folk tale, that had the power to make your brain start to create images if you allowed it to. Listening to her melodies, I appreciated the effect of this lively, cinematic sound which almost replicated the sonic environment of a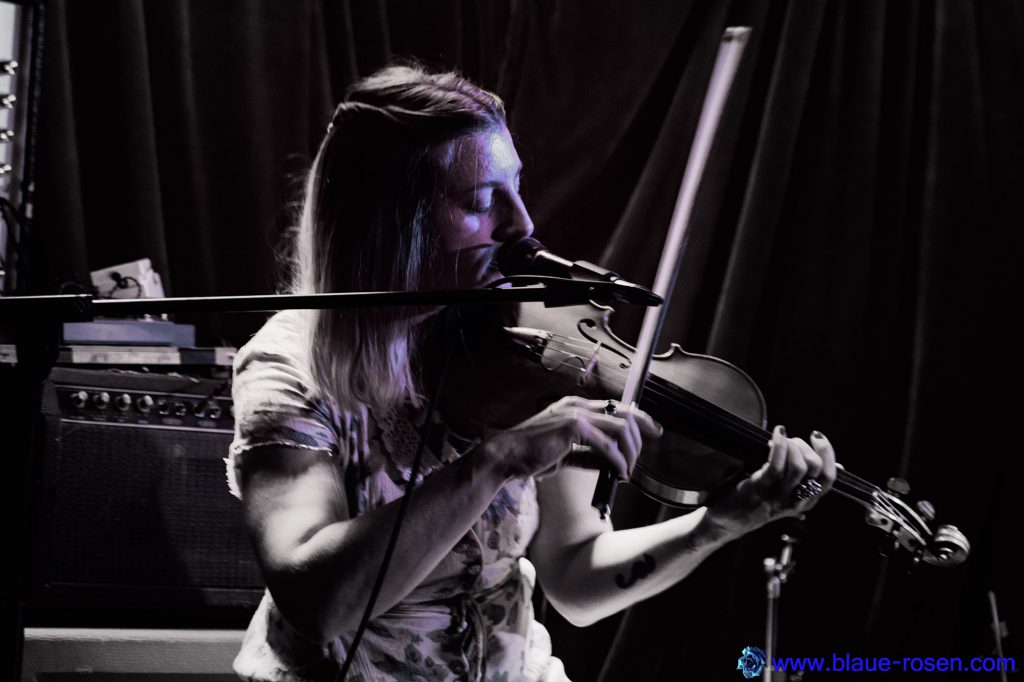 place that is undisturbed by human activity. Using different playing techniques, she was creating phrases rich in 'colour' and notes that felt as marks left by different brushes. There were moments when we found ourselves enveloped by high pitched, discreetly layered notes and ominous trembles and other moments when all this felt as if it was 'thrown' off a 'cliff', occupying an area dominated by much lower notes. These transitions happened more often during the second half of the set and 'opened' endless spiritual paths to everyone who had arrived early to enjoy this set. You can support her here.
Grey Hairs a Bukowskian punk melody…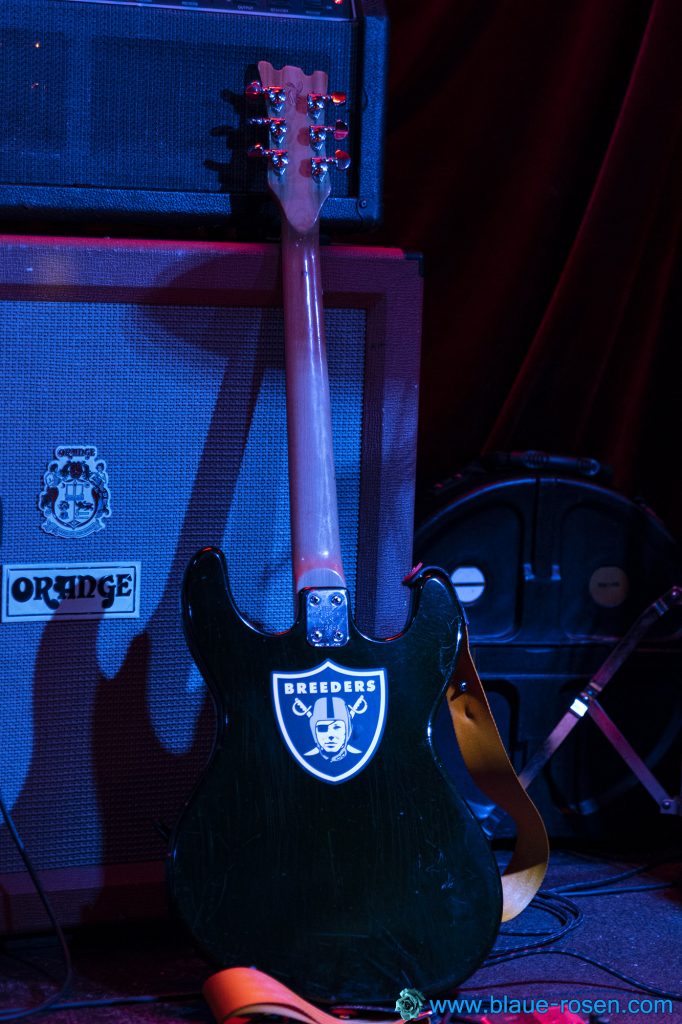 Following a minimal, post-punk DJ set which included CAN's 'Mother Sky', Grey Hairs a.k.a James (vocals), Chris (guitars), Amy (bass) and Dave (drums) came on stage and threw everyone 'out of balance'. It all started when Chris placed his guitar on the wall in order for us to see the Breeders' sticker and Amy placed the bass on the wall at the other side of the stage so that we could read the sticker that praised Sleep's guitarist and frontman of 'High on Fire' by saying: "Matt Pike for president".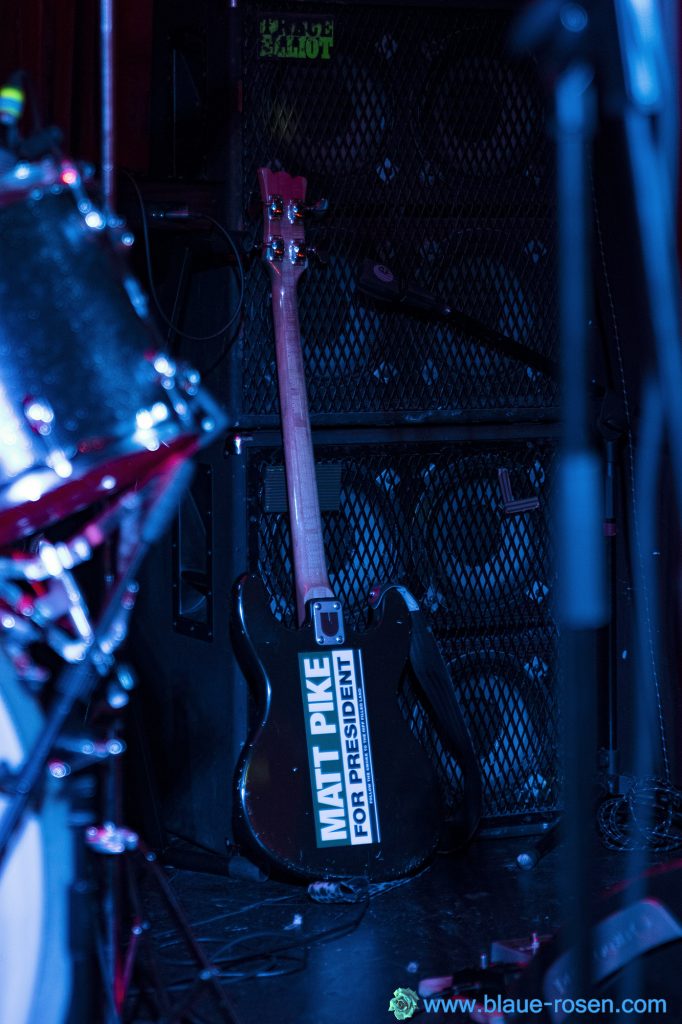 Punk music has of course always challenged the balance of different things, political correctness, social norms, political and social status quo etc,  but it has rarely done so by 'looking in'. Punk music has always been about 'the system' and whichever form it took; it has always had an accusatory tone which referred to norms and whoever created them and as a result the performances have always had an aggressive tone and a confrontational body language that both referred to the 'invisible (but very real) enemy'. Carrying with them the sonic richness and wickedness acquired as members of Fists, Bus Stop Madonnas, Lords, The Cult Of Dom Keller, Kogumaza , Grey Hairs is a band that brings a post-punk 'ethos' on stage and a fascination for guitarists that were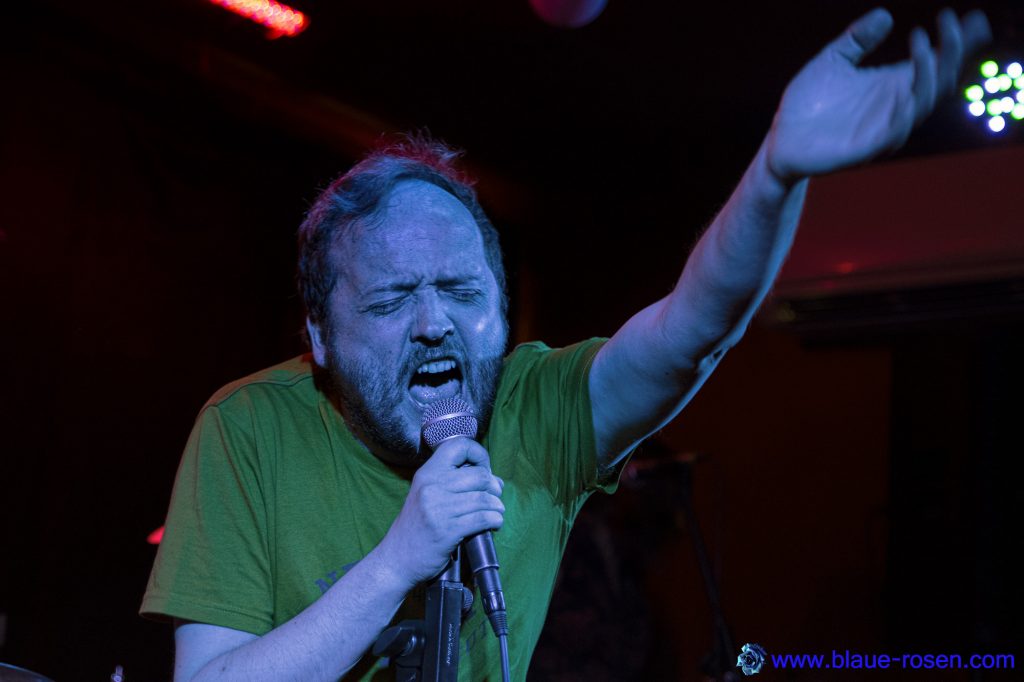 part of the American new wave and punk scene. They are attempting to create an osmosis between profound ideas and sound and in the process, they have established their own character as a band. The result is a unique atmosphere during their gigs and a unique sound, sometimes psych-rock, sometimes heavy almost post-rock/metal, sometimes punk, but overall something that you can distinguish them by. If I had to characterize this band's sound, I would say that the phrase 'existential introverted punk' might be a good place to start. You can find evidence of that on James' movement while performing, on his gestures and in the absence of any kind of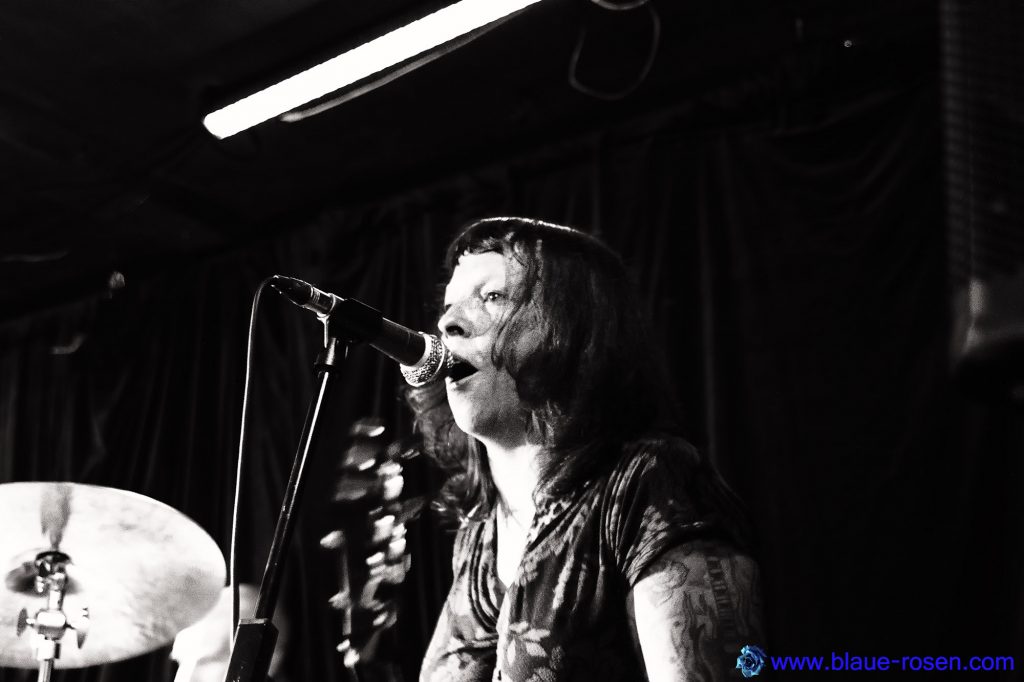 pretentiousness in the stage appearance of the band and their overall attitude towards music. The songs felt much noisier and distorted, almost 'unpunk' in a very interesting way. The lyrics were less discernible and this made us focus our attention on every other element of the performance. It was great to listen to new songs alongside older ones and see how they were all being transformed into something with a different power than they have revealed through their physical/digital formats. As with every release of Grey Hairs, their latest offering 'Health&Social Care' has a very 'down to earth' concept behind it but a very complex one nonetheless. Yet, even if we didn't know that, when a punk band
chooses to refer to health and social care in its album's title, in this part of the world, during this period, things are naturally expected to become very angry, very poignant and very dramatic…This album is a debate on punk ethics in modern society and in this country's everyday rhythms. The band communicates the effect of some important and ideologically 'heavy' questions, lifting them up to, almost, the level of philosophical exploration, through dramatic movement and delivery of the lyrics. At a statement about the new album, they asked themselves and their audience: "What if your punk rock ethics extend to your occupation? How can someone be a public sector punk in 2019?", before they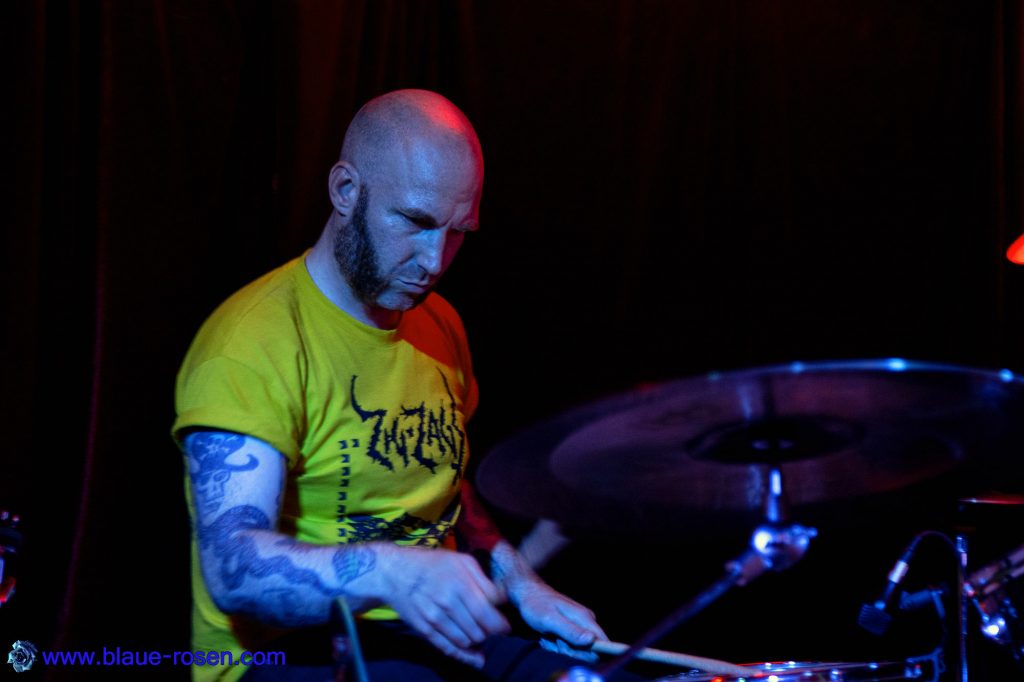 went ahead and admitted that this album is about "…most crucially a confusion and inability to tackle these external problems because you're so fucked up by your own personal ones…". This is a band that is looking towards America for its sonic inspiration but very much towards Britain for its conceptual inspiration. A Bukowski-inspired aesthetics in the lyrics and their overall mood as well as the sonic aesthetics of guitarists associated with the American punk scene, are the main drives for this band that does not provoke the audience during a performance but rather test the limits of their own attitude towards music and life. James ended the set by using his t-shirt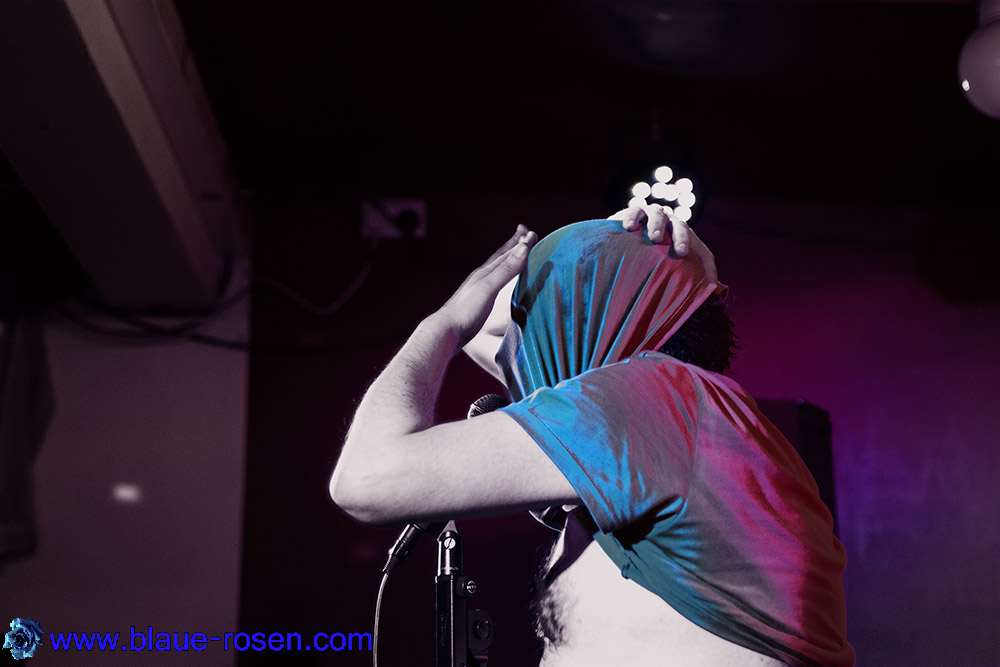 as a mask, in a spontaneous as well as a symbolic gesture. Before arriving at this point, he had 'shouted at', 'condemned' and even 'blamed' what seemed to be both himself and something beyond all of us.  In a sense it was as if watching a punk drama unfolding on stage, while the 'calmer forces' of Chris, Amy and Dave were counterbalancing the energy at the centre of the stage. This is not a band that will leave you feeling outraged or angry after the last song, but rather…quite puzzled at things much greater than an otherwise beautiful gig…or as Charles Bukowski has said: "With each broken shoelace out of one hundred broken shoelaces, one man, one woman, one thing enters a madhouse. so be careful when you bend over…".
Sex Swing…a noisy maze or a weird visual attractor ?
After a soul-focused DJ set using only 45s, Sex Swing were introduced to us through an atmosphere filled with melody and gentle feelings…in other words, an atmosphere that was in direct contrast to their own sound. You might remember that we have included their debut album 'Sex Swing' in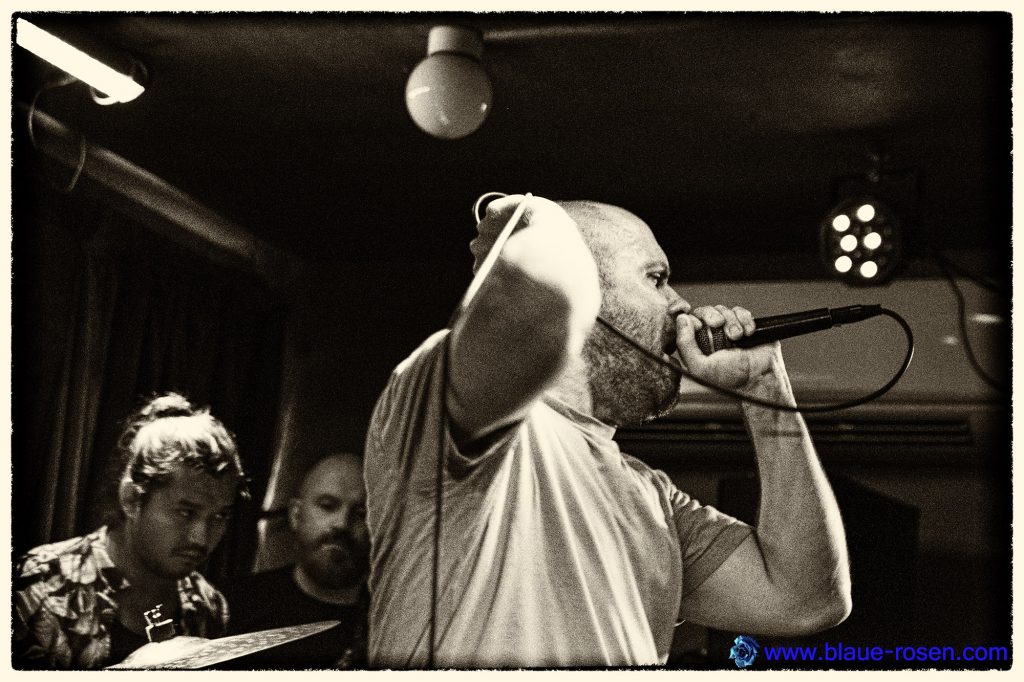 our soundtrack of 2016, even though we did not go into detail then about the reasons why. Inspired in their own wicked, heavy, psychedelic, noisy way, by Grace Jones as well as by sinister stories such as the notorious murder of Maria Marten, best known as the Red Barn murder, Sex Swing have consistently challenged both the sonic and the visual aesthetics of their audience.
Their sound during this gig was also hundreds of times noisier than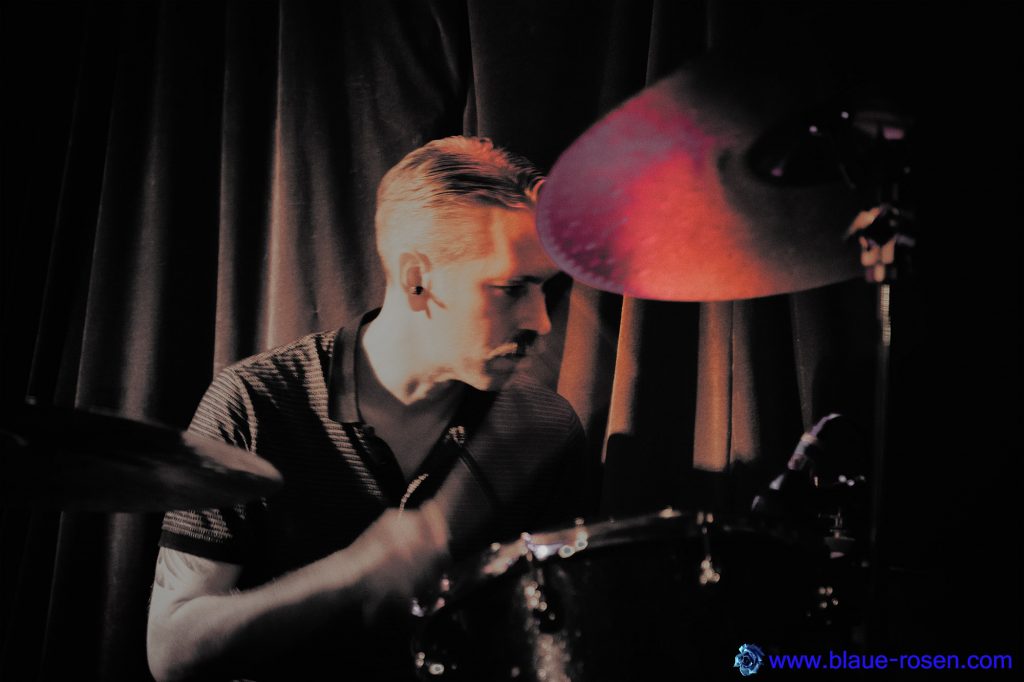 the recorded version of it and as a result, the lyrics could not be distinguished at the very front as well as at the back of the venue. However, this focused all of our attention on the body language and the pure energy that was coming out of every note and every verse. At the same time, it felt as if a challenging plot was being unfolded in front of us and because of us…each member of the audience transparently faced the dilemma of either 'caving in' to the noise and heaviness of the stage setting, or remaining and 'losing themselves' in it…Everybody stayed exactly where they were when the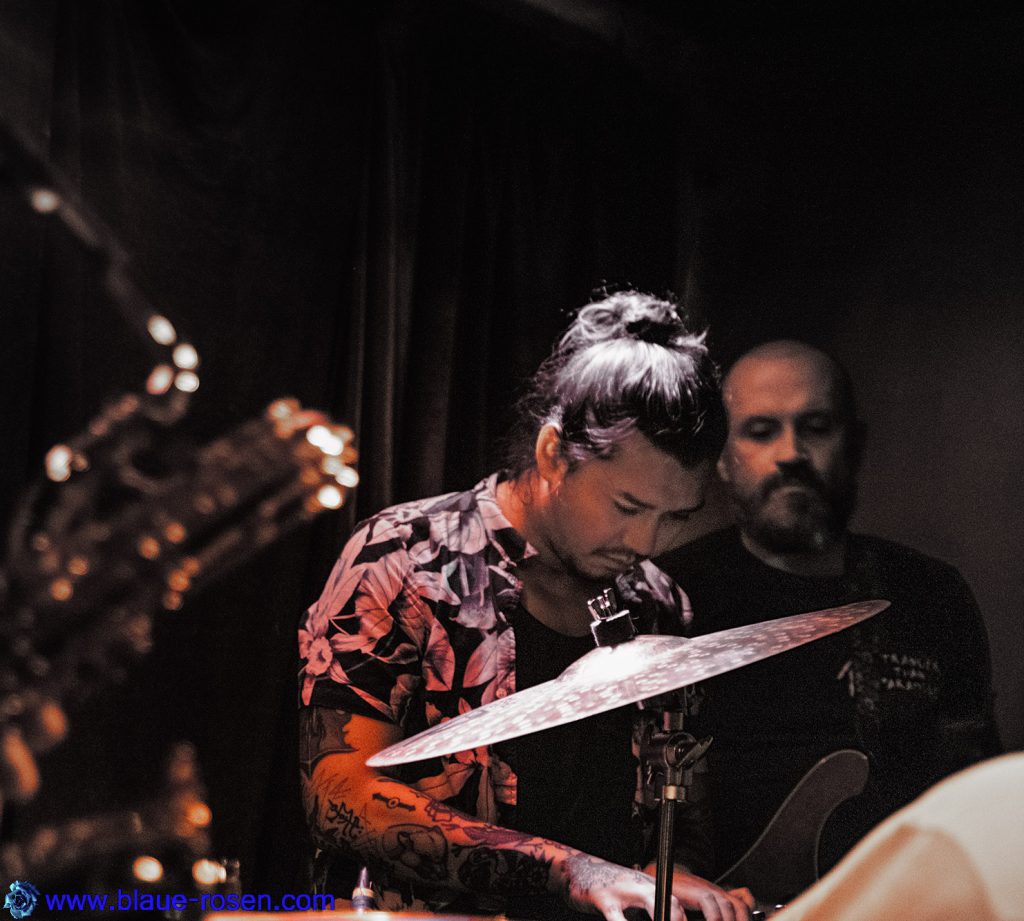 first note struck right at the centre of our collective nervous system! There were 6 musicians on stage, every single one of which, seemed to be entirely absorbed by their own 'universe'. At a certain point, it really seemed to me that there was an invisible bubble around each one of them, which somehow 'sustained' their energy and was 'fed' through it. This, almost sci-fi, image was completely at odds with the sound I was hearing and the energy of the band on stage but later on, it became obvious that it was a direct result of the numbing feeling that their heavy krautrock, noisy vortex had started to create in me. Psychedelia can have a different effect on each person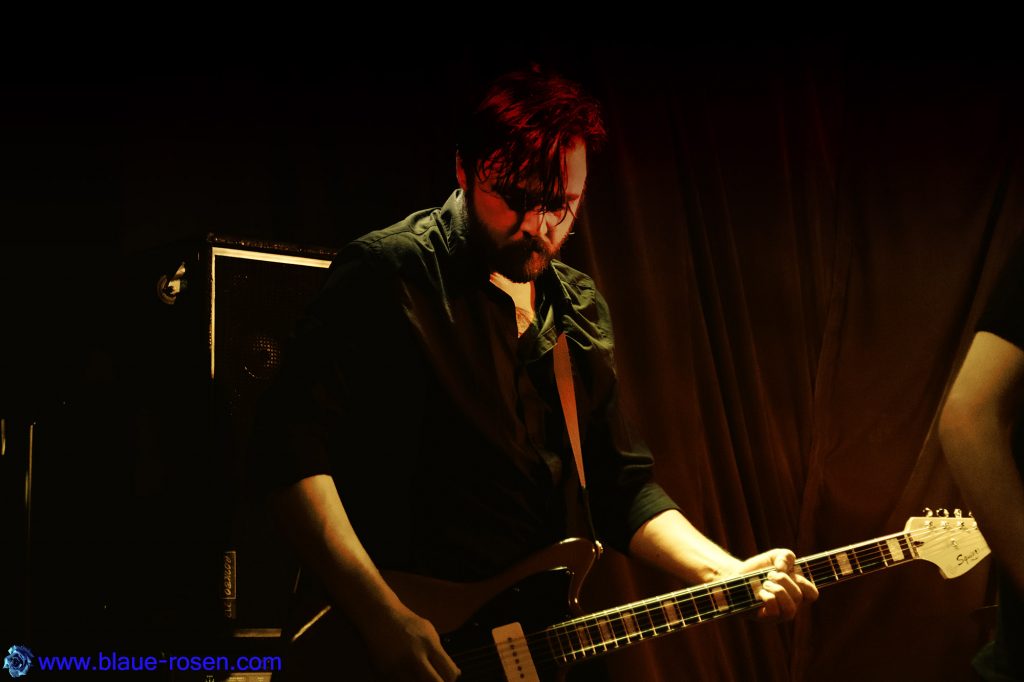 and as I looked around, some almost seemed as if they were 'hypnotized'. It is impossible for noise music, by definition, to cause hypnotic feelings or numbness to that degree and yet, this was the effect of the sound that was being created. Dan, as a conduit of this weird energy, was otherwise communicating feelings of anguish, almost desperation, through his distorted vocals and his expressions, while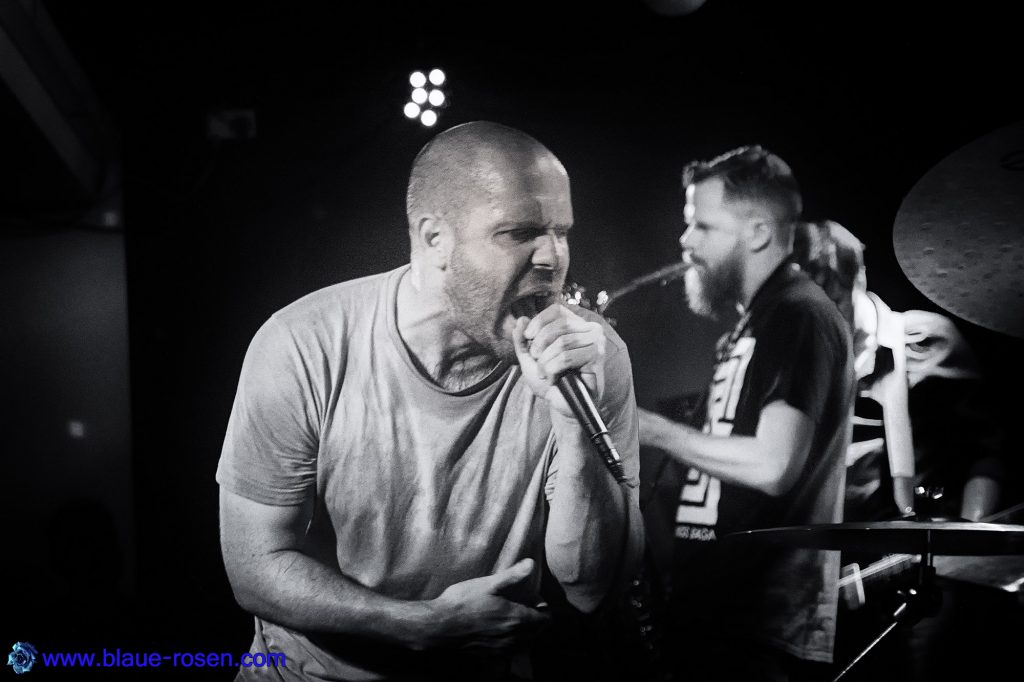 Colin's saxophone outbursts seemed to be the only way to release some of the tension every now and then. Jason was almost, 'not there', almost rendered invisible as he stayed at the darkest corner of the stage throughout the set, while Jodie was 'holding' the other end of the stage by intermittently communicating with Colin but mainly focusing on the dark aura that the guitar was producing and which complemented seamlessly Dan's agonizing vocal sounds. The atmosphere was nightmarish in its effect but hearing the saxophone and the keyboards, somehow felt as if watching light at the end of a tunnel; and I kept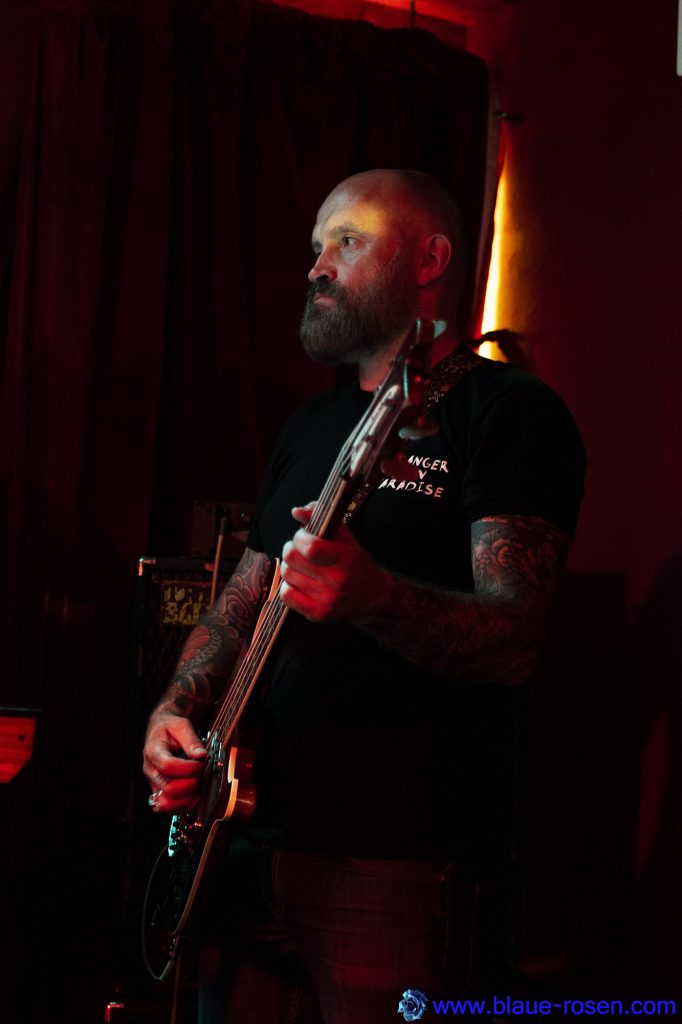 appreciating the way that this band of 6, have brought together and synthesized, the rich sonic wickedness of their careers in other projects such as Bonnacons of Doom, Dethscalator, Earth and ultimately have managed to create space for these instruments within an otherwise dystopic, noisy, 'low-lit' sonic labyrinth. Once the last sound was heard, it was difficult to bounce back to reality but then this idea came to me, that what had really happened was not that we entered a space but that we were asked to admire a weird object…this band had 'sculpted' away' an imaginative, roughly-texture mass, whose overall 'feel' and visual impact, could be rather compared to that of a monolith.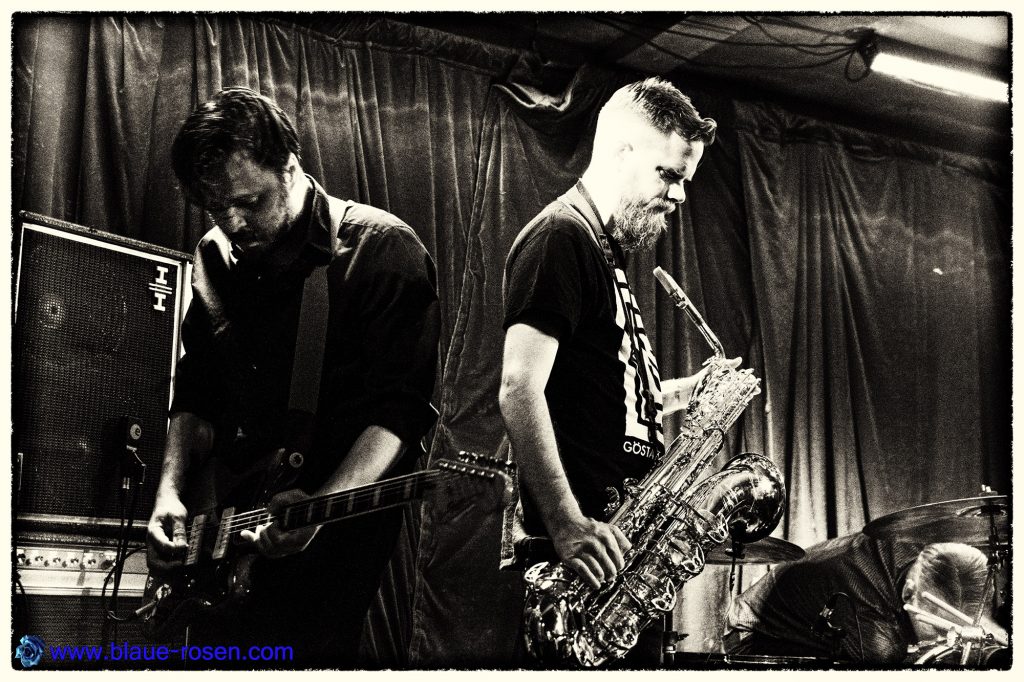 In conclusion, if you come across this line-up again do not think twice about going to their gig and if these bands decide to come your way, whether this is in a vintage clothing shop or in an underground bunker, just trust that you will be attending something, whose effect will last for at least two days, during which you might don't want to listen to any other sound…
Find more photos from this gig here.
Blaue Rosen