I have lived in London for almost a decade and I had never been to the basement of the Hope&Anchor for a gig. On the other hand, the frantic rate with which post punk/cold wave bands are being formed lately, means that only a handful get any attention and even less manage to create a distinct sound.
Personally, I have always found that cold wave music is a genre that is difficult to engage the audience in the same way other styles do. This is because it relies on the creation of a very specific, almost hypnotic atmosphere that references a certain set of feelings. For this reason, melody is ofter scarce and the vocals reflect a sort of aloofness which can be easily mistaken for passivity, blaseness or sheer indifference. For all these reasons, bands that choose this style need to be able to highlight the shades of grey that coldness encompasses and make them attractive enough so that their audiences are immersed in them and enveloped by them.
A most unusual sound check and its transition to the actual show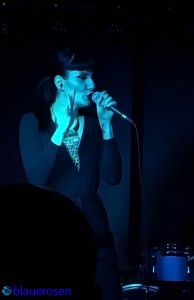 Winter Severity Index and Cold In Berlin are two new bands that I wanted to see perform live for quite some time. Taking into account that the post punk genre has a dedicated audience in London, this gig presented a unique opportunity to enjoy cold wave music and the gig was well attended overall. The ticket price for this event was very reasonable and the venue proved to be really accommodating in all aspects of this gig. Stage times had not been announced but the audience didn't quite expect a 90' delay after doors had opened. Everybody was in a good mood and the atmosphere was nice so this delay didn't seem to cause problems. Most of us walked into what seemed to be a heated argument between Winter Severity Index (who were on stage for their sound check) and the sound engineer. Being in the presence of their audience, I think that the band could have been in a better mood and the sound engineer not so verbal towards them.
Next on stage for the sound check was Black Nail Cabaret, a Budapest based dark synth pop duo by Emke (vocals) and Sophie (synthesizer) who have released their second album entitled 'Harry Me Marry Me Bury Me Bite Me' on May 2015 and the EP entitled 'Steril' on November 2015. The form of this band was not always the one we had the chance to see at the Hope&Anchor. At their beginning in 2010, the duo was accompanied by theatrical performers on stage and their music was more experimental than their latest album. The music of this band has become quite diverse, blending cleverly and creatively many elements, from Neue Deutsche Welle, to melodic synth pop, experimental minimalist melodies, EBM rhythms and cold wave vibe. You think that a sound check is just a repetition of the word 'test' followed by 'one, two'? Well, think again… Emke sang a capella a song which started as an improvisation and left everybody speechless. All conversations were brought to a halt as Emke's deep and bass voice enveloped everyone in an absolute way. Both Emke (vocals) and Sophie (synthesizer) were in a good mood on stage, engaging the audience while testing their sound. Even when some equipment didn't work as expected both musicians were really accommodating and as a result I was feeling welcomed and appreciated as their audience. This showed a rare level of professionalism. After a short break the band started their set. The androgynous look and the composed but strong stage appearance of the band initially reminded me of ADULT but this was about to change soon.  The band focused on their recent album and not so much on the atmospheric side of their music.The catchy rhythms on the synth were being completely tamed by the mezzo vocals. If these rhythms had been accompanied by different vocal style, this band would have been part of the 'realm' of house music.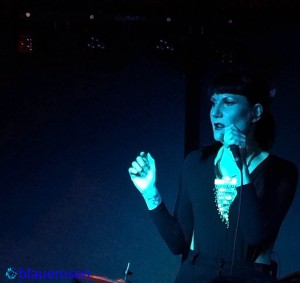 Every time EBM inspired rhythms and melodies attempted to dominate the atmosphere, the vocals gave another twist to the character of the song. Backing vocals were provided by Sophie and when a female bassist joined the band on stage, a richer dynamic of characters was presented to us which I think complemented the image of the band nicely. Let's not forget that the band has been touring with Covenant, De/Vision and Emke has collaborated with Daniel Myer (Haujobb, Architect) on Architect's 2013 album 'Mine'. The band has self released the album entitled 'The Covers' in 2015 which consists of cover versions of famous songs written by Rammstein and Martin Gore among others. The show was not accompanied by visuals and the band's costumes were in complete contrast with their past appearances. The theatricality of Emke though is far from lost and the snake-like movements coupled with a passionate performance of the lyrics left noone uninterested. We listened to (better than in the album) versions of 'Storm', 'The Critical Cult of Dora' among other songs from both the albums of the band for one hour and then Winter Severity Index came on stage.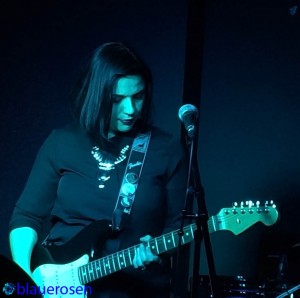 Suddenly the space felt smaller as more and more people rushed to the front, causing some frictions with others who had already found their places in the venue from the very beginning of this gig. Even though I like the music of Winter Severity Index, I found that their show somehow lacked energy and there was no communication with the audience throughout the set. Even though the songs of the band have dynamism, they were not performed this way. The band was pretty static on stage compared with the theatricality and the energy of Black Nail Cabaret. Taking into account that this band is newer than Black Nail Cabaret with only one album and less released EPs, it seemed that they should have opened for Black Nail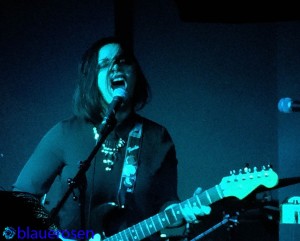 Cabaret and not the other way around. 'Severity' was performed more passionately than the rest of the songs in the set list but 'Bianca' one of my favorite songs (as is the name of a close friend of mine) and 'The Brightest Days' were not performed in all their dynamism.  Once the band finished their show, a big part of the audience left from the venue altogether. When Winter Severity Index finished it was too early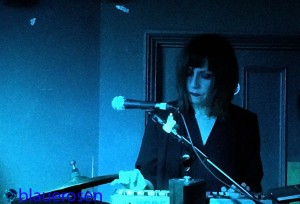 for people to worry about missing the last tube so this was no reason for so many people to miss the headliners of the evening, a London based band.
Winter Severity Index started as a four members' band in 2009 from Rome and as of 2012, is a duet band with Simona Ferrucci (vocals,guitar) and Alessandra Romeo (synth).The band released its debut album entitled 'Slanting Ray' in 2014 following the release of 2 EPs entitled  'Survival Rate' and 'Winter Severity Index' in 2013 and 2010 respectively.
Cold in Berlin or else music that invokes both psychic and natural spirits in more than one ways
I was familiar with the music of Cold in Berlin but I did not know what to expect in terms of their live performance.It has to be noted that the sound engineer was another person in this case .Their show could not have been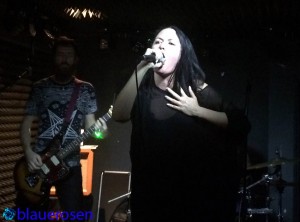 more engaging and could not have had more energy. The audience was completely enveloped as a result of an almost summoning ceremony that resulted from Maya's voice that was accompanied by strong movements and expressions. It was impressive to see the different way in which every person was immersed in the atmosphere that Cold in Berlin created, both sonically and visually. The show may not have been accompanied by visuals but Maya's gestures and strong gazes gave us all the visual stimuli that we needed in order to create our own worlds into which we would experience the show that was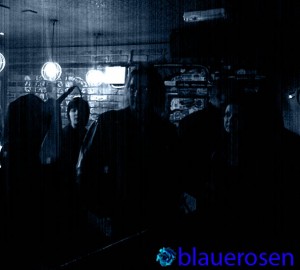 unfolding. Watching the video clips of this band you will be able to get an idea about the intensity of emotions and references to nature, to her darkness and to the strength of its forces, but you will definitely not get the whole picture of what this band is about if you don't see them perform live. Maya has a singing style that immediately brings to mind Siouxsie Sioux and Nina Hagen. This is a musician whose performing style is rich in theatricality which ultimately makes her resemble a heroine of an ancient greek tragedy. References of Wicca are more than evident both in the videos, the artwork and in Maya's movements on and off stage. The effect that this four members' band has on the audience is hard to describe but this effect gives additional qualities to their music. You might think that the heaviness that results from the noisy drums and distorted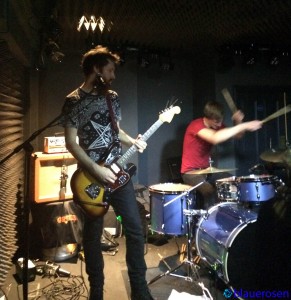 guitars might be helpful in the creation of an atmosphere but if it wasn't for Maya's captivating delivery of the songs, this band would have been something completely different and would have been lost in the big pool of heavy/metal/punk bands. The melodies at the electric guitar at times enhance the metallic texture of the sound and other times refer to black/doom metal music while the rhythms in the drums at times, make references to punk music. As a big fan of heavy music I would find this music attractive by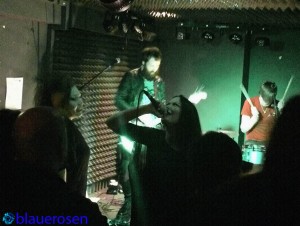 definition but it is in the experience of a different kind of performance, that one can really make out the differences between a band that rests comfortably back and lets distortion and technology do all the work for them and Cold in Berlin that release all their inner energy and heighten the heaviness of the music, giving to it extremely attractive proportions.  It was soon made evident, that Maya felt that the songs were better communicated when sang amidst the audience rather than on stage. Her unexpected positioning in the space established immediately a very personal communication with the audience. It was during her constant change of position and her dancing among and around us that all her vocal turns made more and more sense. It was at these moments that the constant alteration of rhythms and styles between heavy static sounds and noisy whirlpools, made more conceptual sense than one could ever imagine.  As the show unfolded it felt more and more as an intimate conversation between two people with shared experiences as Maya made eye contact with some of us and sang parts of the songs directly next to us, succeeding in making each one of us feel that the lyrics were addressed directly to us.Towards the end of the show the band also offered a revelatory metal/doom cover of the 60s song by Jefferson Airplane 'Don't You Want Somebody To Love' !
"…watch me as I bleed for you…" (lyrics from the song "The Bell")
I find it really exciting being part of the audience when musicians challenge the borders between audience and performer successfully, as the experience is unique and unforgettable and almost manages to defy the space and time and transfer everyone at the same time to another imaginary place…
Cold in Berlin released their third album entitled 'The Comfort of Loss and Dust' in 2015 an album that cleverly hovers over various music styles and this is what I have found fascinating in all the music of the band. Significantly heavier in atmosphere and with less references to punk music compared to their previous releases, this was the album that was mostly represented during this show at the Hope&Anchor. We listened to unbelievably strong and passionate performances of 'God I Love You', 'The Bell', 'Mysterious Spells' among other songs as Maya was constantly transforming herself to a being evading categorization, an organism between a mage, a musician, a character from a dramatic theatrical play, a true chameleon some would say.The band will make a UK tour during summer 2016. Please Cold in Berlin, do keep up this great music that you are composing! Congratulations!
Blaue Rosen