It was during the 'quietest' part of this summer that the 'loudest' event happened at an old tavern in Greenwich, The Trafalgar Tavern: John Lee Bird's exhibition 'One small step at a time' accompanied by live music from MADAM. The Trafalgar Tavern opened in 1837 and served as a home for seamen during WWI and as a working men's club between the wars. The gig by MADAM, was the second part of what seems to be an ongoing collaboration between John Lee Bird and other artists having as a starting point his exhibition of 365 portraits (one for each day of the year), entitled 'One small step at a time'. But let's take things from the beginning.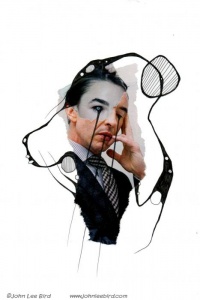 John Lee Bird is an artist that creates powerful images. He is mostly famous for his portraits of unique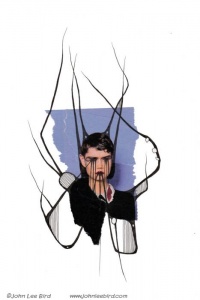 characters, artists, musicians, performers and friends. The power of his paintings is revealed in every stroke and every swirl of the lines that complete each picture. The images are depicting something specific but unlike 'traditional' portraiture John seems to 'intervene' in the representation and add more texture and dramatic emotions…Take a look at his work here: http://www.johnleebird.com/exhibitions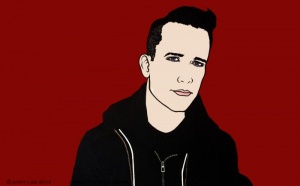 The exhibition entitled 'One small step at a time' was first presented in Mexico city earlier this year and was accompanied by live music, courtesy of Jamie Stewart from Xiu Xiu who created powerful soundscapes as a response to John's work. For the second part of this exhibition in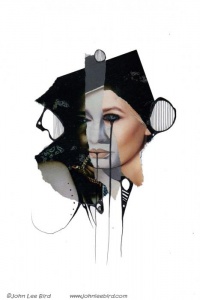 London MADAM offered a unique and emotionally sharp interpretation of John Lee Bird's work through music and a theatrically interpreted text.Verses that 'cut' like blades and abundant symbolism enveloped and definitely inspired the audience of this 3-part improvisation at the Trafalgar Tavern earlier this summer.
Blauerosen was delighted to talk to Sukie Smith, the vocalist and one of the five musicians of MADAM about this gig and present the videos from this unique performance. 
Hi Sukie,
Nice to talk to you again! What a beautiful performance that was at the Trafalgar Tavern?! Many congratulations.
Thank you very much. I was really glad that John asked us to do this because it changed everything in a good way. It just shoved art making forward for me. This is such a strange year and the performance was such a beautiful and immersive experience.
Blauerosen: John is famous for the portraits he has done of both emerging and well established artists and if I'm not mistaken, he has also created a portrait of you. Could you talk a little bit about how did the collaboration for his exhibition occur?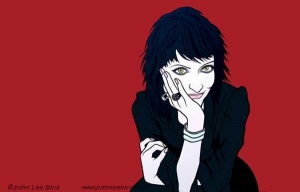 Yes, I am sitting in my living room now under this massive portrait of myself that John gave to me. I wanted someone to decorate my room and he did that, so I am living in a room painted by John Lee Bird, with a painting by John Lee Bird of myself it's all too much!
John naturally makes collaborations and events all the time I think because he paints with music all the time, he listens to my music quite a bit when he paints and we love each other's work so much. So when he got this opportunity to have a longer running exhibition, he asked us to do this performance. We were thinking that rather than having three similar straightforward gigs each night, we could do something different each night so this would be more of a response to the work. I could have written something different for each night but doing this on the spot each night, seemed to be a big brave and interesting thing to do. I've just come back from a tour with the two musicians that joined me on stage, Adam Franklin and Sarah Gill. We did 7 or 8 dates in Italy together and this just means that we trust each other on stage so we have a different way of playing together. Mishaps have happened on the tour so at one point we were playing and Adam suddenly looks at me 'saying' 'I really need the loo' halfway through the song, so I look him back like 'fuck you' and I knew what he was going to do so he just said that he left some equipment upstairs and left the stage, so Sarah and me had to carry on the gig. So we thought 'if we can do that we can improvise for half an hour'. It was really funny and he wasn't gone for very long and then he came back on stage and finished the song.
John had Jamie from Xiu Xiu who created soundscapes 36.5 minutes long as a response to the work in Mexico. The number 365 corresponds to the number of pictures that John had created and we did the same thing. We knew that each part would be roughly 13′ long so I started one piece, Sarah started the next one and Adam did another one and this is how it happened.
Blauerosen: Did you find it challenging to 'feel' and respond to the dynamics of ink drawings and their inherent meaning and express those through music? How do the lyrics relate to John's work?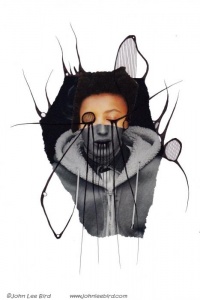 The continuous spider-y and scrawl-y way in which he draws and the generosity of lines in his paintings made me think that I could be quite garrulous and it wouldn't matter. Lyrically I thought more about the things he was experiencing rather than what he has really drawn so I knew that he'd put those pictures together because they were a kind of discipline for him. He kind of made a collage and then drew over it and he made collages of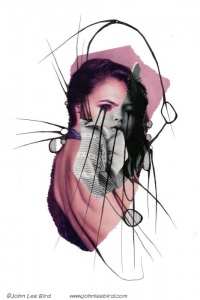 beautiful people because I think he knew he wasn't very beautiful inside, he was covered in 'bruises' and felt like shit because that person was 'damaging' him so much, so I think I was just celebrating this force that does not go under, so lyrically I guess I was acknowledging that and also making a sound of that.
Blauerosen: This work is quite different from MADAM's, both emotionally and in terms of style, but at the same time, one can say that the lyricism that characterizes MADAM's work is taking a new form. How did you experience this performance?
I felt like I stepped into what I should be doing properly. It felt really odd. I was very glad to do that. I don't know why but there is something distancing about song and a guitar, when I play those songs as MADAM and also because I really love the melody and the beauty that the songs have. Taking that away and understanding
the gravitas that John has made with his work, it seemed respectful to just be as strong as the work required as a response to it. That was really freeing because this was not about me expressing something necessarily about myself or my situation, it was a connection to his darkness. It was an entire immersion in some ways because you are not following a structure, no mistakes to be made, it was really satisfying doing that performance!
"…heart stopping
hearts strategy
in the armoury
ghosts of the  admirals
the ghosts of generals
ghosts of the spiders
ghosts of the hands that drew shaky lines
that drew their master back to his mind…"(lyrics from the first part of the performance)
Blauerosen: The performance reveals that you have treated this with more theatricality compared to MADAM's music. The way you personally, interacted and felt the lyrics was extremely powerful. What was the principal idea behind it?
Especially in the second part I felt there was a lot to say and the result was a stream of consciousness. With those things you don't realise that there's a rhyme so you start and suddenly you see a rhyme forming and that is a weird thing. I was also thinking about the 'ghosts' in the room as well because this was a really old tavern, so I was also thinking about decisions and strategies that have been made there, men of war, men of peace, it was extraordinary to be there, the resonance of this space is so strong that you could not be unaffected by it.
"…spiders and the ghosts of the masters hand
the masters hand…
draw the line
one small step at a time…" (lyrics from the first part of the performance)
Blauerosen: You have offered what seemed to be an emotionally very demanding performance. This was a very powerful and dramatic interpretation of a text. Towards the end of the second part you repeat the phrases "We know this war. We fight it". What does this refer to and what was the idea behind this part?
I knew what John had gone through to survive what was a really traumatic relationship that included violence as well. Also, earlier this year I
had an operation that went wrong and I was in hospital, in intensive care for quite a long time and it was terrible at the time and very frightening and dangerous but the brilliant thing is that you survive these things and this makes it worth having gone through them. So that part was the only one that I had half written before the performance because I was doing some writing with somebody else and he was asking me questions and I wrote down some things about the hospital and the experience I had. Then I didn't want to go any further forward with that particular writer. I was thinking that this was a kind of shared experience with John, this recovery from something extremely traumatic where you just take such a 'beating' one way or another either by someone's hand or from surgeons, so these words are about the fact that sometimes it is a struggle, we know what it is and it's all about survival.
"…the tick tick tick
of the machine
keeps me alive
insert
experiment
specimen
keep her alive
escape my mind
full of chemicals
war
fight
chaos
keep her alive
experiment…the colour of violence
we know this war
we know this war
we know this war
we fight it
we fight it
we fight it
we fight it…" (lyrics from the second part of the performance)
Blauerosen: For me the three parts read as: An omen, A lament and The Reaction. Did you treat all of them as one 'play' of sorts or were they completely separate parts?
That's so lovely! They are one thing but the way you said it, each part is a different 'movement' a different act. For the first part I was thinking about 'where we are' and 'who is in the room'. The atmosphere in the room was very powerful even though there weren't a lot of us there, maybe 40 people (artists, friends of artists, musicians) but we were all connected to each other because we were all friends of John and overall there was a weird coexistence of people I knew who were in the room that evening. I was also thinking about London, the Thames, the shore (The Trafalgar Tavern is in Greenwich where we could hear the waves) and about the 'bones' of the city and about what we have given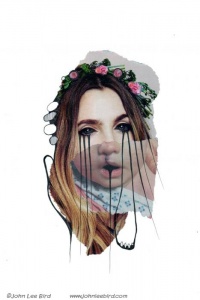 to this city. So in the first part I was just replacing where we are and sonically it sounds more gentle even though we didn't plan this. The second part had more emotion and it was definitely more about the will to survive and the decision to survive thinking that John had gone through that and also all these people. Lots of people in that room are in the middle parts of their lives and now all of them would have stared at the possibility of death so this part of the performance was about placing us and acknowledging us. The final part was more furious and very strong, an acknowledgement of where we were and what we haven't done and how strong we are and have to be to carry on and stay here and be momentous and extraordinary but not without trouble. It's a sort of celebration of the 'battle scars' that everybody carries. Especially looking at that room, I was looking around and there was the sister of a friend of mine who killed herself 10 years ago or maybe longer but oddly there was somebody there that I'm making music with now and his cousin is her best friend and we didn't know that… So this part was an acknowledgment of the fact that we are all connected we are in London and it's brave to stay living.
"…there's a storm in his face
I don't think you'll
get away with it…there's a fight brewing…we go forward
we rise
we rise
we remain
we go forward
one small step at a time…" (lyrics from the third part of the performance)
Blauerosen: What was John's reaction to the music? Was he there?
Yes he was there and he cried! I didn't tell him anything, I didn't tell him that I was going to reference the title of the exhibition and we just had a massive hug. It's a strange feeling when you are connected with someone. We don't see each for weeks on end but it's an alliance of love and respect that I have for him and I think he has for me and I am not even sure why! (laughs). I also liked the lineage of this as well, I was proud to be part of this exhibition. The first part of this performance was in Mexico and John was delighted to do that. This part was played before we went on stage.
Blauerosen: Could you talk a little bit about what we see in the videos that were projected during this performance and how they relate to overall concept?
These videos were not projected on us, this was a separate thing actually. I sent a footage to Adam Franklin in order to extract the audio from them and instead of that he said 'why don't I mix the audio together?. Then he found a super 8 footage of Vienna and mixed it together for these performances. Then my bass player saw them and didn't like how 'light' they were because their atmosphere is quite summer-y and orange-y so he edited them and made them more amber and darker and I think it looks beautiful because it is about an ancient city. It's interesting when you think about visuals for a performance and about creating an environment where people can be transported. I was reading about this guy that is doing these gigs in complete darkness.
Blauerosen: Will this performance happen again or was it a one off?
I actually just got a text from John about another gig in December, so I guess I am finding out now that we are going to do this again! I don't know what this is about. I think he has the ambition to take this exhibition to Los Angeles so if he can make that work we will definitely go with him.
Blauerosen: Thank you very much Sukie it was a pleasure learning more about this special performance and I hope that it will happen again in London soon!
Blaue Rosen 
MADAM will perform  at Servant Jazz Quarters on October 12, 2017 together with Thayer Sarrano. Get your tickets for this gig from here: http://www.wegottickets.com/event/413485