Release Date: 23 August 2019
1.Passing Through/2. Never Arriving/3. The Weather/4. End of Days/5. Great Disguise/6.Conversation/7. Where I Am/8. Hard Way/9. Watch And Learn/10. Maps/11. Setting Sun
Label: Attack Attack Records, Ear Music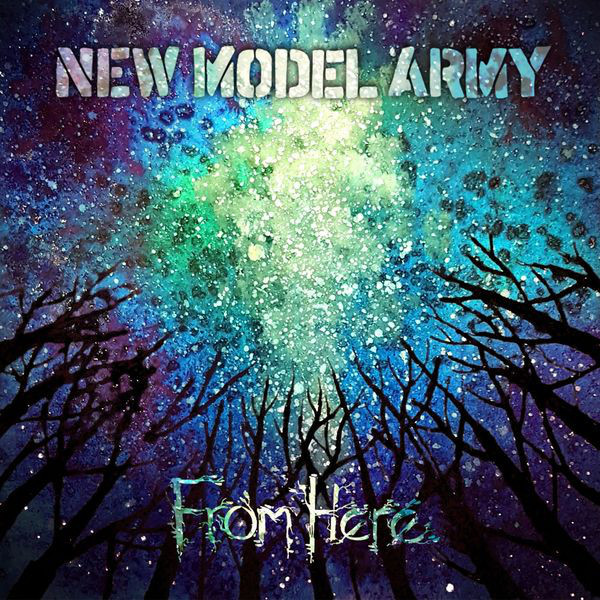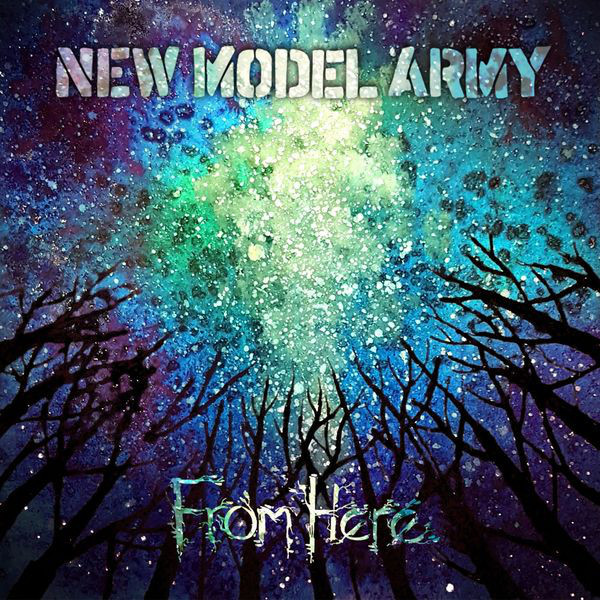 Here we all are, almost at the end of another year which seems to have passed as quickly as a couple of months.  New Model Army have had something of grave importance to share with us about the state of things around us and their own attitude towards them; and they did so in the best way they could possibly do it, with a new powerful album entitled 'From Here'.
Whether, like us, you were intrigued to build a phrase around this album's title or not, you must agree that it conceptually represents a sort of an ethical standpoint. Just imagine how these two words of the title would change if there was an exclamation mark at the end, a question mark, or if even if there was an ellipsis after them…What would precede these words if they came at the end of a sentence and what would this sentence talk about?
At a time where an egotistical 'I' thrives in the developed part of the world, New Model Army still promote and worship a collective 'we'.
New Model Army's new album 'From Here' has brought with it, a fascination with and inspiration by nature, a poetic, existential, introverted sincerity and political comments 'dressed' with metaphors and 'bone-breaking' humour. This album was written amidst the Brexit chaos and it finds the band at a place where things have to be shouted directly towards the faces of people. It is an album experienced as lifting an imaginary fist, not in an uninformed, 'spur of the moment', 'naïve' way, but in a way that has absorbed the consequences of past mistakes. 'From Here' comes three years after 'Winter', was written in two months and recorded in nine days at a studio in Giske, Norway. It brings within its rhythms and atmosphere, something from the grandeur one encounters in places where nature and its phenomena are fiercer. Through the lyrics, the band's long-term and enhanced, fascination for nature's powers and nature's poetry is being filtered in a myriad of ways. This is another conceptually dense album, where each song is using metaphors to talk about many subjects: technological advances that facilitate conflicts and death while they devalue human contact, nature's phenomena that are compared with the chaotic behaviour that characterizes human relationships these days (at least in the developed world), the legacy and consequences of past historical events, the burden of practiced religion and so many more. That heavy sound, the tribal elements in the rhythms and Justin's assertive vocals summing it all up and provoking our minds with so many ideas for almost an hour, create an atmosphere that is as empowering as it is inspiring!
"Some set sail to conquer, some set sail to discover, Some set sail with an army of angry crusaders, We set sail with a ship of fools, We smile into the weather… North for South and East for West, long lost brother, I know how this ends"(Lyrics: 'Maps')
It all starts by creating a sound that has consistency as a whole, makes sense in terms of form and arrangement, 'tells a story', is relevant to the lyrics and carries through a tone from beginning to end. If one does not work under the spirit of a collective 'we', one cannot achieve this result. But apart from that, New Model Army are relevant to us, not only to people who are familiar with their music since their very first album, but also to those that are now living within or even promote (willingly or not) all the absurdity that is going on around us. This album is addressed to all of us and seems to have a purpose, to strengthen our resistance to things that change the world, both materially and organically and to do it with motivating rhythms and a sound with rich influences. If one wanted to see how the world has changed since the middle of the 80s, one could start by listening to New Model Army's albums and find in there, references to everything, the migrant crisis and its toll on human lives, the attack of September 11th in America, the story of Archway towers in the 60s (and through it, the story of many other similar towers in this country and the world in general), the Arab Spring and many many more very significant moments in our lives.
Their albums have always been an outlet for them and a way for us to share with them all this boiling energy that is being created by all the things that seem to be 'out of our control' but also 'of our own making'; and we do that in their live shows and each time we listen to one of their albums through our headphones. Their albums and especially this one, are always a 'wake-up' call both for themselves and for all of us, their audience. Their tone is always critical and has both an introverted and an extroverted aspect. While their lyrics are addressed to 'us' they are not afraid to turn these words back at themselves, in fact they are inspiring us to have one of these existential 'fights' ourselves…with every album and every song. Do we listen? I think we do, as we get to their gigs, every time having gone through a bigger or smaller transformation.
"And all the sins and all the lies, that hide behind the great disguise… When everyone's so sensitive it's easy?to?be tougher than?the rest…Disappointment kills us every time" (lyrics: 'Great Disguise')
In terms of its subjects, this album includes references to the misplaced optimism of Brexit and the false promises its support has been bringing along. It also talks openly about the absurd pressures of the 'P.C. culture' where everything has become potentially offensive to everyone, everywhere, to the point of madness. By talking about one's struggles with oneself, this album also deals with the subject of an identity crisis which is something of a 'must have' these days in order to be considered relevant and 'well informed'. Even though, I almost belong to a different generation from some members of New Model Army, I could not relate more with the frustration expressed about these subjects through these lyrics. The beginning of this album, where for the first four songs, the music is kept at the background, bringing forward the vocals, enhances the effect of the lyrics and reveal their tone; a tone of 'fighting back', a tone that places someone at the front seat of his/her own destiny and life, a tone that is all about not conforming to 'trends' whether these concern the collective psychology or the collective view about certain things…
As far as the sound of this album is concerned, I was fascinated by the discreet yet noticeable appearance of the cello at the end of 'The Weather' (courtesy of Tobias Unterberg) and throughout 'Maps', the depth that the backing vocals add to 'The Weather', the distorted notes at the beginning of 'Never Arriving' and the way the melody takes over at the second half of this song creating the feeling that the song has started again under a different guise, the melodies halfway through 'End of Days' and how they give way to noisy, heavy drums and rhythms, the 'No Rest' feel of 'Where I Am', the unexpectedly eerie beginning and ending of 'Great Disguise', the 'moaning' sounds of the guitars throughout this song, the bluegrass feel of 'Hard Way', the waltzing rhythm of 'Maps' and how it relates with the song's lyrics, the disquieting melodies of 'Setting Sun' and how peculiarly calming they manage to become…
Jamie Lockhart and Lee Smith are behind the production of this album as they did in 'Winter', and this only means that the 'warm' sound with its great volume and depth that we enjoyed in 'Winter', characterizes 'From Here' as well. The sound now, however, has different characteristics as it is more raw in terms of its emotional weight and in terms of its sonic heaviness, compared to 'Winter'. It is a less melodic album, where melody is playing an attractive 'hide and seek' game and manages to animate the songs in a less evident but fascinating way. This, also bodes well stylistically, with all the metaphors that are being used in the lyrics. These metaphors on the other hand, are the best way to talk about 'sensitive', subjects, that the culture of 'fear' and 'offensiveness' that has spread around this part of the world recently, has cultivated…There was poetry in 'Winter' but between then and now, things have become harsher in this island, so New Model Army HAD to respond with a harsher sound. If we had to find an analogy between 'From Here' and the band's past releases, then 'The Ghost of Cain' and 'Thunder and Consolation' can be considered to be its predecessors.
"Until they become conscious they will never rebel, and until after they have rebelled they cannot become conscious…"  (George Orwell, 1984)
All this of course matters until the album reaches its zenith, in my opinion with 'Watch And Learn', a song that almost made me want to open the windows, increase the sound level to the maximum and turn the speakers so that everyone in my neighbourhood would listen! It almost made me want to do this every day…until I didn't. What a song! It is definitely one of the best songs of this year so far, employing metaphor, in order to speak about uninformed, almost empirical mimesis: in behaviour, even in the mindset, which is fostered by a 'hunger' to be always 'trendy', always 'driving' and creating  'things' even if they go the wrong way…Each verse, each word, each note, is an attack on the way individual thinking, individual development is being suppressed in one way or another through more sophisticated mechanisms, than before…but the song finds a silver lining, in the children of today, the new generation, their ability to observe and their potential to question and overturn everything. Thank you dear NMA for writing this song, I hope that everyone understands its meaning to the fullest…especially that of the cynical laugh at the end of the song.
"Monkey thinks, so monkey thinks he knows
So monkey reaps what monkey sows
They took your hand and let it go…"(lyrics: 'Watch And Learn')
The album ends gloriously with the title song 'From Here', a song-ode to the delusional elements  of misplaced self-identification and identity crisis, two conditions that have become so disproportionately popular,  that seem to want to cover every aspect of our lives these days. This song, deals with all the evils brought about by false criteria, false idols and false ideas which have formed our perception of things, the way we see ourselves and the way we place ourselves around them. If 'Watch And Learn' will ever make you want to broadcast this song as far as possible, then 'From Here' must, certainly, work as a wake-up call for your own mind, whether you have fallen in the 'trap' of the 'victim-culture' and the 'identity crisis' or just watched 'from afar' others getting in the trap of trying to change even the positive things we have in our everyday lives.
We have enjoyed listening to this album as much as we have enjoyed watching it take its place, next to all the other sonic chapters that New Model Army have written throughout the years and we cannot wait to loudly sing with them our favourite songs. The London date of the band's Autumn tour is November 14th at The Electric Ballroom and whether the band will include the song 'From Here' in their setlist or not, we will be singing its lyrics all the way to their gig and all the way back from it…
"Trouble always begins, With the naming of things, Like gods and desires, And lines in the sand… So let's all go home now, Look ourselves in the mirror, Throw our heads back and laugh…" (Lyrics: 'From Here')
This album also opens our monthly playlist for August 2019 and you can listen to it here.
8/10
Blaue Rosen