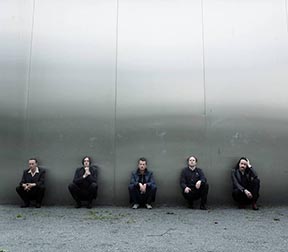 Seven years have passed since the release of their last studio album called 'The Jewels' and one year from the release of the 12" called 'Interpretations' with Perc a.k.a Alistair Wells. Einstürzende Neubauten is the band which, since 1980, embodies the essence of musical experimentation in such a way that each note that comes out from their custom built musical instruments, seems to make some sort of personal, emotional and ideological statement on the altar of experimentation. The band's members have been far from idle in the meantime with Blixa Bargeld releasing outstanding EPs (' Still Smiling', 'Spring') together with Teho Teardo. Alexander Hacke is being involved with The Crime and The City Solutions ('American Twilight' was released in 2013) and The Ministry of Wolves (debut album called 'Music From Republik Der Wölfe' was released in 2014) and has released the 12" called 'C'Est Si Bon' with Iris Berben in 2014. Jochen Arbeit has been releasing solo albums and in 2014 the album called 'Propulsion' was self released together with Scanner a.k.a Robin Rimbaud. Finally Rudi Moser released two solo albums and the last one called 'Piano Arpeggio' was a limited release available through the online shop of  Einstürzende Neubauten.
The World War I, an otherwise horrific and deadly conflict in the History of humankind, triggered the music demon of Einstürzende Neubauten, who created an album designed to be performed live so that it can have the strongest impact on the audience. Guided by the unique creative spirit of Neubauten and taking into account archive material, 'Lament' with its 14 songs, metamorphoses the imprint that WWI has left behind. Never before has, this bloody and horrific four year snapshot of History, inspired a band in such a way so that they also created custom made instruments, in order to capture the complexity of it.
'Lament' will be officially released on November 7 2014 and Einstürzende Neubauten will perform it live at Koko in London on November 19. Tickets for this gig can be purchased by following this link: http://www.seetickets.com/event/einsturzende-neubauten/koko/789150
Below is the official press release from the band as it can be found in their official webpage:http://www.neubauten.org/
LAMENT: the album
The album version of LAMENT should be heard as a studio reconstruction of a work primarily designed to be performed live, rather than an official new Einstürzende Neubauten LP proper.
In truth, the piece can only be fully realised, as well as best experienced, in its physical embodiment, performed on or by founding member Andrew Unruh's gigantic instruments and noise generating devices that visually evoke the horrors the work describes or embeds in the sounds they conjure from the filth and terror of the industrialised 20th century world at war with itself.
But in fulfilling what at first appears to be a surprise commission for such a formidable longtime outsider group, Einstürzende Neubauten transformed the earthy, idiosyncratic contents they mined from academic, state, music hall and internet archives with the help of their two researchers into a richly complex cycle of original and cover songs and performance pieces.
The music often originated in LAMENT's storytelling needs, be it in terms of sounds used or compositions structured along First World War flow charts or scored from calendars of the involvement of the 20 plus countries embroiled in it. The way LAMENT plays off pre-existing and composed materials, pieces clipped together from historical records next to direct cover interpretations, or indeed their Frankenstein like construction of an ur-anthem/national hymn delivers a differently angled history of the war.
Finally, LAMENT opens Bargeld's case that the First World War never ended – the interwar and postwar periods being essentially pauses for breath as the great military powers carry on their conflict at some remove in faraway wars fought by proxy.