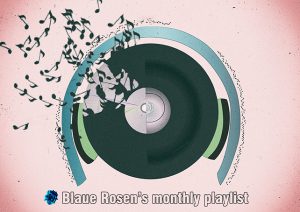 It is always the melancholic, the eerie and the mysterious elements in music that tell the most interesting stories. We embrace Autumn and the coming Winter with a soundtrack for a dance bizarre of ghosts – real or imaginary – and creatures of the night. This month, our favourite independent music releases covered the punk, IDM, ethereal, neoclassical, downtempo and rock dimensions of the sonic spectrum. We particularly salute the beautiful come back of The Cult with a release of their new album entitled 'Under The Midnight Sun' as well as the new offering by Nox Arcana – 'Darkfall', like clockwork in time for the celebration of Samhain.
Special mention is due to the punk bands that offered us dynamic and vengeful albums with different takes on the human condition, just as punk music should be. These are no others than 'The Rest Is Distraction' by Girls In Synthesis, the incredible debut album by Crisis Man entitled 'Asleep In America', and the new single of BAD WAITRESS entitled 'Racket Simulator'.
Our listening experience of Black Lips' new album entitled 'Apocalypse Love' was particularly rewarding as we observed the skilful integration of free jazz and even funky elements in the otherwise rock and folk dominated mix. This was well paired with our pleasant surprise for the addition of saxophone in the metal rock dominated album by Ritual Dictates, entitled 'No Great Loss'.
We would also like to draw your attention to the new single by Fleurejak, a particularly dark/melancholic track that 'teases' us for their upcoming album and is a very cinematic coldwave song, performed with theatricality and a poetic attitude.
We hope you enjoy listening to this playlist as much as we did preparing it. Support your favourite bands!
Blaue Rosen