""As long as music is loud enough, we won't hear the world falling apart"– ('Jubilee' Derek Jarman)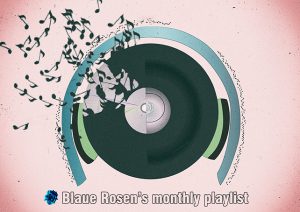 January is typically a 'quiet' month in terms of gigs but very rich in its sonic output in terms of album releases. As a new decade has started and the world has not ended (sic) our favourite releases from this month are tracing a sonic path that took us from lyrical gothic to blues and from heavy psychedelia and industrial syncopation to dreamy and eerie soundscapes.
Marc Almond's new album has been inspired by a visit to LA and a concept encountered in Nietzsche's 'Also Sprach Zaratustra'. Its title 'Chaos And A Dancing Star' is a reference to the sentence "One must still have chaos in oneself to be able to give birth to a dancing star…" found in Nietzsche's work. The subject matter of the songs takes us through dramatic love stories, existential wanderings, and otherworldly places, while Marc Almond seamlessly and slowly transforms himself through the 13 songs of the album, into a blue-eyed crow, with unobstructed aloofness and a joy that has absorbed all the sadness that surrounds the human existence. There are some to-die-for guitar solos nodding to Pink Floyd ones courtesy of Neal X, coupled with beautiful backing vocals, nicely distributed throughout the album as the piano is the absolute protagonist of the sound of this album. Marc Almond's calming/lamenting/passionate vocals might have a sensuality and calmness that, in this case, nod to blues and jazz but their energy and aura is undeniably pop.
'… we are dust, just lonely little satellites…we are nothing in the scheme of things…' (lyrics: 'Dust')
Marc has collaborated with Ian Anderson of Jethro Tull in this album and this collaboration is at the heart of the sonic character of this album, not only because Ian's signature flute sound but also because the trip to LA for the recording of this song ('Lord Of Misrule') has inspired three other songs of this album 'Giallo', 'Hollywood Forever' and 'Chevrolet Corvette Stingray'. If by the time you reach 'Cherry Tree' you have already found yourselves in a tragicomic euphoria, then you might think that this song nods to something familiar…Marc has said that this song was written having Kate Bush in mind. Each new album is one more glimpse into Marc Almond's soul and this one is no exception. Embracing darkness in a more lyrical way compared to 'The Velvet Trail' but without betraying the pop energy that traverses his music personality, Marc has offered one more sonic gem to us. We only need to offer our time to it so that it can fully unveil its magic.
We equally loved the new album by Algiers, intriguingly entitled 'There Is No Year'. Full with references to neo-colonialism and oppression, this album too, is a sonic call for resistance. We will be talking more about this album in another article but for now, suffice it to say that this album feels a bit more 'pop' than 'The Underside of Power'. Spoken-word, a vindicating tone in the vocals and rhythms that at times lightly 'dress up' the vocals so as to give them all the space they need to express their power and at other times they reveal their darker, darkwave, post-punk and punk characteristics.
"Run around, run away from your America
While it burns in the streets…"(lyrics: 'Dispossession')

There were impressive debut releases during January and one of them was entitled 'Tell Your Friends' by a band named Michael, even though nobody in it is called Michael. This album was released through Evil Blizzard's label Crankedankles and is heavily psychedelic with a sci-fi cinematic mystery vibe. I cannot hide the fact that at times the music brought to my mind the original theme of Doctor Who and made me wonder how would it change if Frank Zappa and Ozzy Osbourne had added vocals to it. I will borrow the title of the album and actually tell you to talk to your friends about it and prepare them for the sonic whirlpool in which they will be placed from the combined effect of the throbbing rhythms with the angry, motivational vocals. Drums, low and distorted guitar notes are 'working' in tandem with reverberating vocals and will guide you into a frantic sonic environment where your only choice will be to jump up and down to the rhythms and shout the vocals.
The debut album by Chubby and The Gang which is entitled 'Speed Kills', begins with an extract from a speech that seems to be from a church and is about 'juvenile delinquency' as a result of rhythm! Oh well, be prepared to reach your delinquent side with this angry punk album that nods to the Beastie Boys and The Clash. With a cover that harks back to the aesthetics of Donald Duck and Lucky Luke, this is the kind of music that transforms a venue into a swirling undefined maze of jumping bodies…Enjoy it!
Normally, we would never consider listening to anything that has a title like Red Entries' new EP, i.e 'Hot Piss'. However, because the cover of this EP is 'telling a different story' we decided to listen to it with an open mind and we were rewarded. 'Standing' on the thin line between heavy garage and punk, this EP, has a sound that seems to be replicating the rotation of heavy machinery. The electric guitars, at times, charge it with a dangerous sonic current and at other times lift it up on an electrifying, vibrating sonic 'thread' and enjoy the view of it as it finds itself ready to collapse under its own weight. The subjects of the lyrics, have to do with political and personal and personal betrayal as well as existential agony and the energy of the music could not have been more relevant to these subjects.
The best gothic rock album that we listened to during this month, was Sonsombre's 'One Thousand Graves'. Gothic rock is a genre that is not very well represented these days despite the fact that there actually is a young generation of musicians that carry on the tradition by creating beautiful albums. Sonsombre is one of these bands and they have been inspired by the sound of Sisters of Mercy and Mission. In their second album, gothic aesthetics traverse every detail from the album's cover with the circling crows to the sound of the organ in 'Slumber ' and 'Highgate'. This album should find its place in DJs' setlist and once it does, you will find yourself dancing to its addictive songs and then putting them on your daily playlists.
Seemingly inspired by the sound of Joy Division, the new EP by Byronic Sex&Exile, entitled 'Crimes of Passion' is balancing between melodic folk and gloomy post-punk. The electric guitar and its solos that come forward at each track is the absolute protagonist of the instruments that we hear in this album and its best moment is its interaction with the piano in 'Fausthaus'. This band with the puzzling name will not only make you dance to their songs but also make you re-read 'Faust' or one of Lord Byron's novels or poems…
The coldwave side of this monthly playlist is represented by the releases of Un Hombre Solo and Vestron Vulture. While the latter infuses the rhythms and melancholic vocals with synthpop elements and melodic riffs in their new album entitled 'The Great Northern Trendkill', the sound of 'Aferrado', the new EP by Un Hombre Solo, has strong industrial textures carried through, repetitive mechanistic sounds, motivating rhythms and vocals and attractive percussion.
The debut album by Altar of Eris entitled 'The Table of Discord' is a deathrock album as far as the aesthetics of the vocals are concerned, a dark cryptic, almost gothic album in terms of its visuals and a post-punk album as far as its rhythms are concerned. To us, this album feels as a summon to the sonic spirit of Rozz Williams. Listen to it and allow it to numb all of your senses.
'Black Aura My Sun' is the dreamy, debut album of Deserta. Even though the vocals seem to be there to enhance the flow of the rhythms and facilitate our entrance into a state of emotional suspension, even though they retain their ethereality as far as their dynamics are concerned, they are the magic dust that makes this album something of a sonic magnet. Clear your schedule and listen to this album carelessly…
Speaking about atmospheric albums, we could not leave out of our soundtrack of the month, the new offering by Glaring, entitled 'Nothingness'.  Glaring, a.k.a Anna Nin has been composing new music relentlessly and tirelessly and with each new album, she manages to go deeper into her subconscious and find inspiration what haunts it and sets it off balance. There are moments where all you want to do is 'throw' everything away and just find out how your body will respond to the rhythms and the beats and other times that the ethereal vocals will almost 'imprison' you in idleness…
'see you tomorrow' the new album by The Innocence Mission, might be miles away from the conceptual darkness that runs through the album of Glaring, but it has a sweet melancholy, that manages to reverse its emotional 'colors' and actually inspire instead of making us feel nostalgic about something. Karen's vocals are truly otherworldly, evoking feelings of both eeriness and calmness. Songs about nature and paintings, songs about everyday thoughts regarding one's life and one's friends are dressed in lyricism, ethereality, and elegance. This truly is a remarkable album in its overall effect.
A monthly playlist cannot be considered complete, without some electronic sonic madness in it. Thankfully, Vulta and Metalogue provided all the rhythmic stimuli that we needed in order to get through the first month of the new decade. 'Swarm', Vulta's new album, is both cinematic and post apocalyptic in its aesthetics, and for these reasons it made our minds 'travel' outside the limits of this planet. Synth based, disorientating noise that feels like analogue computers gone mad. Who would think that this is a good idea to put into an album? Vulta did and the result is mind-blowing! Whatever your mood will be prior to listening to this album, be prepared for it to change in many, unpredictable ways, trying to reach psychedelic euphoria. We loved this album because we found that it psychedelizes 80s pop sound and electronic music in more fascinating ways than psychedelic trance music does. There is even one track that sounds as the trance version of 'What A Feeling' and the 'worrying' thing is that if it was, we would find it perfectly normal in the context of the album.
Metalogue, has created his most mature album to date. 'Anomaly' is an album that offers a rich IDM, sometimes linear, sometimes non-linear, rhythmic experience. Metalogue has mastered the art in any case, so we trust him to guide us into something like this… This album features Fluff and Eye Spirit and achieves an osmosis of all its different elements. It is a cinematic album, Metalogue's most atmospheric album to date. We will talk more about it in any case, but for the time being, enjoy it…dance to it and allow it to carry you through…
Whether you will pick this playlist as your soundtrack for the end of the world or not, we hope that you will enjoy its sonic complexity as much as we enjoyed preparing it!
Blaue Rosen