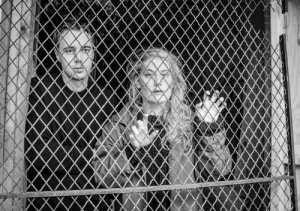 A few days before the end of this musically beautiful year and following their sold out show in London that was one of the most memorable live performances of 2017, Boy Harsher took the time to join us in an interview. The live at The Shacklewell Arms was a unique opportunity to see this band perform live for the first time in London even though the experience was challenging both for the audience and the band for different reasons. We can only hope that there will be another gig in London in a bigger venue more suitable to accommodate the growing audience of Boy Harsher.
In the interview that follows, Jae and Gus talk about their recent EP 'Country Girl', their tour in support of this release, their experience from London, a gig that played an important role in the development of their shows and their philosophy. Boy Harsher will be joining The Soft Moon in their US tour later in 2018!
Blauerosen:Hi guys, thank you for joining me for this interview. How has the tour been so far? I know that your show in London was quite challenging but did we show you how much we love your music during the show?
 Jae:  Writing now at the end of everything and sitting at home with our pup. The tour was beyond any expectation I could have ever had – it was so wild! The show in London was challenging for me, as I had food poisoning and was puking up poweraid consistently throughout the night. But proud to say that I made it through the whole set without collapsing or vomiting or worse. The crowd was amazing. A sweet new friend Ali brought me ginger tea made by their mom and basically saved my life.
Blauerosen:What was evident from this show is that you communicate with each other on stage in a very intense way. It is creating the impression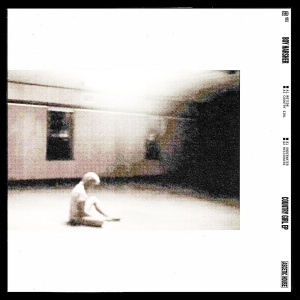 that the audience is invited to see a musical conversation between you two and not a gig in the traditional sense where the focus is on the audience. Of course there was communication with the audience but actually it was what was communicated between you two that was more important. I really liked that. Jae's beginning with this very emotional breathing actually put me in a completely different state and prepared me for the show that followed in a profound way.
Jae: It's important to start slow and build. The breathing helps me too – like black out.  Sometimes you just gotta drown out the world around you. And yea, Gus and I rely on one another quite a bit to share performance and figure out where to go.
Gus: Our best shows are the ones where we're synced up. There's a lot of chaos in our live performance we need to work together to tame it a bit.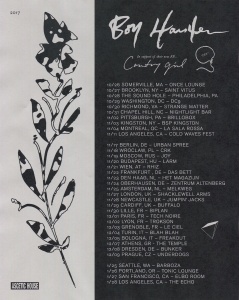 Blauerosen: What could you share with us about your aesthetic references when it comes to a performance?
 Jae: I always talk about this one time we performed in this manufactured garage / hanger thing in the middle of nowhere, outside of Sante Fe.  Not a lot of people were there, but they let us blast the place with fog and turn of the lights. It was scary as hell. You could not see anything but the lights on the gear and my flashlight. But you could sense people around just grooving. I think I am trying to recreate that.
Gus: Exactly, we prefer DIY/ warehouse spaces over conventional clubs. We want the performance to informal and also anonymous. There's something about playing in basement of an unmarked warehouse in a weird part of town I'm inspired by. It's hard to explain…
Blauerosen: M!R!M opened your show last night. Were you familiar with their work? What do you think about their music?
Jae: Not familiar, no.  They were great. Also from the same small town as our sound technician, so he finally could speak to Italian to someone.
Blauerosen:Boy Harsher appeared in the music scene as a band in 2014 with the EP entitled 'Lesser Man' but you also had another project together named Teen Dreamz. Does this project still exist? Can you talk to us a little bit about this? How did you make the decision to create Boy Harsher? And is the audience of Teen Dreamz the same with that of Boy Harsher?
Jae: Teen Dreamz does not exist and it was never really meant to exist. It was a name for a thing that we were doing, to see if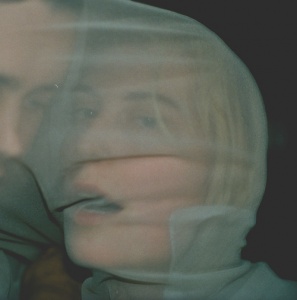 we could do something together. It was "jamming" or something, but I was just reading my poetry. I had never held a microphone before I think.  Boy Harsher is the advanced version of this.
Blauerosen:The song that became a hit from your first EP was 'Pain'. If you had to write a story for this song as Teen Dreamz, what kind of story would that be?
 Jae: Eh.. haha.  We wrote this song while we were in the middle of a shit breakup.  So we had a lot of angry and spite towards one another. We were fucking around the whole time. So, I guess "Pain" came out of some extreme angst.
Blauerosen:The EP 'Country Girl' came out a few weeks ago and the sound has more industrial elements combined with more pop rhythms, especially in the song 'Westerners'. It certainly feels 'lighter' in mood than your other releases and of different style taking into account its title, the song titles and the aesthetics of the visuals which are less emotionally 'heavy' in a sense. So what inspired you to tell the story of a Country Girl?
Gus: We've been having more fun with songs. Yr Body is Nothing is a pretty serious album, so it's been nice to loosen up the tone a bit.
Jae: We always end up creating songs that make us react in strong ways – if it be anger or ecstacy or whatever. All of the music comes from similar intensity.
Blauerosen:For this EP you have collaborated for the first time with Maurizio Baggio who has produced songs for The Soft Moon among other bands. Kristina Esfandiari features in the video clip of 'Motion' while Tara-Jo Tashna features in 'Country Girl' and Una Blue has done the visuals for 'Westerners' and 'Underwater'. How did these collaborations happen?
Jae:  Una Blue reached out to us earlier this year when we played in Seattle.  They offered to take our portrait and when we saw their work we were like "YES!".  They also wound up hosting us, which was also amazing. So basically Una is great and I cannot wait to work with them again.  The visuals they created, were just scratch from in between our portrait session – but they were very cool.
I sought out Tara-Jo Tashna to star in the Country Girl video. Tara is a performer / choreographer based in Brooklyn and I really wanted to collaborate.  Luckily she was into the idea! Hoping to create another piece together in the upcoming year.Kristina is a bud.  A bud that I totally respect and really worked well in the Motion video, directed by MJ Bernier.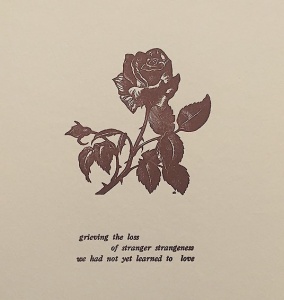 Blauerosen:Earlier this year you created some prayer cards in support of the LGBT community and other communities. You have said on a facebook post that after your shows, you had been explaining the meaning of these particular cards. Could you share with us their meaning?
 Jae: We try to do a fundraiser everytime we embark on a US tour.  The meaning is simple – if you can share the wealth of your privilege, then you should.  We are incredibly lucky to have this life and I want to utilize this luck and support the LGBTQ community.  
Blauerosen:Finally, The Shacklewell Arms was a very small venue and many people were not able to attend this show. Could we hope to see you again in London in a bigger venue with a bigger stage?
 Jae: I really hope so!
Blauerosen:Thank you very much for your time, it was a pleasure talking with you.
Blaue Rosen