Release Date: 31 August 2018
1. Colossus/2. Never Fight A Man With A Perm/ 3.I'm Scum/4.Danny Nedelko/5.Love Song/6.June/7.Samaritans/8. Television/9. Great/1o. Gram Rock/11.Cry To Me/12.Rottweiler
Label: Partisan Records
An album for the angry, the socially sensitive and the progressively minded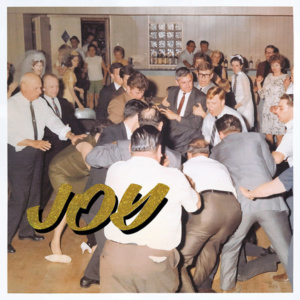 JOY As An Act Of Resistance: Having only this title as a starting point, without the music of the album, would be enough for me to write a whole essay about how feeling joyous can be an act of resistance and why. Especially these days this is one of the most important messages to 'broadcast' through art. In a world where urban dysphoria and masked social disapproval is the norm, being joyous in a political way, is the equivalent of taking direct action towards an oppressive mechanism. Using joy and not denial as an act of resistance, is a choice that will either obstruct things in a positive direction (whatever that might be) or spread hypocrisy to enormous proportions.
Having said that, even if this title had not derived from the personal circumstances of each one of the musicians of the band, they would have to invent it right at this moment, firstly because it absolutely represents them, secondly because the time is right to be saying that Joy can be an act of resistance and thirdly because they are one of the very few bands that can deliver what this title implies.
IDLES are 'shouting' from Bristol, a city that feels the strain of the times, a former industrial city where things like the government driven budget cuts, are being felt very strongly as is the case everywhere outside of the metropolis. Ever since their very first album and their very first gig, IDLES have been 'fighting' through their music, against idleness and passivity among other things. "The best way to scare a Tory is to read and get rich…" they were singing at 'Mother' in their previous album 'Brutalism'. In this album, this has become "I'm a council house and violent. I'm laughing at the tyrants, I'm sleeping under sirens whilst wondering where the time went…" (lyrics: 'I'm Scum').
In other words, this is as socially aware and as straightforward (as punk always aimed to be) as a punk band can be. IDLES are not hiding their anger in the age of political correctness where emotions should be controlled, not expressed in all their intensity, the word 'identity' is almost a curse as well as an oppressive mechanism and things like gender neutral traffic lights have become more important than minimum space requirements for the new flats.
"Blighty wants her blue passport
Not quite sure what the union's for
Burning bridges and closing doors
Not sure what she sees on the seashore" (lyrics of 'Great')
This album has been drawing attention to different subjects such as socially imposed beauty and behavioural standards and masculinity (i.e. 'Samaritans', 'Television'), Brexit, religion (e.g. 'Great'), social marginalisation (e.g. 'I'm Scum'), xenophobia (e.g. 'Danny Nedelko'), the relationship with one's father (e.g. 'Colossus'),  but it is also a very personal album, giving an outlet to feelings related to very difficult personal experiences (e.g. 'June'). Taking into account that a big part of the argument against socially imposed standards, is proposing neutrality as a response, both in terms of behaviour and in terms of appearance, I was personally very glad with IDLES' take on the subject. Having said that, considering that punk is largely a male dominated genre, I think it is very important that a band decided to sing about the different dimensions of an ill-considered masculinity and included references to masculinity in sports and in the army (e.g. video of 'Samaritans'). There are plenty of die-hard old school (in their thinking) punk fans out there, which still believe that the energy of punk music is mostly suited to a male audience, so sentences like this "This is a song about the disease in the brain called masculinity. " (this is how 'Samaritans' is presented during gigs) are important to be coming from IDLES.
"Brylcreem, Creatine and a bag of cocaine, a dulcet man with a dolcet tone from a dulcet town and a dolcet home he hates me, I like that…"(lyrics: 'Never Fight A Man With A Perm')
While all this is happening at the background, a violently happy music with frantic guitars, joyous and prominent drums, dominates the foreground. The length of the album is ideal and manages to create a feeling of eagerness for more and the desire to start listening to it straight away after it finishes. In fact, there is a strong impression that the music comes naturally to these guys, as if someone has asked the band a question and they replied on the spot with a whole album without rehearsals or anything. I cannot really explain this, it was also pretty obvious during the first time I saw this band perform live at an intimate and unforgettable show at Rough Trade East when 'Brutalism' was released. They are truly talented in that sense, and they have an effortless, unique and sincere stage appearance which is rare even for very experienced bands. Just like during the band's gigs, the energy is so intense that halfway through this album, you do not know what 'hit' you and you realise that the four walls of a building are too small to constraint the energy of this album that is best experienced at a live gig.I will never forget the numerous crowd dives and the sheer energy that IDLES have on stage nor will I forget the inventiveness and spontaneity of Mark Bowen when it comes to the ways a guitarist can impress on stage.
The relation of an album with its cover and artwork is a mysterious one
People say 'don't judge a book by its cover' but recently I think that this is just very silly. Of course a book's cover is an important part of the book itself. This is not just a sticker, it is (usually) an image that relates to the book's plot and is relevant aesthetically, therefore it should not be disregarded. The same applies to an album's videos and its cover, even these days when, only rarely people spend much time crafting an image. When the cover of 'JOY' was unveiled, I was very intrigued by it. It shows a retro image bringing to mind garage rock video clips and movies of the 60s and on top of that, it was a quiet, yet evocative depiction of (mainly) male adrenaline in (what seemed to be) a recreational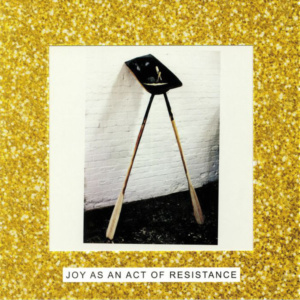 occasion. The few women in the photo seem to be staying  out of the commotion by choice.  How odd! I thought, for IDLES to be using such an image? Now that the album has been released and I have listened to it numerous times, I still cannot really understand the role of this image in the context of the songs, their style and their lyrics. Then came the gold glitter title (golden glitter frame in the deluxe edition)…irony for sure, I thought. Of course this image 'says' something about masculinity, a subject that is included in  the album and back in the 60s things were much worse than they are today. The reference to 60s aesthetics is also evident in the videos that have been released so far, their overall style and atmosphere.There is also a hidden 'gem' in the album that binds all of this together and this is no other than the cover version of Solomon Burke's 'Cry To Me', a song made more popular through its inclusion in the soundtrack of the movie 'Dirty Dancing' in the 90s whose dialogues I had memorized as a teenager.
Well, this otherwise romantic song that almost closed the album, gave a huge aesthetic twist to it and connected aesthetically the cover's image and the era when this song was written. IDLES have said in a recent interview that their previous album was a 'slow burner' so they wanted to embrace vulnerability through this new album, its subjects and overall style. The way a punk band does that, is also by including love songs within an album. In this case, there are two such songs, 'Love Song' and 'Cry To Me'.
But then came another twist in the 'plot' and this was no other than the brief exhibition of artwork at Electric Gallery in Shoreditch. The work was produced by Beth Cater, Chris Nicholls, Ed Barret, Huw Good,Nigel Talbot, Orlando Weeks, Robin Stewart, Russel Oliver, Tao Lapsley '…trusted friends and fans…' including Joe Talbot as he revealed during an interview and each of these mixed media creations was accompanied by a poem and was a response to each of the 12 songs within the album. I was fascinated by the ones I saw (not all of them were included in that exhibition). Images of these creations, are offered with the deluxe editions of the LP and are there to open new dimensions into the interpretation of the songs. It is a brilliant idea! Because as literal as an interpretation might be, as sincere as a verse might be, a music album is still art and as a work of art it shall always be received. Of the ones that I saw, I particularly liked the one that accompanies 'Love Song', created by Elizabeth Cater. It is a poetic collage that also reveals its social dimensions and could also be suited to 'I'm Scum'. It 'reads' like a high rise building made up of photos of urban interiors and exteriors and it has this amazing poem that runs through it. It is as much an architectural collage as it is a social and emotional one. I also loved the installation for the song 'June', a brilliantly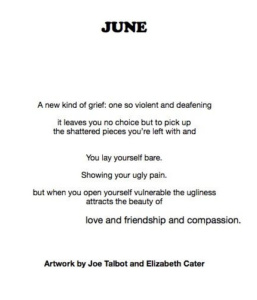 modified wooden display tray, its pink colour combined with the small human figures, making an abstract reference to a baby and establishing a connection with the song's lyrics. This artwork was created by Joe Talbot and Elizabeth Cater and is accompanied by a beautiful poem. The next work that made a strong impact was the collage for 'Danny Nedelko' produced by Tao Lashley-Burnley, a seemingly simple image with a strong political message, just as the song's lyrics transmit: 'Rome wasn't built in a day nor solely by the Romans'. A covered 'statue', a construction in transit, is the artwork that was created for the song 'Great' created by Ed Barrett and accompanied by a brief conversation snippet. I do not think that this relates so much to the song's lyrics as to the song's title. It is a very symbolic piece of art that transmits
ideas of battles, homage to something great, scarring and so much more. When I first saw the installation that related to 'Colossus' I really couldn't make the connection with the song, it was only after having watched the official video, that this sculpture made more sense. This is the most surreal part of this album, a strongly symbolic video that brought my mind to the filmic explorations of Derek Jarman. We might not have the violent outbreak of the character of 'Divide & Conquer' but the ending of this video is approaching similar feelings in a more refined way in 'Colossus'.I loved this video and its symbolisms and I particularly loved the fact that in the last few minutes, the song changes its rhythm and makes subtle references to Iggy Pop's 'Lust For Life'.
"The mask of masculinity is a mask, a mask that's wearing me…"
There is something in particular that I love in IDLES and that is their unique combination of joyous and sometimes bitter cynicism and humour. It is evident on the photo that Tom Ham has taken of them at the back of Dapper Signs/ James Coopers studio, outside a toilet in Easton having as an inspiration a Dennis Hopper photo showing Andy Warhol, Henry Geldzahler, David Hockney and Jeff Goodman who all stood in front of a pub door; it is also evident on stage, in the delivery of the lyrics and Joe's tone and it is not easy to find in punk music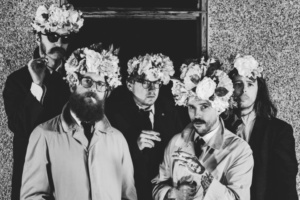 these days (I could make comparisons here with other bands but I will not), so when I realized that the band wanted to make some changes in their next album, I was 'worried' that they would decide to 'lose' all that…i was utterly relieved when I realized that this has not happened.
"It is that bravery to freely express yourself that so terrifies the tyrants, as when we share each other's pain we become stronger as communities and less reliant on our State." (Joe Talbot about this album)
Even without the music, I love this band for what it represents…something that tends to become extinct, an energy that has been forgotten or is being perceived as being 'out of place', a group of talented musicians who dare to release anti-systemic albums in this day and age and be loved for it!
"Keep going, Keep fucking going…Go! Smash it! Ruin it! Destroy the world! Burn your house down!" (lyrics of: 'Rottweiler' )
Be joyous IDLES and we shall be with you too!
IDLES will be opening for Wolf Alice on October 17, 2018 when the Mercury Prize winners will perform live at Roundhouse and they will also headline at O2 Forum Kentish Town On October 18, 2018.
Blaue Rosen