"The spectacle is the nightmare of imprisoned modern society which ultimately expresses nothing more than its desire to sleep. The spectacle is the guardian of sleep."
? Guy Debord, The Society of the Spectacle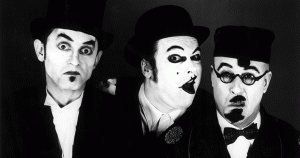 Let us be honest. We love The Tiger Lillies! We believe that they are one of the very few unique, inventive, rabelaisian, contemporary English musicians. There is no other band that is comparable to them in terms of delivering this type of performance and there are very few musicians that incorporate such intense feelings and so many strong words in their lyrics. 
Taking inspiration from the aesthetics of freak shows and cabaret, since 1989, Tiger Lillies not only highlight everything that makes varieté as a style appealing but they have also turned everything that is vulgar, grotesque and even appalling in our everyday lives, to a hard-to-resist spectacle and we all love them for that. It was a revelatory experience to see them play live at the circus of London's Wonderground a few years ago. This venue seems to be the natural environment for this band. As you enter through the door you find yourselves in a time capsule and when the band takes the stage they transfer you to the world of transvestite Aunty Mabel where the Crack of Doom is imminent and starting fires is one character's favourite 'game'. Be fooled no further, ultimate pleasure is offered in this environment of dystopia where various anti heroes come to 'life' simultaneously through Martyn, laughing and crying about their addictions and their peculiarities in an orgy of dark humour and satire! And the best of all this is, that you will never want to leave their worlds again after the show and that it will take you a while to adjust to the rhythms and nature of life outside the Wonderground!
Piaf
Following the release of their 35th album entitled 'A Dream Turns Sour' in 2014, an album whose songs have been inspired by english and german poems from WWI , this time The Tiger Lillies have been touring with the show entitled 'Piaf', a set of songs inspired by the tragic life of Edith Piaf. We read the following statement on the band's website: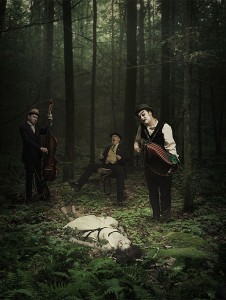 "Edith Piaf is the central character of these songs says Martyn Jacques, walking the dark disreputable streets of Paris. It does not tell you a story, it is history. Ordinary people understood, and that's why they loved her. It is this popular Piaf that this show wants to revive…"
We cannot possibly think of what to expect but we have no doubt that if a musician is to reinterpret, present or represent Edith Piaf with the aim of catching her character in all its essence, this is Martyn Jacques and The Tiger Lillies. We on the other hand, are convinced that we will be singing '…je ne regrette rien…' on our way back after this show finishes…
Until then…
You can buy tickets for this event by following this link: http://www.londonwonderground.co.uk/whats-on/the-tiger-lillies-piaf
Blaue Rosen