In terms of live performances, the music menu has plenty for us in the next few months. The small list that follows, contains the ones that have grasped our attention.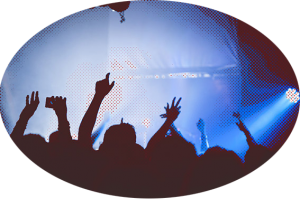 AmericanaFest UK 2018: I find it exciting that there is a festival dedicated to Americana music in London. Yes, you read correctly between 31st January to 1st February 2018, 26 bands will be playing Americana music at OSLO Hackney, MOTH Club, Paper Dress Vintage and Empire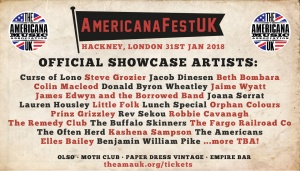 Bar. The festival's line up includes The Texas Gentlemen, Tyler Childers, Benjamin William Pike and many more. Curse Of Lono, whose debut album entitled 'Severed' was included in our monthly playlist for April 2017, will be the headliners at MOTH Club on Wednesday at 11pm. This mini festival will also include a two-day conference and will end with an awards ceremony at Hackney Empire.Buy your tickets from here
Das Ich, Red Sun Revival, Astari Nite live at Electrowerkz: Starting February, Das Ich will play live in London with support from the beloved Red Sun Revival and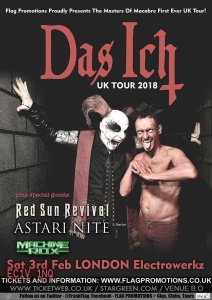 Astari Nite. While Astari Nite will be opening for all the UK gigs of Das Ich, the second support band will differ so, in Glasgow it will be Ivory Blacks and in Manchester it will be St Lucifer and The Ruby Lounge.This gig is part of the band's tour in the UK, and different support groups will play live each time.The band has consistently offered industrial/electronic albums since 1991, when 'Die Propheten' was released, supporting them through performances with strong theatrical elements and a punk attitude. This is one of the few bands that embodies different characters on stage while performing The band's latest album was released in 2006 and was entitled 'Cabaret' while in 2014 their album 'Lava' was remastered and re-released extended with remixes from Asche. These days they are preparing a new album, songs from which we expect to listen during their gig in London. You can buy your tickets from here
Deliquium 2018: Following the performance of Das Ich, a three day special festival will be hosted at Electrowerkz. You might remember the first Deliquium which took place in 2015.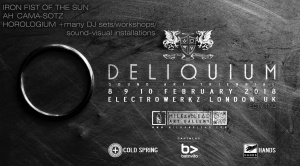 This has always been an ambitious festival that includes photo exhibitions, art exhibitions, DJ sets, live sets, installations and workshops. Last time Treha Sektori, Deutsch Nepal and The Frozen Autumn were the highlights for us in terms of live shows. From 8-10 February 2018, Deliquium returns to Electrowerkz for three days of experimental art and music, where Ah-Cama Sotz, Horologium, Iron Fist Of The Sun and Norvardgr will be attracting most of the attention in terms of live shows. At the same time, Slimelight's resident DJ Blackdeath 1334, will be 'dressing' the space with her own signature dark/existential/ritualistic playlists on Friday 9/2/18, while Udo Wiessmann of HANDS Productions will be offering one of his unique sets as Winterkälte on Saturday 10/2/18. We had the chance to listen to one of Udo's DJ sets at Moritzbastei during WGT in 2017 and we are certain that his set will be equally dynamic. We will also be waiting anxiously for the debut performance of Sequencial, a new project formed by Gabriel Edvy and Fabio FK Drone, which has artistic experimentation at its core. Grab your tickets for this exciting festival from this link
Alva Noto new albums and live at The Barbican: After a quiet January and a mildly busy February, March will be welcoming us with the live performance of Alva Noto, a musician that focuses on minimal and abstract electronic music and has been releasing albums since 2000. Four years before, in 1996, Alva Noto a.k.a Carsten Nikolai, had founded a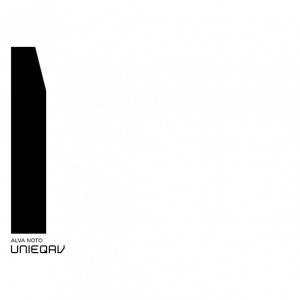 platform called 'archiv für ton und nichtton' that released experimental projects on music, art and science. In 1999 this label merged with the label named 'Rastermusic' and formed 'Raster-Noton.archiv für ton und nichtton' (exclusive distributor of the label Wavetrap), through which Alva Noto has released many of his albums. In 2017 this label split into two so that 'Noton' is handling all past and future releases of Alva Noto, while 'Raster-Noton/Raster-Music' is handling the back catalog of Raster-Noton/Raster-Music. Alva Noto has collaborated with Blixa Bargeld (Einstuerzende Neubauten), Iggy Pop, Ryuichi Sakamoto, Ryoji Ikeda (with whom he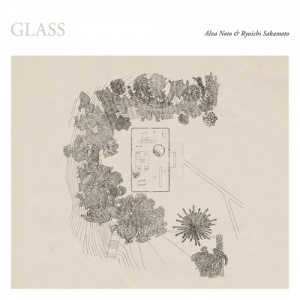 participates in the project Cyclo 10) among other musicians, he has written scores for films and he has participated in Documenta X and the 49th and 50th Biennale of Venice. Unlike other musicians, who love the aesthetics of minimal and abstract music, the approach of Alva Noto is more profound as he feels that "…these many noises had musical qualities…every sound is important, not just the melodic ones…". At the same time, there are two new albums in the making.The first one with Ryuichi Sakamoto is entitled 'Glass', it is a series of improvisations made at the architect Philip Johnson's hallowed Glass House and is expected to be released on 16 February 2018. The second album's title is 'Unieqav' and is expected to be released on March 16, 2018.This album will be presented live at the Barbican on March 4, 2018 with support from the amazing Anne-James Chaton. You can buy tickets from here
One of the dilemmas of March, will be created on the 9th of this month as Blancmange will play live at 'Under The Bridge' in Fulham and the first of the three-days showcase of Rocket Recordings will start at The Garage the same day until March 11th.
Blancmange live at 'Under The Bridge': As Neil Arthur has clarified during a recent interview "Blancmange is a solo project now, with a group of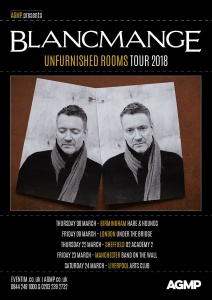 honorary members, David Rhodes, Oogoo Maia, Adam Fuest, Benge Edwards…Stephen hasn't worked with Blancmange since the 2011 album 'Blanc Burn' due to ill health…who knows we may write our story of events from the seventies and eighties down one day…". Having released his latest album entitled 'Unfurnished Rooms' in September 2017 and after finishing a UK tour during 2017, Blancmange will be departing for a new UK tour in March 2018 and will perform live on March 9th 2018 in London.This latest album, somehow replicating the rhythmic impression of a Mondrian painting, has minimal synth pop melodies with qualities similar to those of abstract art. It is an album whose sound is true to the nature of the original sound of the band during the 80s, but with less melody and more experimentation with abstraction. As a result, its melodies manage to stop/delay time around us and makes us devote our undivided attention to them. Rhythmic dynamism picks up at the fourth song 'What's The Time?' and then again just before the end with 'Old Friends' and 'Gratitude'. Now that a momentum has been built, don't miss the gig of Blancmange. Buy your tickets from here
Rocket Recordings Showcase at The Garage:As far as Rocket Recordings is concerned, we would need much more space in order to express our admiration for the consistency and the character of this label's releases throughout the years, but we will briefly talk about the releases of the last two years. You might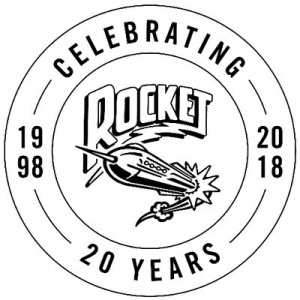 have noticed that a few albums released through Rocket Recordings, have been included in different monthly playlists throughout the year (i.e. Julie's Haircut, GNOD (the band will also play live on May 10th at MOTH Club), Teeth of The Sea, Anthroprophh, Hey Colossus, Temple Ov BBV,Shit And Shine). This is because we have felt that the music of these bands taps in a unique way, on our fascination for noisy and dark psychedelia. The label exists since 1998 but it is in the last 4 years that its impact has increased, new bands have been welcomed to the label's family, quickly building up a dynamic and committed team of followers. Of the bands signed at Rocket Recordings so far, we know that Anthroprophh will release their next album entitled 'OMEGAVILLE' in March 2018 and Mamuthones will release their album 'Fear On The Corner' later in February 2018. From 9-11 March 2018 we will be celebrating the label's 20th birthday and we will have the chance to enjoy many of the bands that have released albums through Rocket Recordings at The Garage in a rare and precious showcase. Buy your tickets from here.
Anna von Hausswolff live at The Dome:Anna von Hausswolff, released her debut album entitled 'Singing From The Grave' in 2010. Her work always has the piano as the base, which is an instrument that we see less and less used in contemporary music, but its melodies are enriched with banjo, organ, zither, guitars, violin and more. This album, had strong influences from the country/folk music of America and was released through Kning Disk. Anna's vocals have a unique combination of eeriness and soothness that at the same time revolts and tames the mind. At times evoking the 'smoky' aspect of her voice and at other times, the serenic element, she gives to the piano melodies, unfathomed dimensions. Fast forward to 2015, her latest album entitled 'The Miraculous' was released through City Slang. The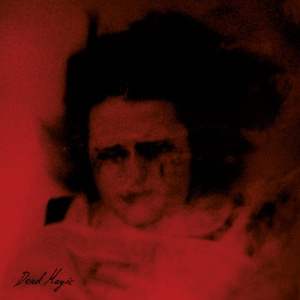 sound has evolved significantly, has become darker and 'harsher' in mood and style, than in her debut album, wind instruments have been included and overall the production has been enriched as the score is more demanding in terms of the atmosphere that is being created. Her voice is almost unrecognisable as well, gone is the ethereal quality of it (with the exception of the introduction of 'Come Wander With Me/Deliverance') and it has now been replaced by a kind of "hoarse', ceremonial voice mostly suited to a cinematic witch! The rhythms and melodies of the organ, place the music of this album to the realm of fantasy movies and the epoch of Lord of The Rings. The guitars have taken up elements from doom metal, which they have refined so as not to mask the vocals but create noisy/heavy metal inspired soundscapes at the background! Anna von Hausswolff has been preparing a new album which features  a macabre cover, that will be entitled 'Dead Magic' and is expected to be released in March 2018.One song has been released so far entitled 'The Mysterious Vanishing of Electra' together with a video clip, which reveals exciting vocal explorations and a sound that is more lyrical than that of 'The Miraculous'.The video follows the dark aesthetics that are evident from the album cover, while the song itself seems to have been inspired by the mythological character of Electra. Anna von Hausswolff will perform live on March 12 at The Dome and we will be there to enjoy her set and listen to her new album live. We advise you to do the same. Buy your tickets from here.
COVENANT-The Blinding Dark tour 2018: Last but not least, we have been waiting for 'The Blinding Dark' tour of COVENANT to make a stop in London since last June and we will have the chance to see them live, on March 17,2018 with support by Massive Ego, Empathy Test, My Hysteria. COVENANT a favourite band of the dark electronic genre, have released their latest great album entitled 'The Blinding Dark' in 2016 and this is what they have said about it: "In a world that's stopped making sense, we need to learn how to see in the dark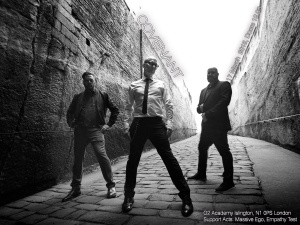 and 'The Blinding Dark' is a triumphant embrace of the strength and resilience of the soul…It's implosive instead of explosive, fuelled by cold fury rather than a roaring fire, as beautiful as a collapsed star..".Blauerosen loved this album, because it makes a discreet yet powerful statement on club dance floors. It might not compare in dynamics, with 'United States of Mind' or 'Northern Light' but it is an album that sits very well within the body of work of COVENANT and has definitely left a beautiful mark in their discography especially because it includes with this beautiful duet with Erica Li in the cover of Lee Hazlewood's 'A Rider On A White Horse' and it also benefits from the mark of Daniel Myer in the programming!
The last time the band played live in London was in 2015 with Analog Angel and Naked Lunch as support acts and has always offered unforgettable shows, that include a perfect mix of new and older favourite songs.
You can buy tickets from here