September was the month with the most album releases of the year so far and October the month with the richest programme of gigs in London. There are a few more really unique gigs within this month which you can see in our list of 'Featured Events' but there are extremely exciting things planned until the end of the year. Here are a few of these things:
Album releases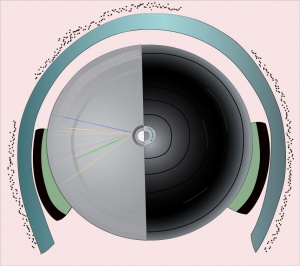 The Frozen Autumn-The Fellow Traveller
:
Six years have passed since the release of 'Chirality' in 2011 and two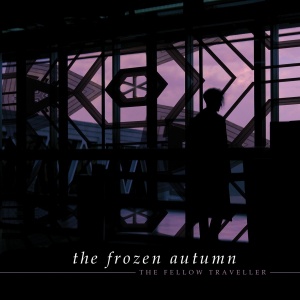 years since their last appearance in London at the mini festival Deliquium in 2015. Diego and Froxeanne have chosen 2017 in order to present to us their latest palette of sonic coldwave colours, through a new album entitled 'The Fellow Traveller', expected to be released on November 3, 2017 through Echozone/Soulfood and Metropolis Records (in North America). The album will have 11 tracks a few of which are expected to be released as singles before the release of the album. We were sad to read on the band's website, that details of this album were leaked on the internet without the band's consent. We are waiting impatiently to listen to this album as the band has always released beautiful albums and of course it is needless to say that we would love to see them again in one of London's venues!
Brendan Perry-No Land
:
There are actually two pieces of important information here. The first is the announcement of a new release by Brendan Perry (one of the founders of Dead Can Dance) and the second is his collaborators, namely Olivier Mellano and Bagad' Cesson. It's been seven years since the release of 'Ark' and five years since the release of 'Anastasis' by Dead Can Dance, but the wait is over, as on
November 10, 2017
, we can listen to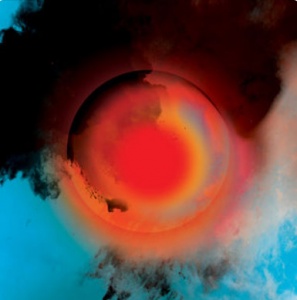 the new creation of these talented musicians, entitled 'No Land' expected to be released through World Village. Perry who now lives in Britanny, Mellano who wrote the music of this album and the traditional Britannic music ensemble, Bagad' Cesson, have started working on this album a year ago and have also carried out live appearances in France throughout this year. A gig was also scheduled to happen in London earlier this year but was later cancelled.
But let's put things in order. Bagad' Cesson is a music ensemble that focuses on the traditional music of Britanny. Bagpipes and imposing drums characterize the sound of the ensemble as well as influences from celtic music. For this album, Brendan Perry collaborates for the first time with a music ensemble and Olivier Mellano writes music for a traditional music ensemble for the first time in his career. In his own words this is what Mellano has said so far about this album:
"Bagad contains a kind of martial ardour, an almost ecstatic self-discipline that moves me with its both rough and straight aspect, at first not appearing much pleasing and then that might completely take you. I wanted to see how we could make that ensemble sound different, with other harmonies, another form, another culture, still without rubbing out its characteristics and considering it sometimes as a compact whole of sounds, sometimes as an ensemble teeming with soloists.
With No Land, the concern and the diversion of traditional codes outflank Celtic tradition and could just as well refer to the jajouka from North Africa or Balinese music; some signs of the sound-epilepsy of Terry Riley could also be brought back, Robert Frip's weavings or stigmata from my own pop-rock-cold-noise culture that perfectly suits the bagad energy. As with my pieces for electric guitars or my 'How we tried…' symphony, there is something close to maximalism and to a will to wear out an instrumentarium so that an uncluttered shape might emerge. It is about finding a submergence state where reasoning is ineffective and it is about that other place where you can sometimes be propelled thanks to the sound…No Land's theme is the absence of frontiers, or more precisely the assertion of its porosity worn as a flag, believing that no human beings can be reduced to one territory even though this territory might have built them up. To make use of an ensemble that is traditionally linked to land claim appeared to me quite appropriate to demand that anyone be a membership of a greater world where we are all breathing the same air.". There are three teasers that have been released so far from this ambitious album and reveal the creative, experimental and extremely strong way with which all musicians are making a sonic statement about such important matters that affect all of us…The voice of Brendan Perry, as that of an imposing oracle leaves no room for our attention to diverge! We can't wait to listen to the whole album when it comes out and I will dare to say that it is only Lisa Gerrard's voice that is 'missing' from this album…but then again it would be too much to take in!The album is available to preorder here
Calexico-The Thread That Keeps Us
:  
It might be too early to be talking about the releases of 2018,but it is important news that Calexico release a new album early next year; because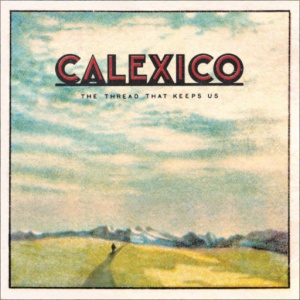 their audience loves and truly misses their songs. Calexico has been established as a band with identifiable melodies which are nicely mingled with many elements that are incorporated in its sound. It is therefore always exciting, ever since the release of 'Spoke' in 1997, to listen to Calexico's new songs and see which elements they have picked for their album this time. Three years have passed since the release of 'Edge of The Sun' and it is now time for Calexico to salute us from Arizona with a new album entitled 'The Thread That Keeps Us', expected to be released in
January 2018
. T
his album will be accompanied by a European tour, the dates of which have already been announced and the London stop of this tour will happen on
March 29
2018
at
O2 Shepherd's Bush Empire
.
One song has been released from this album so far, 'End of The World' and it reveals a few influences from country music apart from skilled guitar playing.
"There's some jangle, there's some whacked out fuzz guitar and some sweet melodies mapping out the need for love, light and time in this 'age of extremes'…

" Joey Burns.The album is available to preorder here.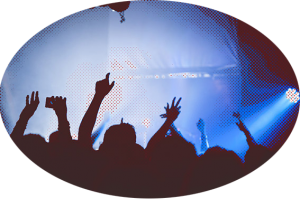 OMD-Live at Roundhouse:  Synth pop music has many faces and throughout the years, has acquired many colours but my favourite sonic colours are in OMD's palette!They have offered us timeless music including 'Electricity','Enola Gay','Joan of Arc', 'Souvenir'.Their reunification in 2007, proved to be an excellent idea as shown by their sold out shows of the 'Architecture&Morality' tour and their releases since then (i.e. 'English Electric' and 'The Punishment Of Luxury'). I was inspired by this new phase in the band's life so I participated in the competition design for their merchandise. It was also an absolute pleasure to be in the audience last year at the Royal Albert Hall where the band played 'Architecture&Morality' and 'Dazzle Ships'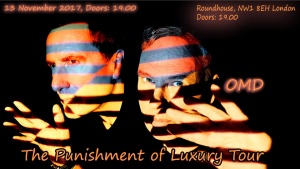 at their entirety (the show was released as an album later in 2016), and I will not forget the energy of this gig, the 'glowing' synthesizers and Andy's amazing stage appearance. He was dancing all the time and he filled the stage with his performance as very few other musicians do. After this gig I was repeating to myself that I had no idea what 'Maid Of Orleans' was about until that day when I finally listened to this song live at this gig and felt the pulsating rhythmic beats of the drums. I don't remember having felt so 'light' after a gig and it was a shame I was too far away to actually appreciate all of it as I should. OMD fill the space in every possible sense, their synths, whether glowing with neon lights or not, send uplifting notes to every single hard-to-motivate listener in the space and Andy is such a generous and kind performer that I don't think anyone will be able to stand  still during their gigs. Since last year, 'The Punishment Of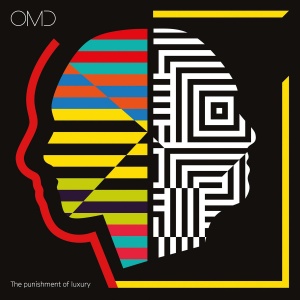 Luxury' has been released and with it 'One More Time', a song that reminds us of 'Pandora's Box'. OMD presented this album at Rough Trade East on September and have also announced a tour, the London stop of which will be at The Roundhouse on November 13.I personally look forward to this gig to experience the generosity and the energy of OMD one more time…
Amanda Palmer, Jherek Bischoff live at Union Chapel: The gig was announced two days ago through social media by AfP herself and it will be the only gig in London during autumn. Her last visit to the city was in June, when, together with Edward Ka-Spel, presented their dreamy, emotionally and conceptually powerful and symbolic album 'I Can Spin A Rainbow' at Heaven. Since then, she has announced an extremely special reunification gig of The Dresden Dolls in Halloween night in Washington (sadly this is a US exclusive show and even though some of us seriously considered travelling there just for this gig, it was not a financially viable option) and another very special live show at the Union
Chapel with Jherek Bischoff on November 16. Audiences that follow the work of Amanda Palmer are already familiar with the dynamism of this duo on stage and might have already attended last year's show at Royal Albert Hall where Amanda and Jherek were also joined by Philippe Jaroussky&Villagers. Amanda Palmer is a talented artist that creates endless emotions through her performances, her attitude towards art and towards the audience. Whether through varieté inspired shows or through shock inducing activist appearances, unparalleled music improvisation breaks and smaller 'things' (as she calls them) that she publishes through patreon, Amanda Palmer speaks through notes which in her hands become fantastic stories (sometimes with ghosts and bad characters, sometimes with gentle creatures) and melodies, in what seems to be an effortless procedure. Jherek Bischoff is an American musician and powerful performer whose career spans 30years and whose music has left a strong mark on audiences since 2006 (release of his first album entitled 'Jherek Bischoff') through his cinematic, melancholic and orchestral melodies. This is an extroverted musician who interacts very nicely with the audience during concerts, creating an atmosphere that sometimes greatly juxtaposes that of his music. Some people became more familiar with his work as a member of The Grand Theft Orchestra, that accompanied Amanda Palmer and released with her, the album 'Theatre Is Evil' in 2012. His solo work however, is of different character as the cello usually plays a very important role in his compositions that in turn, reveal classical as well as jazz music influences. At the same time his sound brings to mind the music of Michael Nyman and Philip Glass thus creating a unique sonic imprint that traverses music genres. Jherek has also composed music for tv series and theatrical plays and has collaborated with many musicians so far, including David Byrne, Neil Gaiman,the Kronos Quartet, Richard Webb, Zak Pennington and others. His latest
album was entitled 'Cistern' and is the result of improvisation that Jherek has carried out, in an empty two million gallon underground water tank with a 45-second reverb decay. The album was released last year through the label Leaf.Its sound, as the cover of the album implies, by means of its subtle melodic changes, will beyond doubt, create a feeling of emotional suspension while you listen to it.There's viola, cello, contrabass, various bells, piano, guitars,horn, trombone, clarinet,a lot of violins and most importantly passion and lyricism.
Having said all that, it would be a shame to miss this special show as AfP's performances are always something extraordinary and with Jherek on stage as well, who knows how many 'rabbits' will be taken out of (real or imaginary) 'hats' 🙂
Algiers-Live at MOTH Club: The first phrase that you read when entering their website is 'Join the Fight Back' and this is just to get you type in your email address in order to join the emailing list. Reading that is not surprising of course, as the music of Algiers has been transmitting a very similar message through the songs' lyrics, the videos and their attitude both on and off stage. Algiers is a band that has impressed audiences with their rich in references, sound ever since the release of their debut album
entitled 'Algiers' in 2015 through Matador. During summer the band released their second album 'The Underside Of Power' again through Matador. Their name, a direct reference to the history of Algiers and its many symbolisms.Their mood, vindicating and angry about the state of affairs worldwide, the collapse of social cohesion, the need to reintroduce and redefine the meaning of solidarity, the racial discrimination against black people and other important themes that their lyrics explore. The band has been making references to the Black Panthers (i.e. extract form Fred Hampton's speech at 'Walk Like A Panther', archival footage in the video of 'The Underside of Power'), the Washington DC riots of 1968, Fannie Lou Hammer and all this is being dressed with music that brings to mind the atmosphere of The Sonics and Screamin' Jay Hawkins combined and it has the same motivational effect as Suicide's 'Girl'. Yet, for some reason when I listen to their songs I then have a strong urge to rewatch a Tarantino film! Algiers will offer audiences two gigs at London's iconic MOTH Club on November 28 and 29 and there isn't a better place to grasp some of this band's frantic energy than in their live shows! I have to warn you to 'brace yourselves' for what December has for us in terms of gigs but let's talk about those a bit later…
Myrkur-Live at Heaven: 'Mareridt',Myrkur's latest album (released through Relapse Records) was on repeat on my playlist for 10 days in a row and I still find its sound so rich in references and so powerful,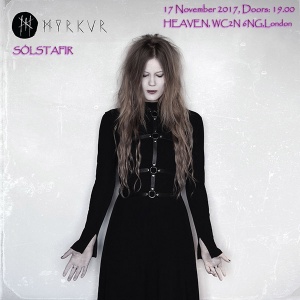 that I can't bring myself to focus and write a review about it! Blauerosen loves 'heavy' atmospheric music and apart from all the other adjectives that can be summoned to try and grasp the essence of Myrkur's music, these two are the ones that capture the whole character of 'Mareridt' in the simplest way. The album that has been released in 13 versions and roughly 1200copies worldwide, has sold out its limited editions. In those limited editions of the album, there are 4 bonus tracks, one of which (i.e. 'Kvindelil') also features Chelsea Wolfe and Ben Chisholm on the guitar (a collaborator of Chelsea Wolfe and King Dude, who also appears in '??????????' among other releases). The non limited versions of the album include one more song, 'Funeral', that features Chelsea Wolfe. Myrkur a.k.a Amalie Bruun, incorporates elements from celtic music in her sound and delivers the lyrics in a magnifying way with a strong ceremonial element. If you add to that, the power that the scratching in style, runic inspired, fonts in the cover of the album, provoke, you have the basic ingredients for the magic 'potion' that Myrkur has prepared for us! After all that, we are delighted to learn that the band will visit London on November 17, for the live presentation of this album at Heaven. 'Heavy' music has a characteristic, it opens up the deeper parts of one's psyche, if of course you are up to the experience. Myrkur will be the guide at this gig which will be headlined by Sólstafir and I can't wait enough to experience the adventure that this show will create!In her own words: "I always dreamed about becoming a Huldra, an Elver girl, a Valkyrie, the goddess Freja. These powerful women in Norse Mythology have an element of beauty and mystique, but they are also deadly."
Blanck Mass-Live at Village Underground: Blanck Mass a.k.a Benjamin John Power, released his first album 'Blanck Mass' in 2011 through Rock Action Records and his two latest albums 'Dumb Flesh' and 'World Eater' through Sacred Bones. His debut album had a more ambient/cinematic feel with just a few industrial-music inspired 'injections' (i.e. 'Land Disasters').His first album through Sacred Bones 'Dumb Flesh' introduced those 'disturbing' animalistic sounds (i.e. 'No Lite', first half of 'Detritus') that we listen to further in the latest masterpiece album 'World Eater' that was released also through Sacred Bones earlier this year. 'Dumb Flesh' in its limited edition, included a human tooth in its own screen printed envelope and also marked a big turn in aesthetics through a memorable album cover, courtesy of gave prominence to a danceable electronic ambience which was more evident in 'Atrophies' and 'Double Cross'. 'World Eater' in our opinion is an album that makes a statement, starting with sounds that bring to mind an out of tune toy, passing through a maze that feels as the sonic print of a howling beast's psyche in 'Rhesus Negative' , exploring psychedelia induced downtempo (i.e. 'Please', 'Hive Mind') before taking us through an industrially textured maze ('The Rat', 'Silent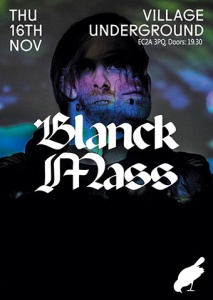 Treatment'). This album for us is already among the best for the year that is approaching its end and we cannot wait to listen to it during the upcoming show of Blanck Mass at Village Underground, a venue that I find to be aesthetically relevant to the music of Blanck Mass.
The release of the third album of The Eden House entitled 'Songs for The Broken Ones' was definitely the highlight of my summer. I loved everything about this album, from the powerful image of its cover to the emotionally powerful
melodies that run through it. Needless to say, that even before the announcement of their live dates I was anticipating a gig by The Eden House in London. I think that 'Songs for The Broken Ones' is the best album of the band so far, with a distinctly different sound from both 'Half Life' and 'Smoke & Mirrors'. Many musicians have changed in the meantime and in this album Rob Leydon (Red Sun Revival) and Valerio Lovecchio have joined Stephen Carey and Simon Hinkler (The Mission) at the guitars while Monica Richards (Faith&The Muse) has an evidently more prominent role in the vocals of this album. Bob Loveday at the violin, Tony Pettitt (Fields of The Nephilim) at the bass and Simon Rippin (Red Sun Revival) at the drums, make sure that the melodies get the lyricism and 'lightness' (violin), the gravity (bass) and the weight (drums) they need to highlight the vocals.
The seducing and serene qualities of the vocals, a signature aspect of the band's sound, are even more enhanced in this album sometimes bringing to mind, the voice of Kate Bush (e.g. in 'Let Me In'). The band has always incorporated many different female vocals in each album and in this one, Monica Richards, Meghan Noel Pettitt and Lee Douglas, are joined by Kelli Ali and Louise Crane. Talented Monica Richards, has her own unique way of creating haunting sonic swirls by alternating narration and singing within each song and she uses all her magic in this album, in order to weave a thick mystifying maze around us.
The sound of this album is different from the previous releases of the band because the guitars and the drums sound less heavy and do not compete with the vocals, the rhythms are also slower, the vocals are of different character and the volume of all the instruments is well balanced. As a result, the album has less of a 'rock' feel and more of an ethereal/folk feel and it is closer to the sound of 'Smoke and Mirrors' (the violin melodies are a testament to this) ,a change which I personally welcome! The inclusion of lyrics in spanish in 'Verdades (I Have Chosen You)' is also a new addition to the band's vocabulary and the overall rhythm of this song that brings to mind that of a flamenco dance, make me want to listen to it on repeat. Who would've thought that Specimen's deathrock song 'Kiss Kiss Bang Bang' could be transformed in such a seductive ballad! Not in anyone's wildest dreams. And yet, this is one of the best songs in this album, a true apocalypse! The change in style is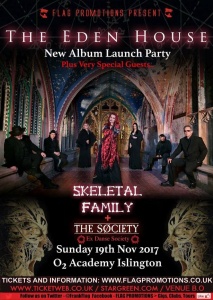 also evident in the visuals. Three videos have been produced so far, for 'Misery', 'Words And Deeds' and the single 'Verdades(I Have Chosen You)' that was released ahead of the full length album. The video for 'Verdades (I Have Chosen You)' is the most cinematic of the three videos while those of the other two songs are similar in style with the videos produced for the band's previous albums. There is the powerful setting of a gothic cathedral and crypt which is used as the backdrop of this video while the method of filming creates a unique kaleidoscopic and psychedelic effect. Stills from this video were used in the artwork of this album and Gabriel Edvy who produced this video and other promotional material for this album, deserves a special mention for her remarkable work.
The Eden House will offer us a unique opportunity to listen to this album live at O2 Academy Islington on November 19.  Skeletal Family and The Society will open this special gig.Don't miss it!
Boy Harsher- Live at The Shacklewell Arms: Boy Harsher, a.k.a Augustus Muller and Jae Matthews is one of the coldwave/dark electronic bands that is increasing their audience as time goes by. Their song 'Pem might be the only one so far to be included in DJs' setlists most of the times, but for us it was their debut album 'Yr Body Is Nothing' that had the biggest impact, so much so, that we included it in our Soundtrack of 2016. Things are not quite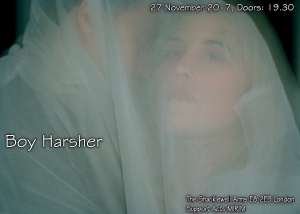 as they seem with this band. The duo have made an impressive change from 2013 when they started as Teen Dreamz, a project that focused on story telling that was accompanied by music. Their work as Boy Harsher has a theatrical element that becomes more obvious through the treatment of the album as a whole piece beginning with an 'Intro' and ending with a song (i.e. 'Cry Fest') that feels like the epilogue of a story.The 'colours' of their melodies trigger the imagination and Jae's bass and deep voice, like a lament, an existential 'cry', adds many more emotional layers to the motivating rhythms that accompany it. Boy Harsher have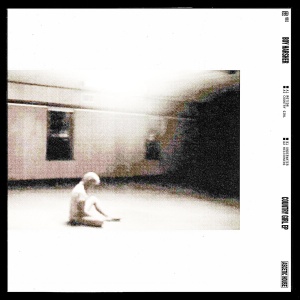 released their EP 'Country Girl' a few days ago. This EP has a more dance electronic even  pop sound and more prominent industrial influences. The duo will play live for the first time in London on November 27 at The Shacklewell Arms. This will be a gig to remember so don't miss it!