This gig happened three days before the 24th Wave Gotik Treffen and Gothic Pogo festivals in Leipzig where both Agent Side Grinder and Minny Pops appeared live, so naturally we regarded this as a predecessor of these festivals and the beginning of a period full of interesting gigs by great bands from all over the world!
From the early Japanese Korg drum machines to the minimal music of the 1980s
A few hours before this mini festival started, Minny Pops announced at Twitter their exact stage time and if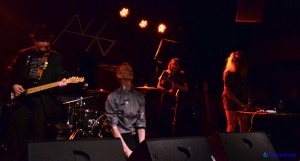 you think it would be 30′ past the hour or at the hour, well … think again. Minny Pops assured their followers and fans that they would play the first note of their setlist at exactly 8.28pm! …and strangely enough they were punctual indeed, starting exactly at that time. This was not the first time I was seeing Minny Pops perform live, as in 2012, 31 years after their last live back in 1981,  they performed upstairs at  The Garage. However that gig in 2012 was far less impressive and less theatrical in terms of stage appearance and performance than this one at The Lexington. This is a cold wave/minimal electro band that released its first album en
titled 'Drastic measures, Drastic Movement' in Plurex Records in 1979 and has released several EPs and the album 'Sparks In A Dark Room' in Factory Records and Factory Benelux (the Belgian sister label to Factory Records that was set up by Michel Duval and Annik Honore). The band has opened gigs of Joy D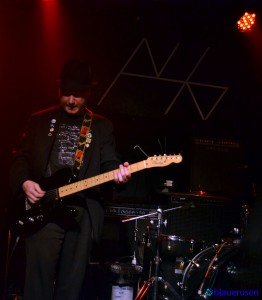 ivision, has worked with the notorious Martin Hannett and has shared the stage with A Certain Ratio. Minny Pops have been inspired by early drum machines produced by Korg, called Minipops which were widely used in the 1960s and 1970s. The band disbanded in 1986 and it was not until 2011 that they started performing live again.  Minny Pops nowadays are based in the UK, consist of 11 more members apart from Wally van Middendorp, Wim Dekker , Pieter Mulder and Gerard Walhof and since 2011 have reissued their first two albums through Factory Benelux. In 2012, Minny Pops released the 7" entitled " Waiting for this to happen/Glistering"  through O Genesis Recordings, a label owned by Tim Burgess of Charlatans, James Spencer, Nikki Colk and Nick Fraser.I enjoyed their show very much and I kept three elements, the engaging, theatrical and dynamic performance of Wally van Middendorp, the dexterous and admiring performance of Iona Tanguay at the clarinet especially at the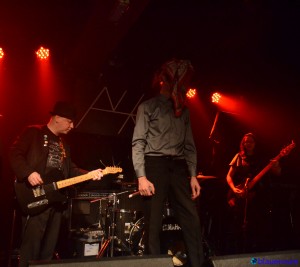 second half of their setlist and the pluralistic impression that the band created in terms of aesthetics. But let me take things from the beginning.