1. Abyssos/ 2. Infernos/3. Katharos/4. Agraphos
Transgredient Records, March 2014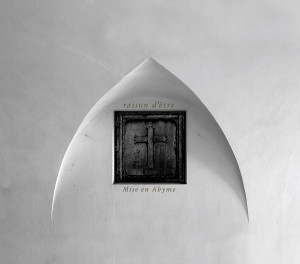 It's been five years since the release of 'The Stains of Embodied Sacrifice' where Peter Anderson a.k.a Raison d'?tre created fairly abstract and not so passionate dark soundscapes as he used to do in the past. There were no vocal samples in that album and the familiar almost dystopian atmosphere was not as intense as in his previous albums.
It's been also three years since the first time that I saw Raison D'?tre live at one of my favourite scene, Schaubühne Lindenfels during the Wave Gotik Treffen in 2011. Despite my fever,
the atmosphere was unique because Peter Anderson is offering much more than an audio experience of his ritual dark ambient music. Through unique lighting designs he is creating an atmosphere which complements the music and becomes a very important element for appreciating and be enveloped by the music. This is what makes Raison D'?tre stand out from the rest of the dark ambient bands who might rely only on video projections. While performing his music he intervenes to the whole space (not just the stage) as well, transforming it and giving dreamy characteristics to it. With this way the audience and himself become part of the same experience in a way that challenges the traditional roles of musician and audience. This is something that becomes apparent and clear only when his music is listened live.
Since 1992 and his first album 'Après Nous La Déluge', bells and samples simulating choral vocals combined with sounds reminiscent of an ominous wind or a mystic breath, are recurrent in the discography of Raison d'?tre and contribute to the overall dark atmosphere of ritual that is created.
'Mise En Abyme' released in Transgredient Records, is similar to 'Requiem for Abandoned Souls' where the atmosphere is less ritualistic. This is an album better listened during one cloudy and misty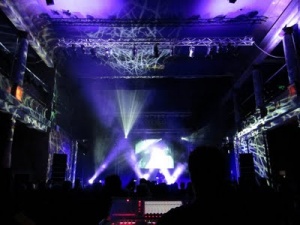 early morning where the mind is clear and capable of absorbing information with limited filtration. An additional element to this album is the inclusion in 'Katharos' of extracts from Axion Estin or It Is Truly Meet associated with the divine litourgy in Eastern Orthodox and Catholic religious traditions and the fact that three of the four songs have Greek titles. Even though Raison d'?tre's music has a quality closely related to that of a hymn, it is the first time that passages of Christian text are incorporated to the songs. I've always thought that the music of Raison d'?tre is deeply spiritual in a different and personal way for each of us however the inclusion of such a specific religious text introduces an ideological aspect to the music and this might be confusing for some. On the other hand 'Inferno' creates an atmosphere which brings to mind the representation of Hell in paintings of Hieronymus Bosch while the soundscape gives the impression that we enter into a smith's workshop for 17 minutes.
If 'The Empty Hollow Unfolds' transferred you to the darkest corners of your being, then 'Mise En Abyme' is the ideal soundtrack for a meditation on every aspect of the your existence. Don't expect glorious moments like 'The Spire of Withhold' or calmer but wittier soundscapes like 'End of Cycle' or 'Cenotaphium' and don't expect to listen to samples from drums or haunting vocals. Raison d'?tre has shown to us throughout the years, that his imagination has various levels like a pyramid and based on this, I would place this album somewhere close to the middle of this pyramid.
I've listened to this album a lot and realised that overall I can't find anything that will make me remember it or replay it in the near future, therefore I will be looking forward to his next one as well as his next gig. Until then you can purchase this album by following this link: http://www.dronerecords.de/album.view.html?album=15753
5/10
Blaue Rosen