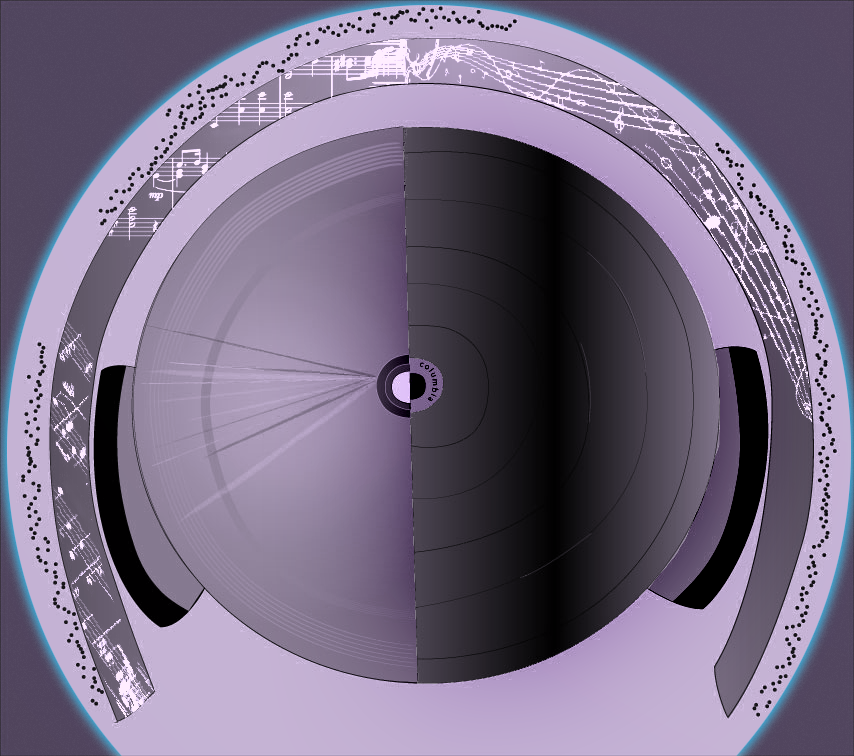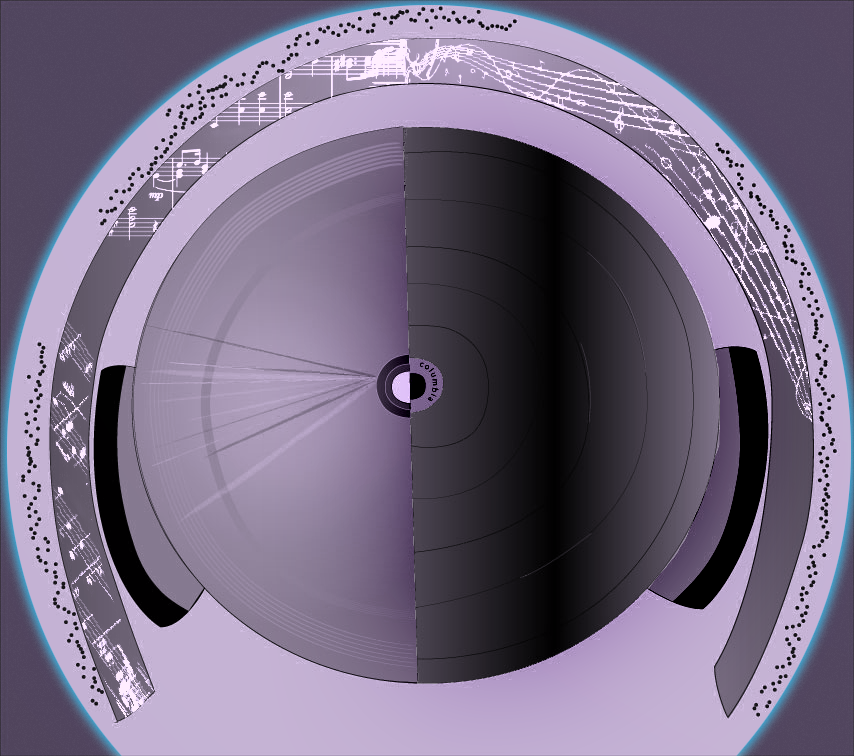 "…because we live in an industrialized, fast-paced world that prefers that the soul remains asleep…" (Bill Viola)
February was a particularly dynamic month, rich in independent music releases that cover the whole spectrum from ethereal/neoclassical to psychedelic rock. Even though most of our favourite albums are clustered around the post-punk genre, the doom metal/ black metal and the experimental music releases were so intense that, in a way, set the mood of this whole monthly playlist.
First things first, this month we had the return of The Tiger Lillies with one more massively beautiful release entitled, very appropriately, 'Devil's Fairground'. This is a live album, recorded in Prague with a full orchestra and it aims at revisiting the time the band spent in the city, after the split of Czechoslovakia and before the city became a tourist attraction. The songs deal with the usual subjects the band is occupied with, in its signature circus-atmosphere inspired/variety show inspired, way. There are drugs, legless drunks, talk about death, a ballad about a grotesque murder, or multiple murders to be precise, disturbingly romantic songs and a lot of passion! If you have been at least in one gig of this band you must then be very familiar with the bittersweet feelings that this band's music can stir. Accordion, haunting music saw, piano and of course Martyn's theatrical performance does not allow for your attention to divert from the lyrics even for a second. Each song is a story, each note is a feeling, the music has, as always, very strong jazz and blues elements which are developed into something with a far richer sound and a far stronger impact. "That was just the beginning of the band. It was a magical time.The bars were full. There were so many squats and parties, booze and drugs – but no tourists. This record's filled with the people I knew at the time. Lots of them are dead now. Heroin addicts and junkies." (press release, Martyn Jacques). The album has a song written by Panayotis Kalatzopoulos ('Summertime in Prague') and a cover of Jerry Leiber's song  'Is That All There Is?'. The former is a Greek composer who has written music for well known Greek movies such as 'Cheap Smokes','Peppermint', 'A Touch of Spice', while Jerry Leiber was a famous lyricist best known from his work with Michael Stoller in writing hits in the 1950s, among which was Elvis Presley's 'Jailhouse Rock' and 'Love Me'.
This month we also enjoyed the return of LADYTRON with a new crowd-funded beautiful album entitled 'LADYTRON', seven years after the release of 'Gravity The Seducer'. The band enhanced the otherworldly and seductive character of their music with 13 songs and an album cover that causes very intense feelings. Whether this cover has been inspired by the Californian wildfires over the summer of 2018 or from the catastrophic fire that cost the lives of 100 people in the area of Mati outside Athens of Greece, the image it depicts causes really strong and very unsettling feelings to anyone who has been aware of these fires. In any case, the music that accompanies this album probably makes 'LADYTRON' one of the best albums of the band so far. All songs are being performed in the unique way that LADYTRON have evolved over the years with Helen and Mira layering their vocals together and sounding like seers. We have loved LADYTRON since their debut '604', because of the quality and depth of their synth sounds. We have noticed the addition of more prominent industrial sonic textures after 'DeadZone' which make these songs necessary additions to the setlist of any club's dancefloor.  'Usually' the synthesizers are the most ethereal part in the music of any band but LADYTRON have proved that combining the gentleness and dreamy nature of synthesizers with high pitched ethereal vocals, is a combination that guarantees to transfer the audience into a place where something ominous is waiting to happen…We have loved this band for its ability to create such magical soundscapes and this is why we absolutely loved this album. LADYTRON have performed live at the end of last year in London but we are waiting impatiently for the announcement of a new date in London this year.
The next important release came from Cosey Fanni Tutti. Last time we enjoyed Chris&Cosey, it was on stage at HEAVEN with support from the wonderful Nissenenmondai. In that gig Chris&Cosey said that this was their last gig and they would focus on other things from that moment onwards. Well, 'TUTTI' the solo album of Cosey Fanni Tutti is one of those things and it sounds great! Whether one is mostly captured by the hypnotic repetitive psychedelic rhythms of 'Moe' or intrigued by the darker dimensions that are opened up through 'Sophic Ripple', this is a beautiful experimental album in all aspects. Muffled and high pitched sounds entwined with samples that simulate human screams, make up an album of captivating industrial aesthetics that can ideally provide the soundtrack to your most daring thoughts.
Speaking of daring thoughts, Teeth of The Sea present one of those through their new album entitled 'Wraith'. Having set aside for a bit, its more contemplating in nature, psych-rock soundscapes, the band has explored other dimensions that allowed the tracks to be more danceable. In that way, the mind that was highly engaged in a sonically induced psychedelia in their previous release entitled 'Highly Deadly Black Tarantula', is now freed so that the body can start exploring the effect the rhythms can have on it. Navigating freely between a numbing Lynch-like environment and a more Steve Reich inspired one, the band has produced an album with a very rich sound and theatricality. The cover image of 'Wraith' gives a first indication of what to expect with coloured dust being blown out of the faces, making references to tribal customs and masked theatrical plays. Wraith In The Wall' has an unsettling and very unexpected ending that 'disturbs' the whole sonic environment that was built up until that point. The album ends spectacularly with IDM and industrial elements added to the overall psychedelic mix. This is an album that you listen more than once consecutively.
The new album of Boy Harsher and the releases of Isolated Youth, FRAGNANCE, Tomb of Love, Lindustria, Last Dusk, and DZR cover both the more pop and the coldwave aspects of post-punk. First of all BOY Harsher's 'Careful' has shown us what pop dystopia sounds and feels like. Where there was thick bleakness and heaviness in the band's previous album, now this has given its place to a newfound sonic 'utopia'. The samples and overall sound are both of different aesthetics, less dark than before but their 'muffled' industrial aesthetics, retain something from the dystopia as if it was a bad dream. This album feels as if someone has opened the drapes a little bit in an otherwise very dark room. The sound of 'Warfare', the 12″ EP by ISOLATED YOUTH, but mostly the lyricism of the vocals, have brought to mind the early sound of Tarnation. Notice the antithesis between the timbre, emotional fragility and ethereal/dreamy nature of the vocals and the more dynamic, stronger feelings created by the assertive and very 80s post-punk, guitar and bass riffs; and then allow yourselves to feel what the interaction of these elements do…Moving away towards a bit lighter sonic areas, FRAGNANCE has offered us a sound that combines the synthpop melancholy encountered in Pet Shop Boys songs as if a coldwave theme was running through them. The album 'Now That I'm Real' has been mastered by HANTE. who also provides backing vocals in the album. Tomb of Love and DZR have both created remarkable debut albums entitled 'A Permanent Reminder of Our Failure' and 'Instances'. In 'A Permanent Reminder of Our Failure', their debut EP, Tomb of Love, a side project of Thiago Satyr (Witching Altar) and Luan Lima, remind us of what we love about gothic rock rhythms, heavy guitars and post-punk bass riffs. The album has a 'typically' gothic photo of an ancient basilica in Rome as cover and we also read that "Guitars, Bass and Keyboards were recorded at Luan's Mausoleum between January 8-14, 2019″. In 'Instances', DZR brings to mind the sound of The Chameleons. Post-punk that is more skewed towards punk is a style that Blaue Rosen enjoys very much. In this case, it is the musicality of the songs, DZR's reverberating vocals and the passion they express, which has made us love this album. Have you ever wondered how a sonic collage of Yello and Minny Pops would sound like? Look no further than within the debut EP of Lindustria. There are 80s pop references alongside industrial sounds and synth melodies that are paired with the tone of the vocals and take the mind to pleasant 'trips'. Finally, Last Dusk's album 'As The Young Die', will be appealing to fans of Sisters of Mercy and Mephisto Waltz. Drums and electric guitars start together in every song, setting the rhythm and the mood before the haunting vocals of Carfax Haddo give to every riff and every beat a new meaning. The band will make two stops in the UK, In Leicester at the end of March (29/3) and in Bristol early in April (7/4).
There were four releases of punk style that we loved last month and these came from Flat Worms, Fabulous Sheep, Komplikations and Pandemix. 'Into The Iris' the new 12" EP by Flat Worms has been recorded by Ty Segall at his home studio. There is experimentation, there are guitars that are going 'crazy' making unusual and wicked sounds throughout this album and on top of all of this, there are the vocals that sometimes use spoken word and other times just take all their emotion out for us. Buzzing sounds, persisting, mind-numbing, high pitched frequencies make space for noisy guitar 'walls' for 20' and then the songs end and you are left with a choice of playing this EP louder or just very VERY loud. In their debut album, Fabulous Sheep explores the cinematic and haunting sides of punk and creates an album that moves away from the typical punk sound we have been used to. The 12" EP of Komplikations entitled 'No Good News' is quite the opposite, it is very good news as its sound seems to have been inspired by Grauzone and NDW in general with a little deathrock in the mix. Speaking of deathrock, Pandemix in their album 'In Condemnation' nod to Cinema Strange and Christian Death alike. An album that is both an existential 'cry' and a politically charged message. The songs condemn homophobia, harassment, social marginalisation and blend crust punk with deathrock.
There were not many industrial albums during February but 'EXO7' the self-released album by 25eme Dimension and 'Memento Mori' by Unidentified Man/Chroma Carbon, was the best of those we listened to. Even though the element that connects the tracks of 'EXO7' is a fascination with industrial sonic textures, we mostly loved the way tribal, techno and psych trance rhythms have been opening up new dimensions within this sound. 'Memento Mori' brought to mind the magnetizing effect of the sound of Bakterielle Infektion and Cabaret Voltaire combined. In this joint release with Factice Factory's lead singer, Francois Ducarn, Unidentified Man nod to Kraftwerk and remind us of what we love about industrial music. The performance has minimal and coldwave aesthetics while the staccato rhythms create a sense of being static just before the synthesizers come to 'take us by the hand' and make us dance. We hope we can see both musicians live in London soon.
The next group of releases explores the darker and lighter sides of electronic music in different ways. First of all, Xiu Xiu has stricken again with a new album whose title could have been the title of a Van Gogh painting, 'Girl With Basket of Fruit'. You can forget any inkling of melody that might have managed to sneak through in the band's earlier releases. The sound of this album is quite 'raw', noisy as usual but even more so and deconstructive in its aesthetics. Expect to feel as if you have been suddenly thrown into a nightmarish environment where sometimes tribal drum rhythms guide your thoughts and other times a few scattered sounds that resemble human vocals, try to 'break' through… In Bjarki's album 'Happy Earthday'  you can expect to feel like dancing under the combined effect of IDM, trip-hop and dub rhythms that are nicely combined with reverberating samples and create a very atmospheric sound. The slightly 'lighter' side of electronic music has been greatly represented by Finlay Shakespeare's album 'Domestic Economy'. The album blends soul and pop rhythms with an overall style that would thrill fans of Depeche Mode, Talk Talk and Laid Back alike. It is puzzling to notice the relation between the title of this album and the songs' titles that represent different places. It is even more puzzling to find Christiania on this list. Christiania, for those that have not delved into the history of this place before, was an autonomous area in Copenhagen. Until 2010 when this situation changed, it was considered to be the one place on the planet where anti-hierarchic living was being practiced. When an album starts with lyrics such as "…shaking up the children, shaking up the household, shaking up your friends, I am all for this free world now… shaking up the family plan…" (lyrics of 'Luleå') then it must certainly send chills down the spines of anyone who has dared to wish for a free world…but let's leave this there for the moment. This is a fantastic album and we cannot wait to enjoy Finlay Shakespeare as he will open for Blancmange on April 27th.
One of the best albums of the previous month is undoubtedly the debut self-released album by Mocking Dead Bird. This is one of those albums that will either stick on one's mind or not. It is a dark album in terms of its lyrics and it becomes a magical album as a result of the delivery of these lyrics with a warmth and directness that nods to Nick Cave. Blues and dark folk are the styles on which the sound of this band is weaving itself. The lyrics sound autobiographical and the album's cover adds a theatrical, surreal and borderline grotesque tone to everything. I think that this cover is so powerful aesthetically, that it 'colours' the sound even further, making each verse a bizarre statement about the characters on that cover. If you are a fan of dark folk music, then lose no time and buy this record. We would love to be given the chance to enjoy this band live in London. Speaking of a dark sound, we should give a shout for the debut EP of Soft Blade entitled 'Zerkalo'. Soft Blade a.k.a Violet Shabash is a DJ and producer based in Russia who is part of the underground electronic experimental music scene. In addition to her sonic experimentations, she is the artist behind some impressive graffiti in various abandoned buildings around Moscow. The title of this EP is the Russian word for 'mirror' and for that reason it has been associated with Tarkovsky's cinema. However we have read that: "Though the project was not directly inspired by the film, Zerkalo represents the gritty, muddy, and uncertain realities painted in the bleak visions of futurism presented in 70s science fiction." The four tracks that you will listen to in this EP are slow in their rhythms and blend industrial with dub and dreamy qualities in order to create a haunting feeling that goes well together with a difficult-to-fight-eagerness to dance to them!
A monthly playlist of ours would not be complete if it didn't include psych-rock releases. The album 'Exploding Head Syndrome' by The Telescopes represent this genre in an ideal way. Its sound seems influenced by the music of SUICIDE and the continuous buzzing sounds that form the 'spine' of this album, ultimately create this numbing feeling one has under a burning sun on a hot summer day. The percussion that follows the rhythm in different frequencies enhances the industrial sonic textures of the sound while the hypnotizing vocals create a feeling of suspension…
This next group of albums has black metal and doom metal at their core but their subjects have a gravity of their own. We will start by the fantastic album by Rotting Christ, entitled 'the Heretics'. Fans of the band will know of course the aggravating experience the band had last year when they have been arrested for the promotion of anti-Christian sentiment and views. The best way for the band to channel this experience and offer an 'answer' to it, is this whole album entitled 'the Heretics'. Taking inspiration from liturgical chant and the form of psalms and delivering lyrics with the summoning force of a great seer, Rotting Christ present a worldview through their songs. What we admire and it is the only thing that magnetizes us, is a sound as ceremonial as this and as rich in rhythms as the one that the band has created this time. I think that this album deserves a place next to your copy of Dante's 'Inferno' and that its lyrics could become one's mantra…
The debut, self-released album of Betelzeus was also a true revelation. Starting with its title 'Congolese Sterilization' the album's subject is immediately political, referring to the demeaning act of sterilization that is practiced in Congo to this day. The sound of this album surpasses the 'confines' of doom metal, embraces progressive rock experimentation and even adds news' excerpts within the structure of their songs. Expect a slow-moving, noisy 'guitar' wall that sometimes becomes even slower and even heavier, which the distorted vocals are 'ripping' apart with every 'cry' and every sound!
Terre's debut EP entitled 'Terre' is a dark tunnel on which you will walk at your own risk. There is 'slime', there is noise, there are sounds that feel like something sticky is trying to 'eat you up' and there is a menacing roar that accompanies your every little step. You might find yourself thinking that you do not want to exit from this 'tunnel' though…
'Elämä ei tarvitse minua', the new album by Kaunis Kuolematon from Finland, creates a great atmosphere filled with melodic guitars that give way seamlessly to equally lyrical vocals before being followed by much heavier guitar riffs and vocals. Fans of Wardruna will love this album that also incorporates female backing vocals, thus creating great aesthetic antitheses throughout. Each minute of each song in this album could be characterized in a different way, 'symphonic metal', 'heavy metal', 'speed metal' you name it…and then there are choral female vocals that lift everything up on other dimensions. Just enjoy it!

Speaking of heaviness and ethereal vocals, Angelic Foe's new album entitled 'An Evil of Nature' has the signature of Caroline Bjärgo on the artwork and the beautiful voice of Annmari Thim that guides us through places that carry through the magnetizing atmosphere of an ancient ruin. We had the chance to enjoy Angelic Foe live at Schauspielhaus during WGT in 2016 and we can recommend that you do not lose any chance to experience live the strength of these vocals. This album creates a cinematic atmosphere, ideal for a fantasy and even strategy game. Since we have so few albums that can represent this genre, 'An Evil of Nature' give to us the chance to enjoy the power of ethereal/neoclassical music at all its glory. The arrangement is spectacular throughout this album, bringing the vocals to the foreground without losing anything from the gentleness of the piano, the soft but powerful beating of the percussion or the lightness of the strings in the background.
The most bizarre of the releases of this month has been chosen to close this playlist and it is no other than the album 'Grand Guignol' by Pensées Nocturnes. This is music that might have accompanied the freak shows of the past, this is the music that the monster of 'IT' might have been secretly enjoying. This is the soundtrack of your most wicked dreams and your most shambolic thoughts. With ¾  rhythms dominating this album, one might say that this would be the kind of waltz that Goya's 'Witches' might have danced. This album defies categorization and requires that you take some time to allow it to possess you a little bit…or a lot. There are alternations and additional elements within each song that could be viewed as 'paranoid' choices especially since these elements replace each other with the smoothness a juggler is moving objects between their hands.
Taking inspiration from Bill Viola's work and his thinking as an artist, this playlist's purpose is not to let the soul remain asleep…We hope that you enjoy it!
Blaue Rosen