The only way you can attend a gig of David Tibet's is by going through some sort of meditation in order to prepare yourself for the energy that will envelop you. The only question will then be, which chords will be struck and how strongly.                        
Stargazer's Assistant- A meditative introduction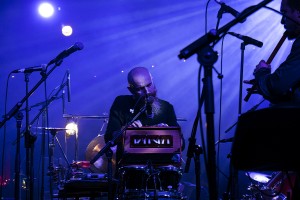 The evening started with a mesmerizing set by Stargazer's Assistant, who have released the album 'Remoteness of Light' through House of Mythology this year. Starting off with sounds that replicated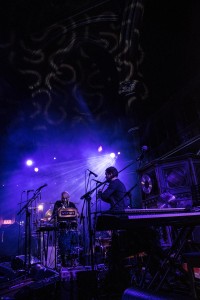 the atmosphere of an unknown, 'wild' place, David J. Smith and the band used droning sounds enriched by awakening and mystifying sounds of bells, chains, accordions, various objects and percussion all skilfully positioned within the arrangement. There were influences from dark ambient, oriental music as well as tribal and pagan music in slow rhythms that ensured our total spiritual immersion in the atmosphere.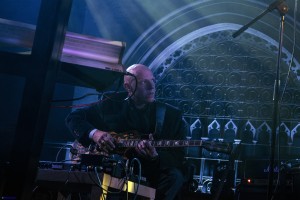 Soon after the band started to weave their soul-numbing sounds, I realized that this was the meditative process that I was seeking to go through prior to listening to Hypnopaz?zu's music.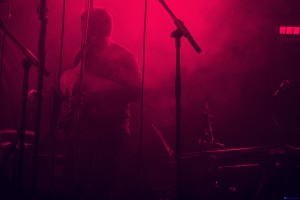 Stargazer's Assistant used different wind instruments including the unusual bagpipe and embarked on the demanding task of creating an enveloping sound for us. The alterations in the rhythms and styles were subtle and the resulting sound felt as if it was bearing messages from unknown/forgotten worlds.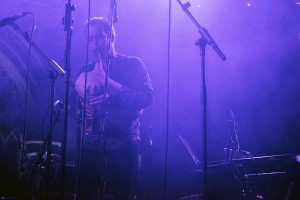 It was only after the band had finished that the actual impact that the sound had on each one of us was truly apprehended. The discussions among different groups of people revolved around how powerful and subtle the impact of the music had been!
Hypnopaz?zu- The performance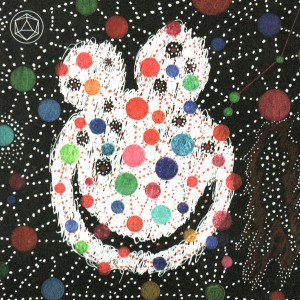 …and if for a second we thought that the transition to the main event would be seamless…the song "Chirpy Chirpy Cheep Cheep" of 1971 by Middle of The Road followed by sounds of bells, was loud on the speakers as the lights dimmed and Hypnopaz?zu appeared on stage one by one! People were looking at each other kind of surprised and wary (it sounded kind of creepy but was really funny!) but we all knew where we were and why we were there, so halfway through the song, everybody seemed at ease… David, wearing his usual tote bag with the yellow smiley face, appeared in front of us singing the first verse of 'Create Christ, A Sailor Boy' followed by 'Incidentally, Shaitan' and 'Christmas with the Channellers' while throwing powerful gazes on each side of the stage. I must admit that I soon found myself being in and out of a hallucinatory state beyond my control. This lasted for the whole set and I only came out of it on the night bus on my way home…
…night like a lock…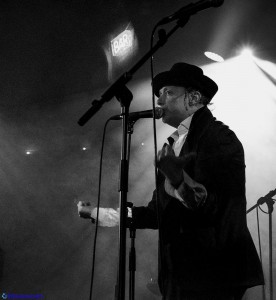 It is an enormous pleasure and an honour to be able to experience David on stage, especially because the delivery of his songs is always revelatory and never the same! Each time he gives the impression that he opens up his whole being to a larger than life, meaning of the verses and each time, he does this in a different way, while he gracefully lets us witness him as he metamorphoses himself into a channeller, a serpent, a daemon, a wise storyteller, a passionate actor, an expressive, sincere and multifaceted performer. We listened to slightly different versions of the songs of the album at the Union Chapel (a few changes of tones here and there and stressing of different verses in different ways, elongating of different words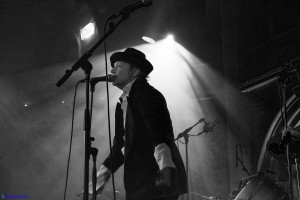 giving them different note values) and this only added to the experience of having both David Tibet and Youth narrating these weird stories through music and lyrics. These different versions of the songs added even more dimensions to the stories they describe. Whether all this has been rehearsed or was the result of a very responsive and dexterous band,it is an admirable quality for musicians, to be offering such a performance with so many additional elements so soon after the release of an album.In any case Youth was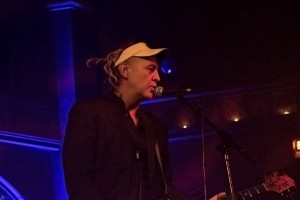 'guiding' from anywhere he was on stage, '…he is an Archon…' thus spake David Tibet about him and Hypnopaz?zu could not have found a better place in our hearts!Tibet's delirious performance especially in 'The Sex of Stars' had a magnifying effect on everyone on and off stage with all the musicians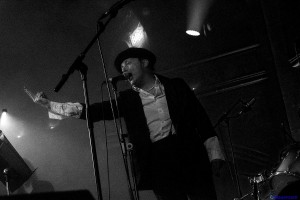 playing manically the technically demanding score of the song and at the same time feeling confident to be emotionally immersed in its atmosphere! This song was one of the few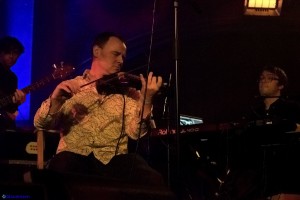 instances were Youth was visually conversing with one of the percussionists and then with all the musicians around him. It was evident that Youth breathed life to all the musicians around him and seemed to be both a bassist as well as a conductor at times! It was wonderful to see him at so many roles!Apart from Tibet and Youth, it was also the violinist who was revealed to us, as a very expressive musician! The ending of 'Christmas with the Channellers' and 'The Auras are Escaping' were almost too much for one's mind and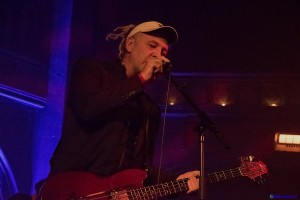 heart and I've found it almost consolating that other people were there, sharing this dramatic and so captivating performance! Tibet has definitely outdone himself in terms of delivering lyrics, especially compared to all the other performances I have attended! He performed by generously unveiling all the theatricality and the emotional richness that he possesses, while Youth represented the more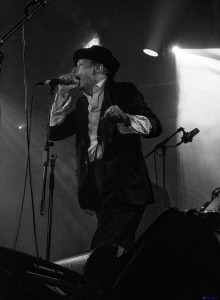 confident, less  risk prone (when it came to his expressions and movements) and humble presence of Hypnopaz?zu. It was a rich experience to be able to see the different ways the music and the lyrics were 'speaking' to both Tibet and Youth.And somewhere within Youth's rather constrained emotional outbreaks and Tibet's all familiar playful, improvisational spontaneity and theatrical delivery of these conceptually rich lyrics, lies the essence of Hypnopaz?zu. These two seemingly different energies, produced a unique and artistically very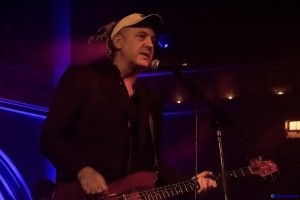 rich vortex of which we could only be spectators. It felt quite 'dangerous' at times to let yourself be completely overtaken by the performance and yet it was completely unavoidable…this is what makes being present at such a gig, a precious moment!
…neither coming nor going but what is shall be…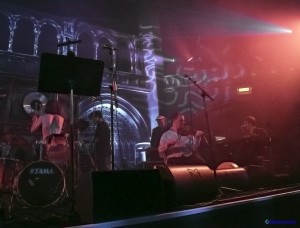 Six musicians apart from Tibet and Youth, performed the emotional and unusually ceremonial music that Youth has been inspired to write based on Tibet's lyrics: a keyboardist, a guitarist, a dexterous violinist/multi-instrumentalist (who also played a middle eastern type of drum at 'The Crow At Play' and flute) a percussionist and two musicians manipulating sounds (one of the two also offered backing vocals during 'Magog At The Maypole').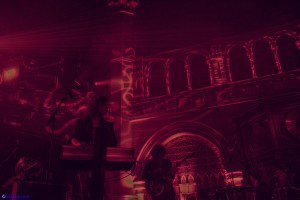 Even though all the musicians were facing the centre of the stage, where David Tibet was standing, it was the percussionist that seemed to also have a primary role in the performance.The fact that he entered the stage first and was positioned at the centre in front of a gong, proved that to an extent. His whole presence seemed to carry , the energy of an ancient messenger.
As we were approaching the end of the album and of the gig, the atmosphere changed, David's expressions and movements changed, the rhythm of his movement changed and overall it felt as if a different air was circulating in the venue. David Tibet began murmuring some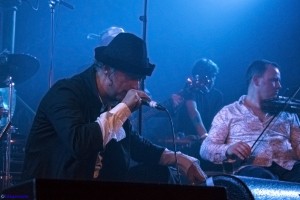 lyrics in an unknown (to me at least) dialect…Only when the emotional and spiritual grip of the delivery of this song, was loosened, I came to realize that this was an amazing version of 'The Auras Are Escaping'! The song was transformed to a captivating mantra that gradually took both Tibet himself and us in the audience in a kind of psychedelic trance, that prepared us for the closing of this gathering. The live version that we had the opportunity to listen to at the Union Chapel, charged the atmosphere and the emotional impact of this song to unimaginable levels! It was an ingenious choice to offer such a rich and different performance just a few months after the release of their first album as Hypnopaz?zu. We would like to see this version being released as an extra track in an EP please or have at least a gig of Hypnopaz?zu each month so that we can listen to this version of the song as many times as it takes to be considered just enough… Of course I am kidding…but believe me when I say that the performance of this specific song at the Union Chapel was both addictive and out of this world!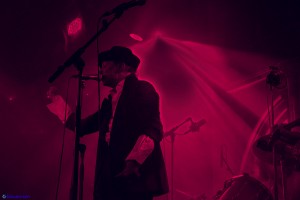 I would be lying if I said that it wasn't an emotional moment to see both Tibet and Youth at the vocals in 'Magog At The Magpole' and 'The Crow At Play' and again when they offered us an embrace of appreciation and sincerity at the end of the gig. Unfortunately I had the idea of spending the last moments of this gig standing at the gallery so I missed the opportunity to capture this on a photo but maybe not all things should be captured by a camera lens… Despite the fact that the audience passionately at first, asked for an encore, Hypnopaz?zu did not reappear on stage and I embarked on another quest to find either one of the two coloured limited editions of this amazing LP…
Until next time…
Blaue Rosen