"I took punk to be the detonation of some slow-fused projectile buried deep in society's flank a decade earlier, and I took it to be, somehow, a sign." (William Gibson)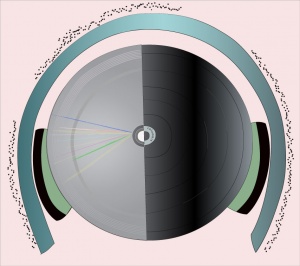 August was a month whose soundtrack had punk at its core and experimentation as its drive. There were new releases from favourite, well established musicians, welcomed stylistic changes in the music of others and plenty of debut albums that proved the originality of young musicians in the creative treatment of their influences.
First came the news of a new UK tour and then we learned about the release of a new album by Mark Lanegan and Duke Garwood, entitled 'With Animals'. It has been 5 years since the release of their previous collaborative album entitled 'Black Pudding' and this latest album has similar aesthetics, added percussion and increased experimentation. Duke Garwood has said:
---
"Over the years, we've recorded together and apart. This time, I started this record alone, with many animals as company…Music isn't meant to be hard. Though sometimes it can burn you to ashes. Making music for a singer, so they can inhabit it with a song means hitting the right soul buttons. There is no hit without a miss. It is a healing record, for us the makers, and for the listeners. It grows natural. We are gardeners of sonic feelings.".
---
As it has always been the case when Mark Lanegan performs, this is a confession of the soul, sometimes with catchy and other times with witty lyrics. It is an album that grounds the soul, it has blues and soul elements and it brilliantly highlights the vocals without losing anything from the dynamic minimalism of the rhythms that envelop it.
Next came the metamorphosis of two musicians whose music had their own signature and who have both decided to give to their sound a few creative twists. We are talking about Sieben and King Dude who have released their latest albums entitled 'Crumbs' and 'Music To Make War To' in August 2018.
---
"Welcome to Sieben's new album, crumbs. Welcome to gothpunktronic. Elegant, up-beat and angry. A crafted manifesto of horror and verbal burlesque." (extract from the official press release of 'crumbs')
---
Sieben was the first musician I encountered who extensively used looping to create a sound that had depth and volume, making him sound as a whole band. Until now, the use of other instruments, apart from the violin that Matt Howden has been playing with remarkable dexterity, has been both selective and limited, as was the inclusion of backing vocals. 'Crumbs' is an album that explores the impact of pop/psych rock/punk rock elements on the sound of Sieben and the result is very creative and breathes new air into his music. Of course the mighty violin is still there to provide all sorts of sonic twists and mood swings to the music we are listening to.
"Fear leads to panic, panic leads to pain
Pain leads to anger, anger leads to hate…" (lyrics from 'Danny Nedelko')
The 'talk of the town' has definitely been the new album by IDLES entitled 'JOY As An Act Of Resistance', a title that evokes countless ideas about many important things. Two days before the official release of this album, the band has organized an exhibition with artwork that was offered with the LP editions of this album. The exhibition took place at HM Electric Gallery and the sculptural and collage-type of artwork, was created by fans and trusted friends of the band. Following their unforgettable show at Rough Trade East at the release of their debut album 'Brutalism', IDLES was widely and further introduced to the public with their appearance at Latitude festival this year, where people who were not into punk music so much, had one more chance to see the band perform live and experience their passionate and larger-than-life attitude on stage. A personal experience at my workplace convinced me of this, when 20 year old colleagues, came back from Latitude and said to me 'Did you know of a band called IDLES? They were amazing…' and so I realised what has actually happened this summer.
I was thrilled to listen to this album, I was excited about the choice of the album's title and I once again salute the sarcastic, melancholic, fiery and unapologetic content of the songs' lyrics. 'JOY' is an album that you must have in your living room (it decorates mine at least) so that when people come over at your place, they will get the impression that this might be a 50s music album, so when you actually put it on they will get shocked about what it really talks about! Everyone should start making a banner and go out on the streets shouting the lyrics of 'Danny Nedelko'!
"Don't break me with your smile…" (lyrics from the song 'Cold Hands' Brave Young Years)
Talking about passion, things cannot get more passionate than what we experience in the debut album by Munich based Brave Young Years, entitled 'It's My Party And I Die If I Want To'. This is music with post punk, rock, grunge elements, lyricism, melodic electric guitars, expressive vocals and a mood to tap into attitudes of determination, positive creativity and even heart-breaking satire. It would be a mistake not to buy this album and we could not say it more clearly that we would love to see them perform live in London soon.
Navigating in more 'typical' punk sonic paths, El Ojo Y La Navaja a.k.a Erick Arevalo has offered us a beautiful debut album entitled 'Anarquia Coronada' (Crowned Anarchy in English) that has synthesizers and drum machines as its main sound creating tools. Vigorous rhythms that create a sense of eagerness and melodies with 'cold' colours characterize this album which will also appeal to fans of Mementut. Similar in style but more electrifying and evidently darkwave in aesthetics, the new EP by Trashlight entitled 'Honey Insulation' was released at the end of August 2018. When the bass comes to the foreground the atmosphere gets infinitely more post punk in style, while the vocals, sometimes give to the music dream pop qualities and other times highlight their darker aspects…
It is only fitting to continue this sonic trip by listening to Funeral Flower's new single entitled 'Wasted Saint'. It is a song characterized by an attempt to give a coarse feel and texture to coldwave melodies. Fans of Minuit Machine and HANTE will love this song. The single 'Runaways' by A Transition  feels as if taking El Ojo Y La Navaja's rhythms and giving to them a dreamy quality and more musicality. This is a new single by the band that has moved into more synthpop paths, compared to its more ambient electronic and post punk but always synth-based, recent releases (e.g. 'No Ones World', 'Background Radiation', 'Cold Reset').
Listening to the new EP by Blue Haze entitled 'Nightdive' fits well with the previous two releases. Its ethereal and dreamy vocals weigh down the high pitched electrifying guitar and synth melodies that surround it. Overall the music of Blue Haze makes us really wonder about how the full length album of the band will sound like.
Darker in aesthetics and 'colder' in sonic colours, is the beautiful debut album by Creux Lies entitled 'The Hearth'. Influenced by the sound of The Cure and the lyricism of Drab Majesty alike, this is an album that flirts confidently with synthwave, gothic and colwave music.
Equally beautiful was the debut album by Abstract Deity, entitled 'M.Creature' and we particularly liked it because it brought to mind the sound of bands like Bakterielle Infektion and November Növelet alike. One thing we did not expect to encounter, was a sound that brought to mind that of the much loved band Cinema Strange, yet this is exactly what happened when we listened to the singles released by Abnormal Life Termination during this month. With bass vocals and nice synth rhythms and melodies, this is a band that we will be looking at very closely from now on.
We were delighted to listen to the new EP 'Isolated' by Greek punk band Chain Cult a.k.a Dinos (guitar), Jason (bass, vocals), Vangelis (drums). Tapping into the rich tradition of greek punk music, this is a two-track EP that nicely incorporates melody in the guitar riffs and the vocals.
The new album entitled 'You Have Been Processed' by Klammer, a project based in Leeds, brings to mind the sound of New Model Army and Killing Joke as well. You will notice, guitar riffs which navigate effortlessly between post punk and more traditional rock paths and vocals that will definitely convince you to go back and listen to your favourite album by The Chameleons and also create the desire to watch this band perform live soon.
Did you think that we would not be fascinated by anything with psych rock qualities? Well, think again, the debut album by ETHERS, entitled 'Ethers' has exactly the right amount of psych rock to spice up the otherwise post punk delivery of the lyrics. But things do not start like that in this album, on the contrary you will find yourselves being gradually pulled into a psychedelic maze that only reveals itself fully towards the end of the album that starts in a quite 'typical' grunge, indie mood.
The 'weird' album of this month's soundtrack was the split album of Local Loadies with EAZYHEAD entitled 'Mind Fuck'. It is an album that merges two different sides of rock, the rock 'n' roll and the psychedelic. You might think that these two cannot find a common ground but it only takes one listening to this album and you will see where and how they 'converge'. It was really fascinating to notice how the rock 'n' roll element discreetly started to dissolve after the first few songs, became more experimental, gained dream-like, mind-numbing qualities and ultimately made the transition from the 'coarse', Presley-like vocals of Local Loadies to the Singapore Sling-like vocals of EAZYHEAD, happen almost seamlessly. I really enjoyed listening to this album and experiencing the transitions that happened between its different sides.
We kept for last, three albums, each of which represent one category uniquely. It is the debut album by Tomberlin entitled 'at weddings', the experimental electronic album of JOYFULTALK entitled 'Plurality Trip' and the 'heaviest' of all utterly weird album of Decree entitled 'Moment of Silence'. Tomberlin's beautiful album brings the acoustic guitar to the foreground while the vocals have a romantic aspect as well as a melancholic one in equal parts. I found myself wanting to listen to Cat Power once this album finished.
In the album of JOYFULTALK you will encounter guitar trembles with dreamlike qualities, vibrating percussion, spaces of low gravity, areas of trippy noise, moments of resonating hypnotism in an attempt to provide music to lose yourself into.
Finally, the album of Decree was astonishing as it really transcended the confines of metal, industrial and dark ambient music by creatively and very carefully combining elements from all these styles in its sound.
We will not confuse you any further with the details, we hope you will enjoy our playlist!
Blaue Rosen