…or else the 'highlights' of the music highlights of the next two months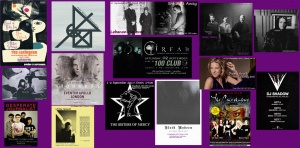 This has been a worrisome summer for the world, with some war bells 'polished' and ready to ring and others ringing in another tune. Travelling by plane has become even more expensive and arriving at various popular destinations showed that things are not as idyllic as they seem in touristic advertising posters. 
We are 3 days away from the official end of this summer, things will continue to change and art will continue to be one step ahead raising the alarm of awareness and pointing out the beautiful, the ugly, the hectic, the funny, the collective, the individual things that inspire for one reason or another, the hard-to-describe feelings and those things that we keep 'hidden' in our souls. This is what we should expect in terms of album releases and gigs for the following few months.
Album releases
Band Of Holy Joy, remain frantically creative and involved in so many different things that it is difficult to capture all of them in a summarized way. In between numerous live appearances in London and Friday evening's Bad Punk radio show at Resonance FM which shows a commitment to art that provokes, informs and addresses almost every aspect of life, Johny Brown and the Band of Holy Joy will be releasing a new album entitled 'Funambulist We Love You' in October 27, 2017, through Tiny Global Productions. One song has been released so far, entitled 'A Revivalist Impulse' which reads as an ode to disappearing qualities, subtleties, music styles and trends which, in different periods, had made life more beautiful in certain ways. In the lyrics there seem to be references to Roxy Music's 'In Every Dream Home Heartache' through a word play that makes a comment about art, references to the 90s ("Courtney Love and The Heroic Quest…"), references to The Flying Burrito Brothers and their album "The Gilded Palace of Sin" and a final verse about Rimbaud. Just this one song, addresses every possible idea about a multitude of things in the unique way Johny Brown writes lyrics.
Band of Holy Joy will play live at the Lexington with  Blue Orchids and The Bitter Springs We will await for the release of the album in order to say a few more words about it. You can pre-order the album from here: https://bohj.bandcamp.com/album/funambulist-we-love-you and buy tickets for the gig from here: http://www.wegottickets.com/event/403560
With an album whose title is  rich in symbolism and critique for our world, The Waterboys will release their next 3x CD album entitled 'Out of All This Blue' on September 8,2017 through BMG Records.Four tracks have been released so far from a massive total of 34 tracks (in the 3x LP/3x CD version) or 23 tracks (in the 2xLP/2x CD version), 'Mr Charisma', 'Do We Choose Who To Love', 'Payo Payo Chin', and 'If The Answer Is Yeah' and they reveal stronger jazz, soul and funky influences than in 'Modern Blues'.The album seems to be more pop in mood than the previous album, putting an emphasis on rhythms rather than the melody.Percussion seems to come to the foreground in this album at least in one part of it. You can preorder the album from here: https://waterboys.tmstor.es/ . So far, the band has announced a few dates in Liverpool, Belfast, Edinburgh and Glasgow and will offer two shows in London. The first one at the London Palladium on 21 October 2017 is sold out but the band will play live there again next year, on 27 April 2018.Tickets for this second show will go on sale on September 8, 2017!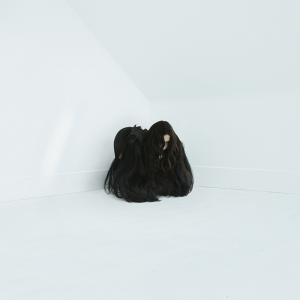 Chelsea Wolfe, always 'strikes' in summer and this year is no exception. On September 22, 2017 her new album entitled 'Hiss Spun' is
expected to be released through Sacred Bones records. Three songs have been released so far "16 Psyche",  "Vex" and "Offering", proving that this album is more 'grounded' in terms of atmosphere and aesthetics, compared with Abyss. Amidst harsh guitars, 'colored' by doom, rock and metal tones, the vocals are much more affirmative this time without losing their serene properties. A big surprise, was the guest vocals by Aaron Turner (vocalist in band ISIS) in "Vex". Chelsea Wolfe has not announced a European tour yet and we can't wait for the release of this album. You can preorder this album from here: http://sargenthouse.awesomedistro.com/products/596097-chelsea-wolfe-hiss-spun-double-lp-preorder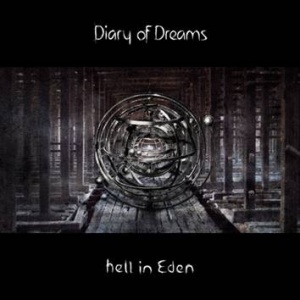 Diary of Dreams, seem to have committed themselves to the task of keeping up the momentum that they have established with the audience since the release of 'Grau Im Licht' in 2015 and those powerful gigs that followed afterwards. I perceive this band as being the maestro of darkwave music and only awe-inspiring compositions can be expected from them in any rhythm they 'built' their songs on. We will not have to wait for too long, as their next album entitled 'Hell In Eden' will be released on September 29, 2017 .In even fewer days, on September 1 the first track from this new album together with its video clip, will be released and its title is 'Hidden Rivers'. The band will then go on tour to the US starting from the Gothic Cruise 2018 and having with them Slave Republic. We can't wait to listen to the whole album.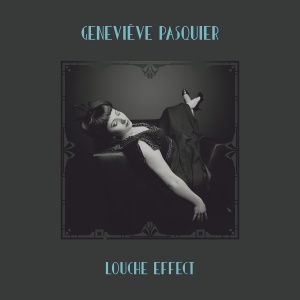 Geneviéve pasquier is adored by her fans and I think i speak for many people when I say that 'we have missed her a lot' the last few years. It has been 8 years since the release of her previous studio album entitled 'Le Cabaret,Moi' and 7 years since the first time I saw her perform live in Leipzig's Moritzbastei and I will never forget her unique style on stage.We should count 2017 as a special year as Ant-zen has announced that her new album entitled 'Louche Effect' is to be released on September 6,2017.No tracks have been released so far, but we can expect nothing less industrial, yet minimal and experimental in style, with a big portion of 1920s cabaret aesthetics from an artist that makes precious live appearances and carefully composed albums.There is no information yet as to whether Geneviéve Pasquier will tour and most importantly whether she will perform live in London.We can only hope for this to happen.Until then we will just wait to enjoy her next album.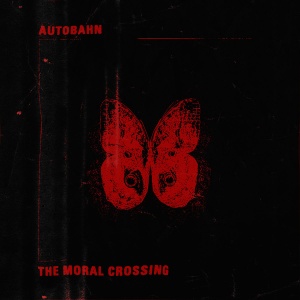 AUTOBAHN, the post punk band from Leeds which was introduced to us in 2015 with the powerful debut album 'Dissemble' and a memorable gig in London's Sebright Arms, return with the release of their second album entitled 'The Moral Crossing'  expected to be released through Tough Love and Felte on November 3, 2017. Following this, the band will play live a few days later, on November 9, 2017 at The Lexington.
Many things have changed since 2015 but AUTOBAHN's passion is not one of them. The already released track "The Moral Crossing" reveals that the guitars remain frantic and committed to synchronize our heartbeats with motivating rhythms, similar to the ones experienced before a big decision or an important action. This harsh, grinding guitar sound that forms the background for Craig's (Johnson) vocals is one of the elements that placed AUTOBAHN in the list of favourite bands.
The addition of what sounds like the sound of a violin and a cello is a big surprise (!!!) and adds more lyricism and melancholy to the atmosphere. A moral crossing, in the literal sense can mean many different things to mane people but we can't wait to listen to how AUTOBAHN interpret it through this release and the band's gig in London. You can preorder the album from here: https://autobahnmusik.bandcamp.com/album/the-moral-crossing and buy tickets from here: http://thelexington.co.uk/events/autobahn/
GIGS
COVENANT's tour in the UK might have been transferred to Spring 2018, but hopefully all the other extremely exciting gigs that have been announced so far will offer us rich experiences until then.
September is a really 'busy' month, as it marks the beginning of the 'new season' in a way. There are plenty of gigs to choose from but these are the highlights for us.
September 1,2 , 2017– Sisters of Mercy, the fathers of gothic rock are still committed to touring and not writing new material but have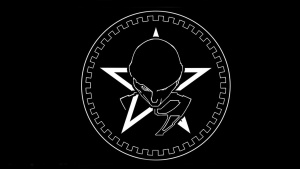 booked two dates in London 1-2 September and will play live at Camden's Roundhouse as part of their 19-dates European tour. There are still a few tickets left for Friday (1/9) and you can buy them from here: https://tickets.roundhouse.org.uk/production/22980
September 2, 2017– IRFAN or else…how big deal it is that a neoclassical band with a sound that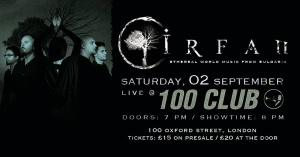 has incorporated many elements from eastern music, is offering a gig in London. Irfan is a band from Bulgaria and was introduced to us in 2003 through their debut album 'Irfan'. While one can identify a plethora of influences within their sound (music of the Balkans, ethnic music, eastern music) it the solemnity and the mesmerizing character of their music also expressed through ethereal vocals, that will have an impact on your psyches. There are very few bands of this genre and much fewer are doing gigs in London hence the enthusiasm for this particular gig. I must admit, I was surprised that the venue is 100 Club as the last time I saw this band live was in Leipzig's Schauspielhaus and I believe that a theatre would be more suitable for them. Irfan have never played in London before and this gig scheduled for September 2, 2017, is a unique opportunity to experience this band's sound. Irfan's latest album entitled 'The Eternal Return' in 2015 through Prikosnovenie,was quite different from their previous two releases, as it is an album that has many more eastern music influences than any other release and seemed to be more addressed to an audience more familiar with those sounds rather than an international audience. You can buy tickets from here: https://www.wegottickets.com/100club/event/406832
September 15, 2017– Bleib Modern sell out their albums within days of their release and have been steadily gaining more fans around the
world. The band started out with darker, more psychedelic in atmosphere songs, but there was a noticeable 'turn' towards a more gothic rock sound in their latest release 'Antagonism'. This is their first live gig in London and having seen them play live in Athens earlier this year, we can assure you that their gig at The Shacklewell Arms, should not be missed both from a musical and an aesthetic point of view.
September 19, 2017 – The KVB live at OSLO Hackney: Even though The KVB are visiting playing in London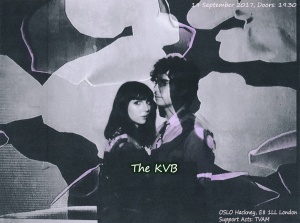 very often the release of their fantastic album 'Of Desire' last year, dictates our presence in their upcoming gig at The Oslo. It was at the now closed Madame Jojo's that I last saw them perform live and since then their sound has become richer in melodies, much more atmospheric, darker, more haunting, bolder, more effervescent and distinctive. You can buy tickets from here: http://www.oslohackney.com/events/live-the-kvb/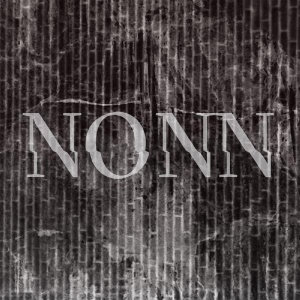 September 20, 2017– NONN live at The Shacklewell Arms: NONN, is the new addition to Fuzz Club's family. Following the release of their debut album entitled 'NONN' (also featured in Blauerosen's playlist for May) the band will offer us a unique opportunity to experience their luring psych, dreamy soundscapes live next month. You can buy tickets from here: https://www.shacklewellarms.com/events/2017-09-20-nonn-the-shacklewell-arms
September 20-21 2017– Sigur Rós live at Eventim Apollo:These two gigs are part of the band's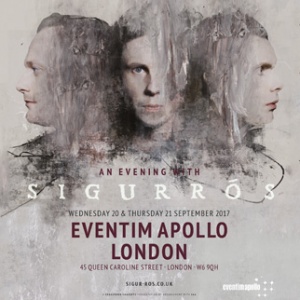 world tour. Even though there has not been a new album release since 2013 when 'Kveikur' was released,the band is not distanced from its dedicated audience. A band with a unique performing style, whose music is instantly recognizable from the first verse that Jónsi sings, Sigur Rós promise two memorable evenings at Eventim Apollo. Their live shows are always aesthetically very beautiful 'dressed' in a sinister-sounding ethereal calling. If you don't intend to respond to the band's calling in Iceland (i.e. "this december sigur rós cordially invite you to go to hell…") where for the year's smallest days in December (27-30/12) the band will play live in reykjavik's state-of-the-art venue, you can buy tickets for their London shows from here: https://www.eventimapollo.com/events/detail/sigur-ros#O83Q8k0XYVromLej.97
September 21, 2017– She Past Away, Lebanon Hanover live at The Garage: Audiences have

been waiting for this gig for more than half a year, as both bands have a big (for the alternative scene) audience around the world and are loved by everyone who feels part of the dark alternative scene in London and elsewhere. She Past Away have positively shocked audiences with their beautiful debut album 'Belirdi Gece' and its successor entitled 'Narin Yalnizlik'. These two albums were released at the right moment, when gothic music was considered a 'done and dusted' affair and they both reveal a creative way of reinvigorating a music style by enriching its sound,bringing out and highlighting unexplored dimensions of its appealing darkness.  Lebanon Hanover on the other hand, refer to different aspects of dark music and this is also evident by the aesthetics of the albums' artwork. Their rhythms are different, in quality and mood, compared to She Past Way; one could say that their music feels more 'introverted'. The haunting performing style seems to want to reach deep inside one's psyche, where troubling thoughts dwell, draw them out and allow them to dance to the music electrified by sonic lightnings carefully created by the electric guitar. Coldwave music finds its definition in the sound of bands such as Lebanon Hanover.
You can buy tickets for this gig from here: http://thegarage.london/listings/she-past-away/
Are you out of breath yet? Because that was just what to expect in September…
October, 'bangs' the drums in different tunes, as we have so far DJ Shadow, Ulrika Spacek, Timber Timbre, Desperate Journalist, and Public Service Broadcasting!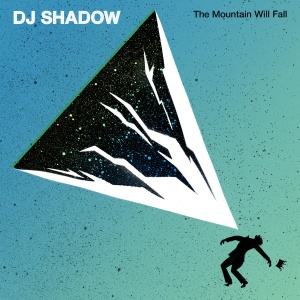 October 7 2017– DJ Shadow live at Roundhouse: DJ Shadow has released his latest album entitled 'The Mountain Will Fall' last year. Downtempo is not abandoned as a source of influence for this album and the style of the music retains both its experimental and its dark reflective character, among hip hop influenced 'intermissions' and sonic samples that 'break' the grinding sounds of electric guitars. This is the man who has written 'Stem/Long Stem' and for those who like the darker side of downtempo and electro music, this is an important and rare London gig that should not be missed.You can buy tickets from here: http://www.roundhouse.org.uk/whats-on/2017/dj-shadow/
October 12 2017– Ulrika Spacek live at OSLO Hackney. Having released their second album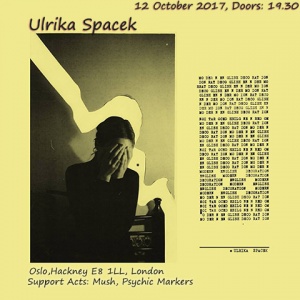 'Modern English Decoration' through Tough Love Recordings, earlier in the summer (also featured in Blauerosen's playlist for June), Ulrika Spacek play, indie music enriched by social critique and careful 'injections' of grinding guitar- induced psychedelia. This is a nice opportunity to see a new band play live. You can buy tickets from here: http://www.oslohackney.com/events/live-ulrika-spacek/
October 16 2017– Timber Timbre live at OSLO Hackney. Having released their 7th studio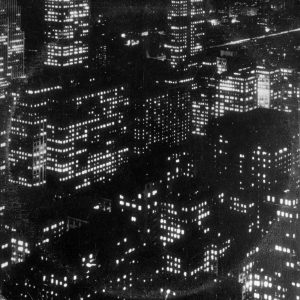 album 'Sincerely, Future Pollution' in April this year, Timber Timbre are generous enough to honor London with a second gig in a few months. The album released through City Slang remains faithful to the band's haunting, slow, jazz and soul-sounding and simultaneously very soothing style of music. Timber Timbre have a unique way of opening up emotional spaces in our souls and create feelings similar to those of suspension in space, a kind of Lynch-esque quality that I personally admire and find really appealing spiritually. This is one of the gigs that we are extremely impatient to attend. You can buy tickets from here: http://www.oslohackney.com/events/live-timber-timbre/Band of Holy Joy new album
October 16 2017– Desperate Journalist live at the Dome: They are one of the newcomers in the indie/ post punk scene and a band that gains the love of an ever increasing audience. Having performed for the first time at this year's WGT in Leipzig and following the release of their second studio album entitled 'Grow Up' in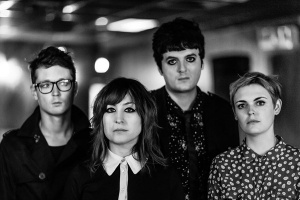 March through Fierce Panda, the band combines passionate vocals which at times share the style of Cranberries and Puressence combined. The vocals are accompanied by guitars and drums that at times hark back to the music of the Cure and other times they fiercely break away from this influence, by being grinding and harsh while the vocals become evidently more punk.
You can buy tickets for this gig from here: http://www.dometufnellpark.co.uk/all-events-1/2017/10/19/desperate-journalist
October 26 2017– Public Service Broadcasting live at Eventim Apollo: This month could not 'close' in a more ideal way. Public Service Broadcasting, who were among the winners of the Progressive Music Awards in 2015 for their song "Gagarin", have released earlier this year, yet another cinematic in atmosphere album entitled 'Every Valley'. The album was first presented at Rough Trade East in July. This album might be 'tied' with Wales in terms of
subjects (i.e. it is an album that talks about the miners' strikes and many important elements that were part of this struggle such as the choirs that were formed and took part in events, the womens' support groups etc) but musically it has a captivating lyricism. Indie music that at times gets more industrial (i.e. "The Pit") at times takes up jazz/soul aesthetics (i.e. "You And Me", "Mother of The Village"), at times becomes more ambient (i.e. "Go To The Road", instrumental parts of "Turn No More"), before getting harsher and 'angrier' with a more rock sound (i.e. "All Out") .In this album Tracyanne Campbell from Camera Obscura, Haiku Salut (in "They Gave Me A Lamp"), Lisa Jên Brown from 9Bach (in "You And Me" lyrics in Welsh language) and James Dean Bradfield (in "Turn No More") offer guest vocals while they also place the album even firmer on Welsh grounds. 'Every Valley' is a beautiful album whose theme and its conclusions are relevant today taking into account the much tougher side of liberalism that the UK is experiencing  lately. We can't wait for this live performance. You can buy tickets from here: http://www.eventim.co.uk/tickets.html?fun=evdetail&doc=evdetailb&key=1896971$9605990&affiliate=HAL
Blaue Rosen