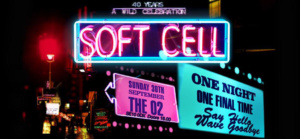 Soft Cell sang a sassy, gothic, pop, rock, shambolic, inappropriate (in the politically correct term), funky, techno, occult, seductive, ceremonial and psychedelic goodbye to their devoted fans and audience with a 31 track set, beautiful sound production and visuals that were consistent with their past and present characters.
You could of course, stop reading this text right here if you are just interested in a headline but we would like to say a few things about why this was an evening we are still struggling to 'let go' three days later.
I hate goodbyes that are pre-arranged but above all, I hate the idea of a band's last ever show. I hate the fact that I understand all the reasons behind this and I hate the day after this last gig, where I have to find a way to let time settle the emotions experienced during this performance.